Disclosure:
Just to be open and honest the buttons and links you click on in the website will in most cases take you to another website where you can purchase the products I am reviewing. As an Amazon Associate I earn from qualifying purchases.
April 5, 2018
Tailwater Outfitters Toccoa Fly Fishing Rod Review
Tailwater Outfitters Toccoa Fly Fishing Rod Intro
This fast action fly rod is durable and made of IM8 Graphite. It can deliver excellent accuracy and performance for any fisherman, man or woman. It is a travel friendly rod that assembles in four pieces. If you want to have smooth gliding fly lines then this is the rod for you, built with Ceramic stripping guides.
The rod is built with an aluminum reel seat with double lock rings that makes it easy for sturdy reel attachment. The half well cork handle provides the greatest accuracy. Included with the rod is a four compartment rod tube for easy storage and transport.
This has been rated as one of the best rods on the market today. You will get great fast action for long casts. It can fight fish without breaking. This means the rod will last you for years to come. The rod tube is made with a shoulder strap for easy transport and it is also adjustable. The alignment dots help make for simple and easy assembly. It is available in stylish dark gray.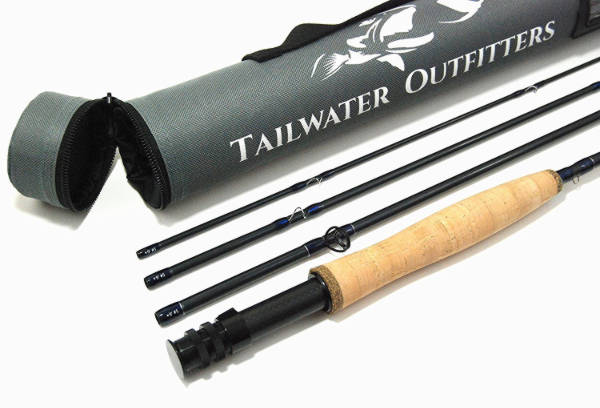 The Outfitters Toccoa Fly Rod Features
 High quality cork handle
 Very comfortable to use
 Natural color to prevent spooking fish
 Good for beginners and professionals
 Shipped anywhere in the U.S.
 Tube for transport
 Assembles in 4 pieces easily
---
Tailwater Toccoa Fly Fishing Rod Pros
 The tube has four slots, one for each rod section
 Perfectly balanced with the proper tip action
 Alignment dots make it easy to assemble even in low light conditions
 Excellent flex
 Great price
 Great warranty
 Small enough to fit in suitcase
 Tailwater appreciates client's business
 Functions perfectly in any climate including Alaska and the Bahamas
---
Tailwater Outfitters Toccoa Fly Fishing Rod Cons
A few people who have purchased it say it is of good quality but have rated it lower due to not having tried it out on the water yet. Only a few people, which you can count on one hand, say that the fly rod is hard to handle and, most likely, they were on their first fishing trip.
Tailwater Outfitters Toccoa Fly Rod Alternatives
A few different alternatives include the Redington Path II Fly Fishing Rod, Fenwick Aetos Fly Fishing Rod, Okuma SLV Graphite 4-Piece Fly Rod and Piscifun 4 Piece 9 feet 5 weight fly rod.
Even though these are close alternatives they can't compare to the best. Tailwater is a well known brand and is popular all over the US. More and more fishermen prefer this brand for recreational purposes, business purposes and more.
It is the perfect rod for work or play and comes with a great guarantee. You will not be disappointed in your purchase if you choose the Tailwater Outfitters Toccoa Fly Rod.
---
The Overall Toccoa Fly Fishing Rod Summary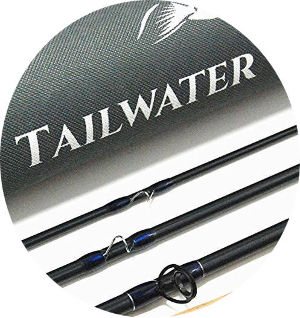 The Tailwater Outfitters Toccoa Fly Rod is an excellent choice. It is top rated, a top seller on the market and even recommended by professional fisherman. It can be taken in any waters like rivers, lakes, ponds, or the sea. It is an excellent choice for use in both freshwater and saltwater.
This high quality rod will come with complete instructions for use and care. You can have it shipped as fast as overnight or in as little as 4 days. It comes packaged safe and secure to prevent damage during shipping.
This rod delivers the best performance and makes the perfect gift for any fisherman. Most other expensive rods cannot beat this one. It offers the best features you can find in the most expensive rods.
Makes an excellent trout rod too and comes with a nice warranty you can rely on. It can be purchased at a great discount price compared to buying in a traditional sporting goods store.
---
Tailwater Outfitters Toccoa Fly Rod Verdict
If you have decided to purchase this brand then you have certainly made a wise selection as well as investment. It makes a valuable addition to any fisherman's gear. You should order more than one because of its great low price.
People who have tried it say it casts excellent and it can catch a wide variety of fish. One customer used it to catch a fish that weighed 18 pounds. If you are one that owns a fishing business then this would be a wise choice.
This fly rod has been recommended by fishing experts just like the ones you see on TV. Every good fly rod has a good story to tell and this one certainly does too.
Tailwater respects their clients for purchasing their products and customers often say they receive a follow up call. It is a highly respected brand that produces the highest quality fly rods that deliver superb performance.
It handles nymphing, streamers and dry flies well. It is an all-purpose rod that handles the heavy fish you have long been waiting to catch. You can share your good news about the Tailwater Outfitters Toccoa Fly Rod with your fishing partners.
You will not find a better bargain any place else. Perfect for the on-the-go fisherman, it certainly can handle the toughest of jobs when it comes to a good catch. Get ready with the fish fryer because your catch will certainly increase.
Last update on 2023-12-08 / Affiliate links / Images from Amazon Product Advertising API
This product presentation was made with AAWP plugin.