Disclosure:
Just to be open and honest the buttons and links you click on in the website will in most cases take you to another website where you can purchase the products I am reviewing. As an Amazon Associate I earn from qualifying purchases.
June 16, 2021
Waterworks Lamson Liquid 3-Pack Fly Reel Review
Each season, new angling tackle floods shops and the online marketplace with every brand hoping to catch the attention of fly fishers.
The Idaho-based company didn't come to play.
Put the Waterworks Lamson Liquid 3-Pack Fly Reel through the ringer and it will prove that it performs better than some high-end fly reels.
This fly reel has been built to have a maximum drag of about 2.5lbs and it battles large trout effortlessly.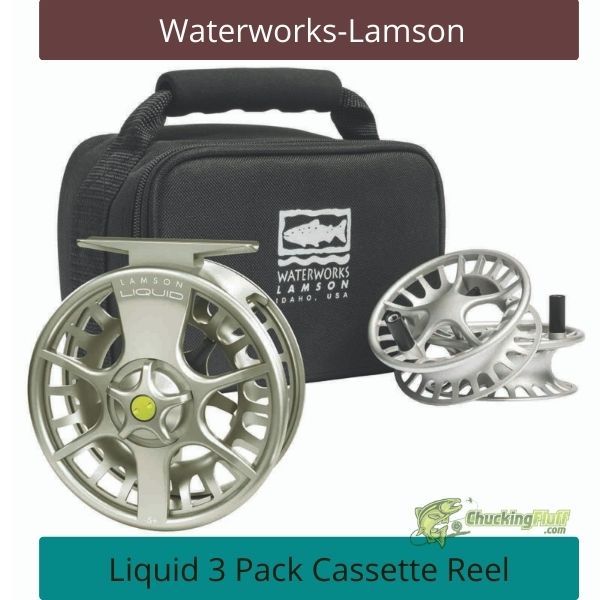 More into its design aspects,
Fly fishing, to most people, is considered a simple sport though one that will force the angler to be present at the moment.
Regardless of your skill levels or duration of fishing, this pastime has a way to connect you to nature.
An angler submerges themselves in the space around them and they pay more attention to their friends-to-be.
Check Liquid 3 Pack Web Availability

What can ruin a serene moment is a faulty angling gear that doesn't do what it is meant to do.
Unreliability of fly reels is a common complaint among anglers.
This is what Waterworks tries to counter when they designed their Liquid 3-Pack Fly Reel.
The manufacturer properly blends innovation and simplicity and result delivery is worth mentioning.
It commences with the reduced weight of the overall reel then the manufacturing process.
If you are a fly fisher who would like to deepen your attention to what you intend to catch, a piece of dependable equipment like the Liquid-3 Pack will do justice to your needs.
The manufacturer targets novice anglers and advanced anglers who want a backup solution in case their primary reels die on them.
From our online and offline analysis, the Liquid 3-Pack Reel surpassed the expectations of many anglers over the last years.
Anyone looking to save a few bucks on a setup should make this reel an option.
Check Liquid 3 Pack Amazon Availability
Besides the smart design and excellent performance, affordability is something that the brand considered before launching the reel.
The frame of the Liquid fly reel is made from pressure-cast aluminum.
This means that the reels aren't carved. Lamson liquefies the aluminum and pours or injects it into a mold that takes the shape of the frame.
Most manufacturers do this to keep the cost of production lower while offering a reliable reel.
The molded reels are then coated with high-quality polyurethane for improved durability.
You will love that the drag has a limitless adjustment range.
It won't produce click sounds when turned.
Waterworks designs it to have a smooth dial to allow the angler to set the drag at the correct resistance amount.
While most fly fishing reels use multiple stacked rotors or discs, the Liquid 3-Pack takes a conical shape as the primary braking system.
The manufacturer presses the cone into the housing of the fly reel making it a stronger drag system yet located in a very compact area.
You can agree that the layout of the drag system has been properly designed.
Fortunately, this is common to all Lamson fly fishing reels.
Several high-end reels also use the same braking system as that of the Waterworks Lamson Liquid 3-Pack Fly Reel.
Any angler looking to bulk up their arsenal while not going bankrupt should consider investing in this fly reel.
Packing two extra spools at no added cost is such a relief to an angler who intends to build a collection of reels and spools for various lines.
The foam carrying case comes in handy when storing or transporting your reel setup.
A fly fisher can easily broaden their approach on any water as they could go with the popular setup of a floating, intermediate, and sinking line or have lines specific to fly types.
You certainly can't exhaust the load-outs in a single session.
Key Features of the Waterworks Lamson Liquid 3-Pack Fly Fishing Reel
Material and Construction – Compound corners and curves without radius in the inner side are associated with this fly reel because of its manufacturing approach.
Thanks to the Pressure casting method, the reel is a one-piece and boasts rigidity though not as much as that of its machined cousins.
The same process is what keeps the cost of manufacturing and the final price of the reel down.
When compared to the CNC machined options, these reels are delicate and prone to scratches, cracks, and breakage.
They need a little tender loving care otherwise they won't last for many seasons.
Angling with pressure cast reels in saltwater areas is a gamble.
If the reel's coating is chipped and the cast aluminum gets into contact with salt, corrosion is highly to occur.
It is advisable to give your fly reel a good rinse after every session at the flats to prolong its lifespan.
---
Arbor – If you aren't fishing with a large arbor fly reel, you are missing all the benefits that come with it.
Most manufacturers are leaning towards widening the diameters of their reels for anglers to enjoy less reeling time, faster retrieval rates, and more than enough backing.
Large arbor reels are gentle on your fly lines as lines fall out in bigger chunks preventing the instances of knots and tangles.
Large arbor fly reels are associated with better drag and reduced line memory.
---
Drag system – Waterworks machines the drag system on the Liquid 3-Pack fly reel.
Doing this greatly reduces the reel's weight while making it simple yet compact.
The exterior of the system is sleek and the material on the conical system takes as much abuse as that on a click and pawl drag.
Fully sealing the drag system was thoughtful of the manufacturer.
You get to appreciate the low maintenance levels of the fly reel as sand, dirt, and other drag inhibitors are all locked out.
Operating this fly reel becomes seamless especially when controlling larger fish.
The conical system offers no startup inertia and boasts an adequate range.
You can handle it severally without lubrication
---
Spool – Built in its Boise headquarters, the spools are also from pressure-cast aluminum like those on the Remix 3-pack Fly Reel.
They are also finished with a polyurethane coating to minimize the chances of corrosion and rust.
For each reel you buy, you get three spools-a primary spool and two extras.
Spools used on this fly reel are compatible with the Remix HD fly reel and other cassette reels by the same manufacturer.
If you will be sampling various fly lines, the spool collection if you own other Waterworks cassette reels will come in handy.
---
Case – Nylon carrying cases are excellent for reel protection against dust, dirt, and other debris.
Also, transporting your reel combos will get easier as the inner side of the case is sectioned to fit your reel and spare spools.
You can clean your case once it gets soiled by handwashing or running in the machine.
---
Drag Knob – Sporting a dial drag system, the accuracy levels of your settings are dependable.
There is no click sound whether in an outgoing or incoming motion.
You can confidently set your drag at the point where you discover the right amount of pressure resistance.
---
Handle – Nothing fancy but the handle is of great quality.
It is comfortable and very soft to the touch.
The size is enough to grab with wet hands or when with gloves on.
---
Sizes – The Waterworks Lamson Liquid 3-Pack Fly Reel comes in four sizes-1.5, 2, 3.5, and 4 with diameters of 3.34'', 3.61'', 3.85'', and 4.65'' respectively.
Widths are 0.99'', 1.00'', 1.14'', and 1.37'' in descending order of reel sizes.
Reel capacities are WF4+100+20lbs, WF6+100+20lbs, WF8+200+20lbs, and WF10+250+30lbs.
Pros – The Good about the Liquid 3-Pack Fly Reel
Comes in various sizes

Each reel has three spools

Packed in a nylon carrying case

Large arbor design 

No startup energy

Sealed drag system 

Functional ergonomics
Cons – The Concerns though not Deal-breakers
We haven't registered any downsides of this fly reel. However, it is important to note that there is a difference between the Liquid Fly Reel Packages.

Some anglers ordered the Liquid Fly Reel thinking it was the Liquid 3-Pack Fly Reel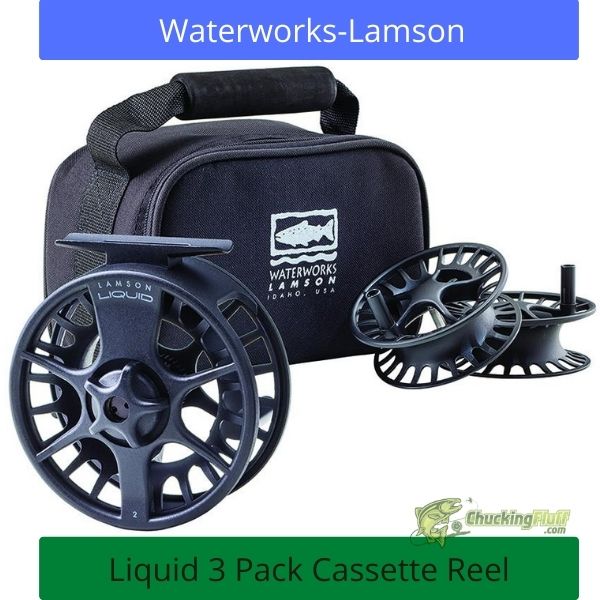 Customer Thoughts on the Waterworks Lamson Liquid 3-Pack Fly Fishing Reel
Anglers who fish in areas with sand or step out when the temperatures fall below freezing point will appreciate this reel because of the fully sealed drag system for excellent drag, full performance, and no maintenance.
The drag of this reel is perfect for fly fishers who love lighter tippets. The smooth drag prevents breaking off a fish.
While the Remix 3-pack registered some startup inertia, this one has no friction whatsoever.
You also won't experience any slopping, wiggling, or running out at any point.
The bigger sizes have more than enough capacity for certain tapers but the reel isn't heavy.
There are also no ball bearings and with the quicker retrieval rates, you don't have to wind it so much.
For freshwater fly fishing, this is one of the most affordable fly reels with minimal to no issues.
Some anglers have fished it for several seasons and still find it a perfect low-budget fly reel.
We can't stop praising the attempt to completely seal the drag system to make functionality better.
No drag inhibitors can get into the system making the angler free from frequent lubrication and maintenance.
FAQ's – Questions about the Waterworks Lamson Liquid 3-Pack Fly Reel
Q) Lamson doesn't mention conversion rates in the product description. Can you help?
A) The Liquid 3-Pack fly reel comes programmed for the left-hand side retrieve. However, conversions can be made to any side depending on the fishing situation. Instructions are included in the packaging.
Q) Can the fly reels be used for Spey fishing and does the reel and spool gap?
A) You can use the reel for Spey fishing. Until now, no anglers have registered gaping issues. We aren't sure if it could happen if using thinner mono running lines.
Q) What is the recommended rod weight for each size of this reel?
A) Waterworks recommends 3.4 rods for size 1.5 reels, 5.6 rods for size 2 reels, 7.8 rods for size 3.5 reels, and 9.10 rods for size 4 reels.
Q) Do I get the color sleeve as part of the package when I purchase this combo fly reel?
A) Unfortunately, have to make a separate purchase for the sleeve.
Q) Can the sleeves be used in saltwater areas?
A) It is safe to use your fly reel sleeves in saline areas as they are made from anodized aluminum and are resistant to corrosion and rust.
Q) Can a teen use this fly reel?
A) We don't see the reason they can't use it. The reel is lightweight and matches well with most rods. Whether they are new to fly fishing or have been in the sport for a while, the reel will perform just fine.
---
Check Liquid 3 Pack Amazon Availability
If there is a reel designer that has set a higher bar for fishermen and women, then Waterworks has.
With all the advancements from the Konic reels, you can agree that the Liquid-3 has been designed smartly and for the much it goes for, you won't regret owning it.
You will love how maintenance-free the reel is thanks to the sealed conical drag system.
Days on the water are unpredictable.
Some are full of energy to and from the hole, while others you get drowned in fatigue and there is no time to care for your setup.
We advise that you stick to the freshwaters when using this Waterworks Lamson Liquid 3-Pack Fly Reel as its frame hasn't been designed to withstand the brutality of salt.
If your reel's finish isn't chipped, one or two trials will be enough.
Chipped reels shouldn't be exposed to salt as they quickly get corroded.
Always rinse your fly reels under tap water each time you expose them to salt.
If you still love the flats and caring for pressure cast aluminum reels is proving burdensome, you can check out other fly fishing reels that are suitable for such harsh environments.
Check Liquid 3 Pack Web Availability