Disclosure:
Just to be open and honest the buttons and links you click on in the website will in most cases take you to another website where you can purchase the products I am reviewing. As an Amazon Associate I earn from qualifying purchases.
November 13, 2021
Waterworks Lamson Remix Cassette Fly Reel Review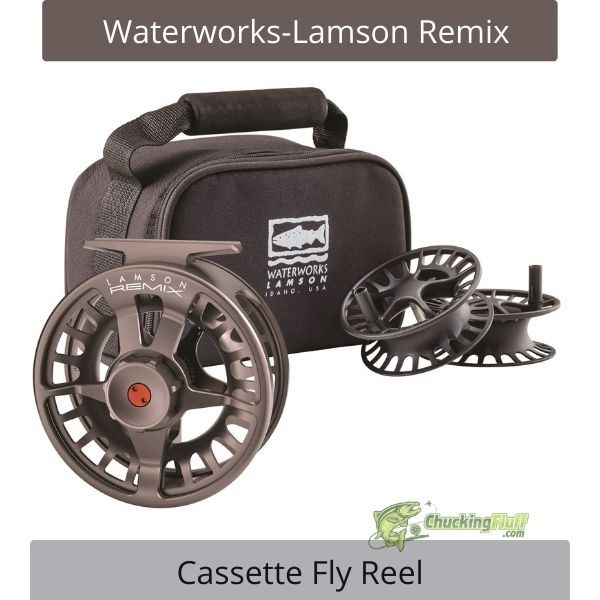 Sometimes, our budgets are a limiting factor when shopping for fly fishing gear and equipment.
We all desire high-end reels and rods that look fancy, speak class and do the job perfectly. However, what's in our pockets pushes us to settle for less.
Waterworks break the idea of cheap being non-functional. The Waterworks Lamson Remix Fly Reel is an excellent definition of affordable yet high-performing.
The entry-level reel replaced the famous Waterworks Lamson Konic Reels.
C1 Design Group was the founder of the Lamson Company in 1995. Over the years, many anglers have favorite this brand.
It began as Waterworks and in 1998, the company's name changed to Waterworks-Lamson after acquiring Lamson from the famous Sage.
Waterworks-Lamson is an expert in innovating, inventing, designing, and building all its fishing reels to ensure that the angler's needs are met.
The company's reels have been able to stand out because of their mark on weight and high-quality construction.
Both in the Western USA and worldwide, the reels have set and broken records.
The company's objectives when designing the Remix reel was to minimize the reel's overall weight, offer mechanical simplicity, develop a powerful drag system, use high-quality materials, and optimize the spool's arbor ratio.
---
The Construction
Throw any challenges at the Remix-3 pack fly reel and it will remain unshaken thanks to the durable and hardwearing 6061 bar-stock aluminum.
What fascinates us is the design aspect of both the reel and spool.
While most manufacturers pair their die-cast reels with polycarbonate spools, this one pairs its bar-stock reel with die-cast spools.
The spools boast radiused compound bends. You will love how the inside corners have been made-with almost no radius to double the reel's performance.
Unlike the Wychwood Truefly SLA II Cassette fly reel that is molded, this one is CNC-machined for better durability and versatility.
Also, the process results in a generally lightweight fly reel that will pair well with most fly rods.
Complete with an anodized finish, this is a comfortable reel to go with to your saltwater fishing escapades.
The anodization process strengthens the aluminum and makes it rust and corrosion-resistant. In the end, it saves you from the stress of having to rinse it after every use in the flats.
CNC-machined and anodized reels boast more structural rigidity and can withstand any type of brutality compared to their die-cast cousins.
It takes a thorough smash for you to notice scratches or a crack.
For anglers who drown in the sport and giving a damn isn't an option about what happens to your gear, the Waterworks Lamson Remix Fly Reel should be in your cart for the next season.
For the original owners of these reels, a lifetime warranty is issued to cater to defects in artistry, material, and design.
Waterworks will replace your reel or issue a non-questionable refund upon returning the reel.
Other damages as a result of mishandling, ignorance, or wear and tear will be attended to at the cost of the user.
The fee is very little compared to losing the entire reel. The reel shouldn't worry you as it has been built to last.
Waterworks builds this fly reel with a large arbor. From our research, the arbor isn't large like most large arbor reels.
It is slightly past the medium size but does the job well. Looking at it closer, the reel's finish and fit are tidy and feel costly.
The mechanical integrity of the drag, spool, and other components is worth mentioning. You might need some time to get used to the painted spool. However, it doesn't get into the way of the reel's performance.
---
Key Features of the Waterworks Lamson Remix Fly Fishing Reel
Material and Construction – Waterworks goes extra on this fly reel by combining two processing methods.
The reel's frame has been machined from bar-stock aluminum while the spool pressure cast.
The frame has proven to be lightweight, extremely sturdy, and doesn't rust or corrode.
You can take it out to saltwater as much as you can without worrying about it getting affected.
Its operational strength and resistance are also from the type II anodization process- a kind of special coating finished on machined reels.
The de-cast spools are delicate but boast slight strength compared to plastic options.
The manufacturer opts for the pressure cast method for the spools to put it at a moderate price range as fully machining the spools could result in an expensive package.
---
Arbor Size – As in the description above, we have said that the arbor on this reel is slightly smaller than most cassette fly reels.
However, you still enjoy benefits like reasonable retrieval rates, less reeling time, consistent drag, and reduced chances of line knots and tangles as the reel line gets out of the reel in bigger chunks.
---
Spool – On the company's product section, this reel is termed as a Remix 3-Pack cassette fly reel.
This means that it comes as one reel, the main spool attached to it, and two spare options for different lines.
Spools are built at the company's headquarters in Idaho. Most people are concerned about the locations where tackle is manufactured for quality control reasons.
---
Weight – Having four reel sizes, the weights range from 4.29oz to 7.07oz.
For an entry-level fly reel, it pairs well with most fly rods creating a good weight to balance ratio.
The lighter fly reels can be used to catch smaller fish while the size 9 is for big game fish.
---
Drag Knob – The ergonomics on this fly reel were well thought out.
The reel's drag knob is of a decent size and easy to hold even with wet hands or gloves on.
---
Handle – Not all anglers are fans of flat handles because they lack they don't have the smart yet ergonomic shape that is present in most modern fly reels.
But considering the price point of this reel, you shouldn't expect anything fancy. It still gets the task done.
---
Drag System – All fly reels from Waterworks Lamson use the company's proprietary conical drag system.
From several field tests, the Remix 3-pack has proven to have a smoother drag as expected of any Waterworks fly reel.
There is a slight issue with power delivery. The maximum drag of the Waterworks Lamson Remix Fly Reel ranges at about 1.4lbs.
You will need a little more effort when hauling in a medium-size or larger fish.
There is also slightly more startup energy and this can be unsatisfying to anglers who are used to fishing reels with extremely powerful drag systems.
However, as a backup fly reel when you have run out of options on the water, it can save the day. This is also common in other Remix fly reels.
---
Sizes – Waterworks designs this fly reel in four sizes-size 3, 5, 7, and 9.
The diameters of the reel are 3.34'', 3.61'', 3.85'', and 4.65'' respectively. Widths are 0.99'', 1.00'', 1.14'', and 1.37'' in descending order of the reel sizes.
The backing capacities are WF4+100+20 yards, WF6+100+20 yards, WF8+200+20 yards, and WF10+250+30 yards respectively.
---
Customer Thoughts on the Waterworks Lamson Remix Fly Fishing Reel
There will be quite some effort needed when fishing species like Atlantic salmon and other big buddies as the reel's maximum drag is slightly lower.
You have to support that by palming the reel with your fingers or palms when these guys stage a fight and are threatening to bolt off.
The arbor size is slightly smaller than what we see in other cassette fly reels.
We can say that it is slightly past medium-size yet offers the benefits of a large arbor but not to the maximum levels.
Waterworks crafted this fly reel well and it has remained sturdy despite all the brutality exposed to it.
You will have to go slow with your pressure cast spools as their risks of getting damaged from falling, or dragging on surfaces is high.
Three spools in the pack at no additional cost are such a good thing.
You can pack several fly lines to use with different cassettes on a single reel.
This tones down on your overall luggage weight and for a travelling angler, you know what this means to your comfort and pocket if travelling via air.
If you own the Remix HD reels or the Liquid Reels, the spools on the Remix 3-pack will fit on them perfectly and vice versa.
This makes you build a collection and experiment with as many lines as possible when on the water. Also, spare spools cost very little.
---
Pros – The Good about Waterworks Lamson Remix Fly Reels
Highly affordable
A lightweight design
Comes in a nylon carrying case
You get two spare spools for each reel
Sturdier and corrosion-resistant frame
Can be converted to either left or right-hand retrieve
Functional die-cast spools
Has a lifetime warranty issued to original reel owners at $20
Available in various sizes
---
Cons – Drawbacks but not Deal-breakers
---
The drag system isn't powerful enough to haul in a bigger fish
Spools aren't anodized and could easily corrode
Has a little more startup inertia than we expected in a reel of its kind
It isn't a push-button release spool system
---
FAQ's – Questions about the Waterworks Lamson Remix Fly Reel
Q) Why is this reel termed as a hybrid reel?
A) The name hybrid comes from the manufacturer combining machined bar-stock aluminum on the reel's frame with pressure cast aluminum on the spool. It is nothing to do with the functions of the reel-just the structural engineering.
Q) Do the spools have any coating to prevent them from getting damaged when exposed to saltwater areas?
A) Yes, spools although pressure cat from aluminum, have a polyurethane coating. However, if the coating chips and your spool is in contact with salt, it could corrode. It is necessary to rinse your spools using freshwater after fishing in the flats or sea.
Q) Does the drag system need frequent oiling?
A) Waterworks integrates the conical drag system with Teflon to prevent frequent lubrication. However, for reel maintenance, you can do this twice a year using the Penn reel lubricant available in most tackle shops.
Q) What colors are available for this reel as I am fishing in a place where these chaps are very spooky and I wouldn't want to scare them away?
A) The three-pack Remix fly reel is available in sublime and smoke
Q) Is this a right or a left hand retrieve fly reel?
A) The fly reel comes programmed for the left-hand retrieve but conversions can be made to any side with ease.
Q) Is the conical drag system partially sealed?
A) No, the reel is fully sealed to prevent the entry of drag inhibitors like sand, pebbles, grit, and scum that could worsen the drag.
---
Conclusion
If you are looking for a fly reel with stellar value and that which you can use to practice fishing different lines with, this one can be a good point to start from.
We understand that there are cheaper reels than this but if you don't mind spending slightly more, it can be a good choice.
What strikes us most is the sealed conical drag system that makes the reel low maintenance.
From the customer thoughts and reviews, the drag reported slightly more startup inertia and we wouldn't want to worsen this.
Waterworks leaves it to the angler to experience the world of machining and pressure casting by combining two aluminum processing methods in this reel.
So far, the machining wins so many hearts but the pressure cast spool wasn't a good idea to anglers who aren't cautious.
They reported scratched and chipping limiting them from exploring saltwater areas.
If you feel like the structural and functional aspects of the Waterworks Lamson Remix Fly Reel don't match your needs fully, you might want to check out other cassette fly reels or conventional reels we have reviewed on our site.