Disclosure:
Just to be open and honest the buttons and links you click on in the website will in most cases take you to another website where you can purchase the products I am reviewing. As an Amazon Associate I earn from qualifying purchases.
September 10, 2014
There are only two types of trout fishing flies light and dark within these there are many sub categories and types including dries, nymphs, sedges, midges, daddies, bumbles, and many more. One of the main groups and the one we are interested here in is wet trout fly patterns.  
It would probably be accurate to say that wet fly fishing is the most practiced in the world. Beginners would normally start with these as they are easy to get used to and very attractive to fish so the catch rate is high. It would also be true to say that armed with only a few wet trout fly patterns can set you up for fishing a large number of species.
Keep them in a number of sizes and they are equally at home being fished for brown trout, rainbows, sea trout or Salmon to name a few. I'm sure these flies could even work in the salt water although I have never personally tried that. Never the less we fly fishing anglers love to have fly boxes full of wonderfully tied flies and this is true for wet flies and there are many thousand to choose from.
Wet flies are flies that are fished under the surface of the water (getting wet hence the name) and have their wings swept back rather than stick out. There are other variations of flies like bumbles, sedges, and nymphs which also are fished under the water but as they have their own category we will discuss them more in another article. Wet trout flies are meant as attractor and imitative patterns and work well in most conditions.
You can fish wet trout flies with a full floating line as the flies when wet will slip beneath the surface a few inches and be seen by the cruising trout from below. If you are in a lake or lough then the need for an intermediate or sinking line may be required to take the flies down a bit further to help get your team of flies into the taking zone. With wet flies there is no real right or wrong way to fish them in fact experimentation has been going on for years as anglers make up new patterns and fish them with different techniques to make the sport more interesting. Just go out and have fun with them.
Here are a few of my favorite patterns and how to tie them.
Alexandra
– Can be used as a loch or river fly. Great for brown trout rainbows during the day and sea trout at night although I have landed a few sea trout during daylight hours with it also. The red cheeks and tail make it a great attractor fly and when there is fry about this pattern can prove to be invaluable. Size 10 would be the most popular.
Hook: Size 8-12 Traditional Wet
Tying Silk: Black
Tail:Red Ibis substitute or swan dyed scarlet
Body:Flat Silver tinsel
Rib:Silver oval tinsel
Hackle: Black cock or hen hackle
Wing: A pinch of green peacock sword fibres with slips of red ibis substitute or swan tied on each side.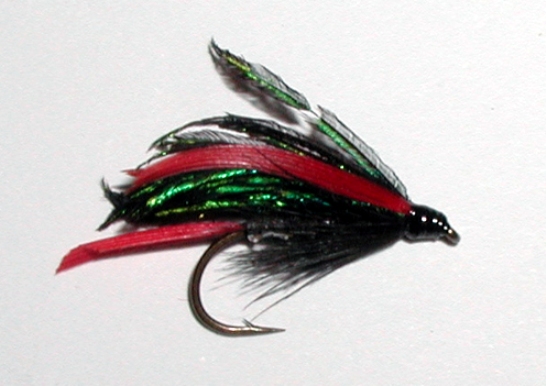 Bibio
– This fly goes back to the late fifties  when created by Major Charles Roberts of Burrishoole Fishery in Mayo. Originally tied to imitate the heather beetle it was used to attract sea trout in Irish Lakes. It has now become a widely used pattern all around the UK Ireland and further afield and is a great fly for brown trout Salmon as well as the sea trout mentioned. It can be fished on any position on the leader and the water clarity will dictate what size to use. A good fly to use on the dropper when fishing for salmon in the river. As an alternative the fly can be tied with a hen hackle at the front instead of the cock one normally used to soften the appearance.
Hook: Size 8-14 Traditional Wet
Tying Silk: Black
Tail:Red Ibis substitute or swan dyed scarlet
Body:Seals fur in three parts – black, dark red, and black. Black cock hackle palmered over the body.
Rib:Silver oval wire tinsel
Hackle: Black cock or hen hackle slightly longer than body.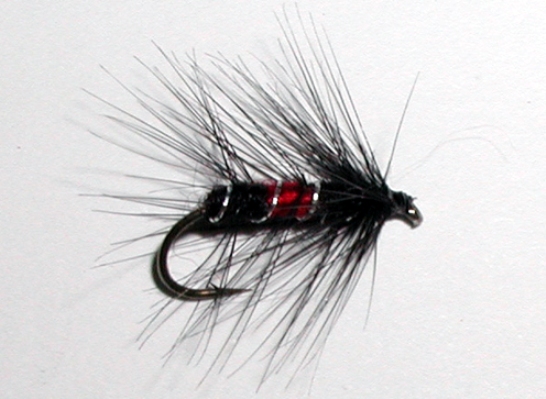 Green Peter
– Very effective brown trout and salmon grilse fly. Can be fished all season long on either the point or dropper position. Originally tied in the Midlands to represent the speckled sedge and was a dry fly pattern at that time, however it was soon discovered how effective it was as a wet fly and that is how it is mostly fished now.  Can be very useful at mayfly season on the point fly position. When the salmon grilse come into the loughs the dropper position seems to be the more effective. Also very good on rivers an allrounder and one to carry at all times.
Hook: Size 8-12 Traditional Wet
Tying Silk: Brown or Black
Tail:Red Ibis substitute or swan dyed scarlet
Body:Green olive seals fur
Rib:Fine oval gold tinsel
Hackle: Red game palmered and clipped on the top edge
Wing: Four slips of hen pheasant secondary tied in flat on top of the body so to partly envelope it such a wing is called boat style
Head hackle: Red game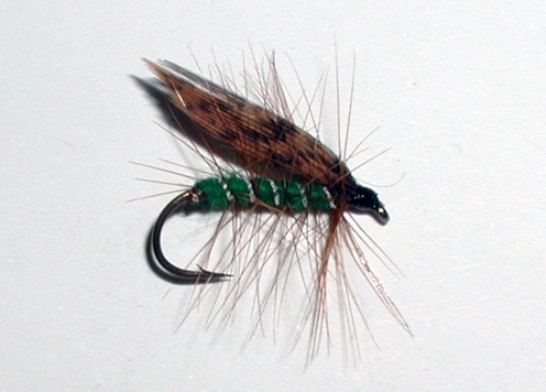 Silver Invicta
– Another great all rounder pattern. Will take most species of trout and salmon grilse. especially good when the perch fry are around. Fish it in the middle dropper or the point fly. Can be a good rainbow fly when fished on a sinking fly line. Have had success with it in low water on the rivers for sea trout also.
Hook: Size 8-12 Traditional Wet
Tying Silk: Black
Tail:Golden Pheasant topping
Body:Flat silver tinsel
Rib:Fine oval silver tinsel
Hackle: Red game cock, palmered
Throat hackle: Blue jay
Wing: Slips of hen pheasant centre tail or secondary wing quill