Disclosure:
Just to be open and honest the buttons and links you click on in the website will in most cases take you to another website where you can purchase the products I am reviewing. As an Amazon Associate I earn from qualifying purchases.
April 18, 2020
Best Fly Fishing Rod for Nymphing – Sensitive and Power
French nymphing, Czech nymphing, or Euro nymphing, you can call it as you please. As an angler drifts, they are tightly connected to their flies and can reach the right depths faster when Euro-nymphing.
The technique doesn't have its roots from the USA. It sounds mysterious since it started gaining popularity across Europe long ago. Most fishing contest organizers include the style in their competitions.
The technique is fun and has numerous benefits than indicator fishing. First, the rod tip elevation is higher to make the sighter more visible. It maintains straightness throughout.
This is what gives the excellent connection and well-controlled drift. The fly fisher can lead their flies in the drift then present various sighter angles. They can reach the different depths getting rid of all conventional indicators and weights.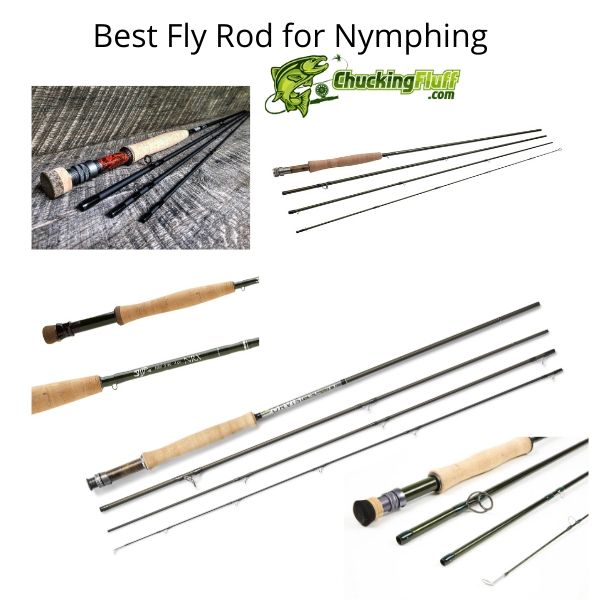 Instead of using split shots, Euro-nymphing flies are weighted and have high-grade tungsten beads. This technique needs a lighter line than your standard one to prevent the sag from changing the speed of your flies, hindering sighter anglers, or drifting away.
Czech nymphing seems so adaptive because the fisherman is in full control of everything to do with the fly rod, leader, line, and flies.
You can dial each pact the way to want to be as you fish. The instances of guesswork on what flies are doing underwater are very minimal. The sighter gives very reliable feedback that is easy to tell.
Briefly, French nymphing is a straightforward and perfect way of catching fish. We recommend this technique to any fly fisherman on a woman who is yet to try it. You can choose not to cast far while Euro-nymphing. It is great for novices.
Features To Look For When Selecting a Fly Fishing Rod for Nymphing
---
Length of Euro Nymphing Fly Rod
The size of these rods is vital. Length is one of the essential considerations of the French nymphing fly rod. Longer rods guarantee more reach. You can cast further for distance.
Drift control is more effective and effortless across the multiple currents in a river. Many fly rods for Euro-nymphing in the market have lengths ranging from 10 to 12 feet.
Overall, we say that 10 feet are the minimum recommended length for a rod for any tight-line technique.
Longer we say, is better. For this one, the longer length doesn't need to exceed a specific extent. Euro-nymphing setups need to have the right balance, especially in the top section because this is where the cork grip is and will be holding the rod comfortably.
To achieve this balance, you need to have more weight towards the rear of the rod. Anglers choose to put counterweights or a heavier fly reel to attach to the rod's butt.
The rule of thumb is as you increase the rod length, you have to increase the rear weight. We want zero fatigue as we reel in trout.
Rod Action
Should you take a fast action or a slow action rod? The choice is yours. However, the majority of fly rods are either fast or medium-fast action rods.
Stiffness is up to the 2/3 section of the blank and the remain is quite supple. You can cast quickly to turn over without breaking your tippets.
Tippet breaking is a common phenomenon as you do tight-line techniques. The rod weights for this type of fishing range between 1 and 4wt.
This is the commonest and a true Czech nymphing blank isn't designed like the standard fly rod blank.
Tapers on Euro-nymphing fly blanks are aggressive. We see a few of these rods with butt diameters that are +2wt or even more and a tip section of -1wt or exceeding this.
The aggressiveness of the tapper is what achieves the action we have described. Manufacturers are beginning to manufacture Euro-nymphing rods with softer actions-they could either have full or mid-flex profiles.
They can perform when doing tight-line techniques but their limitations are similar to those of the soft standard purpose rods.
Rod Color
Stealthiness is vital in tight-line fishing techniques. Often, you will be closer to the targets. This will mean that your French nymphing rod will hang out over the subsurface of water-sometimes, very close to the target or right above them and you won't.
You don't want to imagine the aftermath if a fish spots a flashy and extremely visible fly rod. We would like to highly avoid spooking fish.
To be stealthy always as you Euro-nymph, manufacturers nowadays manufacture euro-nymphing fly rods with a matt finish or leave them unfinished to greatly minimize light flare.
Others use satin vanish or opt to buff off the gloss on the epoxy that is on the wraps on the guides.
Guides
It is hard for many to believe that the type of fly line guides on a fly rod for Euro-nymphing count in the success of the technique. First, the fly line guides must be stealthy and very lightweight.
Euro rods need single foot line guides that are darker. The single foot guides are lighter than snake guides that are 2 feet. They need one set of wraps.
Epoxy finish is the best finish because it is a thin coating. This drastically reduces the swing rod of the resultant rod.
Advancements in technology have seen manufacturers introducing RECoil single foot guides on high-end Euro-nymphing rods. Why this on specific rods?
The RECoil guides weigh lesser than most of the single foot guides. Guide placement is also vital. Should you use lesser or more guides?
While you can use lesser guides and enjoy the technique, we advise that you have a rod with guides that are closer to maintain rod flex as you fight fish.
Some manufacturers have the lowest stripping guide closer enough to the handle than usual. This will ensure that the thin Euro-nymphing fly line doesn't sag more between the stripping guide and the fly reel and keep it closer.
Reel Seat
Reel seats are built differently. Some come with uplocking reel seats while the majority come with down locking reel seats.
The down locking reel seat is more towards the butt of the fly rod when it is tightened. You mightn't agree that an inch or lesser of offset can create a bigger difference in the balance of the rod.
This allows an angler to use a much lighter reel with a down locking type of reel seat. In short, down locking reel seats are the most ideal for Euro-nymphing fly rods.
Fighting Butts
Do you need a fighting butt on a 2 weight or a 3 weight fly rod? It sounds insane but you need it for a French nymphing rod. Fighting butts help in striking a proper balance between the rod and reel as they increase the weight to the backside of the fly rod.
The fighting butt allows for better weight distribution up the angler's forearm as they high stick. With the fighting butt, the fly rod will extend further onto the forearm and carry some of the weight that'd be on the rod hand.
We have put together a few mini-reviews of the best fly rods for Euro-nymphing below. Make a choice of one or two that suit your needs.
---
Temple Fork Outfitters BVK Series Fly Rods
The New BVK series fly rods are recent introduction in the TF rods for fly fishing, nymphing is becoming the talk among most anglers.
The manufacturer says that the new technology used during manufacture makes it lightweight and with more sensitivity than most of the Euro-nymphing rods in its collection.
BVK rods use new materials in the blank hence it is extremely lightweight. The main material on the blank is carbon fiber which is more durable than graphite but has more advantages to it.
We can't disagree that the Flor grade grips on the handle are very comfortable for any angler. Especially if you intend to stay long on the water.
The contouring is on another level. There will be no risk of getting blisters from prolonged gripping. It is tender to your hands.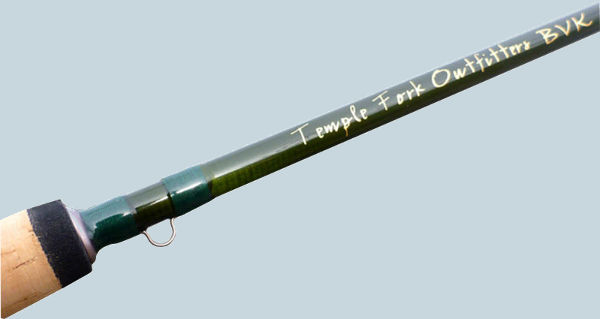 Distance and presentation are not worth gambling with when French nymphing. You need a fine-tuned fly rod like this one with excellent fast action.
The power in the rod and less flex makes it a proper choice for your nymphing escapades.
You will need the best timing and technique to have a memorable experience.
The rod is stiff and reeling in a fish is quicker than the other actions. If you are playing monsters, this action will put up a stiff battle.
As you cast for distance, it can manage the wind without any issues.
Aesthetics are well in place but we value functionality more than any other thing. The olive blanks. The carbon fiber reel seat is top-notch.
Although it functions just like the anodized reel seats, the carbon types are mostly preferred because of improved sensitivity when indulging in tight-line fly fishing techniques.
Stainless snake guides are extremely lightweight and have an addition of chromium for durability. The stripping guides are from the TFO's tactical series.
The stripping guides are tolerant to the most difficult fishing scenarios and dramatically reduce weight.
They allow the fly line to easily go through and maintain their position. The construction of the guides is tactful to ensure that the rod has control over the fly line.
The fly rods are available from 3 to 12 weight to suit every fly fishing need. Longer rods in this series have fighting butts at the rear of the rod to strike the right balance when battling larger fish.
The best option for nymphing is the 10ft 3 weight including the extension kit.
Check our BVK Full Review
Check BVK Amazon Availability
Check BVK Web Availability
---
Hardy Zephrus FWS Fly Rod
Hardy doesn't need any introduction whatsoever. It has been winning year in year out in most product showcases and contests.
Check its latest wins in the EFFTEX and ICAS awards of 2019. There's usually anticipation and anxiety when a household name like this one releases a new product.
We know that you can nymph with a 9-foot fly rod but will you be maximizing its abilities? No. the standard recommended weight for Euro-nymphing rods is at least 10 feet.
Which is available in the Zephrus rods. In terms of line weight, the rod is available from 3wt and goes to 6wt.
A 3wt will be very compatible with a 10ft nymphing rod. There are two models of 10ft Zephrus FWS rods. Their difference is only in the weight. The first weighs 3.10 while the other 3.20.
Carbon fiber is the recommended material in fly rods that need more sensitivity. Hardy uses the Syntrix technology to make these fibers stronger in the whole rod blank.
Combining the fiber with Nano silica resin increases every aspect that revolves around a fine blank for nymphing. With the two materials, there is no substantial increase in the rod's weight.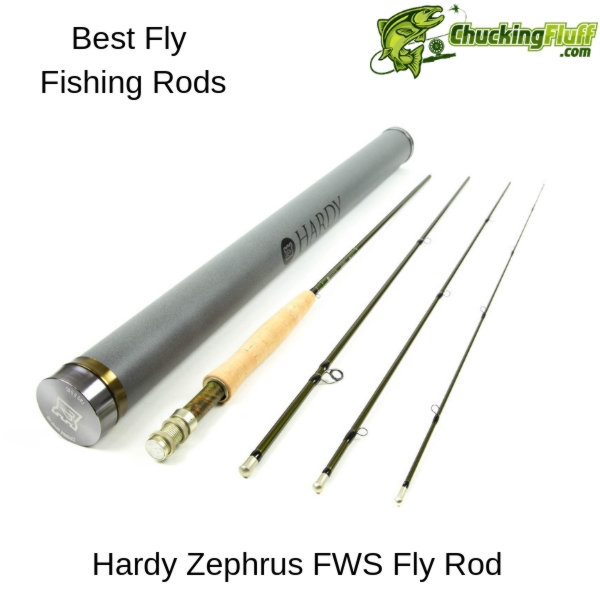 Just like the TFO fly rod above, this one is a fast action rod. We love that it has a lower swing weight. All round the action leads to high line speed and it is a reliable wind cutting rod.
It is another fly rod for distance casting. Casting quickly won't be a problem because of the line's motion. Novices in angling might find the action unbearable. But if you are up for a water challenge you can try it and see where you need to polish.
It falls among the high-end fly fishing rods for nymphing because of the new technologies and the inclusion of RECoil single leg guides.
These are extremely light and with the Fuji Titanium Silicon Carbide stripping guide, freshwater nymphing must be as interesting.
It can't be better without its striking rod tube, the artistic aspect portrayed by Hardy is incomparable and so far, you will boast of class even before you test this fly rod for performance.
What do you expect of a company that has been in existence for a long?
Rod handles are crafted from high-grade Half-Wells cork material. The density is high for functionality. Hardy is a reputable manufacturer and minds your hands.
They want you to keep casting and without any injuries or discomfort. The size of the handle is reasonable and fits in your hands pretty well.
The Zephrus feature an up-locking style of reel seat made from anodized aluminum. The wood spacers bring out the aesthetic value of the rod.
The strength of the reel seat is on another level because of the anodization process that makes it corrosion-resistant, sturdy, and very durable.
The manufacturer backs this fly rod with a lifetime warranty to cater for any defects in artistry or material. If it develops a problem in the course of use, it will be easier to get service.
Check Zephrus Amazon Availability
Check Zephrus Web Availability
Check Our Zephrus Full Review
---
G Loomis NRX Trout Fly Fishing Rod
A blend in power and precision is what a French nympher would want in their fly rod. This is what G. Loomis assures when you purchase their NRX Trout fly fishing rod.
It isn't a marketing gimmick strategy but something that has been tested and proven.
It is a little different from the two rods above because this one will be excellent for mid-distance casting to long reaches.
The rod blank is made from high-quality modulus graphite and Steve Rajeff resins. All the juice is in the balance that the materials give the rod.
Unspeakable! The response and strength will amaze any Euro-nymphing angler looking to land monster trout.
The recovery speed offered by the blank and its fast action will make casting farther more exciting.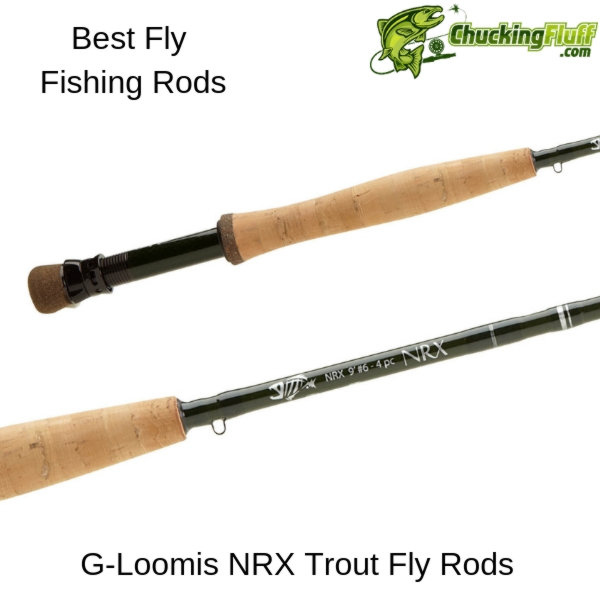 Guides might seem useless to some anglers but to those who are tight-line fishers, they need to be top-notch and extremely lightweight.
The single foot RECoil guides are made from high-grade titanium and nickel. The guides make line shooting better.
RECoil stripping guides are rust-resistant and will get back to their shape in case of a bend or bump.
The reel seat has been custom made by the G. Loomis team and features a single up-locking style.
The graphite insert on the seat is well-sealed and the colors show a sense of style and taste that the manufacturer employs. The 10ft 4 weight is the best rod in the series for nymphing.
A good fly rod for specialized fishing like this needs enough protection from damage. G. Loomis adds an aluminum rod tube for rod storage when on transit or not in use.
The company is generous enough to accompany it with a limited lifetime warranty in case of need for any repairs and servicing.
Sometimes, they make rod replacements if your case warrants one.
Check NRX Web Availability
Check NRX Amazon Availability
Check Our NRX Full Review
---
Moonshine Rod Company Epiphany Series Fly Fishing Rod
Moonshine has been in the fly fishing manufacturing sector for a long time now.
Their presence has influenced many anglers into trying different fishing techniques and experiment with their gear and equipment.
You will love the Epiphany Series for its sophistication and excellent performance.
While most aspects of the best fly rods for Euro-nymphing cut across most of the products, there are some with twists and tweaks here and there to make the experience even better.
The series has two rods for this type of fly fishing. They are available in 3 weight 10.6 ft. and 2wt 10ft.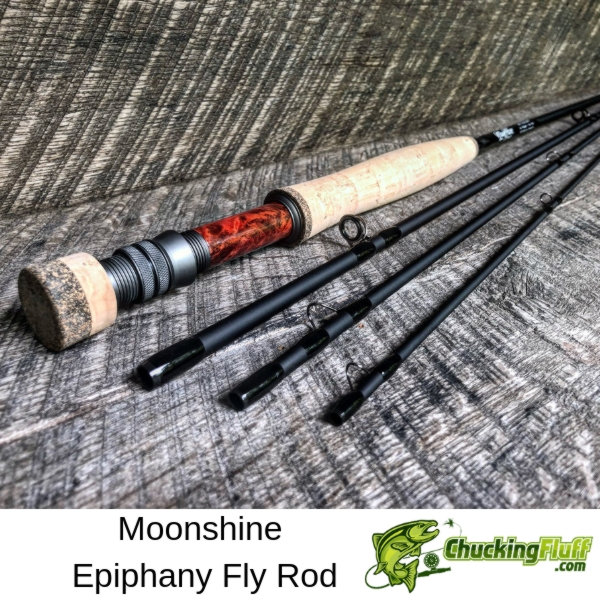 Since the rod's introduction in 2017, it has gained popularity because of the changes and improvements that Moonshine made in the previous rods.
The length and rod weight now allow the fly rod to have the right balance.
The technicality of nymphing doesn't need a fly rod that is heavier or has uneven weight.
This manufacturer has tried to blend the backing, line, and reel size to ensure that Euro-nymphing is fun.
To counter this common problem, the manufacturer has the Epiphany in two versions.
Some with Up locking detachable fighting butts and a down locking version. An angler is then supposed to choose the best one for their needs.
You can buy the two to try and weigh the experiences.
The rod weights are 2.8 oz. for the lightest and 3.6 oz. for the heaviest. The medium-fast action is more tolerant than faster actions.
However, it is within the right category for a tight-line fly fishing technique. You can change techniques if conditions please and this one might be bearable for novices and amateurs.
The manufacturer makes this rod blank from high-quality graphite for more strength and versatility. The wraps are from anodized titanium for corrosion and rust-resistance.
This guarantees minimal care and maintenance. Guides are well-crafted from durable material to withstand the brutal environments that you are likely to expose this fly rod to.
The handle should fit in your hands properly and ensure that despite the duration you hold it, it will be comfortable and less fatal to your hands.
These are made from high-quality cork and come in the right size.
Wooden inserts are becoming a thing in the manufacture of reel seats in the modern fly rods. This one doesn't go contrary.
The seat is from anodized titanium for exemplary performance and durability. You are sure of zero corrosion or rust. Its build and versatility allow for use nymphing in all environments.
There are no complications during care and maintenance. For an angler who goes nymphing daily, it will be kind to give your rod TLC by rinsing it well under fresh tap water.
Once done with fishing, you can carry your rod in its embroidered tube for safety. This is another one with a lifetime warranty that is guaranteed.
Check Epiphany Web Availability
Check Epiphany Amazon Availability
Check Our Epiphany Full Review
---
Orvis Recon 3 weight 10 feet 4-piece Fly Rod
We can see from our deduction that the majority of companies are incorporating resins in their blanks or using carbon fiber.
Orvis falls in the first category and has this fly rod blank made from high modulus graphite with a mix of resins.
The resultant fly rod turns out as extremely lightweight and very sturdy. I know you wouldn't want a fly rod of the price of RECON to die on you as early as its first or second use.
No, it wouldn't.
Closer guides are what we advise in the feature's section above and Orvis seems to understand this aspect than most of the manufacturers.
This one has 12 guides for your line to pass through and avoid drifting to other directions.
Everything is perfect. If it fails you, then improve your skills.
The grip is a half-wells cigar and fine-tuned to be soft to the touch and any angler casting longer will find it to their advantage.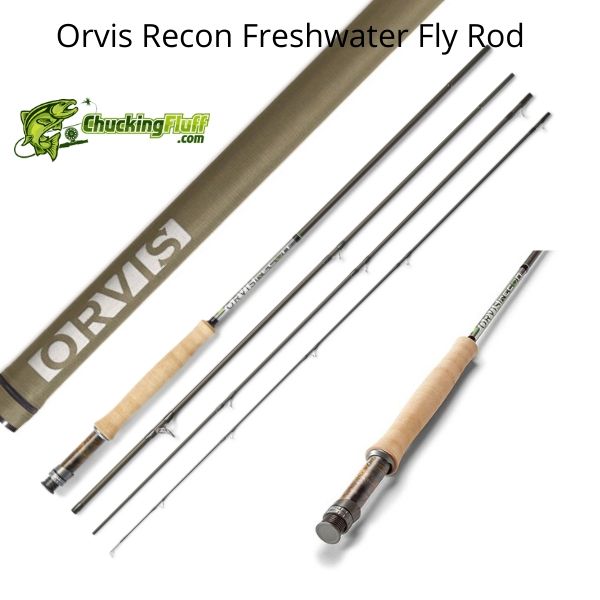 This is among the reels with a down locking reel seat and is made from high-grade aluminum.
Anodization ensures that this reel is the bomb and can withstand the adverse conditions that you expose it to. You can go with it out in the salt flats and it will not bow to any brutality.
Taking on fast action, this rod is a mighty wind cutter and casts well for distance if you are looking to catch larger fish, it will never disappoint.
One thing that novices need to know is their need to be focused and have perfect timing skills as Czech nymphing is technical.
Try to fish like you were a competitor in one of the Euro-nymphing contests.
Orvis includes a high-quality aluminum fly rod tube for proper and secure storage.
The divisions in the inner side allow you to place each section in its compartment to avoid breakage.
The rod is long at 10 feet so you need a lighter line weight and an overall fly rod weight. The line weight compatible with this rod is a 3wt and its weight is 2.5oz.
This is within the recommended bracket to ensure that the rod doesn't put too much weight on your arm and cause fatigue.
Check Recon Web Availability
Check Our Recon Full Review
---
Verdict of the Best Nymphing Fly Fishing Rods
Is there anything special about Euro-nymphing rods? Yes. Only the experience they give as you try this technique.
Otherwise, other aspects are recommended and most basic. You don't have to get a special rod. Neither do you need one.
It only has to be longer and make things pretty easy for you. Making fast runs and hitting pockets on the next side won't be a problem.
While your standard fly rod might work just fine, it will not give you the best results as a 10 or 11-foot fly rod.
Many brands are coming up to produce longer fly rods in this length range to suit the needs of fly fishers who prefer nymphing.
From the products above you can agree that the features cut across most brands. This shows that trying anything contrary might make French nymphing difficult.
Some anglers believe in spending once and crying once. You can purchase a fly rod specifically for Euro-nymphing. These come with a higher tag but it is worth it.
The majority of anglers will want affordable nymphing rods that are versatile and do the job well. You can check on our list and see the options that you can use.
Novices can get versatile rods from our list to allow them to try other fishing techniques alongside Euro-nymphing.
These rods are applicable in all environments thanks to their build and special technologies like anodization.
As you enjoy your tight-line fly fishing techniques, ensure that you often give it some tender love and care. A proper rinse with freshwater will always do.
"Check out some of our other Buying Guides"