Disclosure:
Just to be open and honest the buttons and links you click on in the website will in most cases take you to another website where you can purchase the products I am reviewing. As an Amazon Associate I earn from qualifying purchases.
October 15, 2021
Best Winter Fly Fishing Breathable Waders
Introduction to the Best Winter Fly Fishing Breathable Waders
You can't beat inclement weather like winter without proper gear that suits such conditions. Forget your bravery and very strong immune system. The cold water and ice sheets know nothing like this. Such extremities have killed so many people because of their unpreparedness. We wouldn't want you to experience a miserable excursion. Selecting the perfect waders for fly fishing in winter requires vital considerations that differ from those needed in spring or summer fishing.
---
Why do Winter Fly Anglers Require Different Waders?
First, waders will help you be identified by your craft. You can easily be stopped and asked a few questions here and there by fellow fishermen or guides. It is like a soldier donned in their combat uniform with a badge.
Winter waders boast more importance and their functions go beyond what their features can do. Their purpose is to keep the wearer dry and warm but what more can you do when you are this cozy?
Great waders suited for winter give you the chance to be closer to fish. We know that shore and riverbank fishing is another tactic that can get you these buddies but this happens in small rivers, creeks, and streams.
For larger waters, this won't be an adequate technique if you intend to get the best out of the area. Adventuring into pocket waters at the center of the river or fishing the sides of a lake will be better when you can wade.
With waders on, you can wade dependent on the area's depth. By doing this, you get closer to visible fish that are feeding although stealth is required as fish come into the shallows to feed.
You can cast better, spot larger fish, and reel ineffectively.
Also, if you are in areas with trees or other features that block the back cast, wading will be the best tactic to use. Walk into the river to have enough room for your backcast. You can't do much in winter without proper waders.
Besides, you can cross a river or stream to fish on the opposite side. This applies to shallow water bodies. Fishermen with the wrong waders will be limited to fishing on only one side of the water body or have to trek to the closest bridge to cross to the other end.
Most important of all, excellent waders for winter allows the angler to connect with the stream or river. Standing or wading in water gives a unique feeling of unity. This is one of the primary reasons why anglers love to fish, to get closer to nature.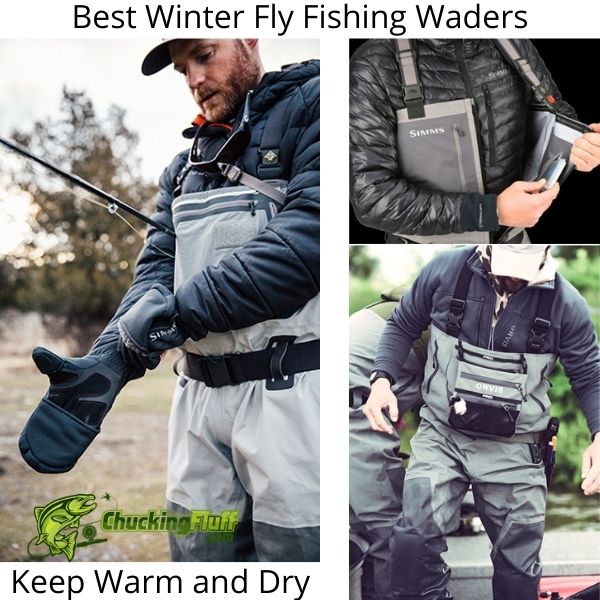 How we have Reviewed Winter Breathable Waders
First, the location you fish and the techniques you choose to use in winter fly fishing will be unique to every angler. For this reason, the input on wader reviews for cold weather is major.
By now, you must have seen our general chest wader buyer's guides for men and women. The overall aspect is similar but here, we will focus on the unique specifications and features that make them ideal for winter fly fishing.
We have waders falling in various value categories. Your purchase option will mostly be influenced by your budget.
We would like every reader to understand what they get for the amount they spend. You will be able to make solid decisions on the best waders for winter fly fishing.
Whether high-end or practical, we consider buyers of all potentials. We will not review cheap crappy waders and those outrageously valued waders but we might give mentions here and there to warn you prior.
Before we can start on the mini-reviews, it will be vital for you to know how to select the best waders for winter fishing.
---
Features to Look for in Waders for Fly Fishing in Winter
Some anglers must have had it miserable once or twice because of wearing the wrong waders for their winter outings. They didn't do the job right.
Of course, they wished that they had purchased the correct waders for such conditions. Here are the essentials to put in mind before deciding on a pair or two.
---
Winter Wader Style or Type
The wader type or style is arguably one of the most important factors when choosing the best ones for cold-weather fly fishing. There are two major types of waders in this scenario-stockingfoot and bootfoot waders.
Stockingfoot waders are the majority in the current market. And come with inbuilt neoprene booties to cushion your feet from the cold.
You have to pair these stockingfeet with good felt or rubber wading boots depending on where you will be fishing and the regulations there.
These have proven to be more comfortable than their cousins the bootfoot waders especially if you will be fishing for a prolonged period.
Bootfoot waders come complete to wear and go. They are a 2-in-1 solution and come with a pair of wading boots attached to them. They are easy to wear and get going.
However, this style of waders are lacking in several areas. For instance, they aren't as effective when camping, trekking, or hiking for long hours due to their extra weight. They are a good option for holding in body heat and warmth in cold weather however as there is more room for under layers. One has to think about how long these will last as the soles are usually the first thing to wear out.
---
Breathability – in letting the moisture out.
One of the recent developments in wader traits for winter and cold weather fly fishing is breathability. Its importance is crucial in winter weather but also shines in the summer.
Sweat vapor and condensation permeate out of your wader's membranes to keep you dry while not allowing moisture from outside to penetrate through the pores.
This is one of the features unavailable in neoprene waders for winter even though they offer more warmth needed during this time.
Most people don't think about breathability being very necessary during winter as it is in the summer. Wait until your underneath layers are soaking from body perspiration and condensation thus affecting your warmth levels then you will make your conclusion.
---
Fit – not too snug or loose
You aren't going to a fun party. You are heading out for something more fun that doesn't require fancy donning. Coldwater waders come in various sizes and cuts.
Nowadays, there are a few good ones for ladies but the majority are for men as they have a masculine cut.
Be very careful here because the right waders for this season should be form-fitting and be snug. It shouldn't be constricting in any way. Very tight waders will make you sweat more, hinder proper blood circulation, make you feel colder even with more underneath layer, and hinder flexibility and mobility.
They don't have to be loose-fitting. Extra fabric makes your waders cumbersome. You are at high risk of general unwieldiness, snagging, and tripping.
Such waders also allow the entry of cold air from the uppers and this makes you feel chilly while you shouldn't be in such low temperatures. You wouldn't want direct airflow when fishing in cold weather.
---
Height – Chest or waist high?
For cod weather fly fishing waders, we recommend going higher in wader designs. This is to provide an extra layer for your upper body hence more warmth.
Also, it is to prevent water backsplashes from getting in through the waders. On winter days, cold water gaining entry over the top of your waders and getting access to your under layers and bare skin can end what was to be a successful fishing day.
Wader Heights are available in:
Chest-high options available for men and women
Hip-high options
Waist-high options
Chest-high options are the most ideal for winter fly fishing because of their versatility and extensive coverage. They have inbuilt suspender systems and will give a comfortable fit right below the armpit.
They have more chest and torso coverage. This design minimizes the worries of water spillage on your underneath layers not unless you dunk in water.
The best ones come with a minimalistic pocket system to allow you to store fly boxes and other necessities.
The hip-high waders will be relevant for fishing in smaller rivers, creeks, and streams. They have straps that you fasten to your belt. You will be ankle-deep in water but have the inconvenience of risking getting cold because of water splashing onto your pants.
Waist-high waders will get to your abdomen and are the same heights as your usual pants. You will have to remain in shallow waters but won't offer as much warmth. Some come attached with a belt or suspender systems.
---
Insulation – Some are better than others
Insulation is a big deal when fishing in winter. Let's be honest because one thing that keeps anglers away from the water at this time is extreme cold.
However, with proper preparation you can step out in confidence and have one of the best experiences fishing in fewer crowds, and when the trout are bubbly and thriving.
With a snap of a finger, body temperature could get zapped from your feet and leave you almost freezing. Other risks are frostbites and hypothermia.
If you wear waders that aren't designed to hold up well in the cold, you risk more problems like drowning and death. One critical card of defense is insulation.
We have covered underneath layering in details in our winter fly fishing clothing tips article.
Breathable waders play their part and are the final outerwear layer that bars the entry of cold water through the membranes because of the high waterproofness level they are built with.
There are those with levels as high as 60 to 80K. Ensure that you check your winter waders' breathability and waterproofness levels and compare them to the external temperatures before going out.
---
Comfort – Flexibility to move is important
The best winter wader should be comfortable regardless of the time you will be spending outside. They shouldn't pinch or be constrictive-one of the downsides of neoprene waders because of the seam stitches that bulge.
You should be able to work in different postures with ease. This will go hand in hand with the fit aspect.
---
Weight – The Liter the better for moving about
It might sound irrelevant but is one of the pointers to a good breathable wader for fishing in the winter. Usually, neoprene waders are heavier compared to breathable options especially when they get wet.
One vital aspect we are looking to achieve in winter is to stay warm and dry throughout. Weight will come in the way of warmth if you aren't careful.
Trudging in heavier waders has your legs sweating and if this happens when in cold water, your legs get chilled. Heavier breathable waders will make tasks heavier and can cause more exertion and sweating.
---
Versatility – getting about with ease
As you choose waders for winter fly fishing, versatility should be a consideration. You need a pair that will have you warmer when standing in almost-freezing water as you pitch your favorite flies at trout and salmon.
The same waders should also allow you to comfortably perform strenuous activities like longer hikes, labor, and scrambling uphill to reach new potential spots.
If you will be spending a reasonable amount, you need waders that are as versatile as possible.
---
Durability
You don't want to be spending $400 on a pair of waders to last a day and dispose of. Durability is a must. Most manufacturers now have waders with articulate construction like reinforcing shin, butt, and knee areas for more protection and durability. Also, some have the lowers constructed with four or five layers for double protection from the cold in the extremities and wear from the bankside vegetation.
Such areas are what anglers term as the highest points of wear and tear. They are prone to more dings that could lead to leaks (something ALL ANGLERS SHOULD AVOID).
Reinforcing such areas make the areas resistant to quick damage.
You should note that regardless of how expensive the wader material is and the techniques taken into account during construction, there are no leak-proof waders that last a lifetime.
After prolonged use, each wader will get leaks and it is among the natures of owning these breathables. The downside is that nature remains more durable than the waders.
Leaks can be fixed but tend to be the most annoying occurrences to experience in winter. With frequent repairs, these waders lose their sole function and will leave you wet and freezing more often.
---
Budget
Before making any solid purchase decision, your budget is something to consider as it will be a determinant of what you will pick.
There are those as high as $1200 built with more advanced material and techniques, boating premium features, and offering the best of services.
You can also get another one in the $200 and $700 category that is absolutely great and does the job like your high-end choice.
If you take a keen look at our buyer's guide, you will notice that we have breathable waders in three categories-budget-friendly waders, mid-priced options, and high-end designs.
You don't have to spend so much to get the best quality winter breathable waders.
---
Simms G4 Pro Stockingfoot Waders
It is indeed what it is- a pro! Simms designed these waders with a three-layer Gore-Tex shell in the uppers and four layers of the same in the lowers.
The lowers are thicker because they are the most exposed to harsher extremities as you will either be wading or standing in water.
The Gore-Tex Pro Shell is very lightweight, breathable, durable, and waterproof. The technology makes the waders tear and abrasion-resistant.
The suspender system is an innovation that is proving to be very efficient. It is an air-mesh design with an adjustable spacer.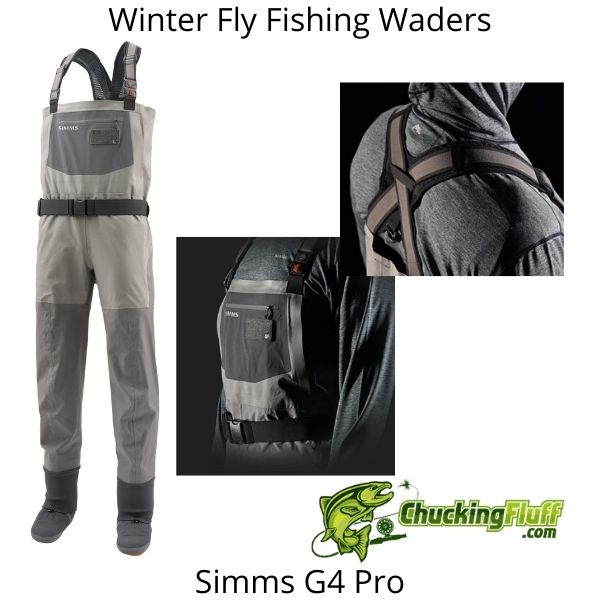 It comes with Duraflex buckles to allow you to convert it into waist-high waders when the temperatures are fair. There are inbuilt low-profile belt loops to pass your belt through.
For the minimalistic pocket system, there is a zippered chest pocket for fly boxes. And the hand warmers are fleece-lined. Designing them with zipper entries helps to reduce the chances of water flowing into them.
Seams in the back and front of the legs are well done and reinforced for durability and to allow for proper mobility.
There is a Sharkfin to hold your hemostat in place. Stockingfeet booties are compression-molded and come with inbuilt 2mm gravel guards to lock out any particles that can damage your waders.
The inseam selection comprises of short, regular, and long while sizes are available in short, medium, medium king, large, large king, extra-large, and double extra-large.
Check Simms G4 Pro Waders Web Price
---
Simms G3 Guide Riparian Camo Stockingfoot Waders
Just a pointer: If you'd like the bootfoot version of the G3 Guide Riparian Camo Waders, Simms has them in the market.
Most people associate riparian areas as delicate and those that are hard to maneuver in. Simms has changed this description by designing the perfect waders that can help you go about your water excursions with ease.
The manufacturer was tactful enough to have the wader color and patterns camouflage. This makes it excellent for moving about in the water as you will be undetectable.
By now, you should know that even your waders can spook fish.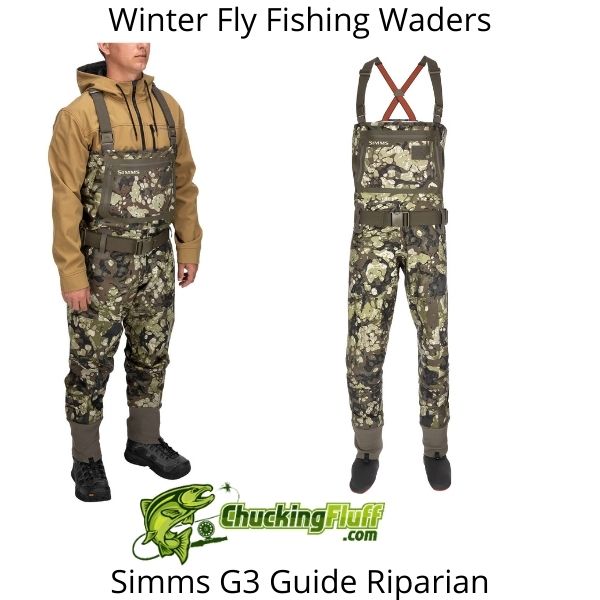 Another one featuring the advanced Gore-Tex Pro Shell construction, you can be sure to remain fresh, warm, and dry because it is built to be breathable yet waterproof.
Simms uses three layers of the fabric technology in the upper section and four in the lowers.
Waders aren't like fly fishing vests and wading jackets as they have very few pockets. This one has a stretch pocket accessed via a zipper to store fly boxes and a few essentials.
When your hands aren't engaged, you can toast them in the fleece-lined handwarmer pockets. But if you find no use for them, you can use them as extra storage pockets.
There is an attachment zipper to use for your flip-out pocket.
Simms includes a 2-inch stretchable wading belt to pass through the inbuilt low-profile loops to secure your waders. Also, the belt is useful for converting the chest-high waders into waist-high at the wearer's convenience.
The front and back leg seams have reinforcement as this is one of the areas prone to high wear and tear. It improves durability and allows for proper movement without any irritations.
Neoprene booties are anatomically engineered and boast antimicrobial properties. They come with inbuilt gravel guards and boot hooks to keep prevent the entry of sand, gravel, and stones.
Simms is generous enough to offer custom options for these waders. Also, there are wader care instructions that come with it to ensure proper maintenance and to prolong their life.
Camo wader sizes are available in small, small king, medium, medium king, large, large king, extra-large, extra-large king, and double extra-large. You can select the inseam options from long, regular, and short.
Check Simms G3 Camo Waders Web Price
---
Simms G3 Guide Stockingfoot Waders
The G3 Guide line couldn't miss a good pair of stockingfoot waders available in various colors. Those who would love to get the convenient bootfoot design of the same can get it in Cinder color only.
By now, you should have noticed that Simms is boldly embracing the Gore-Tex Pro Shell Technology in designing waders for winter fly fishing.
Also, it is prioritizing the lower section by building it heavier than the uppers. The upper section has three layers and four in the lower.
Your feet, thighs, and seat areas are the ones in direct contact with the water almost often especially if you are wet wading or standing in the water. Hence, you need more layers in these areas to boost warmth.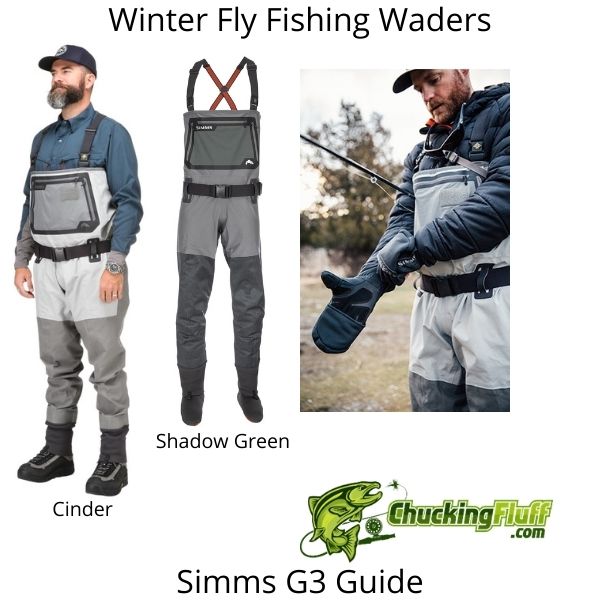 G3 Guide waders are available in small, small king, medium, medium king, large, large king, extra-large, extra-large king, and double extra-large king.
We love that the suspender system is functional and has buckles to help with adjusting to get the right fit in the torso area.
You can access the stretch pocket via a zipper from the top area. This is a good place to have your fishing license, IDs, or fly boxes. For extra storage, have a flip-out design tippet tender pocket fixed at the attachment zipper.
This is to secure your delicate tippets from breakage. Handwarmer pockets are lined with micro-fleece to generate warmth for your cold hands to warm up and improve dexterity.
Sometimes, the temperatures can begin to improve and the air will gain warmth. Feel even better by converting your waders to waist-high level with the help of the 2-inch wading belt. It is stretchable and easy to pass through the low-profile inbuilt belt loops.
For the stockingfeet, neoprene is the main material use to anatomically design them. To keep your feet healthy even in the heat concentrated times, they have an antimicrobial finish.
Simms builds them with permanent gravel guards and boot hooks to secure your wading boots and waders from damage by stones, grit, gravel, and sand.
Check Simms G3 Guide Waders Web Price
---
The team at Simms outdid themselves on this one. A little lighter than the three waders above, this one weighs about 43OZ. We attribute this to the choice of material and technology.
Simms maintains the use of Gore-Tex when designing the uppers and lowers of the waders.
The upper section is made from three layers while the lowers are well-reinforced to keep you warm as you wade or stand in the cold water.
We love how articulate the front leg panels are. The seams in the leg areas, both the front and back are perfectly done to give a proper fit and improve durability.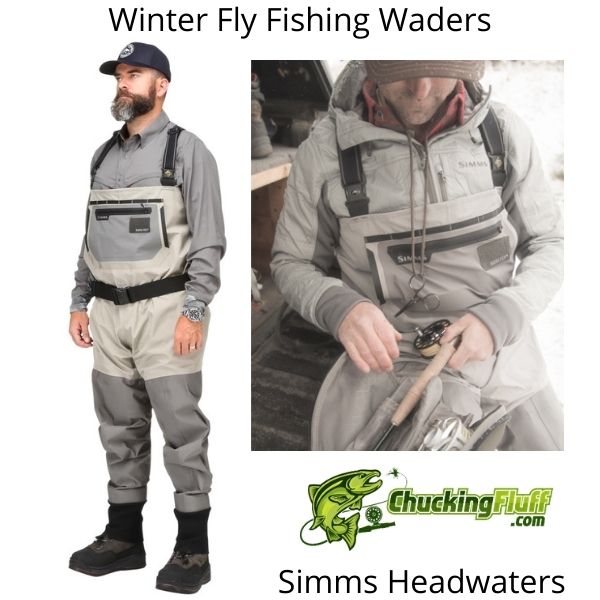 Gore-Tex is highly breathable to leave you feeling fresh and dry throughout even if you have high perspiration levels. It is also waterproof and abrasion-resistant.
The G3 Guide, Camo waders, and G4 Pro waders above share a few features. This is common in most waders as they don't have to be fancy and all stylish.
Just functional and durable. Some of the common features that cut across these four waders are the pocket system that comprises of micro-fleece lined handwarmer pockets, a stretchable zippered top access pocket for your fly box, and an attachment zipper section for tippet pockets.
Also, the gravel guard and boot hook design is similar and protects your waders and boots from damage by particles and debris.
Neoprene booties are also the same design and will keep you warm when the temperatures drop farther.
The belt is different in measurement by 0.5 inches but still functions properly with the help of the inbuilt low profile belt loops.
Check Simms Headwater Waders Web Price
---
Simms Freestone Stockingfoot Waders
The Gore-Tex Pro Shell fabric technology is common in Simms waders. This time, the legendary manufacturer introduces yet another technology that works as super as the former and uses it in the Freestone Stockingfoot waders.
Featuring the Toray QuadraLam fabric technology, the result is a heavy-duty and waterproof wader fabric. It has a micro-porous coating that is waterproof.
In total, the wader has four layers-two coated layers, a tricot backer, and one membrane layer. The construction helps to combat wet weather and the cold.
The pocket system comprises micro-fleece lined handwarmer pockets to liven your freezing hands when they aren't engaged.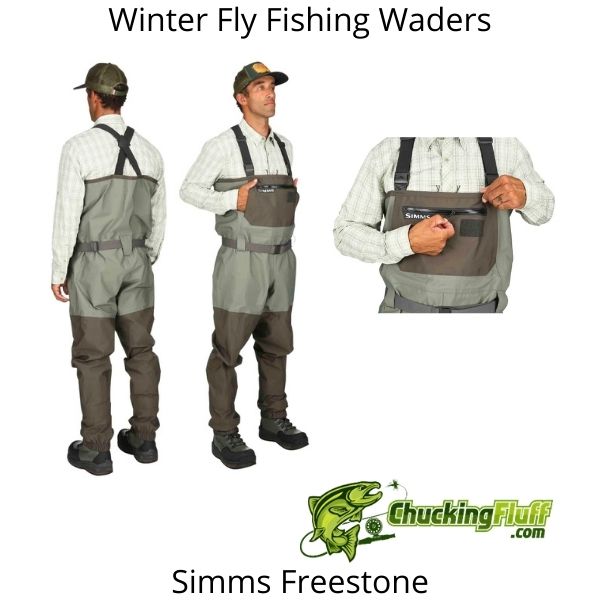 There is a zippered pocket at the front for small to medium size fly boxes. This one also has the attachment zipper point for tender tippet pockets.
Your wader will come with a 1.5'' elastic waistband that you pass through the three belt loops to secure it to your body. It also helps with converting the waders to the waist-high level.
The waders have an elastic bottom hem at the ankles where they are attached to the neoprene booties.
This is to lock out any water from flowing up your legs. Inbuilt gravel guards lock out any sand, grit, and gravel that can damage your waders.
These waders are available in small, medium, medium king, large, large king, extra-large, and double extra-large.
Check Simms Freestone Waders Web Price
---
Simms Tributary Stockingfoot Waders – Budget-friendly Choice
Simms is a considerate manufacturer who cares for anglers of all budget levels. Most of its products fall in the mid-priced range and a few in the high-end category.
However, you will never miss several options for those shopping on a tight budget. The Tributary waders is what we are reviewing today. Not all waders below the $250 mark are as efficient and durable.
Field-tested for performance and longevity, the Tributary waders aren't limited to 'tributary' use. You can go with them lake fishing and they will remain unbowed.
The construction isn't any different from the other waders by Simms. Maybe you'd expect a poor choice of material and other excluded features but this one is a chocker.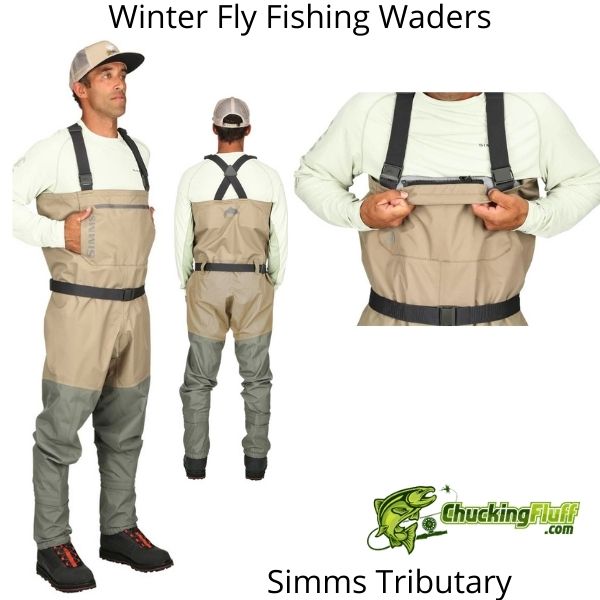 The fabric technology used is high-grade polyester 3 and 4-layer construction. The three layers are in the upper section and the four in the legs and seat area.
The choice of polyester is highly breathable and waterproof. Also, this wader is one of the lightest weighing 36.25OZ. This makes it highly packable and quick-drying.
There is a top stash pocket with a zipper to store small to medium size fishing essentials. You can warm your cold fingers in the fleece-lined handwarmer pockets.
Belt loops are proving very essential for securing your waders to your body with the help of a wading belt. This one has two loops and comes with a 1.5'' belt with no stretch mechanism.
It is also useful in converting your waders to waist-high when you need your uppers with fewer layers.
Neoprene booties have inbuilt gravel guards and a unique feature is the stretchable bottom hem to prevent the entry of water up your feet in case your boots get wet.
These waders are available in small, medium, medium king, large, large king, extra-large, and double extra-large.
Check Simms Tributary Waders Web Price
---
Orvis Men's Clearwater Waders
Orvis Clearwater Waders for men are among the best-seller products by this company. Besides the affordable price, most male anglers are attracted by great performance and durability.
This was among the first waders to be designed with less fabric to counter bulk and the problems that are associated with it when fishing.
The masculine cut gives an excellent fit in all the relevant areas as long as you get the right size.
Both the uppers and lowers are made with four layers from high-grade nylon fabric. You can be sure to benefit from its breathability, waterproofness, and durability.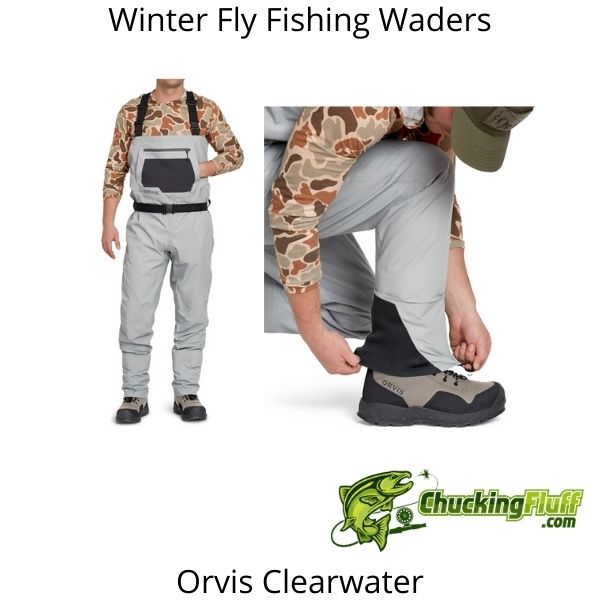 Without applying any special technology, the waterproofness level is 30K while breathability is 8K. This ensures that you remain dry and warm throughout as long as you don't have leaks.
Some winter days are colder in the early mornings and warmer in the mid-morning and afternoon. To prevent over perspiration, you can convert your waders to waist-high levels using the side-release buckles.
The pocket system on Orvis waders is also minimalistic and this one comes with kangaroo-style hand warmers and a stretchable pocket on the outer side for fly boxes.
There is a loop patch with a hook for attaching an Orvis waterproof pocket which is separately purchased.
Orvis includes a 1.5'' wading belt that you pass through the low-profile loops to secure your waders. The seams in all areas are also low profile to avoid bursting and to lay properly over your underneath layers.
Anatomically engineered neoprene booties have gravel guards to prevent wader and boots damage. These waders are available in small, medium, large, extra-large, and double extra-large.
Check Orvis Clearwater Waders Web Price
---
Orvis Men's Ultralight Convertible Waders
The award-winning Ultralight Convertible waders are stunning and true to their name. They weigh about 35OZ which is extremely lightweight, packable, and quick to dry when wet. Orvis uses pure nylon material on the outer shell.
The membrane is made from bi-component Polyurethane while the liner from pure nylon tricot material. This combination makes it lightweight, breathable, waterproof, and very durable.
The cut and fit are modern to reduce excess fabric in unnecessary areas. With a four-layer construction, you are sure to enjoy optimum warmth with proper underneath layering.
It is a convertible design with the help of the FIDLOCK SNAP fasteners with high magnetic properties. Conversion to waist-high waders is easy and very effortless.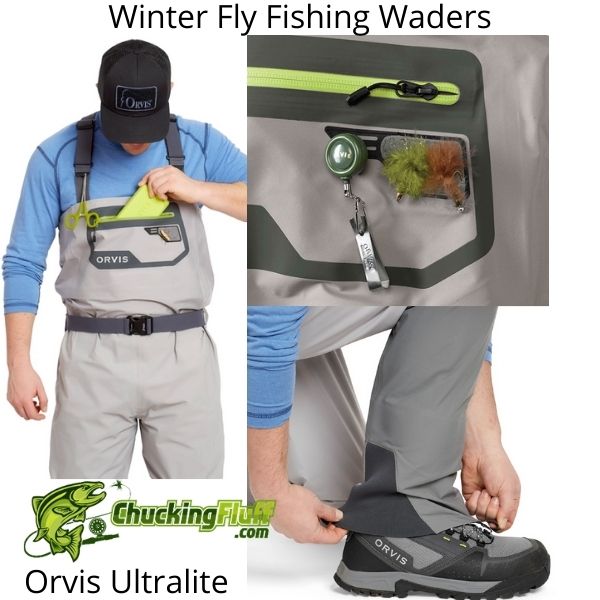 Featuring a YKK Aquaguard zipper on the outer pocket, you can be sure to have your pocket contents dry for some time.
If you are skeptical, you can buy waterproof bags and store your vitals before stashing in this pocket. The front pocket also has an inbuilt tool docking system and a fly patch.
There is a stretchy power mesh inner pocket accessed via a zipper with a patch for attaching the Orvis waterproof pocket which you buy separately and doesn't cost much.
Seams in high wear and tear areas are reinforced for durability but still remain low-profile. We haven't heard any instances of seam bursts or leaks.
It comes with a 1.5'' stretchable wading belt to use with the inbuilt low profile loops.
As a stockingfoot design, neoprene booties have an antimicrobial finish to keep your feet dry and fresh and prevent fungus.
Check Orvis Ultralight Waders Web Price
---
Orvis Men's Pro Waders
Affordable, durable, and high-performing professional waders are very difficult to come by. We are lucky to have this one from Orvis that takes a unique construction and cut.
The waders are built from Orvis' patented 4-layer Cordura fabric in the uppers and a 5-layer design of the same in the lowers. The lower areas are prone to high wear and tear from abrasion and puncturing.
This style of construction is to enhance durability and performance. The outer shell and tricot liner are made from pure nylon.
We love that most manufacturing including Orvis takes on the low profile seam construction for a good finish and durability. The crotch area has been well-cut and made to enhance comfort and allow for easy movement.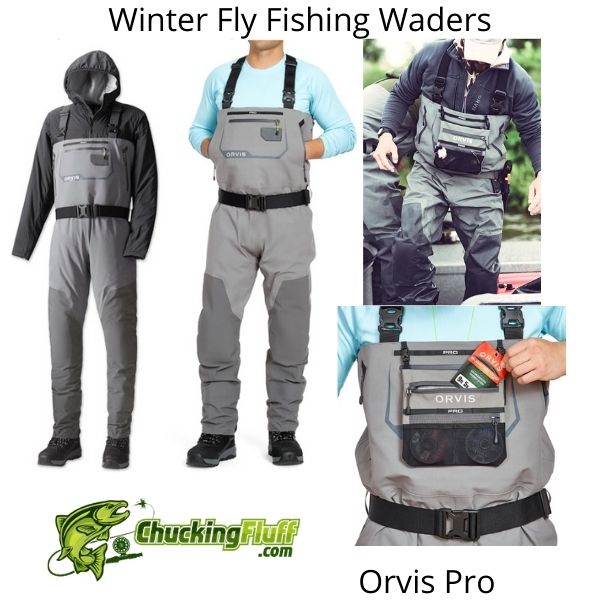 The outer pocket has a YKK Aquaguard zipper for water-resistance. This pocket is for fly boxes. The storage system includes rubber tabs on suspenders and a daisy chain on the outer pocket to dock your tools.
The fly patch is for quick drying. The inner pocket is large enough and made from a four-way stretch mesh fabric you can stash here larger items.
Kangaroo-style handwarmer pockets are fleece-lined for more warmth and have YKK zippers to keep them dry. It has an accessory pocket that is removable for extra storage space.
The loop and hook patch allows for use with the Orvis waterproof pack which is a separate purchase.
Elastic suspenders are easily adjustable and allow for the conversion of your waders into the waist-high level.
The knee area is reinforced with removable pads for more comfort and to reduce the chances of wear and tear.
The modern neoprene booties are lightweight but offer enough warmth and comfort when worn inside the correct size of wading boots.
Inbuilt gravel guards are made from PU reinforced mesh and fully protect your boots from the entry of water, stones, sand, and grit.
Check Orvis Pro Waders Web Price
---
Redington Sonic Pro Stockingfoot Waders
The design and cut of your waders will influence its performance and durability. The Sonic Pro is a professional level type of wader that features a minimalistic design in the storage system and overall, the silhouette cut doesn't make it bulky to make it burdensome to maneuver while fishing.
This is among the wades that have proven to be functional in all seasons. You have to be keen on underneath layering to ensure that you are safe from the effects of extreme weather conditions.
The chest pocket is accessed from the top by a water-resistant zipper and can fit a few essentials. You can toast your hands in the two-sided fleece-lined handwarmer pockets and have your delicate tippets in the flip-out or mesh pocket.
Redington packs a slimmer wading belt to complete the package. You will not experience snapping or rusting of hardware as the quality and material are top-notch.
At the feet area, the ergonomic neoprene booties are 3.5mm with the bottoms measuring 4mm to boost comfort and keep you warmer in case you will be wading or standing in cold water for long.
Check Redington Sonic Pro Waders Web Price
---
Redington Sonic Pro HD Stockingfoot Waders
Redington has been doing exemplarily in wader manufacturing. The company boasts a number of their designs that are featured in worldwide product contests and the customer feedback is amazing.
A four-layer wader will help in keeping you warmer than three or two-layered designs. This is one of the best pieces by this brand and features the four layers both in the uppers and lowers.
The choice of material is waterproof, breathable, durable, and abrasion-resistant. The Sonic Pro HD is an improved Sonic Pro wader. The two waders share a few features.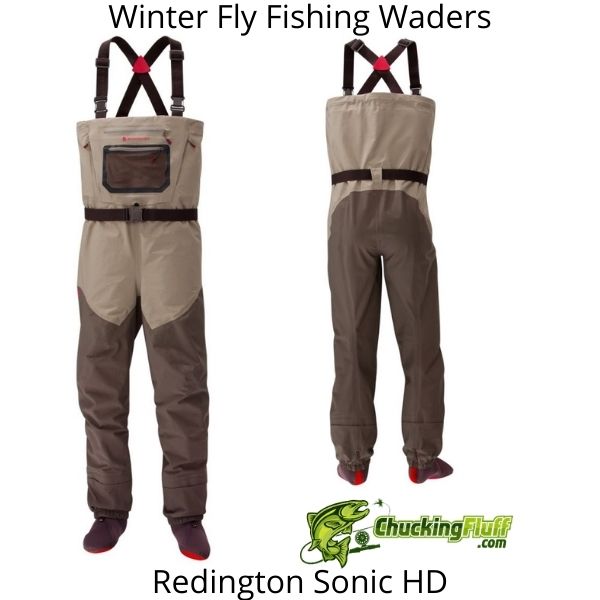 We love that Redington uses rust-free hardware on the suspenders and other parts of the wader. This is to boost performance and improve longevity.
For storage, the wader is designed with a large chest pocket on the exterior to fit your small, medium, and large fly boxes.
It comes with a mesh fabric tippet pocket and a flip-out pocket for your tippets. Handwarmer pockets are double-sided with high-quality fleece material to keep your hands warm when the temperatures drop lower.
Redington attaches 3.5mm neoprene booties whose bottom areas are 4mm on the waders for extra comfort and to help with abrasion-resistance in case your boots get damaged.
Check Redington Sonic Pro HD Waders Web Price
---
Redington Escape Stockingfoot Waders
Why the name Escape? There is so much about these waders that made it gain the name. First, they are easy to remove and are the best companion when you need to escape from your normal life of work and activities.
This one features a three-layer wader construction in the uppers and a four-layer in the lowers. The overall wader material is waterproof, highly breathable, easy to move in, and very durable.
Its elastic wading belt is removable to give anglers a choice to wear it with the wader or not. All grommets, pulls, zippers, and hardware is fully coated and don't corrode.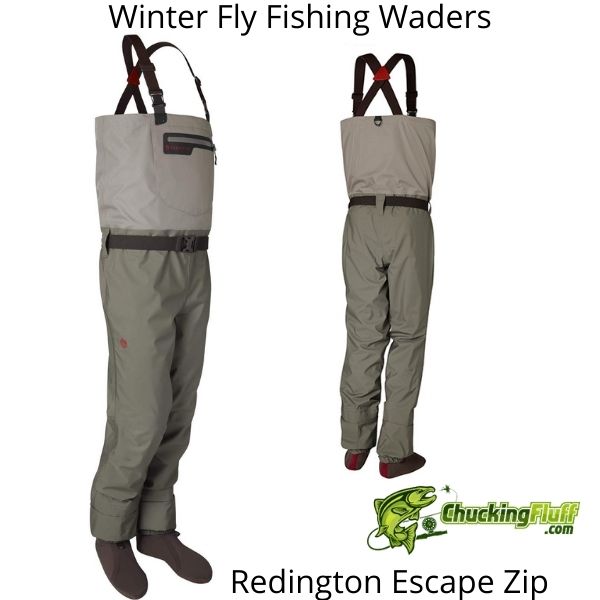 We love that the choice of zippers is YKK Aquaguard for water-resistance.
For the pocket system, hand warmers on the chest area are fleece-lined to keep you warm when your hands aren't engaged. The chest pocket is large and accessed via a YKK zipper and fits small, medium, and large fly boxes.
There is a zippered flip-out pocket for more items. You can attach your tools on the two tool docks and your hanging net on the D-ring.
The Escape wader has 3mm neoprene booties that fit well in your wading boots. They come with inbuilt gravel guards and lace hooks for securing your waders and boots from the entry of sand and grit that can cause damage.
Check Redington Escape Waders Web Price
---
Patagonia Swiftcurrent Expedition Waders 2020
Patagonia winter waders are gaining popularity among anglers and the new Swiftcurrent Expedition is among our highlighted products.
The manufacturer uses an H2No performance standard shell from recycled polyester to design a waterproof yet breathable wader.
The uppers have four layers from this polyester microfiber but with high-density taffeta fabric. The lowers on the other hand have a similar construction but with high-density double-weaved taffeta face fabric.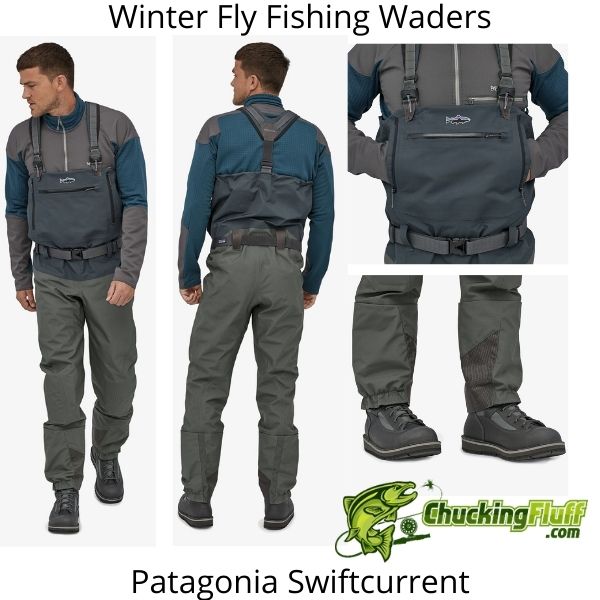 The reason for double-weaving the lowers is for higher durability and abrasion-resistance since they are among the high wear and tear areas. Patagonia applies a DWR coating on the entire wader for water repellence.
Its suspender system is fully adjustable and functions on a quick-release basis. They are convertible to waist height.
The top hem has a drawcord to prevent the entry of water when it drizzles or when you experience backsplashes.
The wades have front and back weld loops to use with the no-snag belt.
A cool feature is a gusseted crotch that allows for free movement and enhances comfort. This one features the SCC-Single seam construction for longevity.
The outer side has a zippered chest pocket in a horizontal design for your fly boxes and reachable kangaroo-style pockets for hand-warming and storage of nippers and tippets.
Its inner side has a loop at the center back for hanging your waders to dry, two daisy chains to dock your tools, two stretchable drop-in pockets, and a waterproof flip-out storage pocket for IDs and licenses.
Wader legs are articulated and come with removable knee pads for comfort and abrasion-resistance. Scuff guards in the ankle areas are heavy-duty for durability.
Check Patagonia Swiftcurrent Waders Web Price
---
Patagonia Middle Fork Packable Waders
One aspect that makes these winter waders stand out is packability. For a traveling angler, what you have mostly for storage is a backpack that needs to carry this and so much more to sustain you on your trip without making emergency purchases.
This one is your ideal travel partner as it packs down extremely well, weighs about 26.1 OZ being the lightest on our list, and takes very little space. You can roll it up into its compact stuffpack for storage.
Patagonia uses its proprietary H2No Performance Standard shell to make these waders with a three-layer upper from purely recycled nylon and a four-layer lower section from polyester.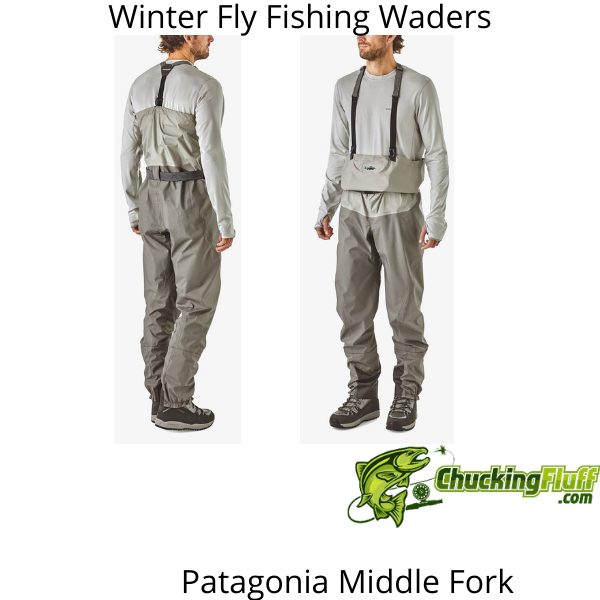 The material is breathable, waterproof, and durable. There is a durable water repellent finish on both the uppers and lowers to improve moisture repellence.
This is another one featuring the single seam construction technology for durability. Its crotch is gusseted to offer more comfort and allow for unrestricted movement.
High wear and tear areas like the ankles are reinforced with heavy-duty scuff guards. The fit is excellent with the help of the adjustable suspender system and the durable wading belt.
Its pocket system is one of the most minimalistic we have in the market with an internal TPU-welded pocket with high waterproofness levels.
Check Patagonia Middle Fork Waders Web Price
Center Front Zipper Style Waders
We had to pick out these uniquely-designed waders and have them reviewed separately. These waders come with frontal access zippers for easy wearing and removal.
They are becoming so common on the shores and banks because of their convenience when you are in a hurry or need to respect Mother Nature calls ASAP.
---
Patagonia Swiftcurrent Expedition Zippered Waders 2020
We have reviewed its immediate brother above and they share everything except the upper section's design.
This one comes with a frontal zipper in the torso area for easy access to your underneath puff jacket, ease of wearing and removable, and convenience.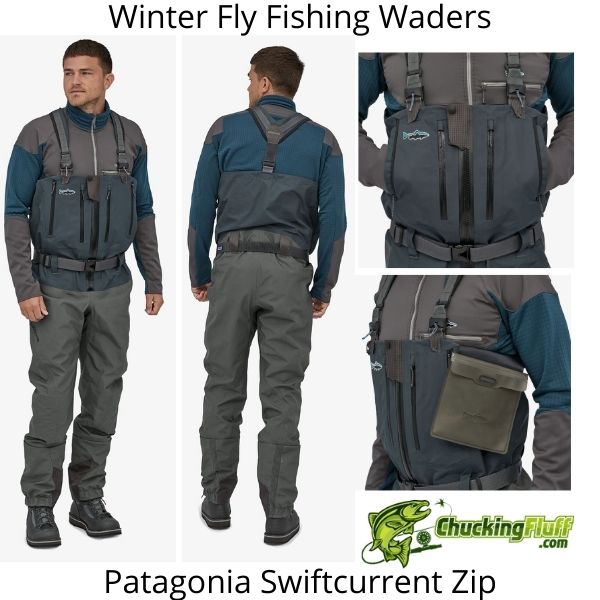 This zipper is a submersible YKK design for high water-resistance. The zipper runs from the top of the uppercut to the waist area.
If you get submerge in water, there are very minimal to no chances of water sipping through it unless it is burst or gaped.
Check Patagonia Swiftcurrent Zip Waders Web Price
---
Redington Escape Zip Stockingfoot Waders
Convenience isn't a bother to so many anglers. However, there is the mindful category that loves their things well-organized and running smoothly.
This Escape Zip wader is one that they would love to sample. It has its older sibling, the Redington Escape Stockingfoot Wader that doesn't have the frontal zipper design.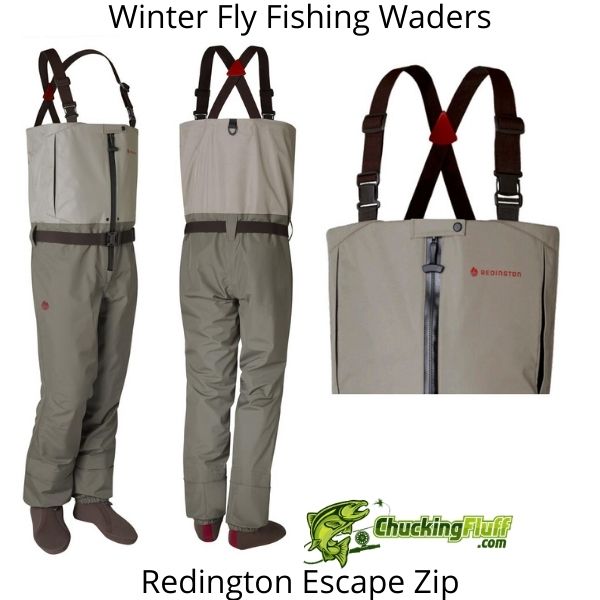 Redington went a notch higher in securing the waders at the top section of the upper where the zipper starts from by having a small flap with a stud-like button to ensure that the zipper remains in place and doesn't run downwards exposing your chest to the cold.
This is among the tactful styles that other manufactures should employ. The other features are similar to its older brother.
Check Redington Escape Zip Waders Web Price
---
Redington Sonic Pro HDZ Stockingfoot Waders
This wader is different from the Redington Sonic Pro waders and the Redington Sonic Pro HD Waders because it has a waterproof zipper at the center front while the rest have them on pocket sections only.
As you have fun on the water, there are times when you need to loosen your outerwear a bit because of the rising temperatures but can't leave the water or put your combo aside.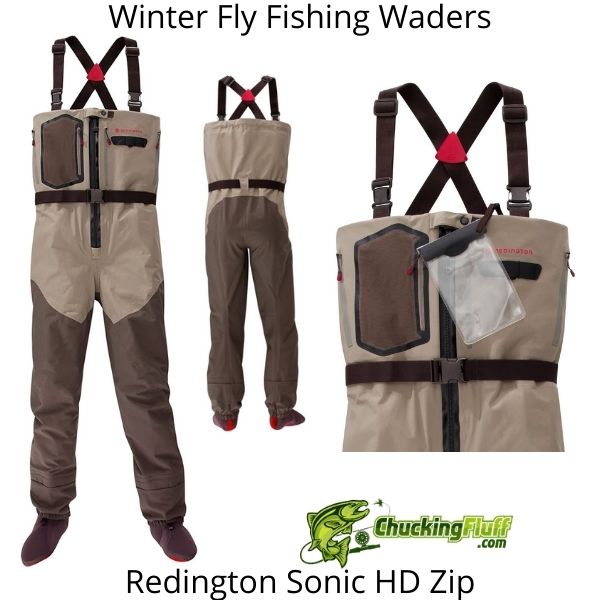 The HDZ waders come in handy in such circumstances with the TIZIP zipper running from the top upper section to the waist area. You simply unzip and push one flap to the side for cool air to get into your underneath layers.
The TIZIP zipper is waterproof and boosts your confidence when you wade in deeper waters that reach your uppers, get rained on, or are hit by a backsplash.
Check Redington Sonic HDZ Waders Web Price
---
Simms Freestone Z Breathable Waders
We have mentioned the Simms Freestone Waders in the top reviews but that design lacks a frontal zipper. This doesn't make it any less when it comes to functionality and performance in the winter.
Simms designed this little brother for anglers who would prefer a different design in the upper section while maintaining all the other features of the best-seller Freestone wader.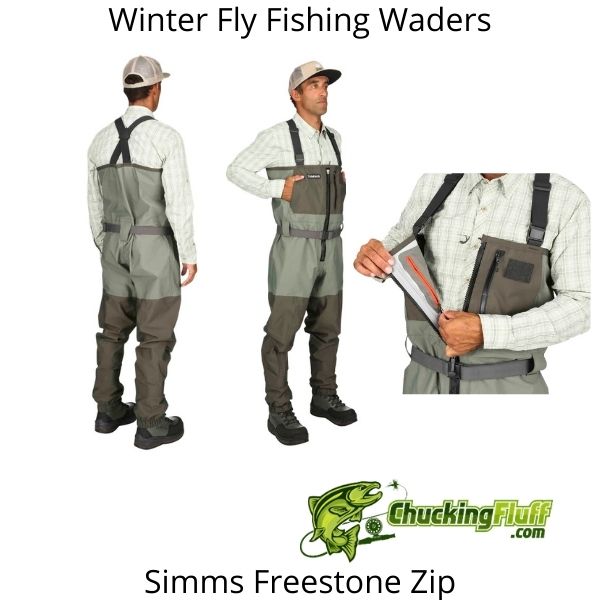 This one features a TIZIP waterproof zipper at the center front that runs down to the crotch area which is perfect after the mugs of beer you had for lunch are demanding to be deposited at their rightful place.
The chest pocket on this one is sewn to the left side for small to medium size fly boxes.
Check Simms Freestone Z Waders Web Price
---
Simms G4Z Stockingfoot Waders
The Simms G4 line of products has the G4 Pro Stockingfoot Waders and the G4Z Stockingfoot Waders.
We have a review of the former in the above reviews as it doesn't feature a center front access zipper but still performs exemplarily in wet weather.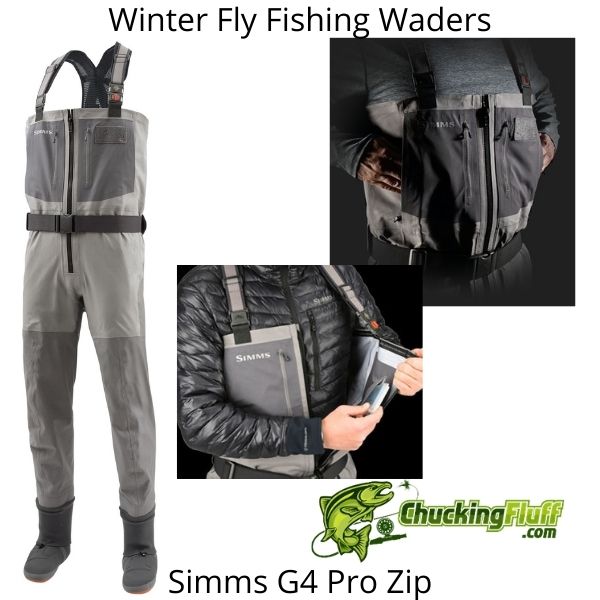 Simms uses the YKK Aquaguard zipper on this one for functionality, waterproofness, and durability. From the anglers who have owned and used these waders, the feedback is impressive.
It is easy to wear and remove them without risking damage. Also, the pocket arrangement is different in this one with the chest pockets being on both the right and left side while the other has a top-zippered chest pocket.

Check Simms G4Z Waders Web Price
---
Wader Warranty
Most reputable manufacturers do their best to offer a customer reward system by including warranty programs on their waders. Each company has its duration and warranty policy that applies to each pair of waders.
Even though these waders are built with attention to detail and from high-quality materials and technologies, they still will wear out. It is like your original Porsche tire. It loses its treads and gets punctured after some time.
Brands like Orvis also have product guarantee programs. In case you receive your Orvis waders and are dissatisfied with the material, quality, look, features, or craftsmanship, you can return your waders within the immediate two months after purchase and they will either replace it or refund your cash without any questions.
Some repairs are done free of charge depending on the warranty terms and conditions of each manufacturer. Your other repairs from normal use will be charged at a small fee.
---
Breathable Wader Care and Cleaning
The external surfaces of most breathable waders are made from laminate breathable yet waterproof fabric. A good number are treated with the DWR-Durable Water Repellent Coating.
The DWR coating is a special chemical treatment that makes water to bead into a droplet and quickly roll down the outer surface without sipping through the fabric.
This boosts the general performance of your waders and improves their comfort levels.
After prolonged use and exposure to water, sun-rays, and cleaning detergent, the DWR coating begins to wear off and degrade.
Once it begins to wear off, its sole function of beading up water into droplets fails too and the waders can wet out from the absorption of moisture.
If your garment has been built by a waterproofing technology like Gore-Tex or Toray QuadraLam, it will remain waterproof but its breathability levels will be hindered.
This in return increases condensation in the underneath layers producing a clammy and cold feeling-something we all want to counter in winter. Cleaning your outerwear properly will help to prevent such occurrences.
---
How to Clean Waders with a DWR Coating
Most breathable waders with the DWR coating can be run in the machine. It is very crucial to check on the care instructions of each wader before assuming that you can take the machine wash direction.
The instructions are on the tag at the inner backside of the garment. Others come with instructions on printed paper. If you lose yours or can't find any, check on the manufacturer's website by typing your product name or code.
Ensure that you use a powdered laundry detergent that is free from additives. If you can't find any, get a liquid alternative that is specific to synthetic breathable garments.
Detergents that have color-safe bleach or fabric softener should be avoided.
A few detergents for machine use include:
Tech Wash from Nikwax
Synthetic Fabric Cleaner from ReviveX
Powdered Laundry Detergent from Ivory Snow
If you have non-washable garments like bootfoot waders, the G-Wash Spray Cleaner from Grangers will be ideal.
Remember to follow the drying instructions to maintain the status of your waders and prolong their life.
---
Restoring the DWR Coating
Cleaning only will not maintain and restore the wearing DWR coating on the outer surface. Once your waders are completely clean, tumble dry or use a cool iron on low to medium setting to reactivate the DWR finish.
There are store-bought DWR coating sprays that you can purchase. Not all of them are as effective. Below are a few products that we can recommend.
TX Direct from Nikwax
Spray-On Water Repellent from McNett Revivex
Ensure that you carefully read the manufacturer's instructions for use before application.
---
Breathable Wader Repair
With a few people learning to do almost everything by themselves, the DIY aspect of wader repair on breathable options is a vital section to cover.
We advise that you reach your manufacturer in case you have any issues with your wader.
If it is from defects in material or craftsmanship, it will be repaired, replaced, or you can get a full non-questionable refund if you return it within the period stated in the warranty program.
Issues that arise because of prolonged use or intentional damage can be repaired at a fee.
Here the company's communication, logistics, availability, and your urgency will determine if the problem can be handled as fast as possible or it will take more time. This pushes some anglers to repair their waders by themselves.
A little DIY isn't bad but can get worse if you can't do it the right way. We will outline a few coon wader problems and how to tackle them individually.
---
Wader Punctures
Identify the location of the puncture. Some are visible from afar while others need you to identify a general area where the actual puncture could be located. To help prevent this kind of guesswork, turn the waders inside out.
Spray the general location where you suspect the puncture with some rubbing alcohol and use your hand to spread it onto the inner fabric. Change the waders into their right side and look for a darker spot from your side.
You will have spotted the leaking area. Mark this spot on both the inner and outer sides of your waders. You should be having a repair kit like the Aquaseal Wader Repair Kit or any from your manufacturer.
If you have no kit, at least have a tube or tub of Aquaseal in hand. Clean the marked areas using an alcohol prepping pad from your kit or rub alcohol.
Apply a small dab of the seal to cover the spot completely and extend to a 1/8'' round. Allow it to dry for 12 to 24 hours. Repeat this process son the inner side. And give the same time to dry before use.
Sometimes the punctures are larger or occur in the high wear and tear points. You will have to double coat these areas by applying one coat on the outer side and waiting for t to dry for a day then repeat the same to the inner side and go over the process again to make it two coats on each side.
Some seals cure in minutes with exposure to sunlight or UV rays. An example is the Aquaseal Wader Patch (1L9L) from UV Care. This is for fixing temporary leaks and will not be durable for permanent use.
This one comes in handy when you spot a puncture when outdoors fishing and need a quick remedy.
---
Wader Tears
Wader tears are very common and this could be from sharp thorns or twigs as you traverse thin passages while hiking or from flying hooks and other sharp-edged objects. The repair procedure will be different from how you affect a puncture.
It is easy to locate a tear. Apply tape onto the inner side of your waders to stabilize the area. This tape is available in wader repair kits. However, you can make separate purchases of the same.
Before applying the tape, ensure that you have matched both sides of the tear perfectly to avoid gaping.
Clean the affected area by rubbing alcohol. Follow with a dab of Aquaseal to fully cover the tear and extend the affected area on all sides by 1/8''.
Give your wader time to dry for 12 hours then remove the tape from the inner side of the waders. Clean the area again using alcohol to do away with all the residue from the tape.
Apply Aquaseal on the inner side of the waders. Repeat the procedure if the tear is larger or falls in the high wear and tear areas.
---
Gaped Seams
Gaped seams are sections of the seams that are burst or come open to allow for the entry of moisture.
This could be as a result of defects in workmanship, a smaller fit, or a burst as you make extreme movements and positions. You can use wader tape to remedy this.
---
Final Thoughts on Winter Breathable Fly Fishing Waders
Everyone looks forward to the delivery of a new pair of waders for winter. The excitement is skyrocketed if you get the exact product you ordered in the right color, fit, and size.
It triples if the winter waders are in perfect condition and the season is fast approaching. This is what we'd like you to feel after you go through our guide and select a few pairs for your next excursion.
We have crucial pointers on how to select the best winter breathable waders and something to note is your wading boot size. With a perfect stockingfoot wader, the wrong boot size will end what was to be a fruitful day outside.
Ensure that you select a boot size slightly higher than the ones you use for summer fly fishing. This is to allow for underneath layering with neoprene and woolen socks before you can put the stockingfeet over and right into the boots.
Wader care is important to ensure that you remain dry and warm throughout the session. In case of damage, you can act swiftly by DIYing as per the type of destruction. Take advantage of your warranty where necessary.
Check out some of our other Buying Guides