Disclosure:
Just to be open and honest the buttons and links you click on in the website will in most cases take you to another website where you can purchase the products I am reviewing. As an Amazon Associate I earn from qualifying purchases.
July 28, 2023
What Can You Do With Old Waders? Creative Ideas for New Life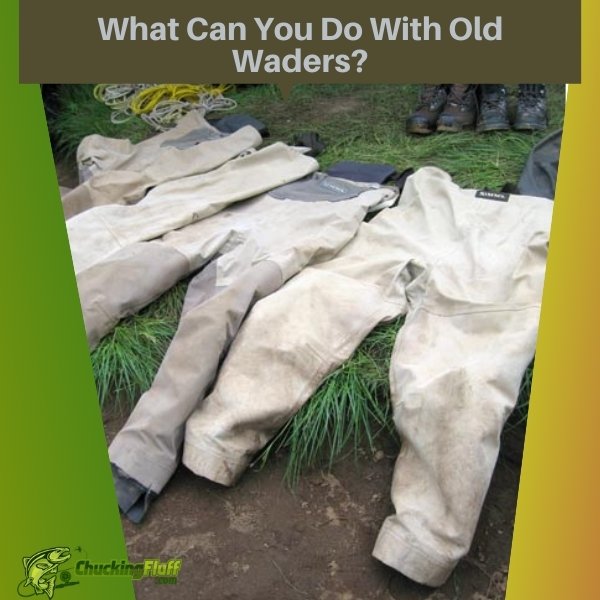 Everlasting life isn't a characteristic of waders no matter how much they are raved about by manufacturers.
You'll have to toss them at some point in your angling years.
Maybe because you can't patch them anymore or the fabric is beginning to lose functionality because of 'old age'.
What can you do with old waders?
Old waders are now great materials for upcycled projects, from getting a pair of booties for your new waders to layer up on cold days to making pouches for small gear, tools and accessories.
There is a ton of things you can do with the wader fabric, zippers, and attachment points.
A DIY lover can make dozens of lovable items to organize their functional gear and if you are looking for a way to make a few coins from old waders, here is where to start.
---
What Can You Do with Old Waders?
---
Your old can be gold if you learn how to transform it.
Dumping old waders in the trash when you can recycle them at home is wasteful.
Let's see what you can do with these oldies.
---
DIY Wading Belt
---
Most waders are designed with shoulder straps with nylon webbing.
If you know how much a wading belt is useful when you fall in water, you'll want to sew the straps' back ends together to make a functional belt.
Have this in your trunk to use when you discover a wading spot and hadn't packed one in your fishing luggage.
A DIY spare can save the day.
---
Neoprene Socks for Winter
---
Single-digit temperatures mightn't be the most comfortable for outdoor lovers but avid angler knows that it is the time to win jackpots if they are well protected against the cold.
Old neoprene waders with booties give nice socks for layering when fishing in winter or have them in wading boots when wearing fishing pants.
The top 8'' above the wader's feet make excellent pairs of gravel guards.
---
Hip Waders
---
Now, this is specific to waders that don't leak from the waist downwards.
Hoping that the leaking areas are above waist length, you can repurpose your old waders into hip pants by using an elastic on the waist to secure them well.
You'll need some sewing skills to do this successfully without leaving gaping seams or puncturing the new hip waders – which might just make them useless if they allow in so much water.
---
Thigh-High Booties
---
Ladies know how stylish these casuals look but anglers got style too.
You can make thigh-high booties if the legs of your waders don't leak.
Cut them slightly below the crotch to have two neoprene sleeves to put on before wearing boots.
These are comfy for walking in shallow water and prevent water and mud splashes for days you don't want to deal with such and can't have chest waders on.
Finishing the thigh hem to add elastic for a snug fit might need sewing skills too.
---
More Ways to Use Old Waders
---
Use neoprene to wrap around your thermos for more insulation and to prevent it from banging when in a boat.
Would you mind converting them into wader shorts?
Cut the feet off and make rain pants to wear when doing dirty work.
DIY fanatics can design fancy tote bags to hold boots, waders, and fishing apparel.
Play around with patterns to make accessory pouches to fit reels and tackle.
Make straps to hold spools, rods, and nets.
Sew waterproof phone pouches using the double-layered fabric on knee areas of waders.
Cut waders open to make box and boat lines to prevent the aluminum from often scuffing lures.
BONUS POINT

Old waders might not be that bad for you to toss.
Or, you've probably repurposed several and don't want three similar things and appear like a hoarder.
Assess the condition of the waders despite their age.
If they are leaking, use the best glue or sealant for wader repair to patch the area down and test for performance.
Donate them to someone who might need the waders if you can't keep them.
If patching them is costly because of the number of leaking points, you can try your luck on the marketplace.
There are fire DIY gurus out here who can work them up and use them for a season or two.
But, know that you will earn just a few bucks because of their age and condition, so don't expect much.
---
What Can You Do with Old Waders? – FAQs
---
There is so much you can do with old waders, from selling them for a few coins or recycling to keeping them for memories.
Here is a quick QNA section to help further with what you can do with old waders.
---
Q) Do Old Waders Leak?
A) Old doesn't mean damaged.
You could have a pair of new unworn waders you had since two decades ago – these are old considering the time of purchase but new if we assess their state and condition.
Such mightn't leak if they had been well stored unless they had a manufacturing defect you didn't notice at the time of purchasing.
Old waders that have been consistently used will start to leak from weak areas, punctures, or gaping seams.
---
Q) What Else Can I Do with Old Waders if I Don't Want to Upcycle Them?
A) You can donate them to an angler or DIY lover who can repair them or recycle, sell, or reach wader recycling companies for collection.
Patagonia, Recycled Waders, DRYFT Waders, and Maine Fly Company have been doing this for a while.
---
Q) Can You Fly Fish in Old Waders?
A) You can fly fish in old waders but their overall condition matters a lot.
The waders could be old, patched but not leaking whatsoever – these are safe and comfortable to use.
If your old waders are leaking and patching isn't helping, it is time for another purchase.
---
Wrap Up
---
What Can You Do with Old Waders?
Don't trash old waders.
Sell them for cheap on the marketplace, donate to an angling club or angler who can repair and use them, upcycle them into more gear, and tackle holding totes and pouches.
Sustainability is the new route to save the planet and as anglers, we advocate for this 100%.
Check your garage for old waders and pick from the options as a way of decluttering to allow more space in your home.