Disclosure:
Just to be open and honest the buttons and links you click on in the website will in most cases take you to another website where you can purchase the products I am reviewing. As an Amazon Associate I earn from qualifying purchases.
May 18, 2023
What Size Boots Should I Get With Waders?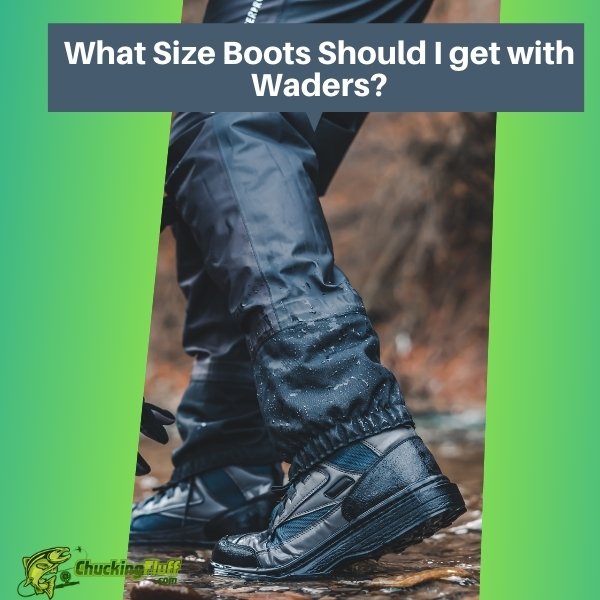 The effects of boot pinching are far worse than wearing an extremely oversized pair.
But again, both aren't any better if we are looking at comfort and functionality, and overall longevity.
---
So, what size boot should I get with waders?
---
To make room for the stocking foot for men, the boot size that works best for most anglers is identifying their regular shoe size and adding 1 full size more to the figure, and if yours is a half size, get the next full boot size.
Women who prefer wearing male wading boots are recommended to size down if buying men's boots e.g.
If their usual shoe size is 9, size 10 women's wading boots would fit well with waders, layering allowance, and toe wiggle room for winter fly fishing and a size 8 would be the best if getting men's boots.
NOTE: Each manufacturer has their wading boot sizing recommendation, but anglers have a few pointers to help you get the most comfort and optimum performance when buying a pair.
Besides, most producers don't have them in half sizes, meaning the next whole size should do.
What Size Boots Should I Get With Waders?
When buying wading boots from a physical store, you are likely to be helped by the attendants to get the correct size.
If you are lucky enough, they'll get you a pair of waders and socks to wear and test for comfort; however, this is impossible if you are an avid online buyer like me who scouts for massive deals on fishing gear.
Here's how to know the boot size to get with waders.
---
Men's Wading Boot Sizing
---
Wader manufacturers are different and first off, we recommend going through the sizing chart on their website to know how it has been done during manufacturing.
Often, men's wading boots are recommended to be one full size bigger than your usual shoe size; however, this has been different for some anglers who find other brands running small on them, and the only option is ordering two sizes bigger for a perfect fit.
A good example of the latter is the Orvis Ultralight Boots, even though the manufacturer recommends getting one size up.
You want to go through what other buyers are saying in the review section about sizing, which is a primary concern in case things don't go right.
Hardly ever will you need to undersize to get the correct fit for men's wading boots.
Some buddies fall in the half-size category, and getting the next full boot size is the best idea.
You don't want to go further than this, as the boots will be overly big, heavy, and uncomfortable to walk in.
---
Women's Wading Boot Sizing
---
Women's wading gear has come a long way, from the design and colors to the cut, fit, and sizing, and it is no different when we are discussing boots for this gender.
The bone gets tougher here because each manufacturer sets clear recommendations on women's wading boots
What size boots should I get with waders for a female angler?
The general rule of thumb is picking a full size up your regular shoes if you are buying women-specific boots, or a size down your usual street size if getting men's wading boots (a direction Simms swears by).
I had to include the latter because these beauties enjoy living in men's sweats, shirts, pants, and they are now loving our sports gear!
Patagonia, Korkers, and Redington however recommend buying your shoe size since the boots are made to accommodate your waders and extra layering without jamming your toes.
Orvis advises going a size up your shoe size.
---
Kid's Wading Boots Sizing
---
We can agree that there are many men's and women's wading boot manufacturers, but very few make smaller sizes for kids.
The majority have youth sizes, which apply similar rules to the men's and women's sizing.
Manufacturers of kid's wading boots recommend getting a full size larger than the kid's usual shoe size.
You don't want to get the exact boot size as their street ones because waders and a layer of socks need to fit in while allowing some room for the toes.
Otherwise, it will be uncomfortable for the little ones to walk and fish – you can't bring them this far to feel pain and not enjoy the day's activities.
---
Quick Tips for Sizing Wading Boots
---
Some anglers have wider or narrower feet, and knowing how much room you will have on the sides for movement is crucial.
You don't want an overly roomy pair, as your feet might easily roll over, and balancing would be tough.
Likewise, tighter boots are painful, uncomfortable, constricting, and will crumple your toes.
Avoid focusing on the boot length only.
Check reviews of other buyers of how the laces perform – yes, an overlooked aspect that largely affects the comfort and functionality of your wading boots.
You want laces that stay put and aren't loose.
Do the boots protect your ankles?
Ankle injury is common because of wearing a pair with lower collars.
Get a size that snugs well and supports your ankles to prevent twisting without being overly tight to hinder normal movement.
---
FAQ's on Boot Sizing in Waders
---
Check out a brief Q N A section with helpful information on sizing boots for waders.
Q) Are Boots for Waders True to Size?
A) Some manufacturers like Redington, Frogg Toggs, Korkers, and Patagonia have most wading boots true to size, but most recommend sizing up for comfort, layering space, and toe room.
---
Q) Can I Wear the Same Boot Size if I Will Be in Fishing Pants?
A) Yes. Fishing pants without booties would still feel comfortable with wading boots you wear with waders.
But, you will need to wear thicker socks to get a more comfortable fit like you would with waders.
---
Q) What Do I Do if Wading Boots I Bought Fit Tightly?
A) If the seller or company has a return policy, you can send them back for a better fitting pair, and if it doesn't, you might have to sell them or pass them down and get a size bigger than that.
---
Wrap Up
---
What size boots should I get with waders?
First, you want to check the manufacturer's website to see the sizing chart, then scout for reviews on the fit from online stores to see what anglers are saying.
It would be great if you get help with this, but if you don't, a size bigger than your regular shoe size should work.
Remember that it might be a trial and error affair until you know how to perfectly size your boots.