Disclosure:
Just to be open and honest the buttons and links you click on in the website will in most cases take you to another website where you can purchase the products I am reviewing. As an Amazon Associate I earn from qualifying purchases.
December 15, 2020
Best Fly Fishing Hats and Headwear for Winter
Just the right time to step out in your onion rings and angling combos, do you think headwear is of any importance during this time? Most anglers brush off the idea of head coverings because they think their hair is a purposeful layer in winter.
Until the wild gusts slap your crown, then you will realize how crucial a winter hat or beanie is. Adding a proper winter hat to your collection might create a big difference between bad days that are worth forgetting and the good old ones you wish would recur.
Let's be honest.
The majority of fly anglers use a baseball caps in cold weather. Some claim that it is for sun protection on the sunny winter afternoons while others say that it is an identification of their area of specialization-fly fishing.
Anglers who fished about half a century ago loved to don in full countryside wear and completed it with a good-looking deerstalker hat. The most adorable sight was when the hat got was covered in lures.
We love this charming aspect because those old chaps loved and cared for themselves hence the need for utmost protection during winter fly fishing.
We can't forget the good old days from the fly fishing shows that aired at that time. However, dressing for winter fly fishing has seen tremendous changes for the better.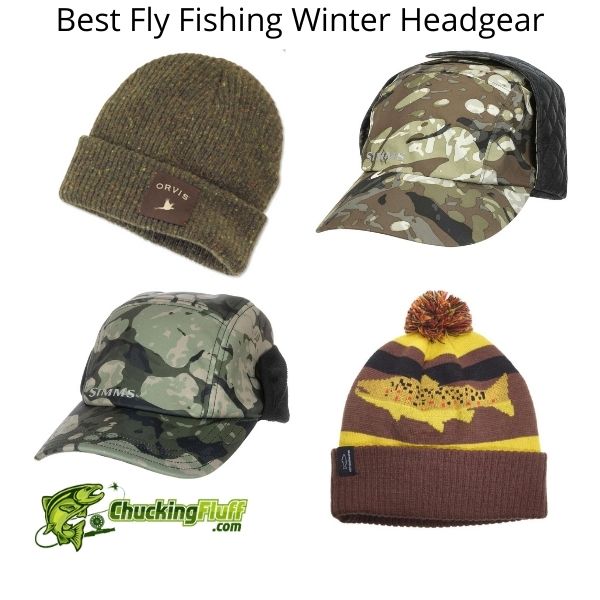 ---
Why should you find it thoughtful to wear a fly fishing hat in the winter?
In a hurry go straight to mini-reviews?
Anglers wear winter headwear to shelter from the extreme weather elements and to aid in looking out across the water. Headwear protects you from extreme cold and wind.
Those for summer will keep you cool when the temperatures begin to rise. The real angler cares not whether there is a storm or not. Bad weather doesn't exist to these guys.
Only crappy gear and unpreparedness. Waterproof fishing hats are highly packable and excellent for fishing in the rain-whether it is light showers or stormy.
Glare reduction is crucial to allow you to see what is underwater and aim at your targets. Also, some prioritize personal style by matching their outfits with a good one.
Some hats are designed for extensive head and neck coverage with bug protection mechanisms to protect you from the effects of insects as you fish.
There isn't any other reason besides these but some anglers are adventuring by keeping small tackle and fly lures in their hats. This poses a high risk of injuries from tackle items.
Flies in the Hat?
You still could be wondering. Yes, this happens among most fly anglers. It is very difficult to understand fly anglers and some of their actions. First, if they know a high yielding beat, they will never spill the beans to another for fear of exhausting the goodies.
Anglers however are obsessed with lures that work well and consistently. Then they use their hats to show them off giving away other secrets.
---
Does the Shape of your Face Matter when choosing a Fly Fishing Hat for Winter?
Not everyone is sure of the type of hat that suits their face. It is the same way hairstyles look different on different face shapes. This one is for those who are keen on how they look.
Headgear like beanies doesn't have a limitation to any face shape. You can stick to them if you are unsure of other hat styles.
Fishing Hats and Sun Protection in Winter
Winter is a season that is traditionally devoted to extremely low temperatures and snow. However, there are times when we experience weird winters as a result of variations in the global weather patterns from human activities.
Some winter days are warmer than others and other days have the sun out longer.
As an angler, sun protection is a MUST. Find a hat that can protect you from the sun and glare and will still offer some warmth on those days when the temperatures are relative.
Fishing hats aren't made like your usual casual hats as they are designed from a different strength, fabric weave, and color weight. They are denser in construction and guarantee more protection.
Some manufacturers design winter hats with UV protection commonly referred to as UPF rating. For winter anything between 15 and 24 will work well but others prefer to go as far as 50+ which is one of the best.
Companies like Orvis and Simms stock several of these.
---
Rain Fly Fishing and Different Headwear
We can't insist enough on the importance of being dry while fly fishing in winter. Of course, you won't keep away from these weather elements. The best thing is to be fully protected.
We have done reviews of winter waders and wading jackets that will protect your upper body from the rain. One of the most challenging things is to keep your head completely dry.
Having a hood without a draw or adjustable cords will hinder visibility. Your hood will be covering your view and getting it out of the way means exposing your head to the rain.
Invest in a waterproof hat. A brand like Frogg Toggs specializes in waterproof hats made from breathable polypropylene fabric. A proper rain hat should have a wide brim of about 2.7 to 3'' and a functional inner comfort band.
When casting in the middle of a heavy downpour, you need the hat snugly fit. A neck cinch at the front and back will come in handy.
Packability is also a primary feature as it has to fit in your jacket's pocket or clip it to your backpack. Other hats for fly fishing in the winter rains are made from Gore-Tex for breathability.
---
Fishing Hats and Warmth
Fishing on freezing winter days needs more efforts to keep you alive and thriving as you sport. A little more effort will greatly reward you while negligence and ignorance might be detrimental.
Keeping your head warm during this time can be a little tricky because of the choice of layering you will go for. We have solved the question on the types of waders and wading jackets to have on and are about to settle the hats one too.
Check your beanies, they are your loyal companions at this time. Simms stocks a good number and the quality and price are amazing. The Trout Camo Beanie is one of the commonest and highly rated by winter anglers.
When it comes to more warmth retention for extremely low temperatures, the Ultra Wool Core Beanie and ExStream Windbloc Beanie take the prize though cost a little more because of the weatherproof outer shells.
Fly fishing headwear for winter range from ancient wide-brimmed Stetsons to beanies and baseball caps. Our rule of thumb is that whatever style you go for, ensure that it fits for winter escapades.
Stop grabbing the nearest cap to the door because it might ruin what was to be a fruitful fly fishing outing. It should be water repellent, windproof, offers sun protection and glare reduction, and dries pretty fast.
---
Key Features of a Good Winter Fly Fishing Hat
Any serious angler who spends most of the winter casting and trying out new flies and techniques understand the need to invest in a good quality fly fishing hat for such times.
What most fly fishers prioritize is the waterproofness of a hat, lightweight, ability to layer the head for extra warmth, the hat's ability to stay in place even in the strong wind, and how fast it dries.
In this section, we will talk about most if not all the features of a good winter hat. Not all hats feature all these qualities as there are different styles and designs.
Waterproof Outer Shell – A waterproof cap is the outer shell of your cap that allows for the flow of air to the crown of your head. It is responsible for keeping you dry.
Waterproof caps are either made from Gore-Tex Pro fabric or high-quality polyester or finished with a Durable Water Repellent Coating. The shell though synthetic should be highly breathable.
Your head remains dry and warm even as the rain falls. Air also flows to the top of your crown to prevent overheating.
Brim – A brim is the ledge horizontally protruding from the hat's bottom section and extends outwards to protect you from weather elements. The size and type of brim will determine how comfortable you will be as you fish.
Oversized brims come in handy when fishing in the summer. Winter anglers will need a smaller brim to keep off any excess brightness. Stiff brims protect the neck and face.
Tip: Always carry your hat by the brim and take it off and on via the same brim. Avoid storing your hats sitting on their brims. Doing this makes the brims to lose their shapes over time.
Rather, place your hats upside down in a manner that they rest on their crowns. Invest in a hat rack or hooks for the best storage.
Neck Cape and Ear Flaps – One of the topmost ways of protecting your ears, the sides of your head, and the neck is by having a cape and ear flaps. Most capes can be rolled up to expose your ears and neck when the temperatures begin to rise.
They are also an excellent way to protect yourself from insect and bug bites. Some manufacturers have press studs on the flaps and the hat to keep the flaps up in place if they can't be folded.
Fade Resistance – Winter is unpredictable. It could be bright today, dull and gloomy tomorrow, or rainy throughout the next day. Some anglers spend so much on winter hats and after the first use, the hat is fading.
A good one doesn't have to lose its color. As the fabric dulls, its performance doesn't change. However, it feels awful to spend so much on a hat that will make you not look your best.
Floatation – Most manufacturers design winter hats from synthetic material to help with floatation. We advise that you should get a hat that stays in place regardless.
However, the winds can be angrier than you expect and the next thing you see is your hat sinking. Synthetic materials help the hat remain afloat for you to pick it up quickly.
Chin Strap – First, it should be adjustable if you are looking to term yours as a good winter hat. Winter can have frequent wind gusts that can cause environmental damage.
What makes you think that a loose hat without straps will survive it? The straps help your hat to remain in place and prevent constant readjustments as you fish.
Leather is proving to be the best and most comfortable material for chin straps.
Crown – The crown is the hat's central body that is an upward extension to cover your head. Most fishing hats have a dome shape.
If you aren't purchasing a beanie or a hat with a stretch mechanism in the crown, ensure that it fits well over your head if you intend to use it without an underneath layer.
If you will be layering, choose one size bigger to allow the under layers to fit and the crown of your hat to slide over them easily.
The Band – Not your acoustic or jazz band, but the strip on the hat that serves as a decoration and is positioned above the hat's brim.
Some have leather or polyester bands and others have a high-vis type for easier visibility from afar. It helps to prevent accidents when drifting as another boating angler can spot you from a distance.
Also, it is easy to be identified in case you have an emergency and need help.
Liner Tipping – We warn anglers against wearing cotton fabric when fly fishing in winter but there is an exception when it comes to hats. Most anglers use cotton, silk, or velvet for the liners in hats.
Some liners are removable while others are permanent.
Sweatband – Alternatively known as the inner band, the sweatband is a strip positioned inside your hat's crown to give the wearer a proper fit and for diversion of perspiration.
It is either made from leather for the felt hats and fabric for other straw hats.
Tip: Store your hats upside down to air the sweatband and prevent the accumulation of hair product and perspiration.
Crushable or Packable – You must have heard or read about a winter hat that is packable or crushable.
This means that your hat can easily be packed down into a smaller load for easier transportation and to take up minimal space.
This is something that most backpacking anglers like to consider. Such hats undergo more abuse than the stiffer ones but for longevity and functionality, it is crucial to care for them and store them nicely.
Tip: If yours is completely out of shape, use some water and steam to get it back.
---
Simms Ultra-Wool Core Beanie
Merino wool is one of the best fabrics for warmth and for winter fly fishing you will never go wrong with a beanie made from it. Besides, it is comfortable to wear and doesn't cause any skin irritation as other fabrics do.
When out in winter, the possibilities of light showers and heavy downpours are high. You need a headgear that dries quickly like this Ultra-wool core.
While others don't prioritize style, this beanie offers it as a bonus because its construction and pattern choice is exquisite. It comes in one size only that fits most teens and adults.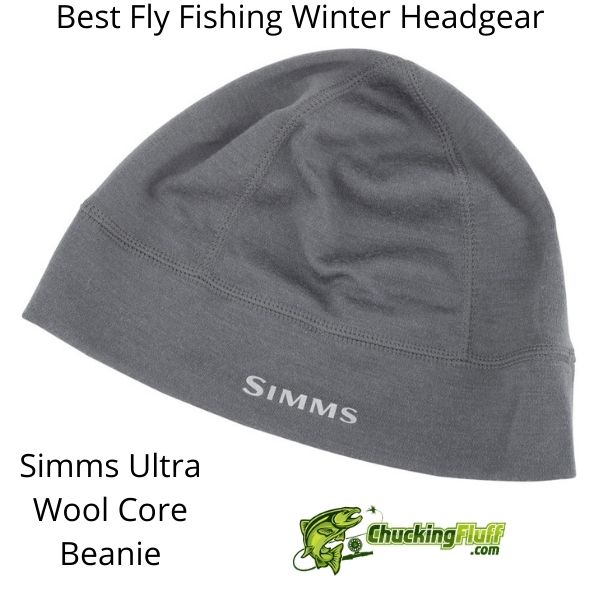 We love that it has a very low profile when worn and this makes it easier for layering. On snowy days, you can add another beanie and a hat over it and you won't look like a clown. Other layers slide over it with ease.
The insulation feature of this beanie doesn't get in the way of breathability. It allows for the exit of any head area perspiration and condensation without accepting the entry of moisture from outside.
You might mistake the thin knit for low quality and durability but the construction mechanisms will shock you.
This is a beanie that you will use over and over without regrets. It weighs 0.9OZ which is negligible weight and won't be heavy on the head.
Check Ultra Wool Core Availability
---
Simms Gore-Tex Rain Cap
Unlike summer where you expect the high temperatures throughout, winter days are unpredictable as some are rainy and others are bloody cold.
How you dress on cold days without rain will differ from how you do it on rainy winter days. Outerwear rain gear is meant to make you dry and warm throughout your fishing session as it pours.
So choosing the best headgear for such a day is as crucial as your wader type.
Most anglers have rain jackets on and with their hoods, only, they don't offer all the protection from weather elements. Simms designs the Gore-Tex rain cap from a porous membrane that works uniquely.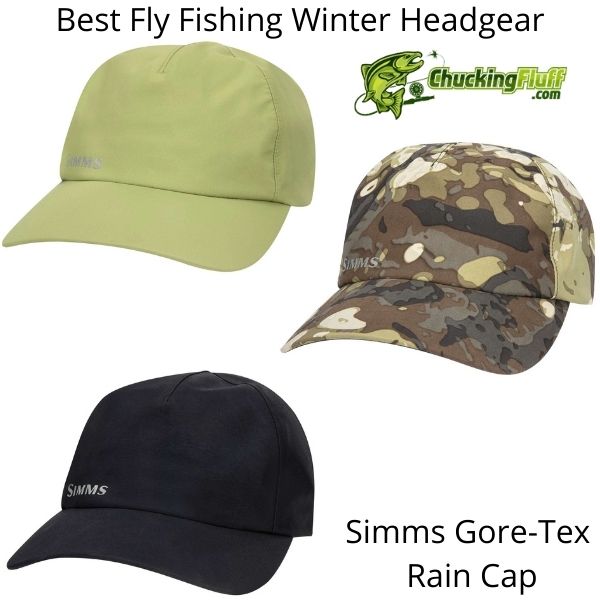 Gore-Tex Pro Shells are highly breathable and waterproof. They have microscopic pores to allow sweat to escape while preventing moisture from the outer surface to pass through them.
This guarantees you dryness in the covered area. The cap is made of three layers-the outer layer, the Gore-Tex membrane, and a lining. It is finished with a DWR coating to repel any moisture.
This coating wears off with exposure to high temperatures and bleach. Ensure that you retouch it often to maintain its performance.
It takes the shape of a baseball cap and is available in three colors-Cyprus, Riparian Camo, and black. You can get it in size small/medium and large/extra-large.
All seams are fully taped to prevent potential openings that can allow water to pass through. The brim prevents rain from falling on your face and sunglasses. It also helps to cut glare, especially when fishing in flats.
Check Gore-Tex Rain Cap Availability
---
Simms Gore-Tex ExStream Cap
Weather extremities don't hinder fervent anglers from going out. As long as you are fully protected from the extremely low temperatures and are prepared with rain gear in case the heavens open, you do not need to worry.
The ExStream Cap is for anglers fishing in extremely low temperatures.
Gore-Tex technology is useful for waterproofness, windproofness, and breathability. This, together with the Primaloft Gold Insulation technology help to collect and retain your body warmth around the head area for up to 90% when it starts raining.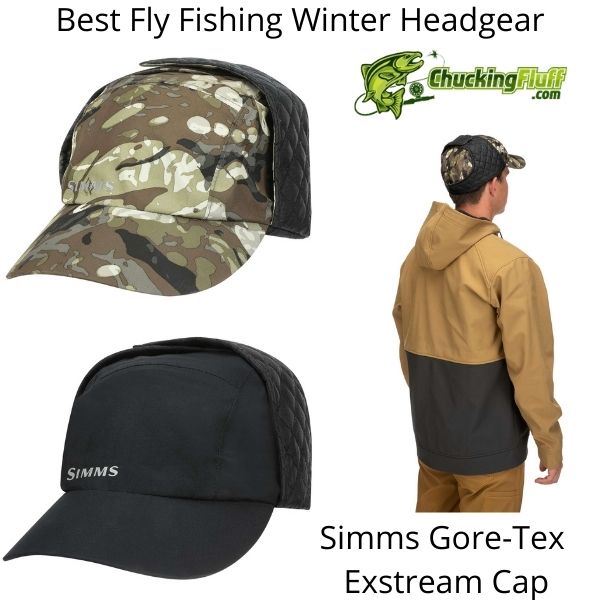 It is one of the most efficient synthetic insulations that manufacturers choose for fly fishing.
The technology is environmentally friendly as it contains about 84% recycled material. The two-layer shell fabric consists of a quilted ripstop and the Gore-Tex Primaloft Insulation.
You can choose a black or Riparian Camo color to match your winter outfit and it is available in one size that fits most. There is an adjustable cord lock that allows for lighter underneath layering with a beanie or headscarf.
There are ear flaps that you can flip down to protect your ears from the wind and cold. You can secure the flaps back on the crown with Velcro if you need some exposure.
Check Exstream Cap Availability
---
Simms Gore-Tex Infinium Wind Cap
We are used to Gore-Tex being waterproof and mostly finished with a DWR coating to improve its water repellent properties. However, what you find in this cap works is a different type that works uniquely to protect the wearer.
Gore-Tex INFINIUM isn't waterproof but is made to improve the other properties and functions of the usual Gore-Tex fabric. Infinium combines various technologies to enable it to function as well as it does.
The technology prioritizes comfort over waterproofness which we find unique yet awesome.
The main material used here is a stretchable fleece. Fleece is well known for its insulation properties and for a camper cap like this one you are guaranteed more hours of warmth.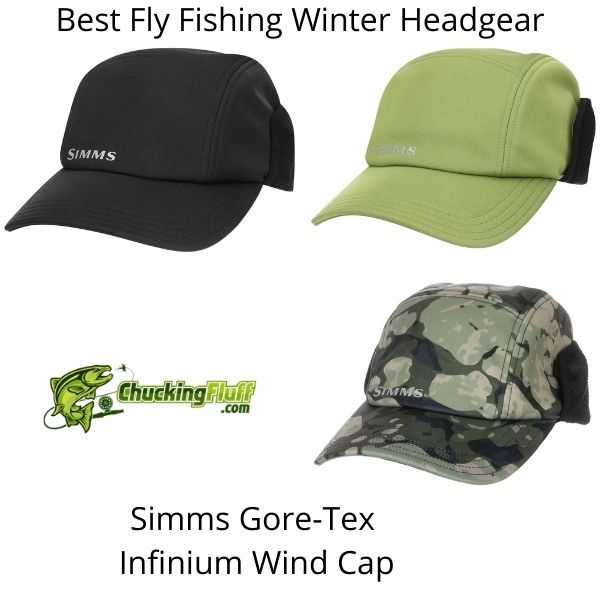 We advise that you use this on those cold days without rain as the cap isn't waterproof.
It only has a durable water repellent coating that won't offer much resistance and protection when it pours. If you have to use it in the rain, have your waterproof rain jacket hood over this hat.
The available sizes are small/medium and large/extra-large. Simms has the Infinium Cap in Cyprus, black, and Riparian Camo.
Ensure that you get the right size if you intend to use the cap alone without any underneath layers. If you are looking to layer underneath, choose a size bigger than what you usually wear.
It comes with ear flaps that you can fold down. They cover and protect your ears from wind and cold.
Check Gore-Tex Infinium Availability
---
Simms Gore-Tex Infinium Wind Beanie
A sister to the Infinium Wind Cap, the beanie doesn't differ much. The construction mechanism and technology match that of the cap. This beanie prioritizes comfort and warmth over waterproofness.
The comfort aspect is evident in the type of material that Simms chooses to use on the wind beanie.
We love that you can supplement the waterproofness with a waterproof cap like the ExStream or something similar and use the beanie as an underneath layer.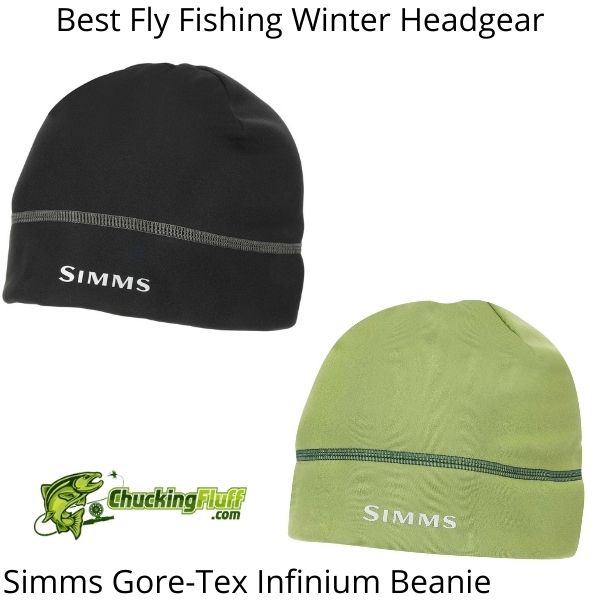 However, for dry winter days, it will still work well on its own.
The fleece is finished with a durable water repellent coating to improve water repellence. You can check on the Simms site on how to revive a DWR coating that is worn out
Its primary beneficial aspects are warmth, windproofness, and breathability. The fabric construction and technology allow for sweat and condensation from your head area to escape through the microscopic holes but prevent water and any moisture on the outer surface from getting in through them.
The fleece material boasts an excellent stretch mechanism and allows for a fitted sizing. Simms designs this wind beanie in size small/medium and large/extra-large. The available colors are Cyprus and black.
Check Gore-Tex Beanie Availability
---
Rep Your Water Knit Hat
Apart from their waders, wading jackets, and fly fishing combos, there wasn't any other thing that identified an angler amongst other outdoor sportsmen.
Rep your Water allows a fly fisher to represent their area of specialization as these knit hats have an image of a fish on the front side. The company's logo is printed on a black fabric that is stitched on the cuff.
The manufacturer designs it from high-quality acrylic which is a manmade fabric made up of synthetic fibers. These hats are highly affordable unlike those from merino wool and don't come with special laundering instructions.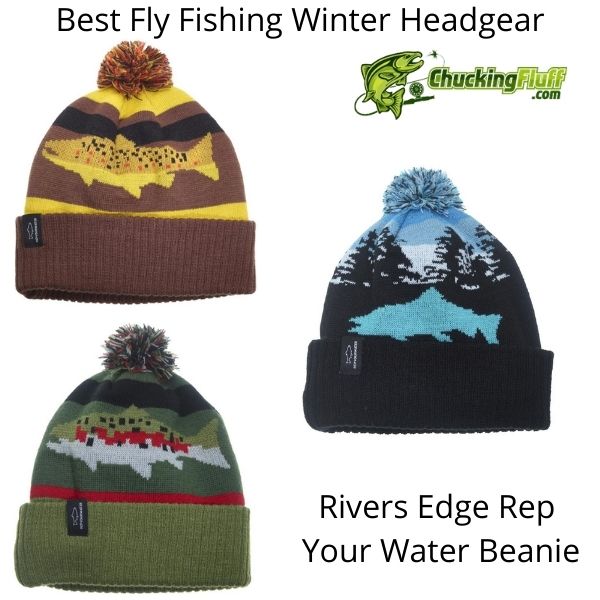 Since the beanie is made from acrylic material, it keeps its shape after wash and retains its color. More benefits are resistance to wrinkles and stains.
The beanie s lightweight and often considered a good option for persons with allergic reactions or sensitive to wool.
A ribbed cuff offers more warmth in the head area and improves the versatility of the beanie. You can choose to wear it anyhow you wish.
Being lightweight allows it to be used as an underneath layer on its own on non-rainy winter days. The pompom on the crown improves its aesthetical feature. This beanie is available in different color patterns.
Check Rep Your Water Availability
---
Orvis Field Connection Knit Hat
Orvis is a reputable company and its pieces are worth getting. Being one of the first fly fishing companies to begin and still thrives to date, it ensures that it has everything that an angler needs to keep comfortable in any season.
For winter fly fishing hats, this Field Connection Knit hat is among the best for head coverage and protection from the cold and wind.
The hat is double-layered and can be used on its own without underneath layering on extremely cold days. The weight is slightly higher than the single-knit choices but it works for the good of your health.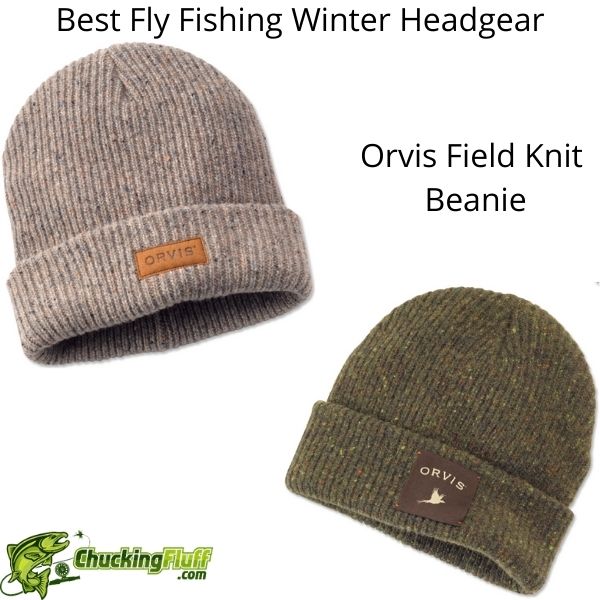 Also, this makes it more durable and functional. Orvis designs it from very soft lambswool and a blend of high-quality nylon. The two materials are for warmth, comfort, ease of maintenance, and durability.
Nylon and lambswool make the beanie quite stretchy which is what we expect of a good one for the winter. This means that the fit is excellent and isn't restrictive or exerts a lot of pressure on the temple areas thus causing a headache.
The flap has a visible Orvis label and the hats are available in oat multi and olive multi. There is only one size that fits most anglers.
Check Field Collection Availability
---
Orvis Ultimate Bison Knit Beanie
Product quality and customer satisfaction are some of the steering factors of the growth of Orvis. They didn't play with this one either.
The Ultimate Bison Knit hat is made from high-quality American Merino wool for full functionality and durability. True to it, the hat should be on your next list for winter shopping.
The beanie is water-resistant because of the merino wool and boasts moisture-wicking properties. Its breathability helps to expel perspirations and prevent the entry of water from the outer surface.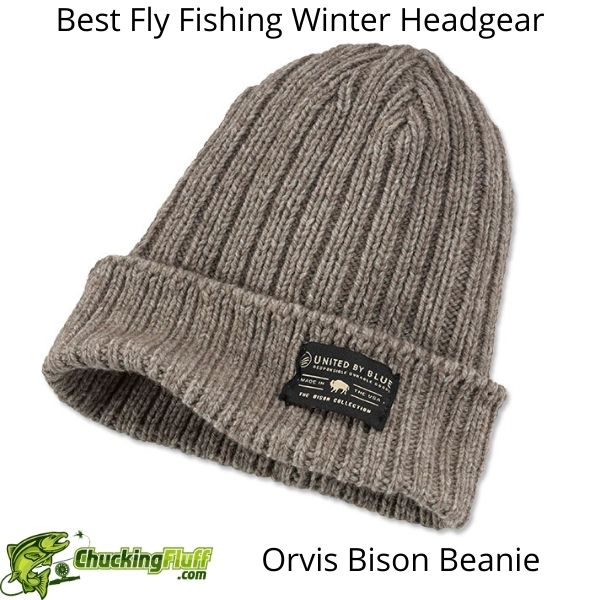 If you aren't allergic to animal fibers, this beanie will make you feel toastier on those cold days and is extremely soft to the skin.
You can purchase it in brown and it is one size fits most. The knit cuff is ribbed to offer more warmth and give a sense of style. It lays flat and can be used as a good underneath layer.
Bison down wool is known for its antimicrobial properties which is one of the things that helps to prevent any skin infections when you sweat.
Check Bison Beanie Availability
---
Orvis Mountain Rise Waffle Beanie
Cooler days without rain will need a warm layer like this trout beanie. While truckers are the handy types of hats that anglers choose to go out with, it isn't all the time that you will wear it.
For the frigid months, this blue beanie will come in handy, make you look striking on and out of the water.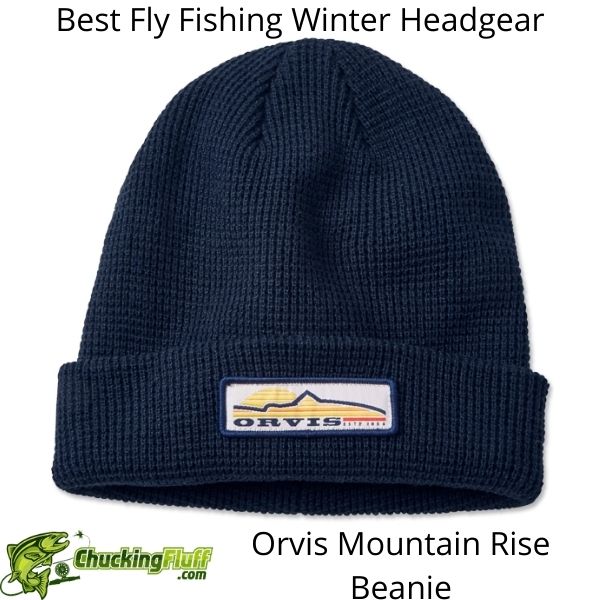 The Mountain Rise Waffle Beanie goes for an affordable price because the choice of material is inexpensive. Its cleaning and maintenance procedures are easy to follow and we love that it keeps its shape after laundering.
The beanie might look like it can fade but it can't because it retains its color unless you bleach it. It doesn't wrinkle or get permanent stains.
Its breathability doesn't work well in summer but in winter it does just fine as it can expel the little sweat that you produce. It comes in only one size that fits most anglers to older teens and adults.
Check Orvis Mountain Availability
---
Orvis Camo Reversible Hat
Reversible fly fishing beanies for winter are hard to come by especially with the right properties that are needed for this season. The guides at Orvis deemed it fit to make a design that anglers can choose how to wear depending on their day's preference.
This one has a Camo print on the outer side according to the product identification picture and plain color on the other one. You can choose to match it with your outfit however way you want it.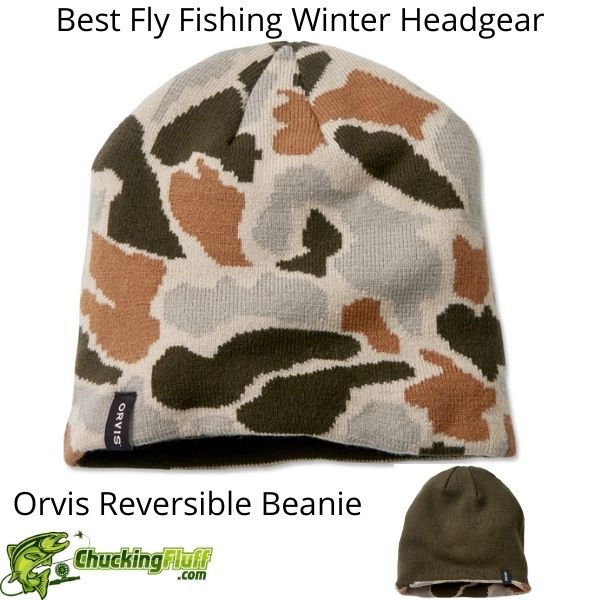 It is made from high-quality acrylic which is a good alternative to natural fiber especially if you have allergies or sensitive skin.
Acrylic beanies are quite affordable compared to wool beanies because their cost of manufacturing is low. It comes in a single size that fits most and can be used alone or as an underneath layer.
Check Camo Reversible Availability
---
Winter Fishing Hat Accessories
You can agree that winter hats are necessary. Some other accessories and essentials improve your comfort when on the water and in low temperatures.
Since there exist various styles of winter hats, not all of them have all the features that will keep you warm and dry throughout. You have to supplement with other items.
---
Buffs
If your cap doesn't have a neck cape, get a good buff. This is important for winter fly fishing to protect your neck from the wind. Some are made from pure microfiber polyester for super softness and quick-drying features.
They are also breathable. Buffs keep you warm and will not cause irritation and itching on the neck area as most neck guards do.
---
Light Source
Winters are unpredictable. Some days are foggy and others misty. A light source is necessary for such days to create a difference.
Headlamps are the commonest and you won't need to get your phone out each time you need more light. As a hands-free accessory, the convenience is worth mentioning.
---
Sun Hood
The fight against skin damage from ultraviolet rays doesn't stop when summer ends. There are winter days with the sun out and this means that without excellent protection as you fish, you risk sunburns or extreme skin damage.
You can get a good sun hood made from UPF Solarflex. The hood excellently fits over your hat's crown or you can use it as a gaiter around the neck.
Even in the winter season, some have up to UP50 for sun protection. A good one is the Simms Sunhood Fishing Hood.
---
Headbands
Technically, this isn't a hat but it is worn around the head. These are slowly becoming popular choices for winter as they are very easy to wear compared to full hats.
However, this applies on the mild days or when winter is lapsing. Most of them are made from fleece to keep part of your head and ears warm.
They also keep hair out of the face. They are very thin and you can wear them under a hat for extra warmth and it doesn't slide off like most of the hats do.
---
Tips for Laundering and Maintaining your Hats
Winters can get harsh in some regions. Headgear is indispensable for warmth when you go out to fish. It is hard to deny that these garments can get dirty from daily stains and sweat or wet from rains and backsplashes.
It is very crucial to keep them clean. You can't do this randomly as hats are delicate and have their special care and laundering instructions.
Some winter hats have care labels with instructions to follow. Most of the synthetics and a few naturals can be hand washed or cleaned in the washing machine.
If the manufacturer recommends tumble drying, do it on a very low setting to avoid damaging the durable water repellent coatings or the fabric construction.
Hand wash the hats in a sink using very mild dishwashing soap. Stay away from bleaches unless the care instructions allow for it.
Avoid picking up your hat by its crown to ensure that it keeps looking new. Slowly grasp your hat's brim when you want to wear and take off your hat.
The right procedure involves both your hands. One holding the brim and the other at the back. This is to prevent your hat from flexing on the brim and crown to weaken it.
Invest in a hat stand to store these headgears. If you don't have or can't afford a stand, store the hats laying on their crown or with the brim facing up. This should be in a cool and dry place.
If you intend to store your hats for a very long time, stuff their crowns gently using clean dry tissue paper to ensure that it retains its shape. If you have a hatbox, store your hat in it.
If your hat has a sweatband, flip it to be inside out at the end of the day when you take it out. The sweat and hair products evaporate to prevent skin irritation, infection, and bad odor.
Sometimes, you can endure a soaking downpour and your hat gets wet. Flip its sweatband so that the hat stands on it with the right side facing up. Do this on a flat surface like a countertop.
The brim must not touch the surface of your working area but should stand only on its inverted sweatband. Exerting pressure on wet hats alters their shapes once they dry.
Give time to felt hats to dry naturally and slowly. Straw hats should be gently wiped with a clean dry absorbent cloth and given time to dry with the same procedure.
Use a brim brush to spot clean your felt hats.
---
Different Workable Methods of Cleaning your Winter Fly Fishing Hat
There are several methods you can follow to clean your winter fishing hat without ruining it. Just like your clothes, your hat gets exposed to most impurities like sun, salt, sand, natural dirt, grime from perspirations, hair products, oily sunblock, bait, and fish.
They sure take a thorough beating and most of the nasty stuff. If you don't clean it often during this season, you will mostly meet utter disaster.
So how is the right way to wash these headgears without messing them up? It turns out that there are four verified ways of cleaning your hat and each method has its benefits.
The primary goal is to clean your winter angling hat and retain its properties and shape.
Only wash a well-made and good-quality winter hat. Attempting this on low-quality ones with poor stitching or cardboard inserts will be disastrous.
Buying excellent quality hats ensures that you can clean them correctly and maintain their glory.
---
Washing these Hats in a Washing Machine
Washing winter hats in a washing machine is the first method that hits our minds. Definitely! Most winter fly fishing hats can be thrown in the washer.
However, you need to be picky. First, ensure that you are using a front loader washing machine. Top loaders have agitators at the center that could damage your winter hats.
Put the machine on a gentle cycle and allow it to clean. Stick to mild cleansers or detergents only. Cleansers recommended for children's clothes are the best to use on these hats.
Don't put your hats into a dryer if the instructions on the tag don't recommend it. If you do, then it is toast-kiss it goodbye and moan your money.
---
Washing Winter Hats in the Dishwasher
Strange, right? We all believe that a dishwasher is meant for utensils and that's it. However, these wonder machines can do more and to your surprise, even better than you would expect.
You can throw your hats in the dishwasher as these machines are gentler than washers.
There is a trick to use to ensure that you are neither damaging your machine nor you're the hat-always control the temperatures.
You should know that the possible disadvantage of washing your winter fishing hats in the dishwasher is that the water temperatures are very high and this can damage your hat. High heat on hats is the greatest enemy of all times.
To counter such instances, ensure to set your temperatures to the lowest. Pre-treat your hats with a good stain removal product. There are special soaps for cleaning your hats.
If you can't access any of these, use very mild dish soap as it is cheap and one of the necessities for using a dishwasher. Place your hats on upright pegs in the dishwasher and secure them with a strap.
This is to make sure that they retain their shapes. Once the dishwasher cycle is complete, take the hats out immediately. If you leave them in for the auto dry session, also say a sad goodbye as your stitching will be ruined.
---
Cleaning your Hats using a Toothbrush
Hats need some tender, love, and care once in a while. This comes with some more effort on the wearer's part.
We don't use toothbrushes to clean hats because we have no other methods, it is because we love these pieces so much. You can use a good toothbrush to get perspiration and product stains on your hat.
In a bucket with clean lukewarm water, use a toothbrush to spot the hat. Clean it by scrubbing in circular motions. Do it gently on any part with stitches.
The stitches need to remain intact. Ensure that you work mostly on the inner rims as they are the parts exposed to most of the perspirations.
Once you are done, soak the hats in mild dish soap or Oxi Clean for about 30 minutes. Rinse the hats and pat down excess water. Proceed to dry them completely before storage.
---
Hand Washing your Hats
This is the commonest practice but most of us think that we can manipulate them as we do to dirty socks. Unfortunately, you will ruin your headwear.
Use lukewarm water and a block of mild soap to wash your hat with a soft pad to avoid damaging the stitches. The pad is to give slight abrasion to remove any stains and dirt.
---
Drying your Clean, Wet Hats
There is no specific time to clean your winter fly fishing hats. In fact, you should do this as long as you can. You have already cleaned your hats correctly and that is excellent work done already.
Don't rush the final step. Drying your hats will take a little longer. Stay away from the tumble dry or any other heat source apart from the sun.
If you can't air dry yours to completion, use your indoor fan. The fan will take about 3 hours or more.
Before, there weren't gender-specific cataloging of winter headwear. Nowadays, manufacturers are attempting to do this because of the rapid rise in the number of female anglers who want to look striking when fishing in the winter.
The good news is that most winter hats are unisex and the men's hats can be donned by women. Even those skeptical ones who disputed that a good beanie would look good on them. Maybe they assumed that it gave them that bulky alien head style.
You will not have problems with the selection we have above. We have options with the cute factor for your cold escapades. For those with sensitive skins and won't do wool at all, there are better allergen-free choices.
They are soft, very comfortable, and affordable. These hats are all comfort, fashion, and quality and most come in one size that fits most.
Teens are also fishing more in adverse weather and they approve of these styles. The folds are adjustable and the beanies can quickly move from being hipster beanies to tight-fitting ones.
Reversible options are becoming stylish. Whether you want it for an underneath layer or to use it on its own, these winter hats are the biggest investment you should be thinking of for the coming season.
"Check out some of our other Buying Guides"