Disclosure:
Just to be open and honest the buttons and links you click on in the website will in most cases take you to another website where you can purchase the products I am reviewing. As an Amazon Associate I earn from qualifying purchases.
October 8, 2022
What to Know When Buying a Fly Fishing Reel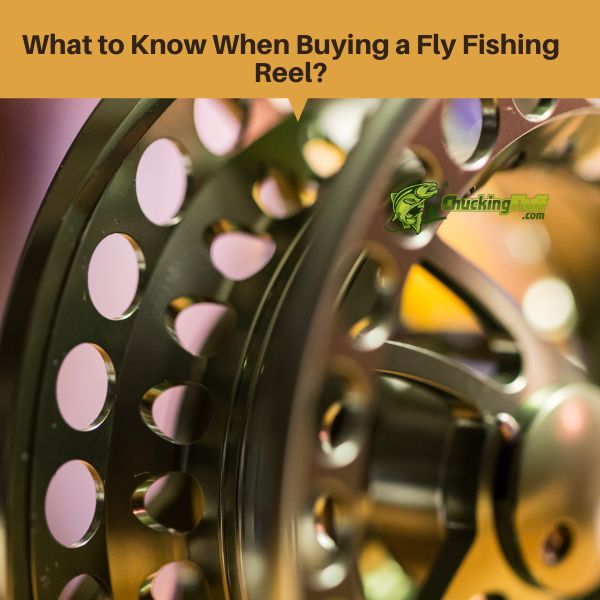 A fly fishing reel is a vital part of your fly combo and tackle.
Different manufacturers have developed various types and styles of fly reels to offer the best experiences on the water.
When purchasing one, you need to choose the correct reel for your fly fishing needs.
Knowing your angling needs is the first step in buying the right fly reel.
Fly reels run the gamut, starting from $45 to $1000 and more depending on the brand.
Why such a hefty price on a fly reel?
So much determines the price of a reel but first, quality crowns everything.
Other aspects that influence price are the design, the material, technology and manufacturing processes like anodization, drag system type, size and other sophisticated features likely found in high-end reels.
The fly reel is integral to the angling process since it houses the fly line that spools on and off of it while fishing.
Excellent fly reels are also critical when transferring the line slack out of the hand and onto your reel after your hook set.
Thus having an even and smooth drag during this transition, and maintaining a solid smooth drag as you battle fish, is vital, mainly when using lighter tippets.
Understanding the functioning of all your fly angling equipment and how they work together will determine the elements of a reel you should buy.
Let us dive into the aspects to consider when buying a fly fishing reel.
---
The Material
---
Most fly fishing reels today are made from different forms of aluminium.
Some medium to high-end options are machined from high-grade aircraft-grade bar stock aluminium, while most lower-end and a few mid-priced reels are poured into moulds, forming cast constructions.
Remember that even if the price of cast aluminium reels is right, they are more liable to cracks or breakage than their machined counterparts.
Another crucial consideration is the fit and finishes on these aluminium reels.
Anodization is the most typical method used and aids in combating scratches and corrosion hence increasing performance, durability and longevity.
Anodized reels are essential when casting in saline areas.
Some brands have tried to keep beginner reel prices down by using plastic or graphite.
While such reels offer options to novices, there are high chances they won't hold up well over time.
Overall, their performance isn't as outstanding as cast or machined reels.
When it comes to the drag system materials, the growing trend alternates steel discs and carbon fibre stacked and pressed against each other to create tension.
Some brands use cork discs for smoother drags.
You can find all these materials in quality reels; however, the primary determinant of functionality and performance drops down to the drag system and the disc's surface area.
Some anglers fancy the traditional click sounds of reels and go for click pawl drag systems.
Besides the noise, the click and pawl systems are elementary, and most are prone to performance problems.
Materials for such designs are bare-bones using tiny plastic or metallic teeth that click over tiny grooves in the inner side of the spool.
Anglers who want to create more pressure with click and pawl reels use their palms to slow spins of the spool.
Who needs bloody knuckles?
Not a beginner, please!
Some reels have fancy metal or wood in the knobs, which is an excellent addition, but without significance in performance.
---
Design
---
Essential parts of a fly reel are the body, drag components and spool; when these parts are put together, the reel is user-friendly, durable, spins fluidly and has a reliable drag system.
Reel prices increase depending on the amount of machining.
A more brilliant trend over the last decade or two is the porting amount reels have (the number of holes that have been cut out of the metallic part).
The porting reduces the weight of the reel's spool and body.
The rule of thumb is that the more precision porting in a reel, the lighter it is and the higher its cost.
Your reel should balance your fly rod well, and since some reels have become overly light, they fail at this task.
To get the right balance, hold your reel and put it on the rod, then place a finger under the area of the cork handle.
It is pretty balanced if it teeters there without the rod or reel side plummeting to the floor.
Arbor is the diameter of the inner side of the spool (the hub onto which the line and backing are wrapped around).
Arbor size is a primary consideration, and at Chucking Fluff, we believe in large arbors.
It is sensible that if you get the drag and balance right, then have a reel with the largest arbor you can get.
Large arbors allow you to pick up fly line ridiculously fast, reduce memory and tangling.
Anglers lose most fish by entangling slack line on first runs or pulling the old 'I'm going to run straight at you' trick.
Large arbors keep up with torpedoes heading at you or getting the line spooled up in a snap while eliminating such issues.
Traditionally, fly reels have been full-frame, meaning their spools are inserted into the reels with metals fully encapsulating them (an example is the old Medalist from Pflueger.
There has been a slight resurgence in full-frame reels with the introduction of euro-nymphing setups, which use running lines as their primary casting lines.
Euro-nymphers love full-frame reels to guide thin lines far from possible gaps between the reel's spool and body.
With the evolution of reels and the introduction of machining, these gaps have lessened and aren't a concern in modern designs.
Modern reels have spools to replace the traditional cages of full-frame designs.
Contemporary clean and light reels are less hectic to use, fly line easily comes off the reel, and have larger arbors without sacrificing lighter weight.
This has led to more innovations in drag systems as modern anodizing allows for the addition of brighter colours on reels.
---
Drag
---
The drag system is the reel's meat and should be easy to adjust, offer smooth inertia and have enough stopping power.
Click pawl drags are lightweight and use metal springs and triangular points that click and apply pressure to simple gears.
But even with their simplicity, they often fail earlier than modern drags.
Another traditional option is cork drags, whose most significant drawback is constant maintenance and if you get a sealed one, have precise maintenance.
Cork deteriorates over time and could freeze up when wet skipping drag performance.
The most typical and most dependable drags are the stacked disc drags with alternating carbon fibre.
The more the overall surface area or discs, the stronger the reel's stopping power, but a vital aspect is sealing.
Fully sealed drags need minimal to no maintenance.
Partially sealed drag systems are excellent for freshwater and light-duty casting in salt.
Thoroughly rinse your reels under freshwater after every use to improve its longevity.
Start-up inertia is a fancy name for how the drag ramps up from zero to a screaming level.
For almost all situations, it is a more crucial attribute to the system than the amount of stopping power the reel has.
Allowing a fish to take the line out smoothly, particularly in crucial moments after strikes when slacks are eaten up and the buddy transferred onto your reel, means you have a great drag.
Rough transitions or hitches in runs will cost you trophies.
The reel's smoothness is more crucial for most anglers than its overall stopping power.
Drag knobs are considered a persona preference, but they should be easier to adjust, mainly during fights.
Another aspect beloved by guides and pros is the no-resistance retrieve that allows anglers to spin their line back on the fly reel and take up slack quickly.
---
Size
---
Fly reels are designed to work within a specific range of rod sizes.
Knowing how a reel balances a specific rod with the line and backing on it is vital.
The recommended fly line length and backing poundage fill out a reel perfectly.
Here is a trick: when rigging at home or the store, put all the spooled backing on your reel, measure back and cut it off.
For instance, if the recommended line for your reel is 180y of 20lb backing, put the 200 on the spool and measure 20 yards, then cut it off.
It is crucial to have tension when spooling your backing.
Coupled with the best knots, a premium fly reel with a smoother start-up inertial will ready you for a tackle anything your wits can get.
---
Wrap Up
---
You have a gem when you combine a large capacity and arbor, lightweight reel and a smooth yet stout drag system.
Anglers planning on saltwater excursions should get reels with strong, fully sealed drag systems, anodized finishes and larger capacities.
While partially sealed drags can do on the salts, the recommended reel should be fully-sealed.
Trout and bass anglers can get away with light drags, slightly reduced capacity and a low to the medium price tag, but they need to prepare for unexpected giants.
But if you can invest in masterpieces that boast durability and performance, you will hardly need new reels in decades unless you are building a collection or feel like splurging on yourself.
Last update on 2023-09-28 / Affiliate links / Images from Amazon Product Advertising API
This product presentation was made with AAWP plugin.