Disclosure:
Just to be open and honest the buttons and links you click on in the website will in most cases take you to another website where you can purchase the products I am reviewing. As an Amazon Associate I earn from qualifying purchases.
January 21, 2023
16 of the Best Winter US Fly Fishing Destinations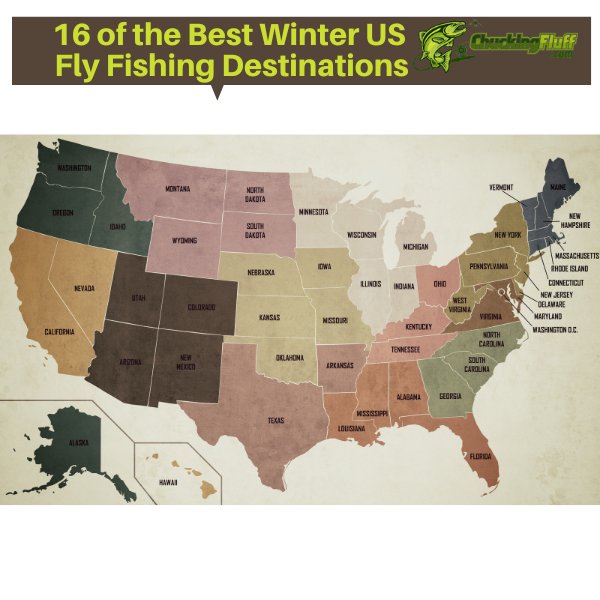 Do you need a breather from winter activities like skiing and all that coach potato madness?
It is time to challenge your tolerance and fun levels by going on an adventure to your favorite winter fly fishing destination.
It can be impromptu and cheap if near you, but planning earlier will do you good if you need to travel later.
Most anglers start storing their tackle when flakes begin flying and shift to other winter-oriented sports.
They forget that fish remain even in the winter, although hooking as many as you would in summer is trickier.
But for the keen angler, this is the perfect time to get the best out of crowded and overfished waters during other seasons.
I briefly describe some of the anglers' favorite winter fly angling destinations.
However, we have detailed posts on most locations up on the blog where you can know specific locations within an area with the best yields, some hidden gems, species to expect, flies and tackle to carry, and any essential information you might need.
---
Wyoming, Jackson Hole
---
Prime fly angling in Jackson Hole Wyoming extends into winter on most rivers in this region.
Good spots like Henry's Fork, South Fork, and The Snake are open to casting in colder months, but each area has rules and regulations.
Hence, paying more attention is crucial.
Winter fly anglers can comb the Snake River for trout below the Jackson Lake Reservoir in Grand Teton Park.
---
Colorado, Alpine Streams
---
Alpine streams in Colorado teem with fish in summer and winter.
The fish population hardly depletes as the waters here are inexhaustible.
Unless the waters are iced over, you can wade through and throw your lines for a good one.
The South Platte River is known for a series of tailwaters holding prime winter angling opportunities.
The Blue and Colorado Rivers are fantastic winter fly fishing locations.
There is less human pressure on the Frying Pan River, especially near Carbondale, and you can land hogs there.
Go solo if you are confident alone, but tens of guide services are available to help you hook a massive winter species.
---
Mountain Home, Arkansas
---
The White River in the Ozarks in Arkansas has monster trout and bass.
Most anglers prefer drift boat fly angling on these waters, which have re-sparked the initial quiet drift angling style.
Fish stocking is all-year-round, and other fantastic opportunities are near Norfork Tailwaters and Bull Shoals.
---
British Columbia, Fraser River
---
The lower mainland of British Columbia harbors some of the best steelhead winter runs in the province.
About two hours from Vancouver, you will spot several tributaries of the Fraser River, including the Vedder, which boasts healthy steelhead returns every winter.
These runs begin in January through to May and see giant steels leaving the Pacific into its waters.
Get here if you enjoy the breathtaking scenery.
---
Key West, Florida
---
Bonefish can stage unending battles, and that is where the fun is.
It is a prime target for fly fishers in this area, and their lightning speed will test your efforts, tackle, and patience.
You can find them in the shallow areas around the Florida Everglades and Keys.
Bonefish fly angling is the perfect activity if taking a break from freshwater streams and rivers.
---
Anchorage, Alaska
---
The Kenai Peninsula has a multitude of rivers that are home to the best rainbow trout worldwide.
The thrill of casting here and the rugged beauty in Alaska make the Chugach and Kenai backcountries ideal spots for winter fly fishing.
But as long as the short daylight hours don't bother you.
Dealing with finger dexterity issues is common in colder months here.
Alyeska is down the road and is another fun fly fishing location for commingle angling.
---
San Antonio, Texas
---
San Antonio Texas is the right area for anyone running away from the cold.
It boasts several reservoirs and lakes with catfish and stocked striped and largemouth.
You can increase your chances of fly angling here with the help of guides who make it easier to access private lakes in the area.
---
Missoula, Montana
---
The Bitterroot River in the Bitterroot Range is another angler's favorite winter fly fishing destination, and the key to winning here is thinking warm in cool Montana.
Warmer waters mean that your nymphs will yield better than during other temperatures.
Comb spots on this river that receive the most sun during winter.
The tailwaters below the dam won't disappoint as the water there remains relatively warm and has fish in thousands.
---
Michigan, Great Lakes
---
Fishing with flies in the Great Lakes and its tributaries is epic in winter since Michigan is known as the pinnacle of steelies.
These buddies don't fear the frigid waters in winter as they strike as voraciously as summer and spring.
You will love their bullish runs and how they leap like cautious tarpon.
Some famous spots in this area are the Pre-Marquette, Manistee, and Muskegon Rivers, but tens of excellent fisheries across the state.
Other prospects are in Northern Minnesota, the Upper Peninsula, and Wisconsin.
---
Pittsburgh, Pennsylvania
---
South of Pittsburgh is the Youghiogheny River, known for its all-year-round yields.
Cold water in the Youghiogheny Reservoir Dam near Confluence Town supports rainbow, brown, and brook trout in healthy numbers throughout the year.
The river can be tough to fish and land good fish hence the need for a guide or advanced local anglers to help with gem spots.
---
Cascade Range, Washington
---
The Sauk and Skagit Rivers flow from the Cascades to the coast in Washington, and the primary attraction is steelhead.
Fall comes with sea-run cutthroat, while winter is ideal for scoring monster hatchery and native steelhead.
It is two hours if driving from Seattle.
---
Oregon Coast, Lower Rogue River
---
Oregon Coast gives the best doses of heart-stopping fishing if you are after steelhead in winter.
The Lower Rogue River is home to Oregon's top-tier steelhead fishery.
December and January see 25,000-30,000 fish cruising through these waters.
Travel early to bet the first shots at the species of a thousand casts as they head to the river's upper tributaries.
More incomparable coastal steelhead waters are Siletz, Umpqua, Chetco, and Alsea Rivers.
---
Green River, Utah
---
Green River is an outstanding winter fly fishing destination in Utah, and there is nothing as good as floating down the first seven or eight miles below the Flamingo Gorge Dam in a negative 2-degree temperature.
Prepare to dip your fly rod in the water with each cast to do away with the ice.
You will experience the best streamer fishing of your life.
Floating is the best way of fishing these flies on the Green River, but throwing them from the riverbank has proven to yield.
Winter here ends in March, and you should nab plenty of big fish before then.
---
Tennessee Tailwaters
---
Rolling hills in Northern Tennessee has a nestle of tailwaters offering fantastic fishing all year round.
Watauga, South Holston, and the Clinch Rivers are some of the famous trout tailwaters in Tennessee teeming with giant rainbows and brownies.
There is a mix of fish bread in the stream and generous fingerling stockings the government supplements these waters with annually.
Fish here grow fast because the waters are fertile.
Fishing here can be technical in low flows.
Getting lighter tippets, longer leaders, and midges will be necessary.
Current cranking is typical with power generation, and getting a raft or drift boast is crucial.
Ripping big and meaty streamers is the best way to go.
---
Rapidan River, Virginia
---
The Rapidan River is an incredible winter fly fishing destination full of native brookies.
It starts flowing from the Shenandoah National Park and cruises off the Appalachians' shoulder.
99% of trout here are native brook with brownies in the river's lower reaches.
Milder winters are typical on the South fringes, making this location an ideal winter fishery, especially in its late days from late February to early March.
Brook trout actively feed on dry flies and nymphs during this time.
So take yourself to Virginia's Rapidan River for some good sport.
---
Oak Creek, Arizona
---
Oak Creek is a tiny gem homing some of the massive brown trout in Arizona state, especially in the upper reaches.
Holdover stockers produce a wild trout fishery in this spot.
Situated near Sedona, the better part of the creek flows through Coconino National Forest.
Even though winter is real here, it is milder than in most areas in the Rockies.
The creek is very productive for the avid dry fly angler.
Midges do well throughout winter in Oak Creek, while you will never fail with Winged Olives in warmer months.
---
Conclusion
---
Most trout fishing yields good sport in winter in most locations and that doesn't imply that throwing flies should stop because the temperatures are lower.
Fishing on a fly rod during winter is the most rewarding without human pressure and traffic in most regions.
Whether you are out to catch them in fresh or saltwater, the adrenaline is double as long as the temperatures are low.
The winter fly fishing destination you choose will determine the gear and tackle to pack.
Some spots are cold but milder than others, and choosing the right apparel and winter gear will help with your comfort.