Disclosure:
Just to be open and honest the buttons and links you click on in the website will in most cases take you to another website where you can purchase the products I am reviewing. As an Amazon Associate I earn from qualifying purchases.
October 20, 2022
Where are New York's Best Fly Fishing Areas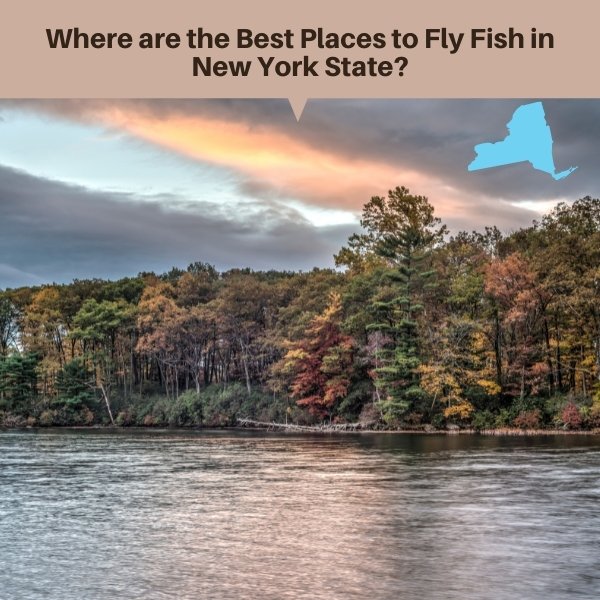 Numerous legendary watersheds in New York are different from what they used to be a few decades ago.
However, fly fishers who comb the secret gems say that the experience gets better season after season.
These water bodies have gained reputation by being a field for fine sport and anglers from all walks of life spend more time here.
Don't they deserve a shout out? As fly fishing is gaining popularity among people in the state and beyond, you can't compare the experience with anglers fishing 30 years ago.
Thanks to the state management policies that have been put to preserve these waters, we can record a higher number of fishermen and women coming in recently.
The state is among the richest in fish and boasts all kinds of rivers, streams, and lakes.
As part of the entertainment, New York has more to offer to anglers who'd love fishing closer to the urban areas and those who prefer the remote wilderness.
The Adirondacks and Catskills have made the city the mecca for angling and to the east of Rocky Mountains, New York has the best offerings.
With more than 70,000 acres worth checking out, they are inexhaustible even if you were to fish a lifetime.
7500 ponds and lakes are nothing to joke with. The coastline in this state is long and thousands of miles.
You will be surprised at the number of fish species in one state.
There are over 165 different fish species in Ney York and the enticement is on another level.
While we are used to bass, trout, pike, and salmon fishing, there are more to go after.
New York is setting the pace for other states in the USA and worldwide.
The dedication of over $10 million for hatchery improvements and creation and expansion of public access has seen this state to what it is now.
The state government has greatly subsidized the weekly, annual, and lifetime license charges.
This allows both residents and non-residents to enjoy fishing without having to break the bank like before.
Residents currently with lifetime licenses can acquire adventure licenses.
New York creates a treasure trove of water adventures for reel and rod lovers.
You just need to know a few of the best spots for a start and explore as you go on.
Every borough is special and so is the angling experience.
You can opt for an urban pier or a serene beach and you will not regret it.
Areas like the Indian Lake in Crotona Park in the Bronx is an excellent spot for a family getaway and kids will have a good time honing their skills.
It is stocked with perch, bluegill, sunfish, and catfish.
Bass anglers can head to Brooklyn and check out the 55-acre Prospect Park Lake and the city recognizes it as the best bass fishing area.
Solace seekers within the city bounds can go to Wolfe's Pond located in Staten Island. The lily pads and woody shoreline gives the seclusion that you need to cool your head and meditate.
If you love to wet your lines even if you don't make to catch a thing, New York is the ultimate stopping point.
But, we guarantee that you will at least catch 1 of the 165 species here.
Your skill levels don't matter as there are spots that you can comb.
However, freshwater anglers will get the most out of the state.
Deep-sea fishing, ice fishing, and saltwater fishing are also common to the state. See what we have put together for you to start with.
---
Beaverkill River
---
The Beaverkill River near Roscoe holds a lot of fly fishing history because the first discoveries and developments of dry fly fishing were made here.
It is a branch of the Delaware River and as a Catskill waterway, you will marvel at the trout fishing experience here.
The 40-mile stream has a diverse structure with plenty of riffles, pools, and runs.
Its tributaries too are home to plenty of fish.
The first 25 miles in the upper section of this river need your skills to be top-notch as it is a technical area because of its size.
Novices might have problems casting for the first time because of the overhanging tree branches and rocks.
The Beaverkill widens as it heads to Delaware and has lots of brookies and brownies.
Access to the river is superb, especially in the lower section.
Just like your other traditional trout streams, have a 4 to a 6 weight rod and a floating line for showing your dry fly fishing skills.
Leaders should be between 9 and 12 feet with 5x or 6x tippets.
For your flies, pack more black caddies, blue-winged olives, mayflies, blue quills, and terrestrials.
---
---
---
Delaware River
---
The Delaware River is a famous river and is voted as East United States' best trout stream.
It flows from New York to Pennsylvania and harbors numerous wild trout.
The river has three sections. Its West Branch is beneath Cannonsville Reservoir and runs 20 miles.
Its structure is excellent with plenty of runs and riffles and boasts the best access points and numbers.
The East Branch commences beneath Pepacton Reservoir and at this point is where the Beaverkill flows into.
Head right above the Beaverkill for the best prospects as the water is calmer and cooler.
The 25-mile long main stem of the river is in Hancock. While its prospects are worth it, the primary hindrance here is access.
You can only access it from Pennsylvania Route 191.
The whole stretch of the river has brook and brown trout in plenty.
Carry a 5 to 1 6 weight fly rod and pair it with the right reel and a weight forward line.
A 9 to 12 feet leader is ideal. Target the slower moving waters for throwing streamers.
Wading is possible and a good pair of high-quality waders will do.
---
---
Seasons: April to November for some parts though others are open all-year-round
Main Species: Wild and stocked brook and brown trout
Type of Stream: Tailwater
Fly Patterns: Black caddis, blue-winged olives, mayflies, blue quills, Quill Gordons, spotted sedges, dark blue sedges, stoneflies, crane flies, minnows, sculpins, and terrestrials.
Nearest Town: Port Jervis, Matamoras, Deposit, Hancock
Nearest Tackle Shops: The Barryville Sportsman, Baxter House River Outfitters,
---
Salmon River
---
Most resident anglers must have fished the Salmon River. It is fame is similar to that of Delaware.
It has plenty of access points compared to Delaware and could be the reason why most anglers frequent it.
Salmon and steelhead are what anglers come for.
King Salmon begin their run in late August and continue to late October and you can land a master that is over 20 pounds.
A few months in, Coho Salmon commence their run. Steelhead start theirs in late October through May.
During the same months, brown trout are also active.
The summer months come with prolific summer steelhead commonly known as the Skamania.
However, a major determinant is the water level.
Salmon and steelhead will be hiding in the slow-moving waters.
So, identify these spots and make them your duty posts for the day.
The Lower Fly Zone and the Upper Fly Zone are the fly fishing only spots on this river.
The former commences at Beaverdam Brook heading downstream to County 52 Bridge.
Fishing starts from 15th September to 15th May and you will come across steelhead and salmon in this zone.
The latter starts from Light House Hill Reservoir heading upstream to the Fish Hatchery on Salmon River.
Fishing here kicks off on 1st April and closes on 30th November.
Since you are restricted to fishing in the two zones only, you need to have a leader that is less than 15 feet and the hook gaps less than ½ ''.
Carry a single-handed rod of 7 to 10 weight and match your reel accordingly.
Pair your combo with a weight forward floating line.
For streamer fishing in the pool, your ideal bet will be a sinking tip.
Larger and heavier flies ranging between sizes 4 and 8 will not disappoint.
---
---
Seasons: April to November for the lower zone and Mid-September to mid-May for the upper zone
Main Species: Coho, Chinook Salmon, steelhead, Atlantic Salmon, Skamania steelhead, brown trout
Type of Stream: Tailwater
Fly Patterns: Red tag, eggstacy egg, wooly bugger, egg-sucking leech, crystal bugger
Nearest Tackle Shops: Fat Nancy's Tackle Shop, Salmon River Sports Shop, All Season Sports, Whitaker's Sport Shop and Motel, Steelhead Lodge Motel
---
Neversink River
---
The state stocks the Neversink River with over 5000 brownies annually.
It is a blend between a freestone and a tailwater fishery and the waters maintain a lower temperature throughout regardless of the season.
You can fish rainbow, brown, and brook trout in this river.
Found in Southeast New York, it flows slowly and it is easy to spot fish due to the clarity of the water.
Pack your Hendrickson, slate drake, BWOs, and quill Gordons.
They should be very small in size for perfect presentation and to avoid spooking the fish because of the nature of the water.
Have excellent timing skills and target when fish are feeding on the water surface then you can throw your dry flies.
It doesn't need shoddiness as you will struggle without a single catch no matter the time you spend.
Perfect your game then try your luck here.
---
---
Seasons: 1st April to 15th November
Main Species: Rainbow, brown, and brook trout
Type of Stream: Freestone and tailwater fishery
Fly Patterns: Hendrickson, slate drake, BWOs, and quill Gordons
Nearest Town: Woodbourne, Claryville
Nearest Tackle Shops: Cross River Bait & Tackle, Crossbay Bait, and Tackle, Ceelys Bait Bucket, Tom's Bait Shop, O & H Bait Shop
---
Au Sable River
---
Show your traditional fly fishing skills on the Au Sable which is divided into three sections.
The West Branch is found in the Adirondack Mountains and is famous for the largest trout.
The scenery and offerings of the West are superb and that is among the factors that influence anglers to visit this section.
Head to the section above Route 86 Bridge. Beginning from the Holcomb Pond downstream to Wilmington Notch is set aside for catch and release only.
It boats versatility and underneath is pocket water.
There are beautiful hatches that happen here throughout the year.
You can pack stoneflies, caddis, and mayflies.
Dry fly fishing and nymphing will be perfect to try out here.
Have smaller streamers to target larger trout that are holding out in the underneath structures.
Darker patterns are the best bet because of the stained water.
Pack midges in case the caddis and mayflies let you down.
If you come here in May and June, you will have the best experiences.
Pack a traditional trout setup of about 4 to 6 weight and a weight forward line.
Maintain small tippets when on the Sable.
---
---
---
More Prime Fly Fishing Spots in New York
---
Chittenango Creek is a stream in the heart of New York that hails from Nelson Swamp and drains in Lake Oneida.
You can fish on the 5 miles of public access fishing which is along Route 13.
Casting will be prolific here as the stream has fast-moving waters.
What attracts most of the anglers is the Chittenango Falls State Park's 170-foot waterfall.
If you'd like to catch more fish, head to the upper section of the river and hunt walleye, brookies, bass, and brown trout.
It indeed is a 10-mile stream hence its name.
The Ten Mile Creek is in Eastern New York and flows in the Catskill Creek.
It has wild rainbows and browns and is never stocked.
The upper 5 miles are home for brownies while the rest are guarded by rainbows and a few brooks.
Your simple 4 weight fly rod, 9 feet leader and a 5x tippet will be an excellent combo when paired with small-sized nymphs.
Having its source in Wyoming, the Wiscoy Creek is 25 miles and drains in the Genesee River.
Western Ney York recognizes for the healthy populations of brown trout that you can fish in its waters.
Access to the public is only on 13 miles and looks like despite half of it passing on public land, it has plenty of access points.
The deep pools, riffles, and gravel bottoms make an excellent underwater structure that will appeal to any angler.
Most fly fishers carry traditional trout setups for both wild browns and brookies here.
Before 1972, it used to be heavily stocked but the state halted the program and hasn't been stocked since then.
There is a narrower section of the river in the upper sections near Bliss.
The rest are wider and nymphing will not be a bad choice for any angler.
Apart from the Salmon River, Oak Orchard Creek boasts excellent salmon fishing opportunities.
It has its mouth in the Oak Orchard swamps and flows to Ontario Lake where it drains.
More fish species that you can catch here are steelhead, Coho, and brownies.
It is heavily stocked with about 26,000 Coho salmon, 155,000 chinooks, and 21,000 rainbow trout annually.
It has great access. You can head to the Waterport Dam where fish are in plenty.
Carry drift eggs, a heavier combo like an 8 to a 10 weight single-handed rod to catch heavy fish.
Landlocked salmon live in the Saranac River which has proximity to the Au Sable River.
The river is in the Adirondacks and is a whole package of beauty and recreation activities.
It hails from Bloomingdale all the way to Franklin.
There are several hydroelectric dams on the river and this makes it's a cold and warm water fishery.
Fish in the upper sections for brownies and rainbows.
Access points are along the road and we advise that you pack a traditional trout rig.
Landlocked salmon and steelhead are numerous in the lower section of the river and late fall and winter are the best times to comb this section.
Have a 7 weight rod or something heavier for power. Pair it with stoneflies, wooly, buggers, terrestrials, caddis, and BOs.
Nymphers should check out the Esopus Creek near Kingston in southeastern New York.
The state uses it as a source of drinking water. The upper section begins above the Ashokan Reservoir and the flow is not complicated.
Head to Big Indian for excellent access points. You can fish above and below the reservoir without issues.
Pack your stoneflies, caddis, and mayflies for more success especially from May to September.
Having these flies on a traditional trout rig that consists of a 4 to a 6 weight fly rod will be the best idea.
Pair it with a 9 feet leader and a weight forward line.
The lower part of Western New York homes the Cohocton River that passes through Steuben and Livingston counties.
It is an all-year-round fishery full of trout.
Central New York is where the West Canada Creek is and is among the renowned trout waters in the region.
It starts in Hamilton County in the southeastern areas of Adirondacks.
The entire stream has excellent fly fishing opportunities and it is guided by a catch and release policy that has seen it thrive all these years.
This happens in the Treton Falls section which is commonly known by anglers as the Trophy section.
The 22 mile Nine Creek is a medium-sized stream located in Onondaga County.
Its waters are from Otisco Lake and it snakes across the state emptying into the Onondaga Lake.
It is heavily stocked with over 23000 brook and brown trout. It also has numerous wild rainbows, brooks, and brownies.
The lower portion of the stream is strictly for catch and release.
Chateauguay River is a slippery watershed posing tricky wading conditions.
However, the insect and fish life on this river is richer than what you think.
It has plenty of rainbow trout which are over 16 inches.
Public access to the river is excellent.
Owasco Inlet used to be an April to May fishery.
However, the policies here have seen it rise into a prolific all-year-round trout fishery.
Before, anglers caught rainbows as huge as 12 pounds here but it looks like the stock of huge sized rainbows is depleting.
This could be because resident lake trout and walleyes could be feeding on them when they are still juvenile.
In the spring run, you can easily catch a 20-inch rainbow.
This is during their spawning session.
It has healthy populations of stocked browns that grow to more than 20 inches. Wild browns are in the upper stretches of the river.
---
Tips for Successful Fly Fishing in New York
---
Have more artificial flies to fish in New York as fish here see most of these.
They should be well tied and of the right color combinations to avoid wasting time on the water and feeling frustrated.
In the early fishing seasons, most of the watersheds are stained.
Anglers who would love to wade should ensure that they keenly check the depth of the river, stream or lake to ensure that they don't drown.
As usual, the weather is dynamic and it is no different in New York.
Ensure that you pack a light rain jacket just in case.
Also, the weather dynamics greatly affect water levels which later affect the catch rate.
For season timings, there are water bodies with opening dates that are common to anglers.
Otherwise, any fisherman or woman coming here from June to September will have a good time.
So many hatches will also be happening during this time.
For your combos, we advise having a traditional trout setup for most of the streams and rivers if fishing trout.
Pair this with a weight forward line and your favorite fly that matches the hatch on the waterway that you are fishing.
For salmon and steelheads, have heavier rigs because you need the power to battle and stop these fish once they start to take off.
You require a valid fishing license in order to access the water bodies in New York for fishing.
This applies to all residents and non-residents who are 16 years and more.
---
FAQs – Questions on Fly Fishing in New York
---
Q) What is the fish limit in the Catskill waters of New York?
A) The fish limit in this area is five fish of any size per day per person during the fishing season. However, the regulations vary with the waterways.
Q) Which are the main species of fish to catch in the Catskills?
A) The main fish species that anglers target are rainbow, brown, and brook trout, bass, shad, walleye, panfish, and chain pickerel.
Q) How much is the annual non-resident freshwater fishing license in New York?
A) For non-residents who are between 16 and 69 years, the annual fee is $50 while for senior citizens above 70 years is $28. These are subject to revision when the state deems fit.
Q) Is fishing at night allowed in this state?
A) Night fishing is allowed. However, you have to confirm with the special regulations guiding the watersheds that you intend to fish.
Q) Can I sell the fish I catch in New York?
A) If you aren't a commercial fisherman, you are forbidden from selling any fish you catch in New York waters.
---
Wrap Up
---
We all think of the hustle and bustle of the city when we think of New York.
There are however other fantastic recreation activities like fly fishing that any resident or non-resident can enjoy when here.
While most of the waters are scenic and world-class, you will have more to learn as each watershed has its unique experience.
Some are challenging and help you sharpen your skills.
The miles at your disposal will live a mark in your angling life for being new water lessons that you have never learned anywhere else.
Take time to carefully plan a trip to NY and enjoy Mother Nature's offerings there.
While at it, ensure that you park smart because of the unpredictable weather conditions, nature of water bodies, and behavior of fish.
Pass by our buyer's section to select and purchase the best tackle gear that will suit all your needs.
We value anglers of all budget levels because we'd love everyone to enjoy the water experience anywhere that they'd love to tour.
Share with us your experiences in New York and let us know the tackle you packed, waters you fished, and fish you caught.