Disclosure:
Just to be open and honest the buttons and links you click on in the website will in most cases take you to another website where you can purchase the products I am reviewing. As an Amazon Associate I earn from qualifying purchases.
February 21, 2023
Where is the best places in America to fly fish?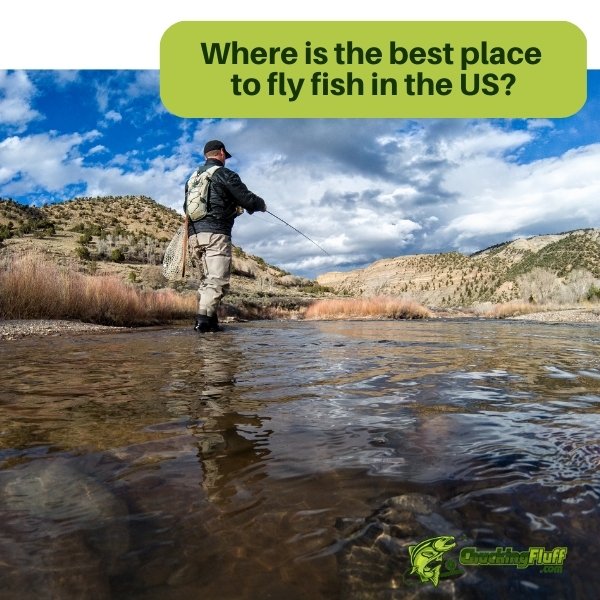 Fly fishing has rapidly grown across the USA, and you will tell by the end of this article that it knows zero bounds.
Whether you are looking to identify a favorite stream, or test your flies in the salt flats, there is so much to explore with your rod outfits.
Top fly fishing destinations in America exist in hundreds if we were to count the smallest of creeks and streams.
Targets span from tailwater angling below dams combing for brownies to native brookies in mountain streams.
Both residents and visitors have more spots to explore in the state, whether straight from their backyards, or sneaking to a nearby creek when on vacation.
Here are some of the best fly fishing locations in the USA you can add to your bucket list.
---
Yellowstone River in Montana
---
The Yellowstone can intimidate you if you haven't been striving to perfect your angling skills.
It is a massive water body with strong currents, which can make it tougher for novices to spot fish.
Pro anglers recommend hiring a guide if you are trying the Yellowstone for the first time.
Some prospects cruising these waters are brown, rainbow, and cutthroat trout.
Bring large streamers, enough terrestrial and salmon flies – pack BWOs, salmonflies, and caddis.
Don't hesitate to change your tactics when situations demand.
Try out boat fishing to get to further parts of the river and land fish that escape the edges and shores.
You can access the river from the Paradise Valley, but target the area between Livingston and Gardiner for a massive catch.
Carry a 6-weight fly rod and weight-forward floating lines.
---
Madison River in Montana
---
The Madison is a legendary fly angling destination in the USA and beyond.
You will hear locals and the witty calling it the 50-Mile Riffle.
It is famous for its ample waters, giant catches, and wonderful hatches.
Head to the areas below the Hebgen and Quake Lakes if you want to be sure of landing a fish.
The Bear Trap Canyon offers access to the river, but it is one of the toughest portions.
However, the brighter side is your ability to catch more fish because of less pressure.
Trophy brown and rainbow trout reside here.
Be keen to watch the spinner and caddis hatches as they are unreal.
Pack stimulator patterns, salmonflies, beadhead prince nymph, and rubber legged stone flies.
---
Missouri River in Montana
---
The Missouri comes fourth in the list of the biggest rivers worldwide, and the section between the Pelican Point and Holter Dam will downright challenge you.
Studies show that the area boasts 4000+ fish per mile, which is almost inexhaustible if we exercise responsible angling.
The insect hatches here will make you discover why the water is worthwhile.
Even with the high fish population, angling slows down in summer.
Bring a 6-weight fly rod to manage the 17+ inch fish.
You can wade most sections of the Missouri River, but you will be more successful floating.
Carry heavy flies if fishing late in the afternoons as you await the evening spinner hatches.
Size 14 beadhead hare's ear nymphs, zebra midges, and sow bugs yield more.
---
North Platte River in Wyoming
---
North Platter River is one of the top fly fishing destinations in America, though it experiences the most pressure in Colorado.
The section in Wyoming is almost untouched, making it an excellent spot for the adventurous buddy.
Rainbow trout are plenty in the Grey Reef section of this river.
The estimate is 8000+ per mile, ranking it the most populated section with rainbow trout in the USA, even though some sections are privately owned.
Be careful about such areas if you're coming here.
Double digit rainbows are easy to hook in this river if you throw wooly burgers, clouser minnows, tricos, spinners, or BWOs.
Be ready to cast in the riffles, pools, and pocket waters.
A 6-weight stick and a disc drag fly reel are ideal, as the species here are strong and heavy.
---
Bighorn River in Wyoming
---
Even though the Bighorn River flows through Wyoming, its popular section is in Montana.
That doesn't mean there isn't anything to do with the waters in Wyoming.
The stretch close to Thermopolis is hardly fished, but when you do, the few trout available will shock you.
There are rainbow, cutthroat, and brown trout here.
You can wade the river or float, but the most success is with the latter.
Maintain a 6-weight rod for the pools, pockets, and seams.
Bring tricos, PMDs, BWOs, and drakes.
Late mornings and early evenings are the best time to cast terrestrials from July to September.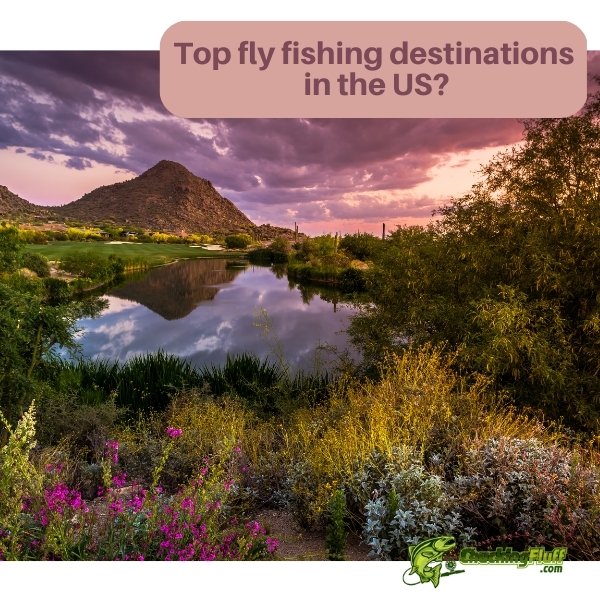 ---
Manistee and Au Sable Rivers in Michigan
---
Rivers Manistee and Au Sable are in central Michigan and will test your fly angling skills
The waters are densely fished, making the trout smarter and quite difficult to catch.
Try your luck in June when the human population is low.
You can wade both rivers, and there are no close obstructions that can hinder back casts.
Floating, however, will allow you to cover plenty of water.
---
Pere Marquette River in Michigan
---
Pere Marquette boasts a diversity of fish that fly fishers can hook all year round.
Steelhead are plenty in spring, as summer welcomes big brownies in the night.
Fall is known for massive King Salmon.
A 7-10-weight fly rod is ideal for this location, and anything below this will break and end your day.
The river flows through Huron Manistee National Park, but boasts the best accessibility from the available tracks.
Pack some hex nymphs, eggs, and drunk flies.
---
Watauga River in Tennessee
---
Watauga River is a gorgeous tailwater and fish here are active all day.
Rainbow and brook trout are plenty in these waters, and will rise to caddis, especially if casting at the Smalling Bridge.
---
Youghiogeny River in Pennsylvania
---
Don't underestimate what Youghiogeny waters, as they have brown, rainbow, and brook trout.
Drifting is the best mode to fish this river, but you can wade the shallower areas.
Fishing upstream of the Ohiopyle has been a long-kept secret by anglers who have tried their luck here.
It is the most productive part and yield more if you use stoneflies, hare's ear nymphs, pheasant tails, Adams, and articulated streamers.
---
Holston River in Virginia
---
Holston River is among the top fly fishing destinations in America and a must visit if in this state.
Its tailwater is in Tennessee, however, the waters above it are in Virginia and worth adventuring for brown, brook, and rainbow trout.
Access to this river is near Marion, close to the fish hatchery.
---
Pemigewasset River in New Hampshire
---
The Pemigewasset is a beauty flowing through the core of its state.
A section snakes through the White Mountain National Forest where you can catch some brook, brown, and rainbow trout.
---
White River in Arkansas
---
The White River is a gem, but most people might not think about Arkansas as one of the places with the best trout fishing experiences.
But anglers who want to catch giant fish will count it top of their list.
Large brownies live here and the section below Bull Shoals Dam is fished from a boat.
Fishing in the shad kill lands you the best catches on this river.
Dead drifting streamers like woolies and shads never disappoints.
The secret is to bring a 3 or 4X leader and a 6-weight fly rod.
---
Spearfish Creek in South Dakota
---
The Spearfish Creek is a tiny stream running through the Canyon located in the Northern Black Hills.
It is known for its plenty wild rainbow and brown trout, and can be accessed near the fish hatchery.
Carry pheasant tail and price nymphs in size 18-22 for the most success.
Waters here are clearer and trout can be picky.
Wading is possible but grip will be essential.
---
San Juan River in New Mexico
---
San Juan River in New Mexico is the coldest tailwater in the USA.
Thousands of 18-20 inch rainbow and brown trout cruise these waters and wont hesitate to hit your fly.
Wait for when the outside is cooler and fish are more active to explore this location.
The Texas Hole and Upper Flats yield the most catches.
Pack some pheasant tails, prince nymphs, wooly buggers and caddisflies.
You will get greater access to fantastic spots floating the river.
---
Wenatchee River in Washington
---
The Wenatchee River is a tributary of River Columbia, and runs 55 miles down.
It boasts a phenomenal population of steelheads, thanks to the efforts put in the river in early 2000s to increase the numbers.
Fly fishers must release any wild fish they catch and retain hatchery steelhead.
Start fishing from the river portions in Wenatchee town with woolies, sex dungeons, and clouser minnows as you adventure the stretch.
A 6-8 weight will do alongside a 0 or 1X tippet to lift heavy streamers.
---
More Top Fly Fishing Destinations in America
---
Yakima River
Mckenzie River
Deschutes River
Rapid River
Battenkill River
Logan River
Weber River
Green River
Russian River
Kenai River
Salmon River
Snake River
Yampa River
South Platte River
North Tongue River
---
Conclusion
---
The list of top fly fishing destinations in America is LONG!
We described a few rivers you might know or have visited that yield the best, but we will be going in-depth on each state in the USA on individual posts (yikes! Some are already up!).