Disclosure:
Just to be open and honest the buttons and links you click on in the website will in most cases take you to another website where you can purchase the products I am reviewing. As an Amazon Associate I earn from qualifying purchases.
October 12, 2022
Which is better the Orvis Encounter Rubber Sole Wading Boot or Felt?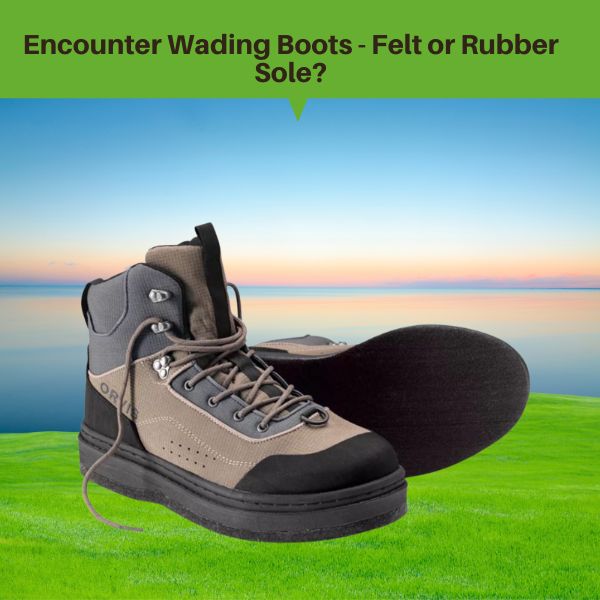 The Orvis Encounter line of products is rich with waders, wading jackets, fly rods, fly reels, and fly lines being at your disposal for the most memorable time of your life on the water.
We compare the two wading boots today from this brand. The Orvis Encounter Rubber Sole and Felt Sole Wading Boots.
Not to see which beats the other, but to let you be the judge of which one will suit your fly fishing needs where.
From afar, the two look like fraternal twins. You know those that slightly differ in appearance, yes!
The major difference is in their sole construction.
One is felt only while the other is rubber only.
Situations of use differ too but all the other aspects of construction are similar.
For the price they go for, these wading boots appeal to anglers of all levels.
Orvis during the Encounter wading boot launch made a promise that this pair will deliver exceptionally like the high-end options for an equitably affordable price.
It wasn't a hoax that is why the two designs feature in our best wading boots buyers guide.
Targeting passionate anglers who are just kick-starting their journey or those on a mid-range hunt, the pair has already gained popularity among river lovers.
The felt sole though banned in most states, is a perfect choice for overly slippery surfaces.
Legalities to that effect are for environmental preservation so as to ensure that you and your generations to come can carry on with the sport.
They are known for carrying and transferring invasive species to areas where they don't belong.
Doing this completely wipes out a habitat in the shortest time.
If you are the cause or carrier, you will go down in history as a disgrace to Mother Nature.
You can only use them where they are allowed and ensure you thoroughly clean them before leaving the fishing hole.
Travel down with us to see what each pair is like.
---
Orvis Encounter Felt Sole Wading Boot Review
---
For use in surfaces with plenty of moss, algae and rotten leaves, the felt sole will do justice to you by ensuring proper grip and steadiness.
It offers exceptional value and does a greater job than most of the other felt sole boots in its range.
It adapts to a very wide diversity of foot widths.
Though it appears to be a high-volume boot and that your foot can swim in, it will surprise you that they are very supple and mesh upper section, you can clinch the boot laces tightly to achieve a snug fit across the instep.
Check Web Price
---
---
Sizing – This is one type of wading boots that has some of the smallest sizes for young anglers. They too need foot protection. The felts come in size 5 to size 14. Choose a proper size that can allow for layering and insulation in the cold season.
Traction – The felt sole offers the right amount of grip you need to keep you steady and casting without worries on an exceedingly slippery surface that will not work with treaded or studded rubber soles. The offside of these soles is that they wear out pretty fast.
Ankle and Foot Support – The inner side is well-lined with enough padding to ensure that besides feeling warm, you are dry and most importantly, safe from risks of sprains and foot breakage. The uppers are slightly extended to offer more support to those with feeble legs.
Toe Cap – As a high wear and tear point, Orvis uses scratch rubber to reinforce the toe cap. Unlike other wading boots manufacturers that assume this vital aspect, Orvis gears towards durability and high performance.
---
Application of the Encounter Felt Sole Wading Boot
---
The Encounter felt soles like the other ones have been the standard in the angling industry for a very long time.
We can't be sure that they are here to stay because there are states that ban their use.
Away from it.
Felt soles grab mossy-bottomed rivers very well and its serviceable job of gripping extra slippery rocks is commendable.
Many anglers are concerned about slippages and falls in delicate areas that is why these felt soles are a great consideration.
Saltwater flats, soft-bottomed rivers, steep slopes, and grass are among the areas to have such boots on.
---
Pros – Things that shine on the Encounter Wading Boot- Felt Only
---
Available in a wide range of sizes
Reinforced toe area for durability
Solid overall construction
Fully lined inner side
High performing sole
Lightweight
---
Cons – Things that aren't so cool!
---
The sole type is banned in some states
Sole easily wears out
Laces wear out sooner because of friction with the lace hooks
---
Orvis Encounter Rubber Sole Wading Boot
---
Encounter Rubber Sole Wading Boots have gained fame over the years.
This is because since most states outlawed their felt partners, they are the surest option for performance and environmental protection.
It is an admirable effort to take on the ban and a plus to Orvis to speed up the manufacture of their rubber sister boot.
For all-around angling, these ones are a take.
As they say, perfect boots feature Vibram rubber soles.
Is this one perfect? So far, so good.
Like Simms, Orvis uses this type of rubber on these Encounter wading boots.
The treading pattern is conducive to wading and walking over different terrains like gravel, dry grass, mud, and rocks.
They are excellent performers in winter, ice, and snow.
Treads though a savior from unnecessary falls and slips, wear out with prolonged use.
Who says that you should dump the dam boots?
Give them new life with the PosiGrip screw-in studs to increase traction.
They come in a pack of 24. Their compatibility is superb.
Not at a high cost, you will appreciate how easy they are to use. Install them carefully and wear the boots to secure them in place.
Since the construction of these boots is very solid, you will have these boots longer than you expect if you take good care of them.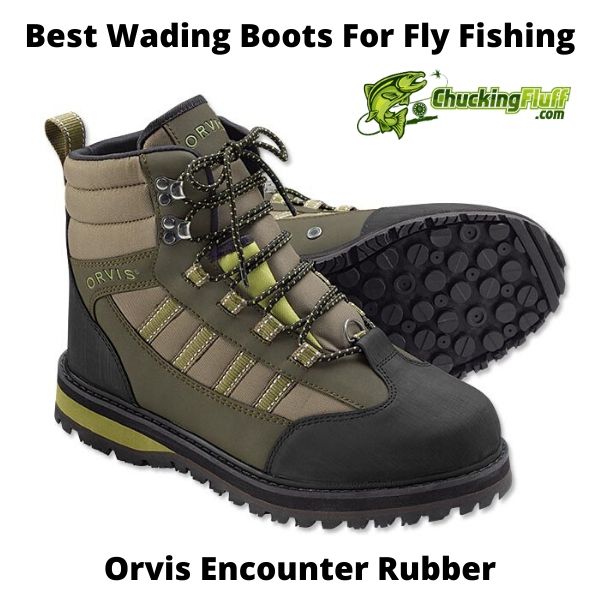 ---
Key Features of the Encounter Rubber Sole Wading Boot
---
Durability – Orvis is tactful to ensure that it blends lightweight mesh with very thick synthetics that are abrasion-resistant to add to their longevity. Rubber is used as a reinforcement on areas that are prone to high wear and tear for instance the toe cap.
Sole – Vibram rubber is high-grade is unbeatable in performance. The sole grips dry boulders and dirt paths very well ensuring it lowers the risks of the wearer slipping or falling. Underwater, the performance is peak. You will appreciate the treading because it lasts longer is you angle occasionally. Frequent anglers will notice wearing treads after some time. No worries. You can revive their grip with the PosiGrip screw-in studs which are cheap yet very durable and fully functional.
Ankle and Foot Support – Under the foot is an admirable construction to protect you from the poky rocks. The sole has a broad base for greater stability. Although it flexes more than most of the choices in its category, it feels more like a high-top sneaker or All-Star converse and not the usual cumbersome and blocky boot. As you scramble through the rock piles and the downed branches, you will appreciate their sensitivity.
D-ring – There is a metallic D-ring attached to the toe cap to secure the gravel guards and ensure they prevent the entry of sand, grit, and gravel. The gravel guard work hand in hand with the tongue to ensure functionality.
---
Application of the Orvis Encounter Rubber Sole Wading Boot
---
May anglers in the past harboured a dislike of the rubber sole boots.
There weren't justifiable reasons to back the hate.
Rumours had it that the oldest wading boots had an issue with traction and the rubber could often dis-attach from the other part of the boot.
Hearsay it was.
What we have now is exemplary and so far, rubber boots are the best choice for any angler if you buy good quality like the Encounter and get the right size.
The traction is on point and all features come up together to ensure high performance and effectiveness in almost all areas including those that outlaw felt soles.
---
Pros – Things that shine on the Orvis Encounter Wading Boot – Rubber Sole
---
Lightweight construction
Thicker uppers
Applicable in many areas
Usable with screw-in studs
Comes with a D-ring for gravel guards
---
Cons – Things that aren't so cool!
---
Is a let-down in slimy areas
Not a choice for saltwater fishing
---
Similarities of the Orvis Encounter Felt Sole and Rubber Sole Wading Boots
---
Both are lightweight and have uppers made from exclusively synthetics
Collars in both boots have thick padding for ankle and foot support
The inner lining of all the types comes with sponge cushioning for comfort and doesn't add to the weight of the boots
Heel ad toe areas have reinforcement from high-quality scratch rubber to slow down wear and tear
The felt and rubber sole wading boots have Metallic D-rings attached to the toe caps for securing gravel guards
The lacing system has the first two hooks and nylon loops
---
Differences between the Orvis Encounter Rubber Only Wading Boots and the Orvis Encounter Felt Sole Wading Boots
---
Two boots from the same brand, they look alike in almost all ways but have major differences in areas of use and construction.
| | | |
| --- | --- | --- |
| ASPECT   | OVIS ENCOUNTER RUBBER ONLY WADING BOOTS | ORVIS ENCOUNTER FELT ONLY WADING BOOTS |
| Area Specialty   | Almost all surfaces with the exception of slimy and extremely slippery surfaces   | Slimy and overly slippery surfaces only |
| Studs     | Usable with PosiGrip screw-ins | No studs |
---
Final Verdict – Rubber or Felt?
---
We have done our part, we leave you to take on yours.
You be the judge.
From our comparison, you can see that the upsides outweigh the cons by very far on this Orvis Encounter Rubber Sole Wading Boot and Orvis Encounter Felt Sole Wading comparison review.
The Encounter boots are great options for any angler looking to explore the waters of different worlds and see what they harbor.
No matter the level on which you perform the sport, you won't go wrong with these pair from Orvis.
Depending on your state or where you intend to go on a fish hunt, you will make a solid choice that doesn't affect you or Mother Nature.
Not convinced Check more options