Disclosure:
Just to be open and honest the buttons and links you click on in the website will in most cases take you to another website where you can purchase the products I am reviewing. As an Amazon Associate I earn from qualifying purchases.
July 27, 2020
Redington Prowler Sticky Rubber Wading Boots Review – Not Slippy When Wet
Wading in a very swift current will find you appreciating slippery river bottoms. These are the types of hairy situations where all the rocks are slippery as ice balls.
You can only hope that you have a pair of wading boots like the Redington Prowler Sticky Rubber Wading Boots that feature solid traction.
Without proper equipment and gear, rivers can get dangerous.
Wading boots have been around for a while and manufacturers like Redington, Orvis, Simms, and Toggs have been at the forefront bench when it comes to innovation.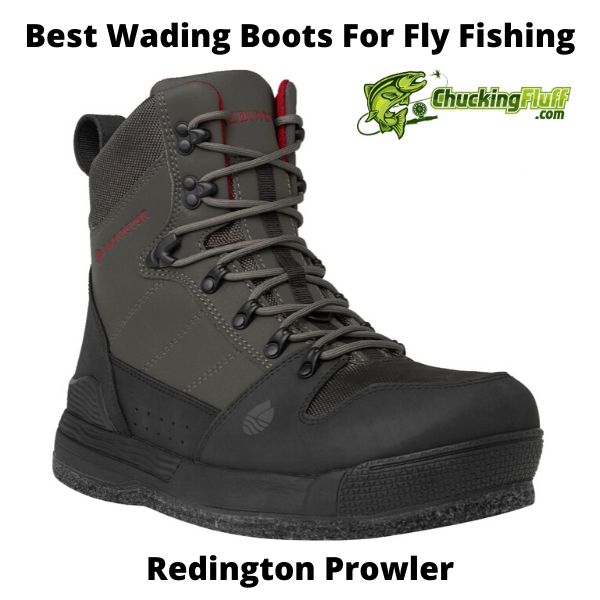 ---
Check Prowler Amazon Availability
Check Prowler Web Availability
---
One of the most outstanding features of the Prowler Sticky boots is the grip action of the rubber sole. For rubber sole boots, these fall as the best when it comes to traction.
The traction is extremely solid and doesn't limit you to wading only. As you hike or pace over ice shelves, you feel overly confident and are never afraid of the slick surfaces.
In some of the slippery rivers, you don't need additional metal studs or screws.
However, it will be an excellent idea to add them when fishing in rivers with larger rocks and faster currents which pose more danger.
Comfort is a must-consider for any wading boot. Redington ensures that the Prowler achieves this feature through a few crafting tweaks.
The toe area has a silk soft padding which pays off by ensuring your toes don't crumple. Once you lace the boots up, the support and comfort are impressive with more ankle padding and good width at the base area.
It wears like those expensive hiking boots. For various terrain handling, these are among the best wading boots for the money. For stability, the manufacturer builds it with a wide sole with an extensive surface.
The outer edges have extra girth and as you confront a loose rock, there is no potential for ankle rolls.
Redington takes a further step in ensuring that the boot's aesthetics are modern.
Unlike the first pairs in the market that would leave many giving invariable comments about them looking like clown shoes, the Prowlers are the bomb on matters style and aesthetics.
The boots boast of very solid construction that adds to their longevity. Usually, the toe and heel area are noticeable and the commonest high wear and tear points on wading boots.
No more worries because Redington uses molded rubber overlays on these areas.
To top it up, the non-corrosive and rust-resistant hardware that is heavy-duty adds a punch to it ensuring that it lasts as many sessions as possible.
As the craftsmen do their job, they have in mind that you will use these wading boots with stocking foot waders or neoprene booties.
We are driving at the Prowler's fit and sizing. The boots run slightly large.
Once you purchase a proper size, they feel snugger with the booties but once you get into the water, there is no worry.
The credit goes to the overall design and the lacing system which allows for easy tightening and loosening even when wet.
It becomes easier to dial in your fit and when the cold season sets in, you have more room for wool socks to beat the chills.
So far, Redington has nailed the major aspects to look at when selecting the best wading boots.
Stick around to know what users are saying about this workhorse, their upsides, and points of worry, a few common questions and their answers.
---
Key Features of the Redington Prowler Sticky Rubber Wading Boots
Sole Type – This review is on the sticky walnut rubber sole. However, there is a felt sole option. Most anglers are fans of this sole type since they don't spread invasive species like their felt counterparts.
Rubber is far much durable than felt but their downfall is less traction. The good news is that there are options to counter this problem to ensure that the wading boots suit your needs.
Wading Boot Material – Prowlers are made from synthetic materials for less overall weight and quick drying. There is a mesh fabric that is built with drain holes to allow for faster water expulsion.
Polyester on the exterior is for abrasion resistance, inhibiting the growth of mold and mildew if you store boots while still wet and for heat dissipation.
Style – The sole is wider than regular wading boots and has extra girth on the outer edges. The toe box is wide enough resulting in a more stable base to prevent chances of spraining or breaking a leg.
Something like modern hiking boots we can say.
Foot and Ankle Support – Unlike designs like the Orvis Ultralight wading boots, these ones are of the usual wading boot length to offer more support to persons with weak or strong bones.
The inner padding is thick for added support and comfort. Uppers and the collar areas have heavy padding for support as you wade on inconsistent river beds.
Traction – The sticky rubber sole comes with a good tread pattern that is reliable. We wouldn't say entirely because in some tough situations you might need to ensure more secure and a firmer grip to prevent slips and falls.
The sole is stud compatible for this reason. With frequent use, the treads wear out slowly but the boots can still serve you in not so slippery rivers.
Sizing – Redington designs these wading boots in sizes ranging from 9 to 13. Though there are complaints by individuals with longer feet that their sizes aren't available for these boots, this is a thing that Redington can look into in their next release batch or if they intend to make an upgrade version of these Prowlers.
They come slightly larger in size to ensure that your neoprene booties or wool wading socks for cold weather can fit well without hurting and causing soreness.
Lacing – Featuring a traditional lacing system, the laces are from woven polyester. You might have to replace them if you wear the boots frequently because the laces rub along the metallic eyelets and the lacing braces.
Weight – These Redington Prowler Sticky Rubber Wading Boots are relatively light. Thanks to the construction material, incorporations like drain holes and lighter padding that makes the weight range from 3 to 4 lbs. in between the sizes.
They are light to walk in for longer distances, spend the whole day in them, or throw them in your backpack if you are a traveling angler.
Although Redington terms it as a men's boot, most women are finding it an option to consider because of its impeccable performance and comfortable fit.
---
---
Customer Thoughts on the Redington Prowler Sticky Rubber Wading Boots​
The fit is spot on and if you order a larger size by 0.5 or 1, you are sure to appreciate these boots for their roomy nature and ability to accommodate your booties or wool socks when you need cushioning from the cold.
Too bad that the laces will not serve their purpose long enough. You need to buy another pair of tougher laces to beat the brutality of the metallic eyelets. Otherwise, the overall construction is so on point.
Not so many brands have wading boots with toe room. This one has proven a bonus especially if you have longer toes. It is time to forget about toe crumpling and soreness each time you wear wading boots.
Despite the rigorous tests that I have put these wading boots through, there is nothing it doesn't offer. And for the amount that it goes for, if you don't take pride in them, you must be having an outrageous feature list.
---
Pros

– Things that shine on the Redington Prowler Sticky Rubber Boots

Durable overall construction
Lightweight and strong polyurethane mid-sole
Wide sole for stability
Padded uppers for ankle support
Mesh with drain holes for faster drainage
Rust and corrosion-resistant metallic hardware
Stud compatible
Generally lightweight
Cons

– Things that are not so cool!
Laces are a major concern. They are functional though their construction isn't up to standard since they fray and wear out because of frequent friction between the laces and the metallic eyelets.
Buddies with longer feet lack a fitting boot and Redington should start considering this.
---
FAQ's – Questions about the Redington Prowler Wading Boots – Sticky Rubber Sole

Q) Can you remove the inner soles to achieve a greater fit and for comfort?
A) Yes, the inner soles are removable. You can have them out if you have foot cushioning like wool socks or neoprene booties.
Q) What type of studs can you use on the boots, do they go very deep?
A) The Goat Head Studs from Redington match the boots nicely. They fit in the stud spaces very well and their functionality is dependable.
Q) If you need to hike longer distances before reaching your favourite river should you do this in Prowlers?
A) Yes. Redington Prowler Sticky Rubber Wading Boots are of modern aesthetic with the design and feel outside water being like expensive hiking boots.
Q) Can you use the metallic eyelets only for lacing the boots and leave out the lacing braces?
A) The choice is yours. However, it is recommended that you lace the boots fully to prevent the entry of water, sand, and grit that can damage your waders.
Q) Polyester or synthetic leather for the exterior side?
A) Redington uses polyester material on the outer surface for durability and functionality.
Q) What type of reinforcement is used in areas prone to high wear and tear?
A) The manufacturer uses molded rubber rands and a rubber bumper on the toe section to slow wearing.
Q) Are the seams on the wading boots taped or welded?
A) All seams are fully double-stitched to ensure that they don't fray or burst when you hike or wade.
---
Final Verdict on the Redington Prowler Wading Boots with Sticky Rubber Sole

If you deepen your research on the creation of the Prowler wading boots, you will discover that Redington took several years to design and manufacture the first batch of these boots.
This was to ensure that the result is extremely comfortable, has dependable longevity, striking looks, and overall stupendous performance. There is no doubt because the team's efforts paid off well.
Did you know that you can use a stick to cast a fly, use a hotdog to catch another fish, and wade in vests and shorts and see nothing big about it?
Wait until you stand a knee in the deep fast waters as you tentatively anticipate your next. You will discover that what you need is a solid pair of wading boots with great traction.
It is safer with them than a potential treacherous swim to the banks.
While Redington has this wading boot in felt and in sticky rubber soles, each type has its appeal. However, for descending the steep trails and hills, walking on overly wet grass and logs, rubber soles take the cake.
As you plan on how to negotiate algae and slippery rocks, felts will do their thing pretty well. As you hunt for fish, you need to know that you will be spending more days on the lake and rivers.
Excellent comfort and traction are what you need to consider before making a solid choice. Prowlers have good padding in the uppers and inner side for great ankle support.
For traction, as the treads wear, you can purchase the Goat Head studs to achieve a firmer grip as you wade in the water.
Now that you know what you need to know, take action and make a purchase to ensure that as you anticipate to make several catches, your potential is increased by ample support, greater traction, and exceptional performance.
The Redington Prowler Sticky Rubber Wading Boots are premium boots and if you miss them on your favorite online shop, there are alternatives to choose from.
The Orvis Ultralight Wading Boot for Men, Korkers Greenback Boots with Felt and Kling-On Soles, Simms Freestone Men's Wading Boot, and Frogg Toggs Saltshaker Wading Flat Shoe are substitutes to consider.
Check Prowler Amazon Availability
Check Prowler Web Availability