Disclosure:
Just to be open and honest the buttons and links you click on in the website will in most cases take you to another website where you can purchase the products I am reviewing. As an Amazon Associate I earn from qualifying purchases.
May 19, 2020
Simms Freestone Mens Rubber Wading Boots – Workhorse Protection
You might be having almost everything in the full line of the Freestones in your custody but lack the Simms Freestone Men's Rubber Wading Boots.
A couple of guides and anglers have been having the Freestone waders and from their remarks, it must be a piece of a workhorse.
In all manner of accuracy derived from their feelings, testing them in the fall will never put them or you to shame. If you are looking for beefy yet burly wading boots, this one is a solid choice.
Comfort and ruggedness blend very well to ensure that you achieve unmatched performance.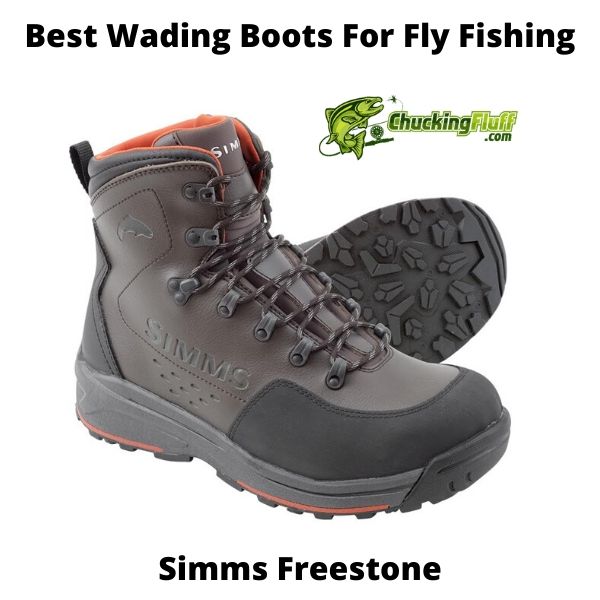 ---
Check Freestone Amazon Availability
Check Freestone Web Availability
---
The legendary workhorse genetics of these boots are recognizable from afar. From reviews by previous and current users, Freestones remain classic boots from Simms. The fit is extremely comfortable.
What makes it one of the top choices for many guides and anglers is its pocket-friendly price. If you compare it to the Vaportread, still from Simms, it is burlier and excellent for fishing styles that need more aggressive wading.
You might not like them for extremely long hiking times but you will love their great ankle support because it comes with taller uppers. If you have tried them in the PNW Rivers for steelhead and other fishing holes, you will notice that they have eclectic performance.
Basalt Rivers that need greater traction are sensitive. For your safety, Simms allows you to add screw-in studs to maneuver in the North Umpqua, Deschutes and areas with similar situations.
Here is a little secret on the Freestone that we decide to leak. If you are a low-volume foot person or are a fan of comfort provided by the Superfeet foot-bed liners, these wading boots are compatible with the aftermarket foot-beds.
This is uncommon with the Vaportread and G3 Guide. More news is that the boots are unisex. This could be a bother to some female anglers. You need not worry since many fisherwomen hit the waters in these.
You will need to take a shoe that is less your street size by 1.5 sizes or thereabout.
As this review covers the rubber sole wading boot, there also exists a felt sole boot. The major difference is in the sole construction only. Simms loves to get you value for money. For these boots, durability is not a gamble.
First, the toe area is well-caped and has a liberal scratch patch of high-quality rubber. Uppers are made from high-grade synthetic leather which is very thick. The neoprene-lined collar comes in to strike a balance by offering a very smooth interior to make the wading boots astoundingly comfortable.
They look almost Frankenstein-like at the first glance but in a real sense are very lightweight. If you have doggy knees, these are the right wading boots to buy since heavier ones aggravate them. The Freestones are supportive.
You can slip in your neoprene stocking feet without feeling bulky and uncomfortable. Forget about any mishaps if you get the right size that allows or proper layering in the cold.
They are very comfortable and snug and you can wear them all day and barely be aware of them except for the fact that your feet are very warm and dry. It will take a tougher person with extreme brutality to end their life so quickly.
Otherwise, with proper use, good care and maintenance, you can have them longer than you can think. Simms is satisfactory that meeting clients' needs is a way of creating and maintaining a solid reputation.
Through this, Simms will repair your worn-out waders if as a result of accidents, excessive wear, and breakdown of construction material over a prolonged time. This is at a small fee which is quite a deal rather than throwing them in the trash can when they can still be rescued.
Stick around to see what the buzz on this workhouse is all about. There are clear answers to a few of the frequently asked questions, customer thoughts and what we think about this pair.
---
Key Features of the Simms Freestone Men's Rubber Wading Boots
Sole Type – Our specificity is on the rubber sole wading boots. Simms designed the sole with high-grade rubber to ensure that you benefit from a good grip and great traction for slippery surfaces.
The sole is acceptable in all states because it doesn't carry and transfer invasive species to areas where they don't belong. There is a felt version of the Freestone that is usable in areas with extensive moss coverage and overly slick bottoms.
Wading Boot Material – Apart from the rubber sole, the toe area, capped with high scratch-resistant rubber ensures that you achieve functionality and durability at the same time. The midsole is from dual-density EVA to ensure maximum shock absorption.
The other exterior parts are from synthetic leather which is waterproof and has heat dissipation properties. The interior has a partial neoprene lining to ensure greater warmth and cushioning.
Foot and Ankle Support – The neoprene lining in the interior parts allows for proper foot cushioning. It works hand in hand with the very thick uppers which have high-quality padding to prevent the risks of ankle sprains and foot breakage.
Studs – These wading boots allow for use with studs to achieve more traction on exceedingly slippery surfaces. The Hardbite Tungsten studs from Simms are compatible and very tough. Some users say that star cleats work though you need to install them properly otherwise they get loose.
Uppers – Uppers combine high-quality waterproof synthetic leather and scratch-resistant rubber material to ensure durability since it is a high wear area. The padding is extreme to allow for proper ankle cushioning and foot support.
Traction – The rubber sole has good traction or short-distance hiking and walking on slippery surfaces. However, once you feel skeptical about grip on certain areas, you can use compatible screw-in cleats or studs to increase traction and achieve firmer grip.
Sizing – You will love the sizing since Simms has the Freestone from size 7 to 14. The design is unisex and female angles have a chance with them. Choose a size that you can layer your feet when winter or fall sets in. You can wear neoprene socks, stocking feet waders or wool socks to ensure you remain warm and dry in course.
Lacing – Speed laces hooks secure the laces and the lace toe closure ensures that the wading boots give a snug fit all the time until you let them loose. The laces though not delicate will still fray because of frequent friction with the hooks. They are replaceable laces.
---
---
Customer Thoughts on the Simms Freestone Rubber Wading Boots for Men
Without the studs, the Simms Freestone Men's Rubber Wading Boots perform highly on the middle river and lake waters with gavel and small stone bottoms. In traces of algae and moss, adding a few Hardbite studs will work exceptionally.
The wading boots have good construction and offer the utmost comfort than most boots in their category. Support provision is superb since most of the crucial features to consider are in place.
As a high-level pair of boots, they are very comfortable with or without layering. You wouldn't know how painful tor and heel sores are unless you've been there. Quite a deal for the cash.
You need not worry when hitting any river. As a norm by this legendary manufacturer, rubber toes add to longevity since a high wear area has been well-attended to.
To comply with the legal changes, take along these wading boots in areas where felt has been banned to ensure that you preserve the environment while having fun at the same time.
Alumnibite cleats also work well if you are looking to achieve better traction. The grip is pretty good however, you need to secure the cleats well to avoid losing them after a few days.
---
Pros

– Things that shine on the Simms Freestone Men's Wading Boots

Great traction
Allows for studs and cleats for a firmer grip
Waterproof and scratch-resistant uppers
Reinforced heels and uppers
Durable construction
Dual-density EVA midsole for more comfort and shock absorption
Applicable warranty
Comfortable design and fit
Unisex choice
Cons

– Things that are not so cool!
With frequent use, the laces fray due to fiction with the speed lace hooks.
Slightly robust than most of the wading boots in its category
---
FAQ's – Questions about the Simms Freestone Men's Wading Boots

Q) How is the boot's drainage like?
A) Great. The boots have tiny holes under the midsole to ensure that all water is expelled once you wade out of water.
Q) Are these a guarantee of slip resistance?
A) The rubber sole and traction come in to sort out slippage. You get a firm grip on slippery surfaces and have more foot and ankle support to prevent rolling over as you cast.
Q) What is the general recommended sizing for women who would like to purchase the Simms Freestone Men's Rubber Wading Boots?
A) You need to get one size down from your usual street size, for instance, if your street size is women's USA 9, take the Freestone boot size 8.
Q) Can you machine wash these wading boots once in a while?
A) No. Simms is against machine-washing your wading boots. Simply hand wash and let dry completely before storage or net use.
Q) Are they a choice for saltwater fly fishing?
A) You don't have to risk since the metallic speed lace hooks aren't fully corrosion and rust-resistant. Salt accelerates rusting which will wear the boots faster than usual. If you do, give your boots a thorough rinse under fresh tap water.
Q) Can you treat the wading boots exterior with waterproofing spray?
A) After extended use or after a wash, you can treat the wading boots with waterproof Aquaseal spray.
Q) Any leather treatments that you can use after prolonged use?
A) You can use treatments like NikWax and Sonoseal treatments.
---
Final Verdict on the Simms Freestone Men's Wading Boots
The Freestone wading boots are an excellent alternative to the usual casual water shoes especially if you have full or stockingfoot wader on.
For rocky creek beds and walking through mud, you need incomparable traction to ensure that your feet are safe from falls and slippage. Usually, those who see them on store shelves think that they'd be very stiff and take the longest time to break-in.
In the real sense, it turns out that once worn, you easily forget about them. As usual, you need to pay more attention to the performance and fit. Simms helps you build a good relationship with your Freestone boots making you forget that you had them on.
Its set of laces looks very hefty. No problem. If you are a frequent angler who will often fasten and unfasten the laces, the speed lace hooks will have an effect on them after some time due to friction.
Laces are easy to come by are very cheap so it isn't much of an issue. Besides this, another major concern is that the wading boots are slightly robust than most wading shoes in its category.
The weight is not much of a turnoff because once you get into the water and out, drainage is pretty fast to ensure the wading boots regain their initial weight to allow for easy walking and hiking.
Simms designs this classic bomber pair with the utmost professionalism to see that customers achieve more value for their money. Probably, this is the reason why since its launch, the company has made tremendous sales.
If you don't have the Simms Freestone Men's Rubber Wading Boots, you are missing so much.
If you opt for others in its category because of one reason or the other, the Simms Freestone Men's Wading Boot, Korkers Greenback Boots with Felt and Kling-On Soles, Orvis Ultralight Wading Boot for Men, and Redington Prowler Boots are excellent alternatives.
Free yourself of worries with the Freestone!
---
Check Freestone Amazon Availability