Disclosure:
Just to be open and honest the buttons and links you click on in the website will in most cases take you to another website where you can purchase the products I am reviewing. As an Amazon Associate I earn from qualifying purchases.
June 15, 2022
Orvis Men's Clearwater Rubber Sole Wading Boots Review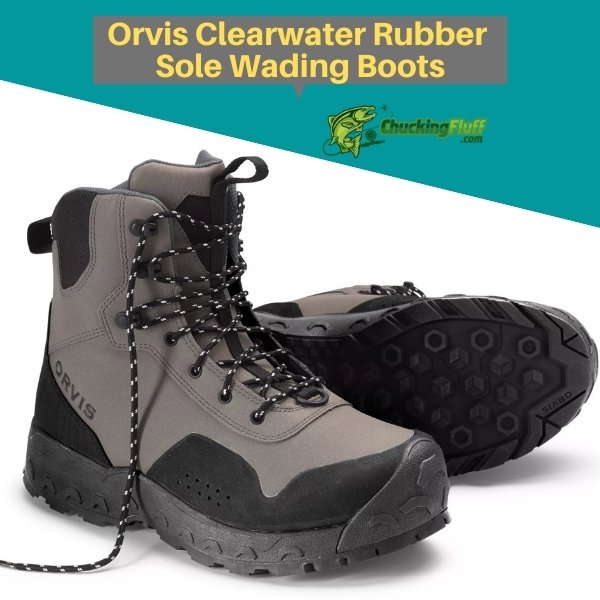 A comparison to the last two decades confirms that wading boots have evolved pretty fast.
What we see in the Orvis Men's Clearwater Rubber Sole Wading Boots isn't similar to older boot styles.
There is a primary difference in quality, performance, construction, and features. Evolution has been and is still in the best interest of anglers.
If you know Orvis, you know that the company minds customer satisfaction first.
There was sire need by anglers to have excellent quality wading boots with minimal seams.
Orvis in a bid to give the fishermen the best designed the Clearwater rubber sole boot that is quite minimalistic, simple, yet with top-notch performance.
As a pair of modern and high-tech boots, you will enjoy ankle support, a very sturdy, and durable construction.
Its fit is excellent as the pair comes in a wide range of sizes. Initially, the older designs were not comfortable for trekking.
This one can be mistaken for hiking boots as its premium construction makes it double as a perfect wading and hiking boot.
---
A little into the rubber-soled option
---
There is an Orvis Men's Clearwater Felt Sole Wading Boot that to grab those rocky river bottoms pretty well.
For wading the freestone streams will be minus slippage.
The felt sisters have been the oldest style of wading boots.
Some countries have banned the use of these boots while others allow them under strict instructions as they encouraged the spread of some invasive species.
The rubber-soled options are becoming more popular.
Like any other manufacturer looking to achieve function would use, Orvis chooses the Vibram rubber for the sole.
Quality and performance become unmatched because this type of rubber is softer and grips rocks excellently.
We love its tread pattern as it allows for conducive wading in different terrains like mud, wet grass, gravel, and rocks.
Rubber soles are the best for winter fishing as ice and snow adhere to the felt soles.
---
Traction reinforcement
---
If you have done your research on wading boots, you will notice that the studded soles are getting their space in fly fishing.
Sometimes going into the water and slipping are genuine concerns.
Such boots give a surety of safety. Well, you don't have to buy a separately studded wading boot to suit these needs if you have the Clearwater rubber sole option.
You can have separately bought integral studs to make wading safer.
You will need to get the right side for the Clearwater boots and insert them into the predetermined areas in the rubber sole.
You can be sure of a superior grip in slippery, tough, and treacherous wading situations.
However, you need to be cautious with the studs as they are causes of potential danger.
Metal studs can get unstable and act like ice skates.
If you try negotiating round, dry, and larger rocks on the shores and banks, the metal grinds against the rocks and will spook fish.
Often, anglers purchase these wading boots online since the majority don't live near fly fishing stores.
Trying on new wading boots before purchase doesn't become an option.
We advise that you use your older pair of wading boots to test and identify your right fit for your Orvis Men's Clearwater Rubber Sole Wading Boots.
Usually, anglers test this by wearing a pair of waders and socks to be sure.
Boots are sized to fit neoprene booties but verifying for a proper fit is vital.
You need the utmost support and comfort.
Environmental concern is something that anglers take seriously.
You might unintentionally introduce invasive species like the algae Didymo and New Zealand Mud Snails to a new environment.
To counter this, treat your waders and boots with clean water and mild detergent or bleach.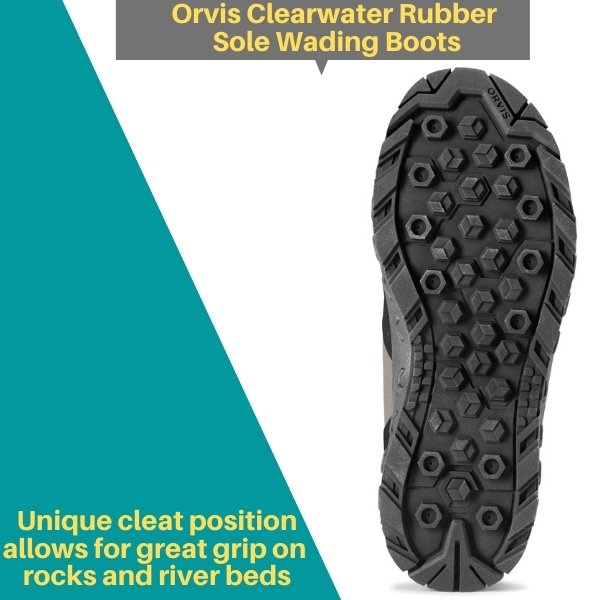 ---
Main Features of the Orvis Clearwater Rubber Sole Wading Boots for Men
---
Sole Type – While there exists a felt sole design of the same, what we focus on in this review is the rubber sole. If you look keenly under the sole, you will notice a good-quality rubber construction with an excellent treading system. Also, there are predetermined spaces where you can attach studs to improve traction when trekking, hiking, and wading.
Uppers – The upper material is synthetic leather. We love that the material has slight waterproofing features. This will be useful if you will be fishing by the shores. However, for wading, the boot material is lightweight and has good drainage to prevent being heavier when they get wet. These uppers also feature a very simple design with very few seams to prevent causing potential spaces for the entry of water.
Rubber Toe – Orvis incorporates other functional features for durability. These are a durable rubber toe, a vamp, and a heel counter to ensure that your wading boots remain in good shape regardless of the abuse you take them through. At the front is a rubber toe bumper that cushions your toe area from potential harm when you accidentally hit the area on a hard surface.
Footbed – The footbed is from EVA foam to greatly improve comfort and support. These make it an ideal trekking boot. Also, it is to offer a wider fit and make getting and out of your wading boots easier.
Midsole – Featuring a phylon midsole, there is a unique co-molded ESS plate system to allow you to add the Orvis studs for maximum security on the slippery boulders. Another upside of the plate is to add torsional stability to increase balance when wading, standing, or walking on the river bottoms. We love how well it offers positive feedback to an angler and assures safety as you can know what is under the foot. The phylon material is a closed-cell foam high-density material to cushion each step even as you walk on uneven areas.
Additional Studs – You can improve traction by separately purchasing studs for the Clearwater boots. The studs are meant to perfectly fit in the designed spaces under the sole. They are removable and you can do without when you feel the need to work with the rubber sole only.
Lacing System – This one features the traditional type of lacing that has eyelets running from the cuff to the toe area.
Sizes – Orvis designs the Clearwater rubber sole boots for men in size 7 to 15. You should choose a slightly larger option to be on the safer size especially if you are an avid inter fisherman. This allows you to layer properly and protect your feet from the cold that can immobilize you. A size higher will do. Two more might be uncomfortable to maneuver in and you could lose balance.
---
Customer Thoughts on the Orvis Men's Clearwater Rubber Sole Wading Boots
---
Going up your size will give you the best fit to ensure that you can fit in neoprene booties, woolen sock, and another lighter pair to cushion you from the winter effects if you intend to wade longer than usual.
Mossy rocks are the scariest thing ever if you are just starting on wading.
These wading boots have proven to be unbothered as they offer a perfect grip on the undersurface of the river.
They are extremely non-slip.
Buddies with weak ankles will feel safe in these boots as they have high ankle support.
They improve your confidence and will hold up well.
With proper care and maintenance, they will look new for a long time even if you often step out in them.
These wading boots are for fishermen who fish all day, walk more miles to their fishing holes, and worse, on rougher terrains.
For anglers who spend longer in pocket waters scrambling and maneuvering over boulders, they will offer pro-athletic performance.
The design, weight, and style favor a traveling angler as it isn't messy in your duffle bag.
They also have a quick-drying ability which is an essential consideration in wading boots.
---
---
Pros – What Shines on the Clearwater Rubber Sole Wading Boots for Men
---
Fewer seams and very minimalistic
Scratch rubber toe offers durability
A rubber toe bumper for toe area protection
Comfortable EVA foam footbed
ESS plate for great stud retention
Available in numerous sizes
---
Cons – The Concerns
---
Note – Buying the exact size of wading boots as per the chart will give problems when you need to layer your feet. Consider choosing one size higher if you expect to layer underneath the boots.
Studs will be a separate purchase giving an extra cost. However, they aren't expensive.
---
FAQs – Questions about the Men's Clearwater Rubber Sole Wading Boots
---
Q) Is this the pair that uses the Michelin Rubber sole for traction?
A) No, this one uses a different type of rubber that is high-grade, durable, and fully functional. The Michelin rubber style is what you find in the Orvis Pro Wading Boots.
Q) Do these wading boots have many stitches that can risk bursting and inefficiency?
A) Orvis has kept this design very minimal and the caging has no stitches. This helps to reduce abrasion that can fail your boots.
Q) Orvis doesn't state on the product description the right studs to fit in the spaces in the Clearwater boots. Could you be knowing any?
A) Sure. The right ones that fit are the Orvis PosiGrip Screw-In Wading Bot Studs made from aggressive tungsten.
Q) How many studs are there to fit the pair of boots?
A) There is a pack containing 24 PosiGrip studs and these will be enough for a pair.
Q) What is the approximate weight of the size 10 Clearwater boots?
A) This one weighs about 3lbs when dry. It will possibly weigh more if you drench it in water.
Q) What is the exact material used on the outsole?
A) The outsole is from a dual-durometer Vibram material and uses the proprietary lug design from Orvis.
---
Conclusion
---
Anglers looking for high-performing wading boots both mid-stream and out of the water should opt for this Clearwater rubber sole option.
They are a respected choice from Orvis that fall in the mid-price category while functioning as a high-end option.
We love the Vibram outsole that boasts the lug design-a proprietary of Orvis.
Most fishermen choose it over others for its enviable traction when maneuvering underwater surfaces.
For additional grip, Orvis gives an option of using its quality PosiGrip screw-in studs that are a separate purchase.
Many would have loved to get the studs as part of the package but Orvis chooses to sell them separately.
They aren't costly and a pack of 24 will serve you longer than you think.
The uppers are what drew us to these boots.
The synthetic leather material is durable, functional, and convenient for a traveling angler.
It makes the pair very lightweight, comfortable to wear for prolonged periods, and quick-drying.
There are unseen obstacles in the water.
Thanks to the scratch rubber design on the heel and sidewall, your feet are safer and the boots will look new for a long time.
When you go to adventure in the rocky riverbeds, the molded toe cap from rubber becomes invaluable.
You can get them on and off when in a hurry with ease. You can use the finger loop at the rear for this.
Orvis designers put in a lot of research and thought to make the Orvis Men's Clearwater Rubber Sole Wading Boots.
The clever construction techniques are what make t as functional and durable as it is.
From the sole to the uppers, we can agree that quality hasn't been gambled with.
We have more Orvis products up on the site. If you feel like spending some more, have time to read through our mini and detailed reviews to see what more you can grab for your next fishing session.