Disclosure:
Just to be open and honest the buttons and links you click on in the website will in most cases take you to another website where you can purchase the products I am reviewing. As an Amazon Associate I earn from qualifying purchases.
August 9, 2016
Adjustable Mesh Fly Fishing Vest by AnglaTech Review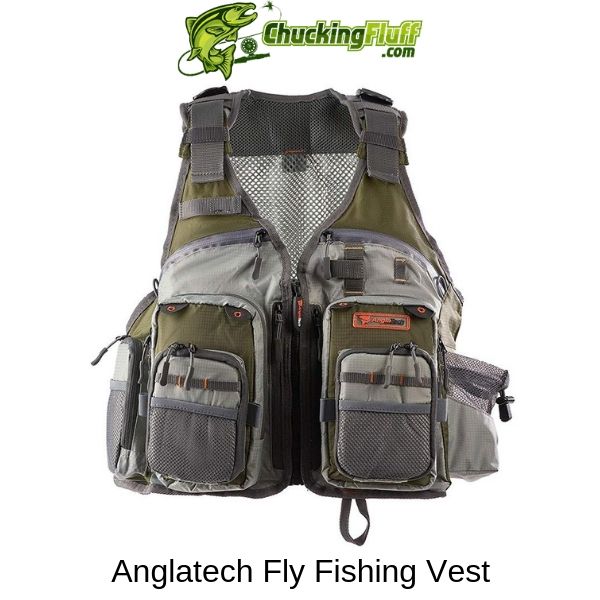 ---
The Adjustable mesh fly vest is a fly vest you can trust, rip stop materials, 2 waterproof pockets, and adjustable side straps for comfort.
Materials are of a strong quality to aid the lifetime of the vest, well thought out construction with anglers in mind.
There are many vests on the market for twice the price and not nearly as good or comfortable.
Overall, we have to say this vest is worth more than the actual price that we see it on sale for.
Why the need for a Fly Vest?
It may sound like an essential garment for an experienced angler but it's always surprising how many people new to the sport ignore the advantages of a quality fishing vest.
No matter what style of fishing you engage in a quality vest with plenty of pockets and excellent comfort can make a huge difference in enjoying the day.
Having all equipment immediately on hand is quite simply a massive convenience that saves constantly needing to replenish bait, tackle and so on from your fishing crates.
---
Plenty of novice anglers may question the need of a fly fishing vest – after all they may be intending on just settling down by the lake in their deckchairs right next to their supplies.
Then when they get out there fishing for the first time they'll rue not having picked up such a simple but experience-enhancing piece of equipment.
You see even when fishing by a static camp fact of the matter is that having everything on hand even just a few feet away can make all the difference in successful fishing.
When you know that catch is near, the last thing any angler wants is to be getting away from the water even for just a moment.
---
This adjustable mesh fly fishing vest courtesy of AnglaTech is one of the best examples of how a quality garment ought to be designed.
Featuring not just plenty of high quality pockets, it's also been designed in an adjustable way that ensures a comfortable fit for any user.
It's a truly unisex garment that is perfect for men and women of any size to enjoy their time out angling.
In this review we'll examine what makes this fly fishing vest such a great option – and why with a little care it'll last a lifetime.
Check out our Best of Fly Reels List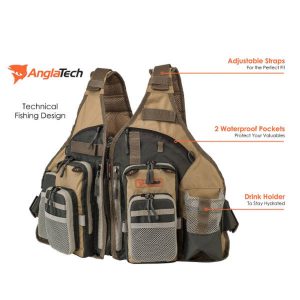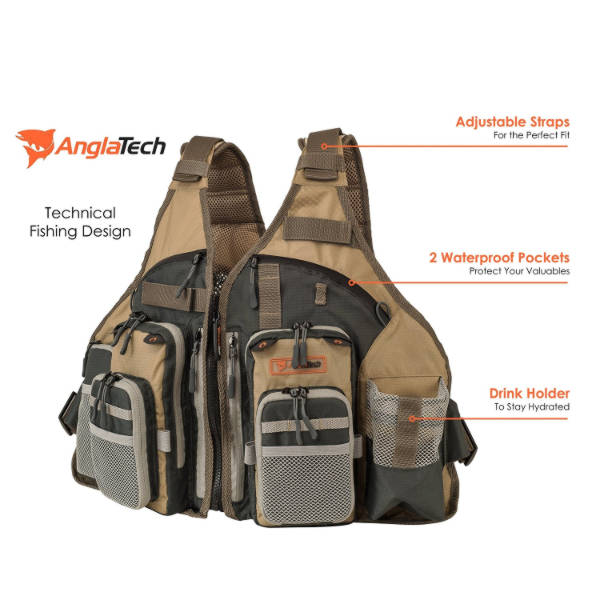 Entirely fresh redesign for 2016 incorporating existing customer feedback and requests.
Highly adjustable straps for maximum comfort. This product will fit all shapes and sizes.
Top quality materials designed from RipStop nylon and superb breathability and airflow.
Dual waterproof pockets that offer protection for portable electronics and security for watches, jewelry, keys and other such valuables.
Chest mounted drink/bottle holder.
Stylish unisex design that will stand the test of time!
Pros
The design and materials used in this fishing vest really should last for many years. The straps are designed to be extremely strong and tear resistant. Suitable for all kinds of fishing expeditions and environments.
Mesh allows for excellent airflow and comfort. This is a rare example of a heavy duty, seriously high quality fishing vest that allows for maximum ventilation. An excellent choice for any angler who regularly fishes in warm or exposed locations.
The pockets are instinctively accessible and offer plenty of space to hold all the sundries needed for a full day of fishing. Left breast side drink holder is a nice inclusion and will be a serious advantage for those needing to use waterproof waders on a frequent basis.
This is a real 'anglers vest' that has been designed following feedback and market research with those who really know their angling. It's not been thrown together in a factory without due care, it's a new model perfectly suited to the needs of any contemporary angler.
Two waterproof pockets large enough to hold cell phones, gps and any other electrical goods or valuables. This is often an overlooked necessity for a modern angler, especially those who combine fishing with hiking.
Overall build quality is of the highest order. Sturdy zips, excellent machine stitching that adds even further reliability to this otherwise surprisingly lightweight fly fishing vest.
Cons
While it's not uncommon to find fishing vests much more expensive this still represents a modest outlay for a garment that can be picked up for very little in most sports stores. You get what you pay for – but some casual anglers may consider such a garment a luxury.
It's important to pack the vest carefully so it does not become too lopsided or feel overly bulky. As it is highly adjustable this may not be an issue for many but anglers who like to carry a great amount of materials on their person may find their vest affecting their casting. This is easily remedied with more suitable packing, but may be an issue to a few.
It may feel unusual to veteran anglers! Make no mistake this is a high tech design that will feel very different to anglers used to their traditional style khaki angling vests.

Adjustable straps make the vest perfect for almost every body shape, being able to loosen or tighten as you feel fit helps maintain a comfortable wearing experience.
The two large waterproof pockets are great for you car keys, mobile or electronic devices. I have often went for an unexpected dip leaving my gear soaking, to help I used to keep it in a plastic bag, not with this jacket, its all built in.

The extra wide front pocket is perfect for a water bottle place a hose on it and you have a drink on tap when things get hot.

Ripstop fabric makes this fly vest very tough, used to make parachutes, hammocks, yacht sails etc ripstop is a tough fabric, even if it gets a small nick it will not spread.

Mesh fabric in the main back panel helps circulate air and keep you cool. When trekking to your favorite beat on a warm day it doesn't take too long to build up a sweat, with the mesh you can cool off quickly.

Multiple pockets make for a very versatile vest included is a large back pocket where you can hold large fly boxes or you packed lunch, making this fly vest idea for packing all you need for a days fly fishing.

Summary
All that being said this is a very high quality fly fishing vest that will be a great addition to the inventory of almost any angler.
AnglaTech have crafted a vest that incorporates the practicality and ease of use that one may associate with an 'old school' fishing vest, alongside modern materials and design features.
Being extremely adjustable is something that very few fly fishing vests can boast, yet in this instance the durable yet comfortable straps will allow a natural and easy fit for pretty much any angler.
It's true that the load out needs to be intelligently packed as of course with fly fishing you'll be need 100% mobility in your arms aligned with comfortable balance.
Yet truth be told this will only be an issue for anglers who are already overburdened – for most people the lightweight and flexible design will likely improve their casting overall.
Personally speaking I can't think of many better examples for a day-hike fishing vest at this price range.
It's suitable for use in all weather conditions, will not get any heavier even when exposed to hours of heavy rainfall, is comfortable enough for a long hike and flexible enough to double up for securely transporting valuables too.
Overall it's fair to say that AnglaTech has come up with one of the finest fly fishing vests out there in this price range.
Possible Alternatives
As with all aspects of angling, kits can be as cheap or expensive as your budget will permit. While going higher up the price spectrum will lead you towards Goretex and other top end materials, the question as ever is going to be – do you really need it?
Serious fly anglers would be well advised not to scrimp when it comes to selecting their vests. Sure some may muddle by with a shoulder carry or even an inverted day sack but the advantage that's always inherent with any fly fishing vest is practical comfort and bodily flexibility.
Sure you may be able to pick up a $10 vest from a discount store but the fact remains that these models lack waterproofing and likely have very little in the way of body adjust-ability.
Which leaves us somewhere in the middle of the market and this is a product that has very few peers in its price range. Remember that AnglaTech is one of the most respected names in modern fishing and has a reputation for never scrimping on details.
This is why a number of their premium products – not just vests – are so popular with higher end anglers too. Fact of the matter is that this is an excellent option for any angler looking for a great overall vest that ought to last a very long time indeed.
Another Anglatech Vest worth a look!

Anglatech Fly Fishing Backpack with Water Bladder Adjustable for Men and Women
STAY HYDRDATED – Includes a 2 Liter water bladder so you can stay hydrated.
PLENTY OF STORAGE - Keep your fishing gear and equipment well-organized and quickly within reach.
ADJUSTABLE SIZING – Adjustable shoulder and waist straps for the perfect fit.
COMFORTABLE – Breathable mesh back allows for air to flow freely so you can stay cool and dry.
Final Verdict
I'd expect by now that most readers will have deduced that your reviewer rates this fly fishing vest very highly indeed! There are two main reasons for this:
Firstly and arguably the most important is that it is a very high quality piece of equipment that just so happens to also be pretty affordable.
This is one of the most positive trends in modern angling at present – the fact that products that only a few years ago would be firmly in the 'premium' category are now available to casual anglers with a lower bankroll.
Not only is this a great vest that's suitable for men and women of all ages, it would also make for an excellent choice for younger or beginner anglers intending to care for their kit and enjoy using it for years to come.
By no means is this a 'throwaway' or 'luxury' garment – it's an excellent addition to a fishing kit that will enhance the quality and enjoyment of any fishing expedition.
Secondly, and this cannot be reiterated enough – the Adjustable Mesh Fly Fishing Vest by AnglaTech performs just as advertised.
Waterproof pockets, highly adjustable straps and a mesh construct for lightweight carry and enhanced airflow? All get a major 'check'!
It's the little features that help with this vest too – the zip quality extends even to the sturdy little tags, the beverage holder is adaptable for container size and most important of all it's totally ergonomic.
When sensibly used there's total flexibility and comfort – two absolute essentials for any fly fishing angler! Highly recommended for anglers of any shape, size, age or experience.
Last update on 2023-09-28 / Affiliate links / Images from Amazon Product Advertising API
This product presentation was made with AAWP plugin.