Disclosure:
Just to be open and honest the buttons and links you click on in the website will in most cases take you to another website where you can purchase the products I am reviewing. As an Amazon Associate I earn from qualifying purchases.
September 18, 2019
Orvis Soft Shell Fingerless Design Gloves – Warmth and Grip
Do you love going out for fly fishing? But you don't wear gloves, even the simple mittens. Your hands must have been freezing the last few times you have gone out on the water in cold weather.
Lines plunging straight into your casting finger is also a common problem you have faced. Ouch, it hurts! So? You need them ALWAYS when angling in low temperatures.
How about you spared a few bucks to get yourself the cool, new Orvis Soft Shell Fingerless Design Gloves? It would save you a great deal.
Gloves, since ages, haven't been a norm in angling but are certainly very beneficial. It doesn't matter the kind of fishing you do.
Orvis is an all-round fishing tackle company. Forget about its popularity in the manufacture of fly fishing equipment.
The company is at the forefront in bulk production of angling clothing and apparel. From wading jackets, shirts, vests, to waders, boots, and now gloves for almost all seasons.
If you have been fly fishing for a few years now, you know that this 160-year-old company never disappoints.
NEVER! This is clear in the practicality of the Soft Shell Fingerless gloves. Orvis calls it fingerless because it has a 3-cut finger design.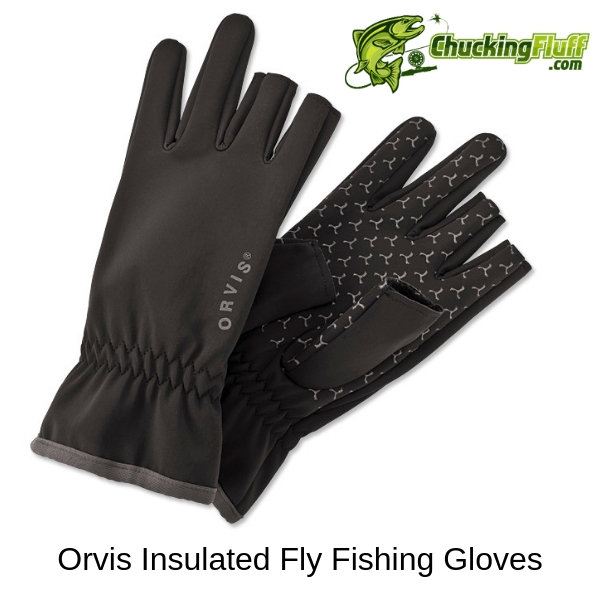 ---
---
Most fingerless or finger-cut design gloves on a freezing day will leave you wanting to return home almost immediately. If this happens to you, you must have chosen the poorest quality of gloves.
Perhaps not fly fishing gloves for cold weather. These ones from Orvis will have anyone working up a sweat.
You can have them on for mild and cold weather fishing. One guarantee of this design is more finger freedom. Covering half the first three fingers only, they will still do their job.
The thumb, middle, and index fingers are exposed here and don't hinder the fine motor skills of the wearer.
It is easier to tie knots and forget that you have them on. If you also fish in sunny areas, they can be used for UV protection.
Orvis didn't have this in 100% Neoprene like most manufacturers do. Do you now see some of the things that make this pair stand out?
The inner side is lined with 100% polyester fleece for total insulation even on freezing days. As long as you are dry, your hands will stay warm if you have these gloves on.
There is almost no limitation once these gloves get wet because polyester fleece dries very quickly. Wring out the water and put them on.
They are lightweight and if you are going out for King Mackerel, Mahi Mahi or any light tackle fishing, they are the best. For this type of fishing, working your reel quickly is important.
Cranking at very high speed when you rush at the fish or the fish rushes at you is something common about this.
You need lightweight yet durable gloves to avoid getting blisters as you reel in the fish.
It can be hectic fishing for the first time with gloves on. Angling with bare hands gives a great grip and you are in full control of everything you get hold of.
Once you wear gloves, you begin to feel that you are losing control.
Orvis got it right on this one. The palm area of the Orvis Soft Shell Fingerless Design Gloves has a printed silicon pattern to provide the wearer with good grip even when wet and fish confidently.
The possible danger of fly fishing can lead you to the emergency room if you are a victim.
However, there are a few variables. If your leader is light, and you depending on the type of fishing you intend to do, you can suffer a few gushes from fish hooks razor-like gills, wire leaders, needle-sharp teeth and fins.
Unfortunately, this pair is not for heavy tackle fishing since it isn't puncture-resistant and high-density. For Snapper or Marlin, look for heavy-duty gloves.
---
Key Features of the Soft Shell Fingerless Gloves from Orvis​
Material – The glove's soft shell exterior is made from high-quality windproof and water-resistant material. This is for protection from cold weather. The interior is made from a lining of 100% polyester fleece to ensure you remain warm for a very long time. Insulation properties are not compromised if the gloves are dry. For material composition, nylon takes a larger part of 82% and the rest is Lycra.
Waterproofness – Orvis Soft Shell gloves are water-resistant and not waterproof. The material composition works well in mild and cold weather when your hands are not exposed to too much water. If you are releasing fish, use the open fingers to carefully do this. If you stick your hands in water, the gloves become wet but not waterlogged. Simply wring out water and have them back on.
Band – The wrist section has a sewn-in elastic band to secure the gloves to your hands. Don't worry about the tension. As long as you get the right fit, it is comfortable to wear for a long time. It doesn't wear out easily and become saggy. There have been no complaints about this so far.
Design – A fingerless design like in the product name. Others call it a 3-cut finger design. The thumb, middle, and index finger are left half-covered to allow you to perform basic tasks without feeling frozen in the fingers. The palm area is patterned with printed silicon to increase grip which is a common feature of angling gloves for cold weather.
Cuffs – Its cuffs are elongated to ensure they cover a large area of the arm. This is a great idea by Orvis. You can also push hem underneath the cuffs of your wading jacket for more protection from entry of weather elements.
Size – This one comes in a wide range of sizes compared to the SeaKnight 3-cut finger Neoprene gloves. You can get this for your entire family if they all love fishing. Available sizes are small, medium, large, and extra-large. There are directions on the manufacturer's website on how to get the right sizing.
Maintenance – The gloves can be hand or machine washed. As always, avoid using fabric softeners, iron boxes, and bleaches on the gloves. Drip dry after washing and ensure they are completely free from moisture before storing them.
---
Customer Thoughts on the Orvis Soft Shell Fingerless Design Gloves​
The gloves are wearable all-day and you can still use them in spring. It is easy to forget that you are wearing them. They are warmer and very comfortable. Even if they get wet, they dry quickly.
It is smooth to tie flies and tippets with these gloves. The fingerless design is awesome and a great time saver that the fully covered designs. Not so many gloves are quite right but this pair is everything!
There are very few WATERPROOF fly fishing gloves for cold weather in the market and almost all of them are costly. This pair being water-resistant is fair. What makes it a good choice for the price is that it doesn't get waterlogged when submerged in water.
You can fully use your hands because of its thin and lightweight construction. When exposed to low air temps, it works fine to keep you warm as long as they remain dry. The close fingers retain a lot of warmth and give a good fit.
A concern is a need for having this pair of gloves in camouflaging patterns to prevent the black color from spooking trout.
Their packability is on point. They are very thin and lightweight to securely fit inside the pocket of a wading jacket. If you aren't a heavy packer, this pair is a good space saver.
---
Pros

– Things that shine on the Orvis Soft Shell Fingerless Fishing Gloves​
Good packability
Affordable
Easy to launder and maintain
Available in different sizes
Great finger dexterity
Dries quickly when wrung
Durable elastic band to secure the gloves on your hands
True to size and is comfortable
Cons

– Things that are not so cool!
Not waterproof but dries quickly
Should have been made in different camouflaging colors
---
FAQ's – Questions about the Orvis Soft Shell Fingerless Gloves

Q) How long can the gloves last?
A) No specific duration but with good care and maintenance, they last very long. The Lycra material is mostly built for water use. I bet it can last years.
Q) Are the rubber grips reliable in terms of functionality and durability?
A) There have been very few complaints of the logo print and the rubber grips falling off. However, most users haven't had any problem with this. It is the type of 1 or 2 in 1000 pieces maybe.
Q) Manual dexterity has been an issue with most gloves. Should I bank on these ones?
A) With the cut design, the dexterity is superb. You can do everything you need to do and even more without your hands feeling fatigued.
Q) Do the seams hold up well?
A) They do. All seams are well done and there have been no issues of bursting seams.
Q) Are the gloves versatile in terms of use?
A) Yes, though not stated by the manufacturer, most reviewers have confirmed their efficiency in most outdoor sports like hunting, photography, hiking, running, and biking.
Q) Is the fabric of the Orvis Soft Shell Fingerless Design Gloves breathable?
A) Yes, the inner polyester fleece lining has moisture-wicking properties and is comfortable for use even in hot weather.
---
Final Verdict on the Orvis Soft Shell Fingerless Gloves

Windy cold mornings and wet weather don't go together very well for anglers. Well, not complaining but keeping safe while having fun is vital. Technology is dynamic and with the changes in times, companies like Orvis, Rapala, Lindy, Simms, Patagonia, Glacier, and Gill are designing gear for foul weather.
Gloves to be specific are durable and offer protection from wind, rain, and the cold. Forget about years when heavy layering was common. Nowadays, there is new technology like DWR that minimizes on the bulkiness of fly fishing gear for cold weather.
We have reviewed a few pairs of gloves from different manufacturers. We feel that among them the Soft Shell Fingerless Gloves are the go-to pair for cold weather fly fishing. They are very durable and combine performance with the suede-like gripping palm section.
Don't underestimate the silicone printed pattern. The grip is incredible and allows for dexterity as you tie knots or when using your rod or reeling in fish. The warmth is on point and for those whose perspiration level is on another level, there is a guarantee of dryness because of moisture-wicking properties in the under-layer.
Nothing beats a high-quality pair of gloves that can work in almost all seasons and for almost all outdoor activities. This one is a gem. This pair of gloves works exceptionally well.
They are designed by fellow anglers for anglers who aren't scared of going out in the adverse elements. The manufacturer has an outstanding reputation and being in existence for more than one and a half millenniums their credibility is convincing.
If you'd love this Orvis Soft Shell Fingerless Design Gloves as a perfect gift for a die-hard angler, don't think otherwise unless you find them out of stock. You can choose either Glacier Glove's Pro Angler Gloves, Guideline Fir-Skin CGX Fingerless Gloves, or Snowbee Soft Neoprene Gloves. They are still in the same price category and their performance and durability are great.
---
---