Disclosure:
Just to be open and honest the buttons and links you click on in the website will in most cases take you to another website where you can purchase the products I am reviewing. As an Amazon Associate I earn from qualifying purchases.
October 16, 2020
Simms Freestone Stockingfoot Waders Review
Must you spend $600 and more on breathable waders? Not really. If you have that much to dedicate to shopping for one or two then feel free. What if you are an angler on a budget?
Do you still run for the rubber or neoprene waders? For now, in the era of breathability and incomparable comfort, NO! There are manufacturers who are considerate enough to provide anglers with splendid affordable wader options that won't paralyze you're finances.
We have previously talked about the cheaper ranges in breathable stockingfoot waders. This review is exclusively on the Freestone Stockingfoot Waders which is one of the cheapest in the Simms range.
Simms is a household name and reputable manufacturer and supplier of fly fishing gear, apparel, and equipment. Founded by Sir John Simms, this company has been seriously minding the health of anglers by keeping them dry and safe from the negative effects of adverse weather elements.
As Simms seeks to create dependable waders, it does this with financial aspects in mind. Any angler who has been in the sport for a long time now will agree that their breathable waders and most of their gear are top-of-the-line. The company is famous for its functionality and durability regardless of the extremity of the weather.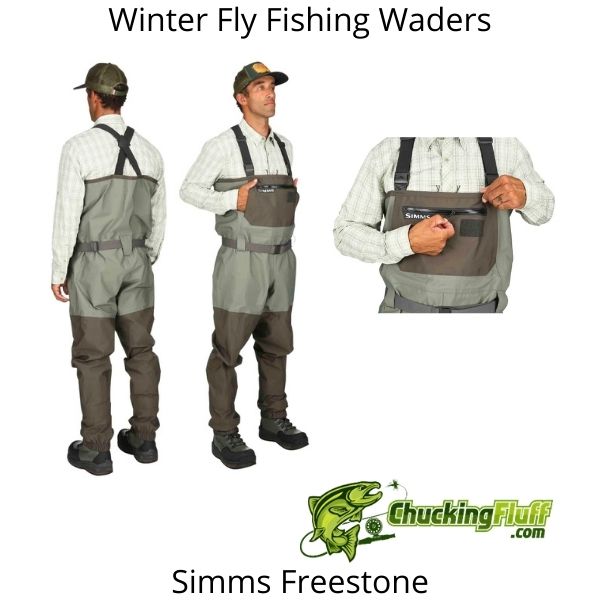 ---
---
Freestone waders make you free to move to any point without hindrance. Would you want limiting waders that burst at the crotch when you stretch your leg to get into a drift boat? Oops! It happens with some waders.
As it comes top in the affordability feature, you shouldn't worry about standards since the waders are great enough in quality and live up to the company's reputation.
These waders are a stockingfoot type and have a design that goes up to the chest. You'll need to separately purchase a good pair of effective wading boots to match them.
If you are a great fan of Simms, their Freestone StreamTread boots are an excellent choice.
It is the desire of any wader to explore the deepest parts of water to cast. All safety factors put in place, these waders will do you the honor of making things very easy and possible.
Get to access greater depths and enjoy more back casting room. Be the envy of other anglers and let them know that the secret is in the Freestone Fishing Waders.
Often, fisheries biologists, water personnel, and serious anglers have been spotted in the Simms Freestone Waders. Surprise, right? Their reliability and durability are unsurpassed.
Sometimes, you don't need to pay more to get more. As a budget-minded choice, the Freestone is rich in features that most high-end waders also brag of.
These waders use the same technology as those in the highest price category to ensure great performance and durability.
The high wear and tear areas feature ultimate protection ensuring the wader is safe and goes about their water business without fear.
Fly anglers will agree that there are several undesirable happenings that result from ignoring the benefits of good outerwear when on an angling trip.
Lest you really intend to stay offshore, submerging in water is a common occurrence. With all the risks like trench foot and hypothermia, you don't want to be a victim.
Freestone Stockingfoot Waders are superb for anglers who wish to stay dry regardless of the number of hours they spend on the water.
They are a good option and workable in any season. For winter, you will need underneath layering to beat the extreme cold. Remember, opting for a slightly large size than what you wear will be preferable.
Stick around to know more about what Simms has for you and what users are saying about the Freestone Waders
---
Main Features of the Simms Freestone Stockingfoot Waders ​​
Material – This must be new to many. We know Simms GORE-TEX fabric construction technology. The freestone waders bring to you the Toray QuadraLam fabric technology which is heavy-duty and has a micro-porous coating with waterproof features. The Toray uses 2-layer layers of coated fabric, a single membrane, and a high-quality tricot backer. This translates to the Freestone being a 4-layer constructed wader for more durability.
Fit – The waders have a great fit if you choose an appropriate size. They are very comfortable to wear and there are no instances of flapping about as you walk. There is plenty of room around the girth area allowing you to have a few thick underneath layers for winter. Well, if you add on a few pounds after some good pampering and hearty treats, the waders will still embrace their purpose. The leg areas feel right. Simms has sizes available from small to double extra-large. There are more variations in between that might interest you.
Location of Use – Freestone is unbounded and doesn't dictate where you should fish. Whether in the winter or summer, very shallow or deep water, it is your breathable and waterproof buddy that has nothing to say. You order, it abides! Anglers have tried their luck with these waders in saltwater environs and the response so far is very pleasing. Don't cancel a trip yet!
Zipper – The front pocket has a YKK Aquaseal zipper which has a smooth operation and is of decent quality. It beats most zips on high-end waders which break with the first season or allow in water that damages your valuables. Something unique is the half zipper on the inner side. Simms allowed this to be an attachment point for the optional extras that you may carry. Simms sells separate attachments like the Waterproof Wader Pouch or the Tippet Tender Pocket.
Wader Style – Chest cum stockingfoot waders. The 2mm neoprene anatomically engineered booties have a great fit and have antimicrobial features for foot health. The suspender system is durable and fully functional. You can adjust it to your liking using the high-quality buckles. You can unclip the straps and pull the chest area down to the waist. An easy conversion it is!
Belt – A 38mm non-stretchy nylon waist belt is available with five belt loops. Being non-stretchy shouldn't worry you. Simply adjust it to your convenience and it works perfectly.
Attachment Points – I wouldn't ignore it but Simms made this in a half zipper design. You can attach Simms separate pockets and aquapacs if you'd wish too. Nothing else so don't misuse it.
Pockets – Freestone Stockingfoot Waders a large frontal pocket to accommodate several large fly boxes and more small size gear and accessories. The pocket is water-resistant and might not be a good place for your valuables. There are handwarmer pockets lined with fleece to warm your hands on cold days. French nymphers will love the pockets for their spare arm.
Gravel Guards – The guards are very robust and Simms makes them from Neoprene, unlike many waders that have a slight extension of the wader material. The neoprene holds the bottom perfectly and if the front clip isn't secure enough, stretchiness prevents the entry of grit in the boots. No wader puncturing in this case.
---
Customer Thoughts on the Freestone Stockingfoot Waders
The half zipper on the inside is a great deal for extra storage space. If you get an Aquapac that is larger in size and is compatible with the zipper, the better for your valuables and gadgets. The good news is that some aquapacs allow for device use without removal from the safety pack.
Gravel guards come in very handy. The only issue is that they can get challenging when you want to release and your fingers are cold.
Belt and loops are just the real thing especially when it gets hot. You can convert the chest waders to waist-high waders for heat dissipation.
The fit is superb and regardless of your body type and size, you will get a wader that fits well while allowing for underneath layering.
Handwarmer pockets don't have zippers and if you are wading deeper, water might get into them making you uncomfortable since the pockets aren't waterproof.
The price tag is reasonable and for anglers on a budget or who'd like to get a second back up wader, the Freestone Stockingfoot is what you need to have.
---
[/et_pb_text][et_pb_text admin_label="Pros and cons" _builder_version="4.6.5″]
Pros

– Things that shine on the Freestone Stockingfoot Waders​
Unique fabric construction

Large chest pocket with fly patch

Durable YKK zippers

Duraflex buckles for adjustability

Extensive gravel guards

2mm neoprene booties

Available in a wide range of sizes

Highly affordable

Breathable construction
Cons

– Things that are not so cool!
The handwarmer pockets are zipless and not waterproof
It might be difficult to release the gravel guards if your hands are very cold
---
FAQ's – Questions about the Freestone Stockingfoot Waders
Q) How heavy is the Freestone wader and can you rate its packability?
A) The wader has an approximate weight of 1077g and is highly packable for traveling anglers and backpackers.
Q) What is the material composition of the waders?
A) The shell fabric is made from 100% nylon, the backer knit from 100% nylon, and the stockingfeet from 100% neoprene.
Q) How many sizing combinations are available for this product?
A) There are 11 sizes so far. Majorly small, medium, and large- the others are sub-categories.
Q) Are there replacements for feet on these waders?
A) At the moment, Simms doesn't allow for this and any further customization.
Q) How long does the warranty on the Freestone waders last?
A) Simms issues a 365 days warranty on the waders for leakages at no cost.
Q) Is care for the Toray material similar to that of the GORE-TEX waders?
A) No major difference in the laundry, care, and maintenance. The manufacturer has no special instructions though.
---
Final Verdict on the Freestone Stockingfoot Waders
Simms and quality are inseparable. It has manufactured yet another pair of durable, affordable, and high performing waders for anglers on a budget.
For reliable protection, safety, and comfort in and out of the water, look no further. The incredibility of the Freestone waders is beyond average because from the construction to aesthetics and functionality, it earns major points.
Customer reviews are evident that the fit is great and purchasing a pair online isn't disappointing. Thanks to the seam construction and material technology that has positively contributed to great love.
There is no gamble on durability because when it comes to endurance and the much it can take, for its price, these waders have nothing to limit them. The waders aren't a victim of prickly bushes, sharp rocks, and briars.
If for any reason they get torn within the first year of purchase, Simms repairs them without any questions. This is a great relief on your pocket especially if it happened at a wrong time.
Although there are a few downsides of these waders, anglers are inventive and very creative. They have found means of handling the cons and transforming them into aspects that increase their experiences on the water.
Hard names to pass up in the angling world force you to live with them. We head now to getting your hands on a pair or two for your net angling sessions. These waders are lovable and since their launch, they are selling like hotcake.
It is the reason most anglers find them out of stock often. If you really can't get them for this reason, there are great alternatives to the Freestone Stockingfoot Waders that fall within its price range and performance level.
The Redington Palix River Breathable Waders, Patagonia Rio Azul Regular Waders for Men, Orvis Encounter Wader Men's Large Size, Caddis 2-Tone Tauped Deluxe STFT Breathable Wader-For Men, and the Compass 360 Tailwater STFT Breathable Chest Wader are excellent options. Don't cancel that trip!
---
---