Disclosure:
Just to be open and honest the buttons and links you click on in the website will in most cases take you to another website where you can purchase the products I am reviewing. As an Amazon Associate I earn from qualifying purchases.
December 4, 2021
Best Fly Fishing in Washington State – Angling Paradise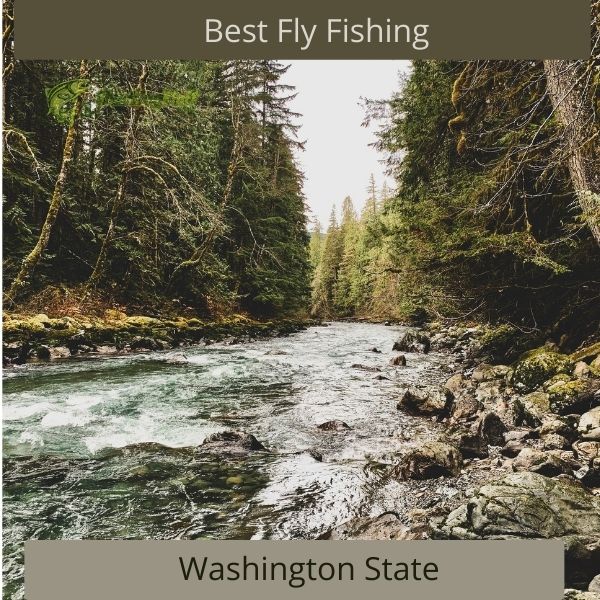 Washington is a whole tale. The western side boasts excellent temperate rainforests and homes whirling rivers and beautiful dripping ferns.
Fly fishing is vast in this state and spawning salmon and wild steelhead are popular here.
What will interest you more is going past the crest of the Cascade Mountains.
You will find the opposite of what is in the western half. The high desert in this area is dramatic.
The beauty here is unspeakable. As a result of the cataclysmic floods, volcanoes, and earthquakes shaped this area.
Raging through this hot desert, you will see the Columbia River cutting through the ancient rock in this landscape.
Numerous spring creeks and alpine streams join in the flow into the Pacific Ocean.
Despite looking lifeless and unworthy, the land is extremely fertile.
Bobcats, bighorn sheep, and barred owls are the guards in this territory.
The streams and rivers here are home to bull trout, Westslope cutthroat, native rainbow trout, sockeye salmon, steelhead, Coho, and chinook.
The Columbia River basin homes many sparkling gems that flow through it and several that boldly showcase trout fishing in Washington like the Naches, Yakima River, Crab, and Rattlesnake Creek.
Many anglers are drawn to the returning steelhead and salmon runs.
There is very low fishing pressure here and the catch-and-release policy has seen this area unspoiled, well-maintained and one of the best fly fishing places in Washington.
This state prides itself in the coastal rainforests, its salmon, and steelhead.
Thanks to its geographic position in the Northwest Pacific, access to both small and large waters is abundant.
For anglers, this state offers the fish, the water, and the beautiful green scenery that drifts you into a tranquil fly fishing space.
The state is alluring because of the water diversification from fresh to saltwater options.
We have put together the best places you can drop when here to have a spectacular fly fishing experience.
---
Skagit River
We are talking about Washington's biggest steelhead and salmon fishery.
The Skagit River hails at Ross Lake in Canada. It is later dammed by the Ross and Diablo Dams.
This river harbors all species of Dolly Varden, sea-run cutties, and Pacific Salmon.
Steelhead runs here are in winter and summer.
Steelhead raised in hatcheries enter the Skagit in December.
The monsters are patient until March to April. What makes the Skagit stand out from the rest of the steelhead fisheries in the Pacific Northwest is the extended season.
For you to catch steelhead of about 12 to 20 pounds, head to the area between The Dalles Bridge and the Bacon Creek.
Skagit River is big and wide. It is filled with deep pools and long shallow runs loved by steelhead as hiding places.
There is a boulder in every turn. If not, a large rock that controls the flow of the clear waters.
The flow of the Cascade River deposits sediment and silt in the Marblemount.
However, the river remains clear in most sections.
Below this area, the Skagit becomes wider and flows slowly until its meeting point with the Sauk River.
After a downpour, the Skagit's clarity is sometimes affected.
Most people mainly hunt the giant wild steelheads.
Some though love to catch the hatchery type.
Salmon fishermen mainly target the pink and silver.
The Chinook run here is smaller.
Sea-run cutties and Dolly Varden devour the trout and salmon eggs rendering them perfect targets.
It is tough to find bank access on this river.
Its size and width make shore fishing tricky.
There are public access points for waders.
Big Ditch is one of the points past the Bay upriver.
Around Burlington city are more public access points but are too crowded during the peak seasons.
As you go further from the town, pressure decreases but access is limited.
---
---
Season: Summer and winter
Main Species: Dolly Varden, sea-run cutties, and Pacific Salmon
Type of Fly Pattern: Morrish's Trailer Trash, Megal Moal, Metal Detectors
Nearest Town: Mount Vernon, Sedro-Woolley, Concrete, Rockport, Marblemount, Newhalem
Nearest Tackle Shop: Holiday Sports, Crackerboysfishing, Mako Reel Co., Deception Pass Marina, North Cascade River Expedition, The Confluence Fly Shop
---
Yakima River
Yakima River is Washington's longest flowing 214 miles from the Stuart Mountain Ranges cutting through basalt canyons and feeding the Columbia River.
Whether you are an angler or not, this river is a beauty and worth visiting.
As it whirls down it passes Mt. Stuart and Mt. Daniel that are about 10,000 feet.
They become snow-capped in winter.
The snow melts in spring filling the reservoirs along this river.
Thanks to the interruption by the four reservoirs, the river can be fished after the most difficult winter seasons.
This is a tailwater fishery and is well-maintained by the state's Fish and Game Department.
It is the reason why this river is favorable for natural fish spawning throughout the year. The size of the fish here is huge and the numbers too.
This is why the waters are gaining popularity at a faster rate.
Fall-spawning chinooks are the residents here.
The Chinook lay eggs yearly and trout feed on the leftovers.
The cycle is sustainable as the rainbow, brown, and cutthroat trout thrive.
Despite being a tailwater fishery, the size fluctuates. Some months allow for wading while others limit you to fishing from a boat.
This is during late spring through summer.
Fall and winter are great times to fish on foot. It becomes easy to access the deep pools and runs.
Fish from the banks if you intend to wade when waters are higher.
High waters push lots of fish to the edge and shore fishing will be something to chance on.
Prime fishing points on the Yakima are in plenty. But below Easton Lake is where most anglers love.
The North area of the lake is fishable though with shallow waters.
You can access the lake at the Ensign Ranch which is private property. However, the main access lies on public property.
Another access point is the Bullfrog Road full of tight corners, logjams, and sweepers making drifting a thing for professionals only.
Fish this spot on foot or with a guide. As you head downstream from here, there is greater access to the Yakima like the KOA, Big Pines, East Cle Elum, and Beaver Trail.
One of the famous spots is the Yakima Canyon with beautiful scenery and lots of trout.
---
---
Season: Summer, spring, fall, and winter
Main Species: Rainbow, brown, and cutthroat trout, chinook salmon
Type of Fly Pattern: Stoneflies, Skwala, BWOs, Mother's Day Caddis, Red Quill Spinners, Terrestrials, Pale Evening Duns, Big Streamers
Nearest Town: West Richland, East Wenatchee Bench, Wenatchee, East Wenatchee, Grandview, Sunnyside, Ellensburg, Toppenish
Nearest Tackle Shop: Worley Bugger Fly Co., Reds Fly Shop
---
Skykomish River
Skykomish River has closer proximity to Seattle city making it ideal for urban anglers.
You can fish here throughout the year as it is filled with steelhead and salmon.
Steelhead runs are in the summer and winter.
There are four salmon species that love these waters.
This river offers an excellent opportunity to hook larger fish.
If you are up for a challenge it is an option.
This is because of the varying water levels, biological and environmental aspects, and flow patterns.
---
---
Season: Summer and winter
Main Species: Salmon, Steelhead, Trout, Dolly Varden
Type of Fly Pattern: Caddis, Mayflies, Stoneflies, Egg flies
Nearest Town: Monroe, Skykomish, Snohomish
Nearest Tackle Shop: DartJigs.com, Triangle Bait & Tackle, John's Sporting Goods
---
Hoh River
The Hoh starts from Hoh Glacier at the towers of Mt. Olympus.
The river flows through the Olympic Mountains in Olympic National Park as it enters the foothills and valleys.
It later drains into the Pacific Ocean in a place owned by Hoh Indians.
In its course, it passes in between the Pacific Northwest Rainforest, neighbors abundant wildlife and gorgeous snow-capped mountains.
So, if you are coming here for an adventure, sightseeing will be among the things to indulge in.
Huge native steelhead keep the Hoh waters company.
They make runs in winter and the Hoh Indian Tribe and Washington DFW supplement the population here with hatchery fish.
Hatchery fish have runs in November while natives are in January. You can fish steelhead throughout the year in this River.
You will experience a silver salmon run here with these chaps weighing 10 pounds or more. Anglers regularly catch trout of about 20 pounds in the Hoh.
There are a few King Salmons but can exceed 50 pounds. Fall is a good time to target the monster king salmon.
The river has three sections. Its upper is the North Fork which is fed by Mt. Tom Glacier.
The middle section is called Tom and Glacier Creeks. The third is the South Fork fed by runoffs from Humes Glacier.
The river has plenty of tributaries as it flows. Fishing from a boat is the best way on the whole river, there are boat ramps on the river one in the park, another around Morgan's crossing, and the third is at the Oxbow Campground.
These are ramps in the Hoh uppers. Its lower section is bigger and flows slowly.
The area is often crowded and you can launch a boat at Nolan Creek Car or Cottonwood Camp areas.
You can head to the South Fork for wading if looking to get away from the crowds in the two sections and not opting to fish from a boat.
The river's tributary near the national park is less fished and a good option.
---
---
Season: November through March
Main Species: Native steelhead, Silver Salmon, King Salmon
Type of Fly Pattern: Skunks, Skagit minnows, General practiroiners, Intruders
Nearest Town: Port Angeles
---
Sauk River
One of the freestone streams like the Skykomish River, the Sauk hails from the Glacier Peak Wilderness.
It is one of Skagit River's tributaries and one of USA's best wild steelhead waters. It is a gin-clear river from the glacier runoffs but a heavy downpour can render it murky.
These downpours are frequent from March to April. During these times are when the steelhead runs are at their best. Your time on the Sauk is a twin battle.
First with the difficult to catch steelhead and the Pacific northwest's torrential weather.
There are swift rapids and large boulders on the Sauk making it pretty difficult to fish from a drift boat.
There are launch points at the Suiattle River, Darrington Bridge, and South Skagit Highway Bridge.
The river has three sections: upper, middle, and lower sections. Each section is unique in the manner of fishing.
The upper area is small and extremely difficult to get to. The mid-section has fast-flowing waters littered with torrents, rapids, and giant rocks.
The lowers meander and are wide with deep runs and some large gravel and sand bars.
---
---
Season: Summer, fall, and winter
Main Species: Salmon, Steelhead, Trout, Dolly Varden
Type of Fly Pattern: Big ugly streamers, unscented artificial flies
Nearest Town: Monte Cristo, Skykomish, Snohomish
Nearest Tackle Shop: DartJigs.com, Triangle Bait & Tackle, John's Sporting Goods
---
Bogachiel River
The Bogachiel River runs 50 miles making it the longest flowing river in Olympic National Park.
Hit the Bogey for steelhead in the upper sections of the river. It is a local's favorite which you too should explore.
It is among the few that aren't fed by glaciers. It also does not have a main runoff period.
If you compare it to most of the Washington Rivers, it is the one with the longest season. The uppers gain most of the love because of the steeper inclination.
It is populated with lots of hatchery steelhead.
Bogie is famous for the steelhead run in winter from December to January. You can also hook large Chinook salmon.
There are steelies running in the summer. The largest fish are in runs from March to April. They weigh about 20 to 30 pounds.
---
Season: March to December
Main Species: Salmon, Steelhead, Resident and Sea-run cutthroat trout
Type of Fly Pattern: Small lightly-colored steelhead nymphs,
Nearest Town: Forks
Nearest Tackle Shop: Olympic Sporting Goods
---
Other Prime Areas to Fly Fish in Washington
Ross Lake Natural Recreation Area is located in the craggy countryside of Washington. It has a perfect blend of nature and fly fishing opportunities.
The lake homes bull trout and you are only supposed to catch and release fish here. Access is through the Ross Dam Trail or you can choose to use the Diablo Dam ferry.
You can set yourself up for a challenge in the Pass Lake which is also a catch and release lake. It harbors very large and aggressive rainbow and brown trout of about 15 to 28 inches. Accessing the shore is no biggie.
Fall and spring offer the best of fly fishing in Lake Lone. These are the right times because temperatures aren't very high. The lake is managed by WDFW and using a full sinking line and nymphs will be more yielding.
The Spokane River, one of Columbia River's tributary hailing from Idaho and running 11 miles through Washington has 6 dams that are hotspots for anglers.
Water levels are among the aspects to confirm before coming here. Fish from July to September for brown and rainbow trout. WDFW supplements this population with stocked trout.
Caddis, stoneflies, and mayflies are the best fly patterns to use here.
Near the Cascade Mountains is the Naches River perfect for angling in summer. A few species to catch here after the spring runoffs from the mountains stop are rainbow and cutthroat trout. These fish here are more than 14 inches.
The section of the Grande Ronde River running through the valleys is where success lies. The river is easy and access can be by road or hike.
Washington brags about the Sol Duc River as it is among its best steelhead fisheries. It is in the Olympic Peninsula and anglers flock here for migratory fish during winter.
Winter favors steelies here and if you consider this time ideal for an experience, pack angler gear for winter. More species here are King Salmon, Sockeye, and Coho.
You will love the Cowlitz River because of its migrator fishing opportunities monthly. Species that guard these waters are sea-run cutties, winter and summer steelhead, chinook, and Coho. Cutties here are in plenty and in large sizes.
Calawah River is a 31 mile stretch of gin-clear waters with a rapid flow harboring the some of the state's biggest steelhead. It is interesting to go nymphing in the steep pocket water.
Despite all the praise, it is tricky to navigate these waters on a drift regardless of your expertise. Hiring a guide will be a step towards being successful in these waters.
Areas near the Tall Timber and Bogachiel ponds are excellent wading spots.
From Seattle, the Stillaguamish River is about an hour's drive. Its source is Cascade runoffs. It has summer and winter steelhead runs.
More species you can catch here are salmon and sea-run cutthroat. Steelies spawn in the Deer Creek.
The Northern Coast is a popular fly fishing area in summer through fall. Chinook and Coho are the species guarding these waters.
Still in this area is where the largest steelhead and salmon reside.
Prime spots along this coast are La Push, Olympic National Park, Neah Bay, Forks, Sekiu, and Port Angeles. Most of these spots have minimal pressure from August to November.
Washington's Southern Coast has an inflow of anglers all year round. If you are looking to hunt salmon, summer is the right time.
Columbia River, Long Beach, llwaco, and Willapa Bay, and Westport are the right spots here.
Wenatchee River is 2hours outside Seattle that hosts the wild and hatchery-raised steelhead. There are several access points but most anglers come in through Wenatchee Confluence State Park or Lake Wenatchee State Park.
Fishing in Puget Sound feels like fishing in the open ocean. Anglers can try wading into the expansive waters and the area has Coho, Pink, and Chinook salmon in plenty.
However, most anglers love to chase the sea-run cutthroat trout.
Klickitat is a tributary of the Columbia River which is glacier-fed and remains fast-flowing. It needs bravery to indulge here. It has lots of pools mixed into many pockets of heavy white-water.
If you are up for a test, make it from August to November during the steelhead runs. Access might be a problem as the river is under Mount Adams volcano.
---
Tips for Successful Fly Fishing in Washington
Both residents and non-residents of 15 years of age and above need valid fly fishing licenses to access any waters in Washington especially for sport fishing.
It could be a short-term or annual license. There are variations in the types from freshwater to saltwater or a combination license.
Purchase yours from a licensed dealer or from the state's website.
If fishing for salmon, halibut, sturgeon, or salmon, whether you catch a few or none, you have to fill and send back a catch record card.
This card comes with your fishing license. This applies to both adults and children.
Following the regulations of fishing in specific waters is crucial. Keep researching and confirming the regulations of your ideal spots before visiting the areas.
Confirm the minimum sizes, bag limits, number of rods and hooks, types of boots, and specifications of these areas. Some are exclusively catch and release spots while others aren't.
Ensure to check with the meteorological department and nearest tackle shops for weather reports since some rivers aren't fishable after heavy downpours or when water levels are extremely low.
WDFW updates all these reports on its website to keep all anglers and visitors aware of when to travel and what to expect.
Most rivers are well-fished while on a drift board ensure to invest in a good one for a more exemplary experience.
You might have to carry bigger tackle to Washington than you have been carrying o other states.
Some areas need a 9 foot 5 weight. However, a 7, 8, or 9-weight single-handed fly rod of 10 feet for throwing streamers and nymphing.
To swing flies, a 6, 7, or 8-weight switch or Spey rod is ideal.
---
FAQ's – Questions on Fly Fishing in Washington
Q) What are the types of salmon to expect in Washington?
A) The 5 species of Pacific Salmon are available in Washington. These are sockeye, pink, chinook, Coho, and chum salmon.
Q) Can you fish at dusk in Washington?
A) Yes, night fishing is legal in Washington.
Q) Is it legal to use live bait to fish in Washington?
A) Fishing for any game fish in the freshwater bodies is legal you can use live fish s bait. However, you are forbidden from using leeches, worms, critters, salamanders, crawfish, grasshoppers, crickets, and non-fish water animals that you find in the same water body that you are fishing in.
Q) Is it possible to keep wild steelhead in this state?
A) It is prohibited on the Dickey, Quillayute, Calawah, Bogachiel, Hoh, Sol Due, Quinault, and Clearwater rivers.
Q) What is the cost of a saltwater fishing license in Washington?
A) This license will cost you slightly above $30.05.
---
Wrap Up
Being a state with unique features from weather conditions, gorgeous landscapes, and many versatile waterways, Washington is a location to visit whether you reside here or not.
The various species of fish guarding these waters are exciting to go after. While some are easy to catch, others put up challenges and stiff battles even to anglers with greater prowess.
All these are worthy experiences if you are looking to spend some time bonding with nature in this way.
We must sensitize the adverse weather when planning to fly fish in Washington. Gear and apparel are essential.
It gets rather damp and chilly in winter and very warm in summer. Arm yourself with relevant rain gear as this state receives lots of precipitation.
Layering will be ideal and safer for your health and gear towards a better angling experience.
Pass by here to check and order the best choices to ensure that bad weather doesn't be a reason to cancel your trip.
Yet again, we mightn't have exhausted all the fly fishing areas and best spots to fly fish in Washington but we have covered most of them.
We are excited to have you here and share with us other locations that we left out.
Let us know which areas you have fished and your experiences. Start off in the comment section. Until next time, tight lines!