Disclosure:
Just to be open and honest the buttons and links you click on in the website will in most cases take you to another website where you can purchase the products I am reviewing. As an Amazon Associate I earn from qualifying purchases.
February 28, 2023
Can You Fly Fish in Florida? Beginner Guide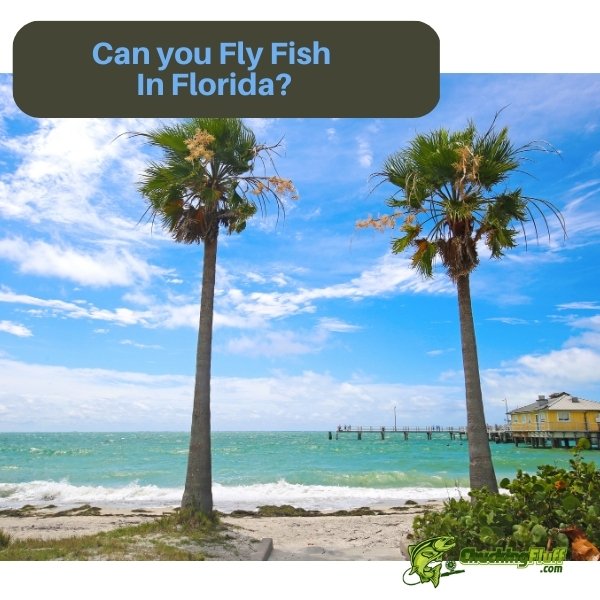 Florida is the fun state in the USA.
Talk of the gorgeous beaches, stunning theme parks, family fun venues, warm weather, delicious seafood, and so much more.
But, can you fly fish in Florida?
Sure! Florida boasts hundreds of fly fishing opportunities across the state that is why it is called the world's fishing capital.
Besides the designation being mighty, it is also impressive to anyone who is planning a trip to this destination to catch fish on the fly.
Florida offers all-year-round fishing for the avid angler with a wide array of fish to chase, and the incredible weather makes it the perfect spot for an angler who doesn't prefer casting in extremities.
Statistics show that the state homes more than 10,000 miles in rivers, 7,700 in lakes, and 2,300 miles in tidal shoreline.
There is a good place for everyone to fly fish regardless of their skill level.
Let's learn some cool things about fly fishing in Florida.
---
Planning your Angling Trip to Florida
---
Florida is one of the fly fishing destinations filled with diversity, stunning scenery, unbeatable weather, and adventure.
We advise bringing a tub of sunscreen and a pair of polarized sunglasses to help you explore confidently and safely because the sun can go all out.
Most angling opportunities are enjoyable all year round, and you won't need to worry about extreme cold, ice, or snow that can hinder fly fishing in the winter.
That doesn't mean that Florida doesn't experience winter – it does, but the temperatures here are cooler and comfortable for the fly fisher.
You can enjoy fresh and saltwater fishing, and it has been a tough task to pick locations to discuss in our article.
Some freshwater prospects to look out for include trout, bass, catfish, tilapia etc.
Saline waters harbor redfish, permit, bonefish, snook, tarpon and more.
Worry not, as we have separate posts on a few fly fishing locations in this state that you can read and know what to expect.
---
Fishing Regulations and Restrictions in Florida
---
Here's a quick tip to stay within the rule if planning to fly fish in Florida: Get an updated copy of fly fishing regulations in this state to know the right gear to pack, fish identification, and size limits.
These rules change often, so get a new copy when about to travel.
Strict rules apply to recreational anglers who want to catch highly migratory species in Atlantic.
Check out for regulations and restrictions that cover boat fishing and regulated species.
---
Florida Fishing Permit
---
There are different types of fishing licenses in Florida, and costs vary depending on what you choose.
You might have to narrow to the right license, depending on the kind of fishing and location you want to explore.
There are annual and 5-year licenses, water combination licenses, sportsman licenses, and a lifetime option for residents.
Non-residents can get a 3-day, 7-day, or annual license with other specifications that you can find on the Florida Fish and Wildlife Conservation website.
---
Recommended Fly Fishing Gear for Florida
---
Can you fly fish in Florida using any combo?
It depends on the location you are casting, as the state offers diverse opportunities.
There are lots of fresh and saltwater areas, rivers streams, landlocked lakes, and coastal shorelines.
Even with the diversity, it can be tough to know the right fly fishing gear to pack.
First, consider the species you want to catch and location too.
You will be safer bringing a 7-10 feet fly rod.
Flies will vary greatly, and their determining factors are fish you intend to catch, location, and the season.
Florida is vast, but the local fly fishing stores near you will advise what is in season, and how best to match the hatches.
Bring a pair of high-quality chest waders in case you need to wade.
The state can quickly change from sunny to rainy, thus packing appropriate gear is necessary.
---
Where to Fly Fish in Florida
---
The fun state is almost impossible to exhaust in a year, as the offerings are plentiful. Here are some of the best places to fly fish in Florida briefly discussed.
---
Florida Keys
---
Florida Keys is a famous location among fly anglers and other vacationers in the state and the USA.
The fly fishing conditions are spectacular, and you can cast all year round.
Frequenters confirm spring and fall to be the best times to throw flies, as the yields are better than other seasons.
You can catch tarpon and bonefish in plenty.
Bonefish are available in thousands and will take your fly all year round, but with a tad bit of effort.
Aim for April to June to catch the best tarpon.
Redfish are also available all year round, offering more opportunities.
If you are a winter fly angler, the beautiful spotted sea trout awaits you.
Be ready for some human traffic in this location because it is frequented by tourists.
---
Biscayne and Everglades National Park
---
The Everglades can feel like a different world even though it is in Florida.
It homes 10,000 tiny islands and borders the Gulf of Mexico, and most people assume it is a massive swamp region.
The forestry, mangrove, scenery, and wildlife is stunning.
It is the only one with a sub-tropical climate in the state.
You can fish in the jungle for freshwater and saltwater prospects.
Nature surrounds you as you walk deeper into the jungle, and will be ideal for the fly angler who seeks solitude and tranquility.
Get a good map to help with directions, as there are no people or civilization here.
Hiring a guide will do you more good.
The outer areas of the park aren't as thick, but the best opportunities are inside.
Comb the bays and rivers for bass, trout, tarpon, and redfish.
These are protected from wind gusts, making it less of a concern.
---
Naples
---
Can you fly fish in Florida without checking out Naples?
Sure! But, you might consider it if you are big on vacations.
Naples is among the most popular areas in Florida with great fly fishing all year round.
Thanks to its strategic location (in the southwest), it gets good temperatures for the better part of the year.
The location has several private lakes, which you need to know to ensure you aren't trespassing.
Bass is the most typical species you can catch at any time but spring and fall are the best seasons.
---
Boca Grande
---
Boca Grande is a prime location for sight fly angling, and we attribute this to the mangrove islands, sandy beaches, and grass flats.
Check out the Peace and Myakka Rivers that offer ample food to fish.
The destination is famous for its giant tarpon, but species like sea trout, Goliath grouper, redfish, and snook are available.
Be here in May and June since they are peak months for giant tarpon.
---
Winter Haven Lakes
---
Winter Haven is indeed what it is called.
It is a unique series of sixteen lakes you can navigate via canals 146 feet ASL.
Nine of them sit on 6,000 acres of land, and are the primary spots for fishing and boating.
The biggest Ranger bass tournament was once held in the Winter Haven Lakes – such a privilege to come here if you can.
It produces bass over 10lbs throughout the year, but anglers can also hook grass carp, gar, crappie and panfish.
Temperatures here are warmer and might force bass to swim deeper in the water column.
Dawn and dusk see the best top-water action from these species.
---
Florida's Nature Coast
---
Florida's Nature Coast and the Crystal River are some of the versatile fly fishing destinations in this state.
Both boast grass flats, spartina grass shores, deep creeks, and shallow bays, which are anglers' favorites.
The area experiences low pressure from locals, making fish here less leader-shy and skittish.
Fly fishers can hook flounder, sheepshead, trout, snook, and redfish.
Focus on the Crystal River if you come here in the warmer months, as species like tarpon, cobia, and tripletail live here.
---
Turner River
---
The Turner River is in Big Cypress National Preserve and connected to a swamp area.
You will love the ecosystem here, from the swamps to saltwater mangroves and sawgrass prairies.
The area is best explored on a kayak or paddleboat because of the tons of low-hanging branches.
Anglers have ample numbers of Crevalle jack, sea trout, and ladyfish to catch.
Be cautious navigating this river since it is known to have manatees and alligators.
---
Destin
---
Destin is part of the Emerald Coast whose name came from the clear emerald waters.
Fly fishers can clearly see fish action in the water.
Spring and late fall sees an abundance of baitfish, which lure migratory fish.
Come to this area if you are excited to catch bonito, Spanish mackerel, redfish, bluefish, and tarpon.
---
More Fly Fishing Locations in Florida
---
We can spend a fortnight describing all known locations fly fishers can explore.
Here is a bonus list of places to fly fish in Florida.
---
Jacksonville
Miami
Mosquito lagoon
Marco Island
Palm beach
Pine Island Sound
Sarasota Bay
Tampa Bay
Lake Okeechobee
Lake Kissimmee
Little Econ River
Lake Tarpon
Orange Lake
---
Conclusion
---
Can you fly fish in Florida now that you know some good locations?
I bet yes! Florida isn't the sunshine state for nothing.
The weather is fantastic for any fly angler who doesn't like it icy cold, and from the brief descriptions, you can agree that it is one of the perfect fly fishing destinations in the world.