Disclosure:
Just to be open and honest the buttons and links you click on in the website will in most cases take you to another website where you can purchase the products I am reviewing. As an Amazon Associate I earn from qualifying purchases.
March 30, 2020
Best Fly Fishing in Alaska – Pacific Salmon Utopia
Sometimes we all feel like pulling a disappearance act because of the pressure from fixed schedules. While you think about getting off the grid, Alaska is the right escape place for a fly fishing expedition.
While beautiful landscapes will draw you closer to changing your mind to embark on a sight-seeing voyage, our ultimate draw for us in Alaska is the awesome fly fishing experience. Discussions with other anglers got them hoping that they could wet their lines in the final frontiers of Alaska. Did we mention about the solitude that comes with angling here if you find the right beat.
Alaska is serene and it is possible to come across many incredible fishing opportunities in one day. A unique thing about this state is the ability to get remote where you can enjoy tranquility and solace as you pass the day. Feel free to charter one of the floatplanes to drop you on a lake or deserted island and have more time with your favourite fly combo.
We are talking of a state with 6640 miles of the coastline. If you put together the plethora of islands breaking off the USA and dotting the sea, the tidal shoreline has an estimate of 47,300 miles, now thats impressive.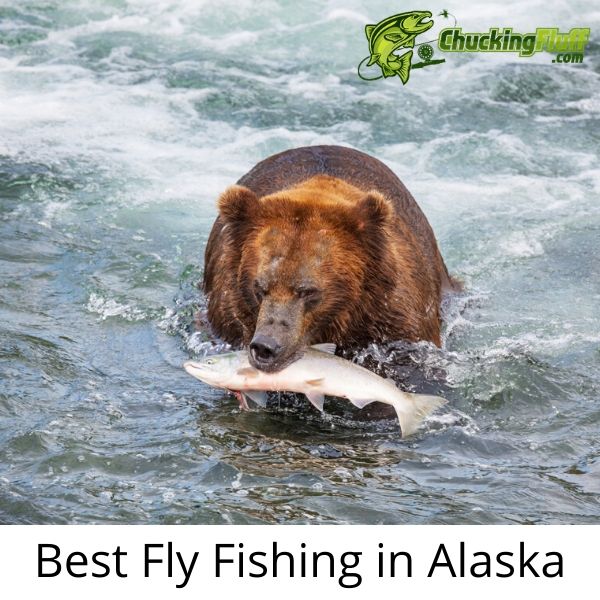 We call it the angler's paradise. Located in the far North of America and sharing a maritime boundary with one of the world's potential superpowers-Russia. Pacific Salmon are found on the Southern and Western side of the state mainly as they migrate mainly from their rivers into the Gulf of Alaska and Bearing Sea where the columns of plankton, krill and sandeels feed them for several years before they migrate back to their birth streams to spawn and die. You can agree that its geographical location is a sure bet to adventurous times and thousands if not millions of fish return each year.
It is another fly fishing capital not only because of the mammoth runs of salmon. It brags plenty of feeder creeks, numerous wild lakes, fish-filled streams, and rivers. However Steelhead are only really available on the Southern shore as the Rainbows further up don't move out to the sea. So if looking for sport with these check out rivers below Bristol Bay.
At least, there is an opportunity for every angler from novices to pro anglers. Let's call it the anglers' Disneyland.
Despite all these plus aspects planning a fishing excursion to this state can get overwhelming. No man even on a lifetime mission can fish the entire state without leaving out any spot.
However, you can maximize your weeklong journeys or the few months you mean to be here by checking out our recommended areas to go to. Avoid the paralysis of analysis by browsing below to find a few spots to add to your travel bucket list.
---
---
Where is the Best Fly Fishing in Alaska?
Russian River
Found on the Kenai Peninsula, it runs into the Kenai River. Early and late summer have anglers fishing the smaller Russian River in the two Sockeye runs. Thousands of sockeyes fill the tributary each year. The Russian River is also a great trout fishery and can provide great sport.
It is crowded during the sockeye runs. If you are looking for more fishing space and fewer chaps around, target Dolly Varden and rainbow trout. We assure you productivity and solitude during such times.
Waders will love to exploit this river however, stay cautious. The waters are freezing and boulders extra slippery. Having wading boots with great traction will save a risky situation here. NOTE: Felt sole wading boots are forbidden in Alaskan waters.
The Russian River Campground gives the public access to the Russian. This area can be crowded as there are many paths and steps leading to the river making it easy for anglers to move from the road to the fishing. The shore habitat on this river is under restoration by the Alaskan Department of Fish and Game. If you can, move further upstream to less frequented areas to get a more peaceful time.
---
---
Kenai River
An epic run of 82-miles from Lake Kenai in Kenai Mountains through Skilak Lake to the sea at Kenai. One of the deepest and widest rivers in the state. It has Upper, Middle, and Lower sections that are all worth fly fishing. The commonest fly fishing opportunity here is the King Salmon runs, they occur annually.
This species thrives here more than other rivers in Alaska. However, a stand out is in the sizes and not numbers. Average King Salmon can be about 40lbs with the biggest getting to 90lbs plus. That on a fly rod is going to be awesome. Good tippet strength and knot tying is essential here.
Other species you can catch here are Pink Salmon, Sockeye Salmon, Dolly Varden, and lots of Rainbow Trout. On the Alaska fishing reports, this river hasn't been categorized as a steelhead fishery though anglers say they catch a few steelies here.
We guarantee a true Alaskan experience here since you will have other companions as you fish. Waterfowl, moose and bears love to bask on this river. The river receives a population of about 275,000 anglers annually. It might be crowded in some seasons and there is the need to throw elbows and use combat tactics.
Up in the Kenai Mountains, the 12 miles are gentle. As it heads down, it enters the Kenai Canyon-a rough area for novice rafters as the rumbling is overboard. It calms for about 3 miles as it enters Skilak Lake. This is the Upper section of the Kenai and is crowded. Access is via the Russian River Campground.
As the river heads towards the Naptowne Rapids with its turbid waters, it travels 10.5 miles. Novice boaters should not dare these areas for the love of their lives and more fishing experiences. The Midsection continues to have fast waters getting it to 19.5 miles. Only a drift boat can make fishing successful in the middle section.
The lower section is 21 miles down from Sterling Highway Bridge. It is only 12 miles with tides and harbors fresh and saltwater fish. One hindrance is public access so keep an eye on post signs. Wade access is available at Izaak Walton State Park.
Season: May to Sept
Main Species: Pink Salmon, Sockeye Salmon, Dolly Varden, King Salmon, and Rainbow Trout
River Sections: Upper, Middle, and Lower Section
Fly Patterns: Flesh flies, zonkers, black, brown, purple, white, grey clousers, wooly buggers, strip leeches, Caddis, Prince Nymphs, Hares Ear, Stone Flies, Wulffs, Elk Hair,
Nearest towns: Moose Pass, Kenai, Kasilof, Hope, Homer, Halibut Cove, Cooper Landing, and Anchor Point
Nearest Tackle Shop: LFS Marine Supplies, Alaska Drift Away, Alaska Fishing with Mark Glassmaker
Guide Services: Double Haul Fly Fishing, Kenai River Fishing Guides
---
---
Kasilof River
South of River Kenai is where the Kasilof is located they are 11 miles apart. We can call them 'identical water' because they share similar water conditions, ecology, and fish species. However, the Kasilof isn't interrupted by lakes and it is more turbid and glacial than Kenai.
The Kasilof fishery is more protected. NOTE: You aren't allowed to use motorized boats here. Only drift boats. The pressure here is lesser than most of the great rivers in Alaska. If you are looking for solace and tranquility on a big river, make your way here. Anglers are allowed to keep fishing even after landing a King Salmon. The Kenai forbids this. Kings are about 25 to 40 pounds and other fish between 50 and 60 pounds regularly.
A few catches to bag here can be Dolly Varden, Sockeye, King, and Rainbow Trout. Hunt steelhead in fall to November since they come in plenty. Since it is a large river, a drift boat will do. The river's upper section has a boat ramp. Wading access is available in a few areas. Ensure to keep off private property to avoid trespass charges that can ruin your fishing trips.
Season: May to November
Main Species: Pink Salmon, Sockeye Salmon, Dolly Varden, King Salmon, and Rainbow Trout, Steelhead
River Sections: Upper, Middle, and Lower Section
Fly Patterns: Flesh flies, wooly bugers, zonkers, black, brown, purple, white, grey clousers, strip leeches, Caddis, Prince Nymphs, Hares Ear, Stone Flies, Wulffs, Elk Hair,
Nearest towns: Kasilof, Cohoe, Sterling, Funny River, Kenai, Ridgeway, Soldotna, Clam Gulch, Kalifornsky
Nearest Tackle Shop: Northern Air Trophy, Alaska Fishing Tackle, RodnReal

Guide Service: Crooked Creek Retreat, Alaska Fish and Float
---
---
Lake Creek
Lake Creek is not known to many non-Alaskans. It isn't surprising if other residents too are unaware of this gem in their state. It flows from the Chelatna Lake and feeds the Yetna River. A hotspot on the Lake is the intersection point of the two rivers.
If you want to chase all the species of Pacific Salmon, you can book accommodation near this lake. More species you can find here are Northern pike, Rainbow trout, and Arctic grayling. What appeals more to most of us who loathe crowds is the solitude on this river. We hope it doesn't turn into a combat river like the Kenia.
King Salmon runs on this creek commence in late May to mid-July and these buddies weigh upto 45 pounds. Alaskan fishing laws restrict every angler to harvesting one King Salmon in a day and a maximum of two per season. Silver, Reds, Humpies, and Dogs run up the creek after July. Anglers have 50 days of fishing and most of them weigh about 5 pounds. Others can go to 20 pounds. Dogs put up stiff battles.
Fish around the Riversong Lodge that has been handcrafted from high-quality native spruce. The aesthetics here are catchy and make your angling experience luxurious. Grab a tot of whiskey at the fully stocked bar in the Lodge. As you unwind in your cabin here while facing the river Yetna, you can feed your eyes the beautiful Mount McKinley Mountains which are the tallest in North USA.
Season: May to July
Main Species: All species of Pacific Salmon, Northern pike, Rainbow trout, and Arctic grayling
Fly Patterns: Flesh flies, wooly bugers, zonkers, strip leeches, Caddis, Prince Nymphs, Hares Ear, Stone Flies, Wulffs, Elk Hair,
Nearest towns: Mount Vernon, Harrisburg, Carbondale, Marion, Herrin, Centralia, Jackson, Paducah, Shiloh, Belleville, Swansea, Sikeston
Nearest Tackle Shop: 3 Rivers Fly and Tackle, Northwoods Lodge
Guide Service: Talkeetna Wilderness River Fishing, Salmon Fishing Trips
---
---
Denali National Park and Preserve
Comb the state's interior to find the Denali Park which you can explore throughout. The Nenana River is an excellent spot within this park. A short distance from the park's entrance, you can fish rainbow trout and arctic grayling. There are options to wade or fish from the shores. No-one is limited with regard to skill level. You can access the other rivers and streams from the lodges within the park.
Season: May to September
Main Species: Coho, Chum, and Chinook Salmon, Northern pike, Lake trout, and Arctic grayling, Dolly Varden Alaska Blackfish, longnose sucker, arctic lamprey, slimy sculpins
Fly Patterns: Adams, Irresistible, Elk Hairs, Coho flies, streamers
Nearest towns: Soldotna, Sterling, Kenai, Fairbanks, College, Anchorage, Palmer, Wasilla
Nearest Tackle Shop: Mossy's Fly Shop Anchorage, Two River Rods, Denali Fly Fishing Guides
---
---
Bristol Bay Region
Bristol Bay flaunts some of the world's biggest salmon. Different times bring in different species of salmon throughout the summer. King Salmon, chum, and sockeye thrive well in June and July. Towards the end of summer Pink and Coho salmon flourish in these waters.
The bay makes part of the Bering Sea whose neighbor in the west is Russia and the Kamchatka Peninsula. The south is the Aleutian Islands and Alaska in the east. This area is not overfished because of the low levels with plenty of sandbars that are hindrances to commercial fishing vases.
The bay is 250m long and 180m wide attracting some of the largest salmon runs. Naturally, it is a fly fishing spot. The area is crowded in peak seasons and many people focus on sockeye salmon than any other salmon species.
The Alagnak River in this bay is famous for typical trout, arctic grayling, and all Pacific Salmon species. Fish caught here are bigger than average. Anyone can fish the river easily.
Naknek River is another spot in the bay. 35 miles long, this river is near King Salmon village and is a prolific sockeye salmon fishery but still homes Dolly Varden, Steelhead, and huge rainbow trout.
Season: May to July
Main Species: All species of Pacific Salmon, Rainbow trout, and Arctic grayling
Fly Patterns: Flesh flies, wooly bugers, zonkers, strip leeches, Caddis, Prince Nymphs, Hares Ear, Stone Flies, Wulffs, Elk Hair,
Nearest towns: King Salmon, South Naknek, Naknek
Nearest Tackle Shop: Bristol Bay Lodge Tackle Shop
---
---
Other Best yet Least-Known Spots to comb in Alaska
Off Alaska's southwest coast is the Baranof Island that is highlighted with great fisheries. However, accessibility is the primary issue. However, if lucky to find your way, you will not regret.
Willow Creek holds chum, king, pink, and silver salmon, Dolly Varden, Arctic Grayling, and Rainbow trout. If you love tact battles, go after grayling and pass up the salmon.
75-mile Kanetok River is in the southwestern parts of Alaska and runs from Ahklun Mountains and feeds the Bering Sea. Though it has some tough sections of rapids, it flows gently and harbors sockeye, chum, Coho, and Chinook salmon, arctic grayling, rainbow trout, and arctic char. A drift boat will make your angling experience less stressful.
Kcichak River hails from the Illmina Lake and winds 50 miles draining into the Kcichak Bay. You can fish all the five species of pacific salmon. As salmon commence there runs here, anglers opt for trout as they feed on salmon eggs. Fishermen catch over 30 rainbows in this area.
One of the cold water rivers you can fish in Alaska is the Yukon for Northern pike. Shee fish flock here too.
Kulik is one of the shortest rivers and only 2 miles located in the Katmai National Park and Preserve around Kodiak. Trout fishermen should begin to exploit this point. It runs between the Kulik Lake and Nonvianuk and has a continuous flow and full of trout forage. Alaska highly depends on this trout fishery. Access is done by plane so check out Kulik Lodge for more.
Still in the Katmai Park is the American Creek is a great rainbow trout and arctic char river and starts from the Aleutian Range and feeds into the Coville Lake. Some of the iconic wildlife that will keep you company here are bald eagles and brown bears. In summer, it is low and very clear making it perfect for dry flies. However, egg patterns and streamers will not disappoint. You can be lucky to catch trophy size trout here in each season.
Located off Alaska's southern coast, Prince of Wales Island is only accessible via ferry or plane. Despite this fault, there are numerous arctic grayling, Dolly Varden, Steelhead, Brook trout, Cutthroat, and Rainbow Trout in the Wales waters.
Anchor River harbors King Salmon and has silver salmon, steelhead, and Dolly Varden in large numbers. You can choose to take the Deep Creek or the Ninilchik River which are its tributaries and hold lots of fish too. The tributaries are less populated than the Anchor's main and fishing days are from Saturday to Monday only.
Kenai Lake's tributary, the Quartz Creek is another hidden gem for Dolly Varden. Salmon fishing on this creek is forbidden. Carry along your bear spray and waders and purpose to fish before the salmons spawn and far away from the roads.
Kodiak Island Archipelago is a good option for remote fishing. It is 177 miles and you can enjoy the halibut and salmon runs without competition like in Kenia and Russian rivers.
---
---
Tips for Fly Fishing in Alaskan Waters
If you aren't on a long excursion like two to three months or more, plan your trip in a manner that allows you to catch your fish preferences. Remember that Alaska has lots of fishing opportunities that might leave you doing otherwise planned. Refer to our guide for popular and best least-known places to explore.
Freshwater systems with the salmon species have them in one day and out on the next. The pulse fisheries should have you alert and picking your timing very well. Always check when run times peak on the charts of places you intend to visit. You can opt to call the nearest fly shops for confirmation.
Be on the lookout for the weather reports. Sometimes huge storms that make breaking news in lower 48 often roll off Alaska's Gulf to the Bering Sea in all seasons. Don't let adverse weather end your fishing trip.
There are areas that prohibit motorized boats and others have private property. Ensure to be vigilant with signposts and notices to keep away from violations and fines. Most remote fishing holes are off-road systems in Alaska and access is via ferries or planes. Remember to be heavily-loaded if you intend to fly to the wilderness.
If new to a place like the Kenai, getting a guide is superb. Besides a well-organized and safer trip, these buddies have enough local knowledge and make accessing other areas like Alaska communities less hectic. Also, consider having a guide even in remote areas. You will not love the experience of getting stuck in the Alaskan wilderness.
The bear can decide to make it hell on the water for you. Nothing repels them well like a good bear spray. This is one of the must-have items for safety.
---
FAQ's – Frequently Asked Question on Alaska Fly Fishing
Q) Must I have a fishing license to access the Alaska waters?
A) Yes. All residents who are 18 and above should have valid licenses while non-residents 16 and older should have a sport fishing license.
Q) Are fish wheels prohibited in Alaska?
A) If fishing commercially, fish wheels are legal along Yukon and Copper Rivers only.
Q) When does the Pink Salmon run in the Alaska waters?
A) They are in abundance for about 21 days and can be caught from late in July to September. Spawning is every two years on even years.
Q) How can you identify Coho Salmon?
A) While in the ocean, they are dark blue backs and silver sides. As they spawn, their teeth and jaws get hooked. Upon getting into freshwater, they have blue-green backs and heads, darker spots on the back, dark bellies, and bright red sides.
Q) When is the ideal time to fish in Alaska?
A) The peak season here runs from May to September and you can land all the five species of salmon.
---
Conclusion on some of the Best Places for Fly Fishing in Alaska
The compilation above should aid in reducing any dissonance that you may have and offer a few pointers to ponder over as you plan an Alaskan fly fishing excursion. If you go through and to the right points, Alaska is a fisherman's paradise. Mind your time and have the right fishing gear. You can employ the correct techniques. All these elements put together will see you having another trip in mind.
We can't exhaust the right fly fishing gear for fly fishing in Alaska and North America because it is an incredibly vast area full of diversity in fishing. Maybe a 5 weight combo will do for rainbow trout and grayling. If you carry this and hope to comb the Kenai, you will end up regretting your decision.
For an all-rounder, a one-hand 7 weight will be okay. If carrying two, then a 6 weight and 8 weight are ideal. You can choose to carry an 8 weight Spey rod. Remember to adhere to regulations concerning the maximum number of rods to carry to Alaska waters. See our buyer's guides to select the best gear and equipment for full comfort and time maximization during your trip.
Do you know of more pristine locations in Alaska where fly fishing would be well executed? If you do, share them with us in the comment section. We can think about a second section of fishing in Alaska for anglers to have a wide range of options to choose from.