Disclosure:
Just to be open and honest the buttons and links you click on in the website will in most cases take you to another website where you can purchase the products I am reviewing. As an Amazon Associate I earn from qualifying purchases.
April 25, 2020
Best Fly Fishing in Arizona – The Valentine State
Do you want an escape to a location with all-year-round fly fishing opportunities? Arizona is it. Regardless of whether you are a resident, a visitor in the winter or summer, there is certainly a spot or more that you will find intriguing to wet your lines.
All across this country, there is a wide diversity of waterways and whether on a day or night trip, the opportunities are in excess. In our findings, many people are moving to the Southwest USA for work, residence, and adventure. We thank the rise in job opportunities and beautiful weather.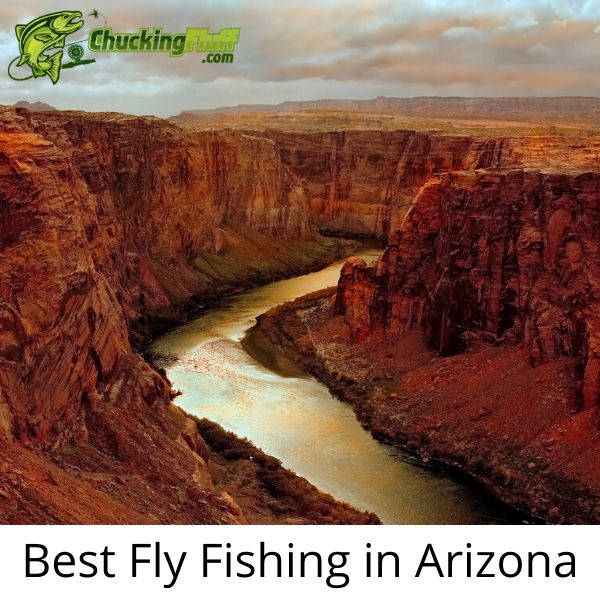 Needless to say, the outdoors is becoming pleasurable to many as you can easily sport sportsmen, tourists, and other locals indulging in the best way they can.
Fly fishing is a popular sport in Arizona. While many frequent the famous waterways, most are yet to discover the hidden gems in this state.
We'd like to see more anglers hiking in the backcountry for trout and hunting bass in the lakes. Arizona has what fishermen are in pursuit of as it harbors a good number of lakes, mountain streams, and rivers.
It is interesting to see how tight-knit the local anglers in Arizona are. But do you know what most non-residents who've never been to this state think about it?
Maybe something similar to the world's Kalahari. Angling in a desert environment is such an unparalleled experience.
The high speed rigged bass boat travels are exhilarating while the Sonoran Desert waterways totally take away your breath. No, you still will live to fish more days!
Don't forget the adrenaline rush that comes with battling the perfect catch. You can't compare a fishing adventure to anything else in Arizona.
Besides the eclectic desert backdrops and stunning scenery, the lakes here are superb points for the best stripper and bass fly fishing in the Southwest. You won't lack a fishery that matches any season, condition, and level of expertise.
If trophy strippers or largemouth excite you to the core, there are best tactics and locations to target the monsters.
If you are out to have more fun and catch fish in large numbers regardless of size, there are hookups with them in abundance.
Even if you want to hone your skills, boost your confidence, and understand these water beings more, Arizona offers places for novices to self-learn and leave with a year's worth of information and knowledge.
Stick around and identify the best places to fly fish in Arizona.
Check out other destination in the USA
---
---
Where is the Best Fly Fishing in Arizona?
Oak Creek Sedona Arizona
The mix of scenery and fly fishing opportunities in Oak Creek is superb. The Creek in Sedona is aesthetical and a clear water trout stream that can confuse you for being in a greener state.
Trouts living here are brought in from the stocks in the Page Spring Fish Hatchery.
At the Grasshopper Point, the water begins to get warmer because of the skyrocketing temperatures. Trout find it unbearable deeper underwater. You can commence your day's fishing above Grasshopper Point 6 miles north of Sedona.
Trout here are in plenty throughout the year. A few species you can hook here are brook, brown, and rainbow trout.
The North Fork is commonly known as a brook trout spot because of its high elevation. Its riffles have lots of beautiful pocket water. Almost everywhere is this Creek is fishable.
However, areas that yield the most are in the West Fork. Wild brown trout reside here. You have to hike to this spot.
An area at Cave Springs where the North and West Fork meet is another potential location. It is advisable to cast up the stream using short casts in Oak Creek. This is to avoid spooking the fish.
Carry lighter leaders and blend with the environment as they have eagle-sharp vision even while underwater. Your rod should be a 4 or 5 weight as it is a true trout fishery.
Seasons: March to November
Main Species: Rainbow, brown, and brook trout
Fly Patterns: Woolly bugger, Pheasant tails, BWOs, Sedges, Caddis, Tricos, Freshwater shrimp
Nearest Town: Sedona, Cottonwood, Camp Verde, Flagstaff, Prescott Valley, Chino Valley, Payson, Winslow, Sun City, Surprise, El Mirage
Nearest Tackle Shop: Sedona Fly Fishing Adventures (Not physical)
Guide Service: Sedona / Red Rock Country, Sedona Air Tours,
---
---
Salt River Phoenix Arizona
Twenty Five miles from Phoenix is the Salt River. The cold water river is the tailwater that gently flows below Lake Saguaro. The waters come from the deepest parts of this lake.
It is unfortunate that not the entire river favors rainbow trout. The winter is a good time to come here as it is a stocked stream though it has a few holdovers.
The stream becomes very difficult to fish when the dry season hits hard. This is because the flows drastically reduce. It fishes pretty well when the waters are fuller and higher.
NOTE: Always give newly stocked fish a few days to adapt and commence feeding. Don't fish these freshly stocked waters immediately.
Most anglers target certain prime points on the Salt River since only a section is fishable. The User's Water Recreational Area is the commonest and most frequented.
More are Phon D. Sutton, Goldfield, and Coon Bluff. Pack a lighter rod and reel combo like a 7 or 8-foot leader for nymphing and 9 to 12 feet when dry flying.
Seasons: Winter
Main Species: Rainbow trout
Fly Patterns: Terrestrials-grasshoppers, ants, beetles, Blue Quills, Sedges, Caddis, Tricos, Blue-winged Olives, Pheasant Tails
Nearest Town: Tempe, Mesa, Phoenix, Scottsdale
Nearest Tackle Shop: Phoenix Fishing Supply, Desert Sportsman, RiverBum Inc, Orvis, Liar's Korner Bait and Tackle, Southwest Custom Rods
Guide Service: The Hook Up Outfitters, Orvis
---
---
Colorado River Lees Ferry Area Arizona
The Lees Ferry Area is known by most residents and all fly anglers living in the state. Near Page in northern Arizona on the Colorado River is where the Lees Ferry area is located.
This is another tailwater flowing more than 15 miles from Lake Powell towards Northern Grand Canyon. It is close enough to the canyon making it a great place to visit.
The waters are clear throughout the year and temperatures usually at 50 degrees. The dazzling sight of the enormous red sandstone cliffs is worth beholding when here chasing wild rainbows.
You will find this river interesting to explore as it boasts plenty of gravel bars, deep pools, and riffles throughout the stretch. Colorado is an all-year-round trout fishery but the summers are peak here because of the cool waters.
As from late fall through winter, rainbow trout here are in their spawning phase. During this time, spawn fishing is the best. Lake Powell is snowy in spring making it tricky to fish in this period.
Late fall and early winters give this location easier access because of the reduced water levels. It is daunting to access Colorado because of high cliffs. Stick to Lees Ferry for more success. Not that it is crowded here in the peaks.
Carry a 5 or 6 weight rod setup. When using nymphs with indicators, have a 7 to 9 feet leader.
Seasons: Summer and Late Fall through winter
Main Species: Rainbow trout
Fly Patterns: Little black stonefly, Dawkin's DD Midge, Zebra Midge, Midges, Caddis ( choose flies that are red or cream)
Nearest Town: Page
Nearest Tackle Shop: Lees Ferry Anglers Fly Shop and Guide Service
---
---
Black River Arizona
The Phoenix heat can be intolerable. Move to the Black River in the White Mountains close to Show Low. It is a 114-mile waterway and harbors different fish species.
Despite being a common fishery, it is aesthetical and the landscaping and nature aspects around it are stunning.
It is a freestone stream and loses water in the fall and late summer. Apache cutthroats are in the two upper sections of this river. Brown trout and smallmouth bass are in plenty in the lower portion.
Forestry roads are the main access means to these waters. You will have a memorable time in spring, summer, and fall. You need to be super alert as you cast because the stream sides are very bushy.
Seasons: Summer, fall, and spring
Main Species: Apache cutthroat and brown trout, smallmouth bass
Fly Patterns: Pheasant tails, Hare's ears, Prince nymphs, Parachute Adams, Humpy, Stimulators, Rubber buggers, sculpins, crayfish
Nearest Town: Safford, Fort Apache, Alpine, Eager
Nearest Tackle Shop: Tackle Shop, Black River
---
---
East Clear Creek Arizona
East Clear Creek is close to the Mogollon Rim which is in Payson. It is a great trout fishery even through a small stream. Off the forest, roads are where you can get the best access especially along Highway 87. A hotspot that you should consider checking out is the Kinder Crossing.
As you go downwards, it yields better than most areas. The stream has lots of runs, deep pools, and riffles. Arm yourself with a 4 or 5 weight rod combo since it is a tight location. It is a mountain stream and a good challenge to any fervent angler.
Seasons: Summer, fall, and spring
Main Species: Rainbow, brown, and brook trout
Fly Patterns: Black caddis, Tricos, BWOs, Sedges
Nearest Town: Winslow, Georgetown
---
Silver Creek Arizona
To start with, this is an exclusive catch and release point from October to the last day of March. Silver Creek is near Show Low in Northern Arizona. It is a 2-mile stream owned by the Arizona Game and Fish Department.
Access is not a problem. It will be tricky to wade in this stream so stay at the banks and throw your flies from there. Rainbow and Apache trout are in good numbers here. Arizona prides in this Creek for some of its largest trout.
You can keep fish after the catch and release season elapses. As the Black River is, it is another cool place to come to that isn't hot like in the valleys. Carry a 4 or 5 weight fly rod combo and ready yourself for battles with large fish.
The place gets crowded since it is owned by the government. There is less congestion late in the evenings or early mornings.
Seasons: April to September
Main Species: Apache and rainbow trout
Fly Patterns: Leeches, Blood midges, BWOs
Nearest Town: Winslow, Show Low, Holbrook, Chilchinbito, North Fork, Fort Apache, Hondah, Pinetop
Nearest Tackle Shops: Paradise Creek Anglers, White Mountain Bait & Tackle, Silver Creek General Store
---
---
Big Bonito Creek Arizona
Big Bonito Creek is an 11 mile stretch in Apache Country. A few water buddies to catch here are apache, brown trout, rainbows, and bass. NOTE: You will need a permit to fish issued by the Apache Tribe. Y40, 55, and 70 Reservation roads give better access to this location.
You will be needing a four-wheel or all-terrain vehicle for transport since it is an entire dirt road.
Ready yourself for a little hiking too. Because of the numerous boulders, pool fishing is the best way to go. Find a perfect spot below the pool and cast upstream right above the boulder. Your fly should float entirely.
Trout sizes here range from 14 to 16''. You will catch smallmouth bass in the creek's lowers. A 6 weight combo will be excellent for trout and bass here.
Seasons: May to October
Main Species: Apache, brown, and rainbow trout, smallmouth bass
Fly Patterns: Leeches, Blood midges, BWOs, poppers
Nearest Town: Fort Apache, Sevenmile, Dehorn
---
---
Canyon Creek Arizona
Running 50 Miles from Tonto National Forest, this tributary of the Salt River meanders through the Apache Indian Reservation in White Mountain.
Trout Unlimited and the Arizona Game and Fish Department have taken it as a concern to revive this river from what it was. The restoration now has it like a fish hatchery in the Canyon.
You will not lose it if you fish from OW Bridge as you head to the Apache Indian Reservation. You also need a permit from the Indian Reservation if you want to access these waters for fishing. Consider a 4 or 5 weight rod set up with a 7 feet leader.
Seasons: Summer, Late Spring
Main Species: Brown and rainbow trout
Fly Patterns: Leeches, Blood midges, BWOs,
Nearest Town: Young, Forest Lake
Nearest Tackle Shop: Woods Canyon Lake Store and Marina
---
---
More Hotspots to Comb in Arizona if Fly Fishing
The Little Colorado River is a trout-filled tributary. It drains into Colorado in Grand Canyon. Its location is in the White Mountains on the Mount Baldy Peak. Brace yourself with the best hiking boots so as to access this location.
Its East Fork is a tailwater starting from Colter Reservoir. Flowing into Greer. The areas with most access are heavily crowded with resident anglers. Head to the backcountry where you can have solace and more waters to yourself.
You can easily hook brow, brook, rainbow, and Apaches in its headwaters. Carry a small finesse combo, BWOs, small streamers, and blood midges for more success.
Remote angling is perfect in Chevelon Canyon Lake. It is close to Mogollon Rim. NOTE: Don't use live bait here. If not in a four-will ride, hiking will be an option to get to this lake.
The lake harbors rainbow and brown trout in good sizes. Its banks are full of shrubs and pine trees. A 5 or 6 weight rod combo and small nymphs and streamers are ideal here.
We are yet to know why it was called Bright Angel Creek. However, this point which is in the Canyon's north rim is a great trout fishery though with limited access. From the South Rim, use the South Kaibab Trail to get to the Creek.
It boasts a 5000-foot elevation and a 7-mile hike. Prepare to spend a night here for brown and rainbow trout of about 12 to 18 inches. Pocket waters yield when using nymphs.
The Imperial Reservoir located in Yuma County and passing through Cibola National Wildlife Refuge harbors bass in good numbers. Though manmade, it is easy to land bass as heavy as 12 pounds or even more.
Lake Apache is a secret gem and lightly fished because of this reason. On the Salt River in Central Arizona is where you can find these waters. Most people who've been there refer to it as a very deep canyon lake.
It came up as a result of the Salt River runoffs. You can access it from Roosevelt Dam though fairly. This is in the south or choose to go via Apache Junction on State Highway 88.
It boasts clear waters with less flora but largemouth and smallmouth bass in abundance. Its water levels are dynamic and using a light line to avoid spooking fish will do.
With 1900 miles of shoreline, Lake Powell is another big reservoir in Arizona. It is surrounded by cliff walls and offers more rock rubbles, fishing corners, and cracks.
Striped bass are the guards in the shaded coves as brown and rainbow trout watch over the Wahweap Bay.
Southwest's untold secret is the Lake Pleasant that flaunts different kinds of crappies and bass.
Sportfish move in the threadfin shad and into the channels of this creek in spring then into open water in summer.
Bass fishermen should think of visiting Lake Roosevelt. In Tonto National Forest. The waters are warmer here. Bass thrive here because of the favorable forage on over 20000 acres.
Catfish too do well here. Bass like to gather in the Salome Cove, Tonto Arm, and Salt Arm. You will enjoy shoreline fishing here. As Tonto Creek enters this lake, it creates a point where bass love.
Near Bass Island is a target for largemouth in the deeper colder waters. When it gets warmer, these chaps move near drop-offs where it is shallow.
Lake Havasu State Park found in Lake Havasu City is a thriving place for bass, catfish, and sunfish. It has 450 miles shoreline. This is one of the best places to come for smallmouth bass in Arizona.
You can land them in about 4 or 5 pounds. Anglers coming to Arizona need to check out the Patagonia Lake State Park for shoreline and boat fishing. The waters harbor 5 to 8-pound bass.
Among other species to catch here are bluegill, crappie, channel catfish, and flathead catfish. Sitting on 265 acres of land, the manmade lake has rainbows in winter.
Surrounded by 700 miles of shoreline, Lake Mead is a thrilling place to test your flies. Coming here will land you bluegill, crappie, catfish, channel catfish, and bass.
Big Lake is a famous fishing spot located in the White Mountains in North Eastern Arizona. Springtime brings in many anglers as trout stocking is done at this time.
It is at a high altitude of about 9200 feet. Consider this fact as you pack your gear and prepare to catch cutthroat, brook, and rainbow trout.
Solace is found on the Dogtown Lake with beautiful spread landscapes and flora. The fall season welcomes lots of trout. If you love other outdoor activities like kayaking, mountain biking, and hiking, this is a place to choose.
Saguaro Lake harbors trout and bass in large sizes and is almost an hour's ride from Phoenix. If from the east of Scottsdale, it takes about 45 minutes to reach the place.
Lovers of aesthetics when fishing can come to Riggs Flat Lake in the Pinaleno Mountains about 9000 feet elevated and on 11 acres of land. The scenery is fantastic and you won't miss brook, brown, and rainbow trout here in summer.
Lake Encanto in Phoenix gives an urban fishing setting where you can hunt bass, trout, catfish, Amur, and sunfish in limits of 2, 4, 4, 1, and 10 limits respectively.
Still in Phoenix is the Tempe Lake Town which is a hotbed of rainbow trout. However, some areas were locked and can't be fished like Tempe Beach Park.
---
Tips for Fly Fishing in Arizona
Streams with very large boulders give some of the best fly fishing experiences. However, to get everything as you'd like, your positioning on the pool and how you lay your fly will determine if your wait for a strike will yield or not.
If targeting to fish in areas with very high altitudes, ensure that you pack your fly fishing gear tactfully to be able to protect yourself from adverse weather conditions and stay longer on your fly fishing trip. Carry any medications you will need for such areas too to be safer.
While some areas are private waters, a good number is owned by the government. Ensure to make good timings if you'd like the best fishing experiences. Avoid crowded hours like mid-morning through the afternoon.
Trout can get spooky and annoying especially in gin-clear water. We advise that you blend your apparel and gear with the surrounding. Preferably dull or earth colors will be better.
Most rivers, streams, and lakes get stocked with fish to increase and maintain high populations. As the stocking is done in peak seasons ensure that you stay away for several days before fishing newly stocked waters. Allow fingerlings to feed, acclimate, and adapt to the new waters.
---
FAQ's – Questions on Fly Fishing in Arizona
Q) Who needs to get a fly fishing license in Arizona?
A) Both residents and non-residents are required to have valid fly fishing licenses. To access any waters in this state. The age limit is 10 years.
Q) Which people are exempted from the fishing licensing?
A) The blind residents and children below 10 years don't need to have fishing licenses in Arizona.
Q) Can you use or sell live bait in Arizona?
A) It is forbidden to seal all live legal crayfish and baitfish in this state. They are only for personal use.
Q) Do crayfish reside in the cold water lakes here?
A) In Arizona, crayfish love warm waters and can be fished in Canyon, Bartlett, and Saguaro lakes.
---
Wrap Up to the Best Fly Fishing in Arizona
Arizona's natural wonders and plenty of beautiful landscapes make it a run-to place for many anglers. The state parks, reservoirs, lakes, and rivers often receive fishing enthusiasts every year.
Most areas are populated during peak seasons because everyone present wants to get a hook of the best water inhabitants.
There are quite a number of remote waterways in this state that are lightly fished because they are unknown to the majority. Now that we have listed as many as we could, we hope that you have marked Arizona as a must-visit this year.
We advise that you do due diligence while preparing for your trip to avoid feeling wasted or getting into trouble. Check all weather reports, area rules and regulations, have enough or more to spend, and pack your tackle accordingly.
We have put together an entire section of the best buyer's guide that will be resourceful in selecting and purchasing what you need for a successful angling trip to Arizona. Feel unbounded to share with us more fly fishing spots that we haven't mentioned in the article and let us know how it was like fishing your destinations.