Disclosure:
Just to be open and honest the buttons and links you click on in the website will in most cases take you to another website where you can purchase the products I am reviewing. As an Amazon Associate I earn from qualifying purchases.
January 18, 2022
Best Fly Fishing in Oregon – The Beaver State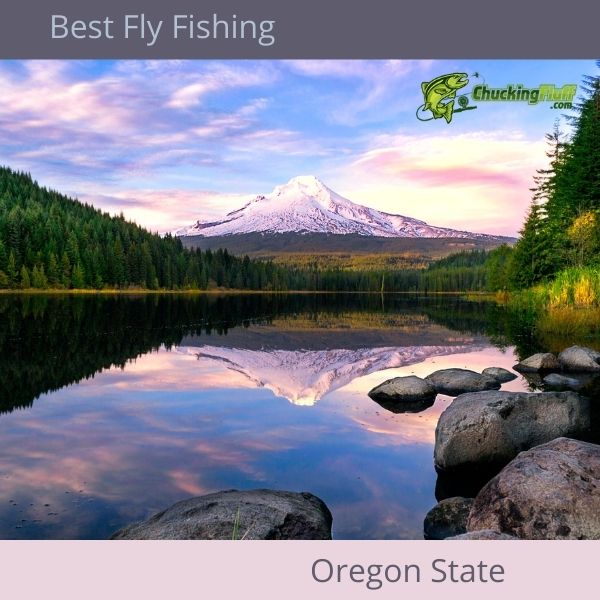 There isn't an angler who doesn't care about new waters.
While they'd move around looking for creeks and ponds, it is uncertain to find any nearer to where they are especially if they are new to the area.
This makes them spend more time searching than fishing.
If you'd take time to travel Oregon on a fly fishing adventure, finding a point to fish would never be a problem.
I doubt there is a state that rivals Oregon in the number of water bodies it has. Oregon has everything.
From the coastal rivers harboring plenty of steelhead to the desert waters with lots of redband trout.
Some areas in Oregon receive more than 200 inches of precipitation yearly.
A good amount runs into the streams, rivers, and lakes to ensure that fly fishing as a sport doesn't die.
Oregon boasts so many freshwater opportunities that are inexhaustible.
To think that an angler can only care for these opportunities when here isn't a surprise.
The primary problem is choosing where to fish first.
Fly fishers are adventurous chaps.
We agree that as throwing lines calms your body from the day's activities, the gorgeous landscaping and more Mother Nature offerings come in to ensure that the moments are pleasant.
In this case, areas such as Columbia River Gorge and Lake Paulina are beauties to behold.
The scenery here as you wet your lines appeals to the eyes.
There are numerous fly fishing locations in this state that you can explore.
To start with, Oregon is a freshwater paradise and the diversity it offers is unspeakable some fish species that you can expect to hook here are steelhead, bass, sturgeon, salmon, walleye, and many others.
While competition to fish the best areas is stiff, we have no particular order in which we write our locations.
However, our primary aim is to create a listing of the common areas and those that experience less pressure so that anglers can toss the coin and choose the side to go by.
---
Davis Lake
---
The Deschutes National Forest is home to Lake Davis. Its formation was as a result of lava blocking Odell Creek.
It will excite you to come here as it is strictly for fly fishing and you can choose to do it from the shores or on a motorized boat.
When the year is wet and the weather great, rainbow trout here thrive to over 5 pounds.
We are not certain why most guides and locals say that the largemouth bass here were illegally introduced.
That is what you'll hear when you come to Davis Lake. However, they offer more angling opportunities when the weather warms up.
If looking to achieve finesse, this is the place for you.
Some access points are East Davis and Lava Flow.
At these points is where you can launch your ramp.
You will need a fly reel with excellent drag to handle these fish when they decide to run.
A 7-weight fly rod will go well with it.
We recommend carrying a 0-3x fluorocarbon leader and tippet.
---
---
Season: All year round except above the ramp which is open on the last Saturday of May to 31st October
Main Species: Largemouth bass, rainbow trout
Fly Pattern: Clouser Minnows, Bunny leech, Gibson's dragonfly, Damselfly nymphs
Nearest Town: Bend, Oakridge, Sunriver, La Pine
Nearest Tackle Shop: Highliner Custom Rods, Bert-Fish-N-Stuff, Cascade Guides & Outfitters, Confluence Fly Shop, Fish With Gary Tackle Co., The Hook Fly Shop
---
Crooked River
---
As a tributary of the Deschutes, you will have to head to the miles below Bowman Dam for a better fishing experience since the upper sections don't yield much.
The dam releases cold water that finds its way in the basalt canyon allowing redband trout to thrive in huge numbers.
The 10-mile stretch below the dam is incomparable to any other section making you lost for choice on where to focus on.
Most anglers prefer to commence at Chimney Rock Trailhead.
When the season is at its peak, these 10 miles receive more pressure.
You can wade here. What excites us is that no stocking or supplementation goes on here.
The fish here naturally reproduce thanks to the cold waters and the prolific hatches.
---
---
Season: Spring, summer, fall
Main Species: Redband trout
Fly Pattern: Psycho Prince, Beadhead zebra midge, Griffith's gnat, top-secret midge emergers, BWOs, Baetis, PMDs, caddis
Nearest Town: Bend, Redmond, Lebanon, Springfield, Canby, Albany, West Linn, Woodburn, Gladstone, Hayesville, Gresham, Eugene, Salem, Troutdale
Nearest Tackle Shop: Fly & Field Outfitters, The Fly Fisher's Place, Deschutes River Fly Shop and Camp, Fin & Fire, Confluence Fly Shop
---
McKenzie River
---
The Cascade Range acts as a source to the McKenzie River which got its name from Donald McKenzie who was a fur trapper.
He took on an exploration journey in this region in the 19th century.
More miles flow through public land.
We can't say that development in the areas where the river flows is great.
What then does this mean?
It means that the waters suffer less dirt and misuse which is healthy for the flora and fauna here.
As well, a bonus to the angler to fish more.
Fish you can catch here are bull, cutthroat, rainbow trout, and Chinook salmon.
As you cast, you will easily spot bald eagles, dippers, and ospreys among other wildlife.
There are numerous access spots on the 90-mile river which drains into Willamette River.
Just before it empties, the lower section harbors lots of trout.
However, most anglers begin fishing at the areas near the Lower McKenzie Trailhead.
You can't fish with bait in this section.
It is a river that undergoes rainbow trout stocking by the Oregon Department of Fish and Wildlife.
If you catch any non-adipose trout with clipped fins, you must release it as the regulations here state.
Carry a 9-foot 5-weight rod with a fluorocarbon tippet.
---
---
Season: May to October
Main Species: Bull, cutthroat, rainbow trout, and Chinook salmon
Fly Pattern: San Juan worm, Pheasant tails, Copper Johns, wooly buggers, BWOs
Nearest Town: Cedar Flat, Deerhorn, Walterville, Vida, Leaburg, Finn Rock, Nimrod, Rainbow, Blue River, Belknap Springs, McKenzie Bridge,
Nearest Tackle Shop: Caddis Fly Angling Shop, Two Rivers Fly Shop, Home Waters Fly Fishing and Guide Service,
---
North Umpqua River
---
No fly fisher is unaware of the famous steelhead fishery.
The North Umpqua River is what we are talking about.
You must come here prepared for water battles because summer and winter come with steelhead runs of monsters who are overly active.
Rainbows here weigh averagely 8 pounds which means that the ecosystem is sustainable.
These chaps even reach 20 pounds when the years are better and forage is flourishing.
More species that you can catch here are brook, brown, and rainbow trout in good numbers.
There is a fly fishing only section which is 33.8 miles.
Steelhead in summer here love waking flies.
When winter sets in, the flows are heavier and we recommend sinking tip lines, 8 weight rods, and bigger flies.
---
---
Season: Summer and winter
Main Species: Brook, brown, and rainbow trout, steelhead
Fly Pattern: Golden demon, black Gordon, skunk, Umpuqua special, cummings special, gold streak, silver streak, black reeach, eagle rock reeach, orange heron1 and 2
Nearest Town: Glide, Idleyld Park, Eugene
Nearest Tackle Shop: Gorge Fly Shop, Inc., Ashland Fly Shop,
---
Wickiup Reservoir
---
Deschutes National Forest homes the Wickiup Reservoir which is Oregon's second-largest lake.
You can easily hook massive rainbow and brown trout.
The Deschutes River underwent a damming process which led to the formation of this reservoir.
It boasts an excellent size and depth which any angler who would a new taste of things will not resist.
Kokanee are in plenty here and their spawning phase as the summer winds away make brown trout agile.
The summer season like in any other place makes water levels unstable.
It is the same case in Wickiup and this poses a primary challenge.
You have to consider this in case you want to fish here in the warmer months.
To get the best out of this lake, we advise that you fish from a boat.
You can launch a boat at the Forest Road 44 at the Reservoir boating site.
The best thing about this area is that the fishermen are fewer.
---
---
Season: Last Saturday of April to 31st October
Main Species: Brown, rainbow, brook, Coho, kokanee, tui chub, mountain whitefish,
Fly Pattern: Night crawlers, red salmon eggs, crayfish sections, white corn, spinners, power bait, plugs, baitfish imitations, bronze or gold minnow imitations, little summer stoneflies, elk hair caddis, gold-ribbed hares ear
Nearest Town: Beatty, Bend, Bly, Bonanza, Brothers, Chemult, Chiloquin, Crater Lake, Crescent, Dairy, Fort Klamath, Gilchrist, Keno, Klamath Falls, La Pine, Malin, Merrill, Midland, Redmond, Sisters, Sprague River, Terrebonne
Nearest Tackle Shop: Confluence Fly Shop, Deep Canyon Outfitters, Orvis
---
Rogue River
---
As you go about Southwestern Oregon, you will come across the Rogue River which is a whole beauty package.
It boasts various fly fishing opportunities as it is home to salmon, steelhead, and large trout.
It falls among those listed in the Wild and Scenic Rivers Act.
The region receives lots of rainfall and the water levels here get high most of the time.
While we think that high water levels are good, not for the anglers as the fish have a difficult time here.
Carry your dark intruder patterns.
They could be red, black, or any other dark color.
If opting to nymph, large stonefly attractors will not disappoint you.
Often, trout rise to the surface to eat. They might love your salmon fly and come for it.
Dry fly fishing for trout is best in the upper sections of the Rogue in May and June.
---
---
Season: Late August to November
Main Species: Brown, rainbow, brook, cutthroat trout, steelhead, salmon,
Fly Pattern: Large stonefly attractors, Salmonflies, dark intruder patterns, skunk, steelhead caddis, BWOs, Midges,
Nearest Town: Jacksonville, Phoenix, Merlin, Glendale, Eagle Point, Trail, Medford, Wolf Creek, Azalea, Murphy, Shade Cove, Central Point, Grants Pass, White City, Gold Hills
Nearest Tackle Shop: Rogue Fly Shop LLC, The Fishin Hole Fly Shop, Bradbury's Gun-N-Tackle, Jefferson Rod Company, Cascade Crest Tools, Rogue Valley Anglers Fly Fishing Shop and Guide Service, Pat's Hand Tied Flies, Living Rubber Co., The Ashland Fly Shop
---
Diamond Lake
---
John Diamond was among the first settlers in this area.https://www.cascadecrest.com/
The lake was named after him.
It is on 3000 acres and harbors lots of trout.
Its huge trout population is what led to the high harvest limits for the rainbows.
The Oregon Department of Fish and Wildlife stocks the lake with thousands of rainbow trout from fingerlings to trophy sizes.
The department is working effortlessly to counter the tui chub and other invasive species.
Because of this, they stocked the lake with brown and sterile tiger trout.
These fish are ravenous and will not spare your Clouser minnows and sparkle minnows.
If you have tandem rigs, you can throw them too.
More flies that will do magic here are damselfly nymphs, Copper John, and wooly buggers.
---
Season: All-year-round fishery
Main Species: Rainbow trout, sterile tiger trout, brook trout
Fly Pattern: Copper John, wooly buggers, damselfly nymphs, Clouser minnows, sparkle minnows, tandem rigs, callibaetis mayflies other baitfish patterns
Nearest Town: Roseburg, Central Point, Klamath Falls, Medford, Altamont, Bend, Ashland, Springfield, Eugene, Grants Pass, Redmond, Lebanon, Coos Bay, North Bend, Corvallis
---
Other Prime Fly Fishing Spots in the Beaver State
---
Fall River is among Deschutes River's tributaries and attracts the best fly fishing prospects in spring.
Fly fishing is only allowed on 8 miles of this river and you can catch brown, brook, and rainbow trout.
Fall River Campground is among the best places to access the river from. Have a 3-weight fly rod and BWOs for it.
Fishing from a boat gives the best of the Crane Prairie Reservoir. As you boat fish, it is easy to locate smaller creeks where trout hide especially in summer when the waters are warmer.
Lake Paulina has deep waters that are home for brown and rainbow trout.
The depths go to 250 feet. You can opt to boat fish, shore fish, or wade.
Bend city is the nearest access point to this lake.
The fish here thrive to trophy size.
East Lake is an ancient lake that allows for boat fishing or wading. Brown trout and lunker rainbow are the commonest species lurking in this lake.
The East Lake Campground is one of the best access points and a good place to launch your boat.
Large streamers work well here in the drop-offs.
If you can come here during the callibaetis and chironomid hatches, the better for you.
You can't compare the Upper Deschutes River to its lower. Head here if you intend to fish in the cooler months.
Its surrounding landscapes and nature are eclectic giving you the calmness that you require as you wet your lines.
The first twelve miles of this river is in a remote area. Underwater structures are hiding places for brookies and elk hair caddis will be your best bet for such situations.
Large browns and avid rainbows are more beneath the Sheep's Bridge. Carry more parachute Adams, pheasant tails, and zebra midges to this river.
The Lower Deschutes in Central Oregon is a blue ribbon fishery for trout and steelhead.
It is surrounded by gorgeous landscapes and the trout here battle like they have nothing to lose.
In summer, steelhead fishing is more fascinating.
Trout fishing will be the best in the Middle Fork of the Willamette River because of the less pressure compared to what you experience on the McKenzie.
The Wood River is 18 miles long and considered a spring creek.
It is home to brown trout and migratory redband trout.
Have a low-profile boat to fish this river as most sections are on private property.
Visit this place to fish during the midge, caddis, damselfly, and mayfly hatches as they are prolific.
Imitations of these in juvenile and adult versions will not disappoint.
Have more large beetles and terrestrials too.
Northeastern Oregon is where you find the John Day River-a Columbia River tributary.
You can hunt smallmouth bass in summer.
These friends are voracious and can battle you stiffly if you aren't keen enough.
There is a thrilling steelhead run in winter.
One of Oregon's natural lakes is Hosmer which is strictly a fly fishing only area.
It is 3 feet deep on average but is home to stocked Atlantic salmon and huge brook trout.
Carry damselfly, caddis, and callibaetis flies as they hatch here.
You need to practice and perfect your presentation skills as you can easily spook them if not cautious.
You can enjoy sight fishing in the shallow parts of the lake.
Find your way to the Klamath River with your boat, egg patterns, nymphs, strike indicators, and Spey rod to hook rainbow trout, steelhead, and salmon.
Head to the upper and middle sections for trout in early spring and late summer.
Steelhead are best caught here in winter and fall.
Trophy size trout guard the Williamson River.
While resident fish are in plenty, more come in during summer from Klamath Lake.
The migratory fish can be fished from mid-July. The upper section is wadeable.
However, boat fishing will yield more. Dry fly fishing is the best here but you can try your luck with large streamers too.
Have you been to the Grande Ronde River? It is an all-year-round fishery.
Early summer and late spring offer the best trout fishing opportunities. Summer is best for smallmouth bass beneath Troy.
Winter steelhead runs on this river commence in October.
The Metolius River is fed by springs and water temperatures are at about 48 degrees F throughout.
The stretch between the Bridge 99 to the headwaters is strictly for fly fishing only.
Redband trout are in plenty. However, most anglers are attracted to the bull trout that leave Lake Billy Chinook in winter.
The bull trout thrive to over 15 pounds. There are so many access points that you can use to get to this river.
Portland is among the most frequented towns in Oregon.
The Clackamas River flows here and is well fished with big intruder flies, sinking tip lines, Skagit heads, and a Spey rod.
You will enjoy the winter steelhead run. November and May are the peak months for chrome that thrive to over 15 pounds.
If you are targeting bass, crappies, and bluegill, the Fern Ridge Reservoir is somewhere to have in mind.
Kids will have it fun chasing crappies and little nymphs will be the best bet for this.
Underwater structures here hold largemouth bass. They are in plenty near the Coyote Creek.
Waders and anglers who prefer to fish from the shore can try the Chewaucan River. It is home to local brown trout.
There are a few sections that are closed to the public. Be careful not to break any rules.
Owyhee River offers excellent opportunities for anglers who enjoy solaces. Oregon prides itself in it as one of the cold water trout fisheries.
Trout here grow to over 30 inches and mid-April to October are the peak months here.
Columbia River is famous for its steelhead and salmon runs even though they have reduced recently.
Fall anglers often target chinook. Spey or single rods are the best bets on the Columbia. The results are longer casts, longer presentations, and unmatched catches.
Salmon River is a 34-mile river that homes salmon. In the fall, the chinook runs are fantastic.
More anglers turn out for the winter steelhead runs. The lower section of the river has plenty of access points to this river.
The Siletz is an all-year-round fishery and is an excellent place to come in the fall for the chinook run.
Mid-fall sometimes comes with Coho runs. There are wild and hatchery salmon in this river so anglers need to be cautious enough and ensure that they release any clipped finned fish.
Umatilla River has seen restoration from what it was previously to its current state. Chinook and Coho runs attract anglers from all places to try and hook a few in the fall.
The lower stretches of the river harbor more salmon. Winter fishing here is mainly for steelhead.
The Sandy River is angler friendly and very fishable. It is an urban river and is home to Coho and chinook.
Fall is the best time to try your luck here regardless of your skill level.
The Nestucca River is less known and lightly fished. Chinook salmon are abundant from mid-September to December.
If visiting in the early season, fish closer to the Tillamook Bay. Chinook head upstream when winter sets in as fishing here will be excellent at this time.
---
Tips for Successful Fly Fishing in Oregon
---
If you are targeting trout, most areas fish well with a 9-foot 6-weight rod.
You should carry fluorocarbon tippets and tapered leaders because of the crystal-clear conditions and heavy pressure that most anglers face.
For big rivers, use an 11-foot 7-weight Spey rod on a large arbor reel.
There is no limit on the flies that you should carry to Oregon.
However, be up to date with the hatches happening in the areas that you'd like to visit so that you can select their imitations and other flies that match those hatches.
Fly fishers looking to catch salmon, steelhead, and sturgeon require a Combined Angling Tag which you can get alongside your fishing license.
Anyone who is 12 years and above, whether a resident or non-resident and needs to fish any waterway in Oregon MUST have a valid fly fishing license.
There are fly fishing zones and strictly catch and release areas on some waterways.
You need to be aware of such points and other fly fishing regulations of the area that you intend to visit to avoid being in trouble with the authorities and private property owners.
---
FAQ's – Questions on Fishing in Oregon
---
Q) Which Salmon species are native to Oregon?
A) Of the five salmon found in Pacific Northwest, chinook, Coho, and dog salmon are native to this state.
Q) Which fish species can you catch in Willamette?
A) Fish in Willamette include American shad, catfish, walleye, crappies, largemouth bass, smallmouth bass, sturgeon, cutthroat, rainbows, and steelhead.
Q) Can you use corn when chumming?
A) In Oregon, it is forbidden to use corn for chumming.
Q) Can I fish at night in Oregon?
A) You can fish at night here if the area you are fishing in allows for this.
Q) Can you use a barbed hook to fish sturgeon here?
A) No, you can only use a barbless single hook if targeting sturgeon in Oregon.
---
Wrap Up on the Best Fly Fishing in Oregon
The breathtaking sights, diverse fly fishing, and welcoming nature of the locals here make angling something to look forward to anytime you visit Oregon.
We believe that sharing is caring and that is why we have put up this guide to aid you in making up your mind.
This state has it all and you will never regret a visit to the mountains, coast, or freestone streams.
As you plan your trip, ensure that you pack smart to avoid awful experiences or going outside your budget when in Oregon.
Our buyer's guide is informative to help you in deciding and ordering the best tackle gear for your angling expedition.
We anticipate hearing from you. Share with us the areas that you have fished in Oregon.
Let us know what you packed, the species you caught, and your overall experience in the Beaver state.
Also, if there are more locations that we didn't mention, share in the comment section.
You never know if another reader will be moved to visit your recommendations.