Disclosure:
Just to be open and honest the buttons and links you click on in the website will in most cases take you to another website where you can purchase the products I am reviewing. As an Amazon Associate I earn from qualifying purchases.
February 17, 2022
Best Fly Fishing in Idaho – the Cutthroat Trout State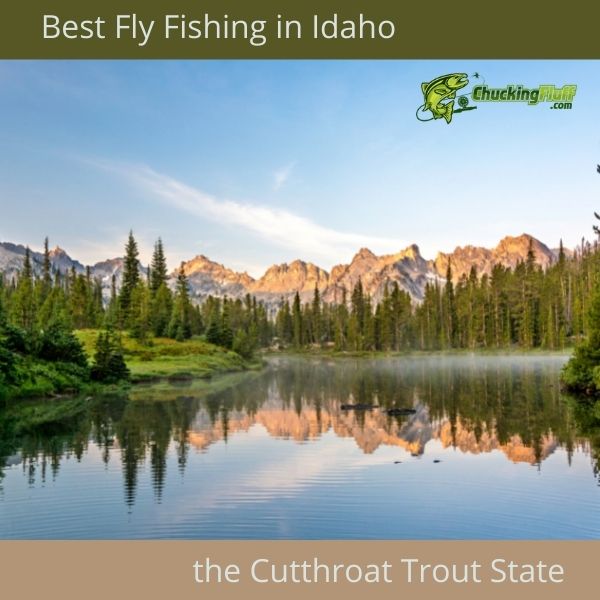 Idaho is famous for its all-year-round adventurous life. Especially with outdoor activities, naturally, the state has plenty to offer.
Fly fishing is among them and in our findings, the sport is gaining popularity at a faster rate. It is becoming the new bird watching.
When spring sets in, what most residents and non-residents have in mind is the blue ribbon waterways with plenty of angling opportunities.
There isn't a bad fly fishing spot in this state.
If you had an awful experience in the past, you might have been here in bad timing or packed the wrong tackle for your spot.
When it comes to Western Fly Fishing, Idaho is a frontier. Almost 5/8 of land in this state is owned by the government.
This means that land conservation and protection is assured.
The remaining part is fishable and the water access laws allow fishermen to wet their lines while not going beyond the high-water mark.
Idaho was once a haven for cutthroat in the past and until now, is considered among the best dry fly fisheries worldwide.
There have been introductions of new species like the brook, rainbow trout and more. Idaho is working effortlessly to protect its water bodies and the species in them.
There are strict laws controlling man-made activities and mining in these waters.
Also, it is countering the spread of non-native invasive species by ensuring that biosecurity is at its best.
The state is very large with numerous exciting fisheries and picking a handful of the best is difficult.
About 40% of Idaho is a national forest. This is roughly 20.4 million acres that host creek, streams, rivers, and lakes.
Some of its first explorers over 200 years ago were Lewis and Clark.
We have put together a few common areas, several that are lightly fished, and some that are unheard of even by residents.
If you'd like to escape the crowds, meditate, and enjoy the beautiful scenery, you are in luck so let's discuss the best fly fishing in Idaho.
---
Silver Creek Fly Fishing in Idaho
---
Silver Creek is close to the Sun Valley and harbors large fish. The hatches will interest you more.
Usually, fly fishing considering the happening hatches yields more than double-guessing the fly patterns to use.
As this spring creek snakes this region, it has brown and rainbow trout in large numbers. Averagely, fish grow to 15 inches.
Brown trout thrive to more than 9 pounds and are fished here annually.
The mayfly hatch is regular in this creek and is probably what attracts more anglers.
These flies begin to be active in the day and is a great time for fish to rise to the surface to feed.
Both fingerlings and large fish can be spotted above the water.
The forage here allows for excellent sustainability giving the fisherman a chance to enjoy their time here.
Silver Creek has numerous access points. You need to be keen as you approach the west of Picabo.
Around this area is a fly fishing only section that is managed by the Nature Conservancy. Wading is possible.
However, the best proceeds are when fishing from a boat. You can commence at Kilpatrick Bridge.
As you plan your adventures here, remember that there are private lands along the creek.
---
---
Season: Depending on the area-whether preserve or non-preserve. Winter is closed though open in a few areas, spring, summer, fall
Main Species: Wild brooks, rainbow, brown trout
Fly Patterns: BWOs, midges, terrestrials, scuds
Nearest Towns: Picabo, Gannet
Nearest Tackle Shops: Picabo Angler
---
Henrys Lake Fly Fishing in Idaho
---
Henrys Lake is located at Henrys Fork's headwaters and boasts excellent Stillwater fishing opportunities in the country.
The lake lies on more than 600 acres though it is shallow. Shallowness leads to a diversity of flora thriving at the bottom which creates the best habitat for sculpins, baitfish, and leeches.
The fish and game department stocks it with plenty of cutthroats, cutbow, and brook trout.
Anglers catch cutbows of more than 25 inches.
If you are looking to comb a high catch area, Henrys Lake should be your target.
As you wet your lines, the pelicans, herons, and swans keep you company.
Despite being surrounded by plenty of private water, the lake has some great access points.
You can come in through the Henrys Lake State Park that offers a boat ramp, and other outdoor activities.
You will enjoy more on a canoe than when fishing from the shore.
---
---
---
Teton River Fly Fishing in Idaho
---
Eastern Idaho is home to Teton River which is a world-class fishery.
Blending this with gorgeous scenery makes your time worth it here.
It is outside Victor and flows beneath the beautiful Teton Range.
Teton snakes along the border of Wyoming and Idaho and harbors cutthroat, brook, cutbow, and rainbow trout in large numbers.
The upper sections of this river are meandering making it the best spot for dry fly fishing.
The lower stretches flow in a wild canyon.
This is where the biggest cutthroat hide.
Water in the upper stretches doesn't have fluctuating temperatures.
The hatches here are on a regular basis resulting in healthy aquatic life.
Waders can have a good time on the Teton.
However, if you are looking to achieve the best from this river, fish from a drift boat or paddleboard.
Mellow waters in the river's uppers allow for boat or paddle fishing.
To commence your float, get to the Cache Bridge.
The water in this section experiences less pressure.
---
---
Season: Last weekend of May through October
Main Species: Rainbow, Brook, cutthroat, and cutbow trout
Fly Patterns: Leeches, scuds, Clouser minnows, Coffey's sparkle minnows, and other baitfish patterns
Nearest Towns: Driggs, (Teton Village, Dubois, Jackson, Moose, Kelly, Wilson, and Moran are in Wyoming)
---
Horsethief Reservoir Fly Fishing in Idaho
---
The YMCA and Idaho Fish and Game Department collectively manage the Horsethief Reservoir that homes brown and rainbow trout.
Fish and Game is in charge of the trout fishery while YMCA manages the campground.
Fish here are in huge sizes and the scenery is amazing. In as much as there is no variety in fish here, trout catching is interesting.
Novices will have a good time sharpening their skills and learning new techniques.
Somewhere around 2015, bullheads invaded the waters and they 500-acre lake had to be drained.
Restocking has seen the reservoir thriving with large size fish.
You can catch some that are more than 16 inches. You can fish from a boat but you need to be careful at the no-wake speed zones.
ADA access is available.
---
---
Season: Open all –year-round
Main Species: Rainbow, brown trout
Fly Patterns: Caddis, Baetis, small nymphs, stoneflies, mayflies,
Nearest Towns: Cascades
Nearest Tackle Shops: Tackle Tom's
---
North Fork Coeur d'Alene River Fly Fishing in Idaho
---
Anglers who love solace can head here for a tranquil fly fishing experience.
It is remote and home to Westslope cutthroat.
Accessibility isn't a problem as the Coeur d'Alene River road is near and follows it.
As you drive further, the opportunities get better. The fish here love bugs and are keen at their selection.
To make it right, ensure that your presentation skills are the best.
We recommend carrying a 9-foot leader with a fluorocarbon tippet since the waters are crystal-clear.
Check your drift and ensure that it is the best.
Some anglers after spending some time on this river discover where fish hold.
In this case, you need to cast above the fish and make the right mends so that your fly lands in the right position. Terrestrials will do well here.
---
---
Season: Spring, summer, early fall
Main Species: Westslope cutthroat
Fly Patterns: Black copper Johns, super beetle, terrestrials
Nearest Towns: Kingston, Spokane, Coeur d'Alene
Nearest Tackle Shops: North Fork Coeur d'Alene River, Castaway Fly Fishing Shop, Silver Bow Fly Shop, Black Sheep Sporting Goods, North 40 Outfitters, Fins & Feathers Tackle Shop, Tri-State Outfitters
---
Warm River Fly Fishing in Idaho
---
The Warm River is outside the Yellowstone National Park and is mainly fed by springs.
Not so long, the 26 miles, however, are more than enough to fish in if you are alone.
The best thing about this river is that access is unlimited. Most of the river is within Targhee National Forest.
The canyon section offers the best prospects and to reach here, you have to get to Warm Springs Campground and follow the Warm upstream.
As you walk farther, you have chances of experiencing the best in fly fishing.
This river is well fished with a 9-foot 4 weight fly rod.
Have your favorite terrestrial pattern on it and you will never be disappointed.
For your fly collection, don't miss to pack pheasant tails, hopper dropper rigs, caddis, and BWOs.
---
---
Season: Spring, summer, early fall
Main Species: Wild brook, rainbow, brown, cutthroat trout, stocked rainbow trout
Fly Patterns: Pheasant tails, hopper dropper rigs, caddis, and BWOs.
Nearest Towns: Island Park, Ashton, St. Anthony, Tetonia, Teton, Parker, Newdale
---
Little Wood River Fly Fishing in Idaho
---
The Pioneer Mountains is where the Little Wood River hails from.
The stretch above the reservoir is known to be freestone and offers the best learning opportunities for novice anglers because of the nature of the water.
Right below the reservoir is the desert stretch and boasts bigger fish than in the stretch above the reservoir.
However, fishing here is more difficult and needs amateurs and pro anglers.
However, if you are an angler who is up to the task, you can try your skills here.
Some of the flies that will never be of regrets on this river are streamers, big terrestrials, tailwater midges, and BWOs.
The fish you are targeting will determine the fly you attach.
The high desert has plenty of rainbows and aggressive brownies that are alert and a problem to hook without the right skills.
Summer in this region comes with rattlesnakes.
Be cautious and exercise the necessary protection measures to ensure that you are safe always.
---
---
Season: June, September to October
Main Species: Brook, rainbow, brown trout
Fly Patterns: streamers, big terrestrials, tailwater midges, and BWOs
Nearest Towns: Carey
---
Boise River Fly Fishing in Idaho
---
If you are looking for a variety of fish to catch, check out the Boise River.
It has everything from panfish to trout.
The Sawtooth Mountains is the source of the river's headwaters and is at an elevation of more than 10,000 feet.
As the river leaves its headwaters, it takes three forks. Idaho City forms the confluence of the north and middle fork of this river.
The North Fork runs 50 miles while the middle is 52 miles. After the confluence, the river flows to Aarowrock Reservoir.
The river's south fork flows 101 miles from Smoky and Soldier Mountains in the Sawtooth National Forest.
The South Fork empties in the Aarowrock Reservoir and becomes part of the Aarowrock Dam.
It continues flowing past the dam and adds to the Mores Creek tributary as it snakes through the Lucky Peak Dam and entering the Boise area.
The river in the Boise area has 35 miles set aside for recreation and alternative transportation.
This is where they call it the Boise Greenbelt. It is among the urban fisheries in Idaho.
It boasts immense beauty and masses of people turning up on weekends and holidays.
---
---
Season: Spring, summer, fall, winter
Main Species: Steelhead, catfish, smallmouth bass, largemouth bass, brown trout, chinook salmon, mountain whitefish, rainbow, brown trout
Fly Patterns: Midges, leeches, worms, caddis, dragons, cranes, damsels, crayfish, crawdad, crawfish, sculpins, baitfish, attractors, mayflies, Baetis, BWOs, sulphur, PMDs, emergers, big drakes.
Nearest Towns: Idaho City, Eagle, Boise
Nearest Tackle Shops: TRR Outfitters, Idaho Angler, ANGLERS Fly Shop, Dream Cast Idaho, Southern Idaho Fishing Excursions, Kokanee Tackle,
---
Other Prime Fly Fishing Spots in Idaho
---
We have briefly discussed the Boise River. Its South Fork is home for huge bull and rainbow trout.
The stretch below the Anderson Reservoir is considered a tailwater fishery and the forage here is fantastic.
You are only allowed to use artificial lures and barbless hooks to take. Carry leeches, big terrestrials, BWOs, midges, and San Juan worms.
Hayden Lake sits on 3800 acres and the 40-mile coastline is plenty for various fishing opportunities from largemouth bass to pike and trout.
The government through the fish and game stocks it with kokanee salmon and rainbows regularly hence the generous limits.
Have conehead marabou leeches if hunting salmon.
Try the Salmon River if you are looking for chinook and steelhead.
Winter and spring are the best months for steelhead fishing. Chinook are more active in the fall.
You will not be disappointed with the resident brown trout and smallmouth bass fishing offerings in the summer.
Most anglers fish from a boat when here. However, wading won't be a bad idea.
Pack egg patterns and flashy intruders if you are targeting steelhead.
One of Idaho's freestone rivers is the Big Wood River in the central part of the state.
The fish populations here are healthy.
Thanks to the regulations set in 1992 that have been implemented to date.
Mayfly, caddis, and stonefly hatches happen here. A hopper dropper rig will be your best bet.
However, a pheasant tail, small terrestrials, stimulators, and Bloody Mary will do. Pack a 4 or 5 weight fly rod.
The Clearwater National Forest in northern Idaho is where Kelly Creek is located.
You will catch plenty of cutthroat trout in good sizes.
It is peaceful here and a good place for anglers looking to bond with nature.
You are restricted to catching and releasing only.
Fishing is with artificial flies and the season is productive from spring to fall.
Hagerman Trout Falls are a fantastic location if you have kids and teens who'd like to try their luck with rods and reels.
It is located in the Thousand Springs area and homes crappie, bluegill, bass, and rainbow trout.
The falls have a strategic place for special access docks which can allow the young ones to get onto water safely.
The Swan Valley is where the South Fork of the Snake River is.
Most anglers come here in summer.
There is no road access as the stretch is beneath the Palisades Dam.
Trout are in plenty and fishing from a boat is the only means of enjoying time with your combo. It has small waves and riffles making it easy to fish.
Anglers favorite the Henry's Fork of River Snake and harbor large rainbow and brown trout.
Dry fly fishermen will have lots of fun here.
The scenery is fantastic in the high desert and the gentleness of the river together with the greenery make it the best for hatches in spring, summer, and fall.
However, the best season here is summer.
For the best proceeds fish the stretch from the Riverside take-out to the Island Park Dam.
Accessibility isn't a hindrance to fishing this fork as a highway runs alongside it.
Carry waders if you don't have a boat.
Kelly Creek is in the northern areas of Idaho, particularly in the Clearwater National Forest and has the best cutthroat trout offerings.
It is a catch and release area only. Other regulations that have seen this creek maintain its status is the use of artificial lures and flies only.
It is a place full of solitude and spring, summer, and fall are the best times to visit.
Yellowstone National Park covers parts of Idaho, Montana, and Wyoming.
Each of these states benefits from the fly fishing opportunities that it offers.
The part of the park in Idaho is silent because it is mostly tableland.
This makes you surrounded by mountains once you are here.
There are so many rivers, streams, and ponds to select from.
Be mindful of the wildlife here as you will need to hike to some spots.
Summer and fall are the best months, though spring too is deserving.
Robinson Creek snakes through the Three Rivers Ranch and has its source in the Yellowstone National Park.
Accessibility is excellent and waders will be the luckiest people here. Some sections are private while others lie on public land.
The Hebgen dam led to the formation of Hebgen Lake which has some of the best dry fly fishing opportunities in North America.
Here, you can catch lots of rainbows, browns, and cutthroat trout. Their sizes are between 14 and 18 inches while some surpass this range.
More fantastic spots that you can check out are the Earthquake Lake, Madison River, Gallatin River, Firehole River, Buffalo River, Bitch Creek, Gibbon River, Fall River, Gardner River, Swan Falls Dam, Oakley Reservoir, Lake Cascade, Brownlee Reservoir, Lake Lowell, CJ Striker Reservoir, Mann Creek Reservoir, Payette Lake, and Magic Reservoir among others.
---
Tips for Successful Fly Fishing in Idaho
---
Always confirm the weather conditions. Northern Idaho is common for its snowstorms and a rain jacket is among the gear to pack.
If going to the mountainous areas, even if it is blazing hot in town, the heavens could burst anytime. Weather conditions greatly affect water levels which in turn affects fishing too.
Did we mention that having a plan B is crucial? Sometimes, the year can come with insignificant snow packs and the runoffs can go past July.
You should be prepared to try other rivers. Even with the predictions, you never know what to expect.
Salmonfly hatches are common on the Madison, Henry's Fork, and other waterways in this state.
Don't limit yourself to its imitations. Try other flies as well, you never know which one the fish will love best.
They also should be in great shape and the right colors.
If you aren't an early bird or the late evening bugs worry you more than not having to catch anything, you can be the one guarding the waters in the mid-morning when the water is slightly warm and the underwater bugs are active.
Whether you are a resident or non-residents of 14 years or more and need to fish the waters in Idaho, you must have a valid fishing license.
If you intend to fish salmon and steelhead, you will require a special permit.
Be aware of all the regulations in your areas to fish. Some are catch and release spots, others for fly fishing only, some are on private waters, while others aren't.
Check the fly and lure restrictions, and the bag limits of this to avoid breaking rules.
For your fly fishing combo in case you are just starting your fly fishing journey but need to travel and have fun, a 9-foot 5-weight rod will do well in most rivers and lakes.
---
FAQ's – Questions on Idaho Fly Fishing
---
Q) Can you fish in the night in Idaho?
A) In as much as most of the public parks allow for fishing until dusk only, there are areas that don't limit you to the hours and time that you fish. Just be careful to fish without breaking any rules.
Q) Is it legal to fish using live bait here?
A) If you catch live bullfrogs and crayfish in the water body that you intend to catch other fish in you can use it. Otherwise, you are forbidden from using live bait to catch fish in Idaho.
Q) How many steelheads is one allowed to keep in this state if fishing in the fall?
A) The bag limit for steelhead in the fall is one per day. However, you can only keep a maximum of three.
Q) Which is the best place to fish in Northern Idaho?
A) One of the best places in this region is Lake Coeur d'Alene which is famous for large chinook and kokanee salmon. You can also catch bass, rainbows, and Mackinaw.
Q) When is Priest Lake open for fly fishing?
A) Priest Lake is open for fly fish all year round.
---
Conclusion on the Best Fly Fishing in Idaho
---
The natural beauty, numerous waterways, excellent infrastructure and amenities, and the friendly residents all make up a homely place for any non-resident who intends to have a good time here.
If you happen to stay here longer and can't build impeccable fishing getaways, you must be having a major problem.
Or maybe you could try golf. The choices here at random are pleasing and encourage you to keep exploring as each location has its unique experiences.
As you decide on which ones to start with, pass by our buyer's guide section to select and purchase the best gear to suit all your angling needs in Idaho.
We hope that we have put in our best to compile some of the prime areas that any angler can comb and not regret.
The list doesn't consist of all the areas in Idaho. If you have more that aren't included here, mention them in the comment box.
Also, share with us where you have been to and what your experiences were like.