Disclosure:
Just to be open and honest the buttons and links you click on in the website will in most cases take you to another website where you can purchase the products I am reviewing. As an Amazon Associate I earn from qualifying purchases.
January 13, 2022
Best Fly Fishing in Maine – Pine Tree State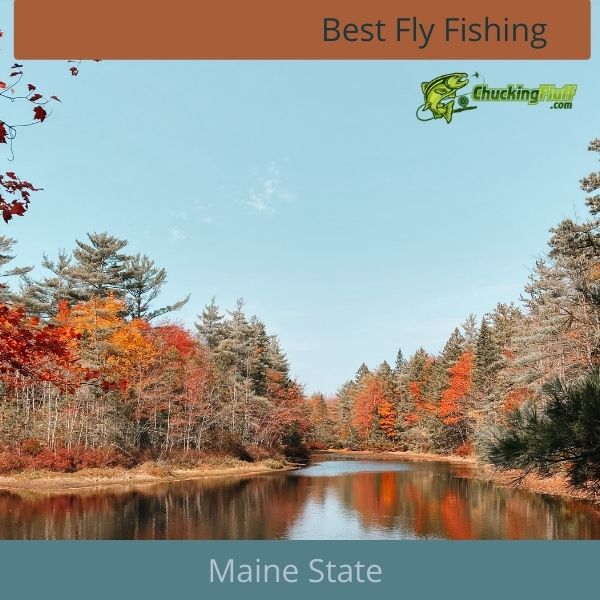 When many who've never been to Maine hear of this state with regards to fishing, what strikes their minds first is the seafood that the ocean is famous for.
Maine has plenty of offerings when it comes to adventures in freshwater.
The state since it is in New England's most northerly and easterly area boasts a picturesque setting.
The dramatic coast with jagged rocks, rolling mountains, and pristine waterways that snake through the thick woodlands of this state all make it a desirable place for any angler to be.
Maine has 35,000 square miles and with the variety it offers, you will be spoilt for choice.
Apart from hoisting sails on your mast, you can don a pair of waders and go after salmonids.
While your favorite fly and a befitting combo are among the basics that you require for an impeccable angling experience, more determinants here are geography, season conditions, and many more.
You can opt to go to Mid-Coast Maine, Southern Maine, Northern Maine, Eastern or Western Maine and you'll never regret it.
As usual, we love to share info on this spot with all of you. Even if given a lifetime to fish Maine, you can't explore every productive riffle and river.
We have put together this guide to educate you on potential areas that you can plan on visiting and what to expect there.
However, feel free to reach the local guides and fly shops in your desired areas for clarity.
---
Presumpscot River
---
The Presumpscot hails from Lake Sebago and drains into the Casco Bay.
There might be very few wild fish or almost none here but the stocked population is huge.
The state works effortlessly to ensure heavy stocking to increase and maintain the high numbers in this river.
Some of the stocked species are landlocked salmon, brook trout, and brown trout.
The river is famous for the many dams its hosts.
While dams guarantee cold water throughout the year, the ones here are shallow-watered with little elevation drop.
During the stocking in May and June is the best season to fish this river well. Some anglers explore it in the winter.
However, the prospects are minimal as the chaps are alert.
If you pack an excellent collection of nymphs, you will not regret that move on the Sump.
For winter, midges, caddis, mayflies, and stoneflies will outperform.
Early spring and fall are best for streamers like muddler minnows and wooly buggers.
---
---
Seasons: Spring, fall, and winter
Main Species: Landlocked salmon, brook trout, and brown trout
Fly Patterns: Midges, caddis, muddler minnows, wooly buggers, mayflies, and stoneflies
Nearest Towns: Falmouth, Portland, Westbrook, Gorham, Windham, Standish
Nearest Tackle Shops: The Tackle Shop, All Points Fly Shop + Outfitter, Trident Fly Fishing, West Marine, Coastal Bait Company, South Port Marine, Saco Bay Tackle Co
---
Crooked River
---
Having its source at Songo Pond, the Crooked River stretches 43 miles into Sebago Lake.
Southern Maine has it as its primary wild trout fishery. We are yet to dig into its history as to why it had to be named Crooked.
However, what matters most is that it has so many spawning habitats.
This means it is lightly stocked to ensure that the landlocked salmon and wild trout here are preserved.
Accessibility isn't a problem and the best time for anglers to hit these waters is in spring and fall.
In early spring, the river experiences runoffs and very high flows. Fishing is also at its best in May and June but as summer sets in, the water warms up and proceeds are low.
The river rises in the fall and the temperatures drop.
Productivity doubles during this time.
Carry attractor dry flies, grey ghost, classic Maine streamers, muddler minnows, caddis, and stoneflies.
---
---
Seasons: Spring, fall
Main Species: Landlocked salmon stocked, and wild trout
Fly Patterns: Midges, grey ghosts, muddler minnows, classic Maine streamers, caddis, attractor dry flies, and stoneflies
Nearest Towns: Casco, Naples, Harrison, Otisfield, Norway, Waterford
Nearest Tackle Shops: Jeff's bait and tackle shop, Gastons Flies, Naples Bait & Tackle, Lovell Bait & Tackle
---
Mousam River
---
Mousam River feeds the ocean in the southern area of Maine.
The lower section of the river is tidal.
Because of this, it has plenty of sea-run trout which are browns and brookies cruising the lower section.
You can also catch shad and stripers here. The upper and middle sections are often stocked with brown and brook trout.
It is legal to fish the Mousam all year. However, it can be nasty fishing this river in the winter.
Unproductivity during this time isn't a surprise. The state stocks this river in April and May and also in the fall season.
The upper and middle sections of this river offer the best fishing opportunities in fall.
As summer sets in and the water warms up, you can easily hook smallmouth bass and more warm water fish.
Baitfish are what stripers feed on in the tidal section of this river.
Carry Ray's Flies and Clouser minnows for these chaps.
Other baitfish patterns like Barnes special and Mickey Finn will lure sea-run trout.
If fishing in the upper sections of the river, use attractor nymphs such as mayflies and prince nymphs.
---
---
Seasons: Spring, fall, summer
Main Species: Shad, stripers, browns, brookies, smallmouth bass, landlocked salmon
Fly Patterns: Ray's Flies, Clouser minnows, Barnes special, Mickey Finn, mayflies, prince nymphs, attractor nymphs, baitfish
Nearest Towns: Acton, Waterboro, Shapleigh, Stanford, Lyman, Alfred, and Kennebunk.
Nearest Tackle Shops: Webhannet River Boat Yard, Eldredge Bros Fly Shop, Luke's Reel Repair
---
Mousam Lake
---
Mousam Lake is an excellent area if you are into lake fishing.
The 900-acre water body is closer to Stanford and homes brookies, brownies, bass, crappies, and white perch.
Averagely, more than 20 fish species lurk in this lake.
Trout are often between 16 and 20 inches.
You can use any technique that you feel will yield here as you cast your flies.
To get the best fishing experiences here, you need to launch a boat to reach more productive spots.
Shore fishing is difficult and if there are any spots on the shores, then they are very few and far from each other.
---
---
Seasons: May to September
Main Species: Bass, Crappie, Pickerel, Trout, white perch, salmon, eel, white sucker, smelt, hornpout, pumpkinseed sunfish, golden shiner, common shiner, redbreast sunfish
Fly Patterns: Downriggers, large minnows, caddis, red quills, mooselook wobblers, Jerry's smelt, gold or orange flash kings, baitfish,
Nearest Towns: Acton, North Shapleigh, Shapleigh, Newfield
Nearest Tackle Shops: Beadle's Bait Tackle & Boats, 3 Ponds Custom Baits, Luke's Reel Repair
---
Royal River
---
The Royal River is famous for being an all-year-round fishery.
It has its source in Auburn and snakes through Yarmouth draining in the Casco Bay.
Sometimes water conditions allow for fishing in winter because of the sea-run brownies.
Some sections are heavily stocked with small size brook trout to make the population in good numbers as it receives anglers throughout the year.
April and May are when brook trout get stocked in the river.
Anglers frequent the Royal in spring and the area is crowded during this time.
Fishing continues to be productive in winter.
The dams here create large pools where fish love to hide and holdover even in the warm summer months.
Deep pools here need streamers especially when warm months approach.
Have more conehead and wooly buggers.
Often you will spot fish rising to the surface to eat small midges or mayflies. Sea-run trout love bright and flashy streamers.
---
---
Seasons: All-year-round
Main Species: Sea-run brown trout, stocked brookies
Fly Patterns: Conehead, wooly buggers, midges, mayflies, bright and flashy streamers
Nearest Towns: Auburn, Gray, Freeport, North Yarmouth, New Gloucester, Yarmouth
Nearest Tackle Shops: Dag's Bait & Sportgoods, Royal River Boat – Boatyard & Boat Repair, Trident Fly Fishing, W A Machine Co, Orvis, Yarmouth Boat Yard
---
St. Georges River
---
St. Georges Lake is where the St. Georges River has its source.
It continues to wind down into the ocean after feeding other ponds in its course.
It is majorly a put and take fishery that receives brook and brown trout occasionally.
Summer months see the lower parts of this river offering some of the best smallmouth bass fishing experiences.
Browns here thrive up to 20 inches and some exceed. Brookies are also in abundance and very healthy.
Stocking takes place in spring, fall and or winter.
Some sections allow for all year fishing.
Public access areas are in plenty.
Holdover brownies are mostly in the private sections of this river because they receive less pressure.
Summer warms the water but the deep troughs remain cooler and are where these brownies hide.
Fall and spring are the most productive seasons on St. Georges.
However, stocking is in October in the Union area which can be fished throughout.
Patterns that will never disappoint in this river are streamers like black-nosed dace and wooly buggers.
Some of the hatches here are midges, mayflies, caddis, and stoneflies.
So, making imitations of these hatches will be ideal.
High waters require larger bright streamers.
The same applies to outlets of ponds on this river.
The area below the Sennebec Pond is an excellent fishing spot.
If the uppers are crowded, hike downstream to the deeper waters.
---
---
Seasons: All-year-round but spring and fall are most productive
Main Species: Brown trout, stocked brookies, smallmouth bass
Fly Patterns: Black-nosed dace, wooly buggers, midges, mayflies, caddis, and stoneflies
Nearest Towns: Warren, Thomaston, Searsmont, Montville
Nearest Tackle Shops: St George Marine, Friendship Trap Co.
---
The Sea-Coast
---
Striper fishing is what most anglers prefer here.
However, adventure is limitless.
Southern Maine is where most anglers come for striped bass.
As they migrate from the east coast, Maine receives schoolies in huge numbers.
Large spawning bass also leave the east coast to this area.
In the river mouths, estuaries, coastal structure, and marshes south of Portland, fish are plentiful.
Striper fishing is also common in Kennebec and Saco Rivers.
Southern Maine yields the best in June and the fall. When summer sets in and the waters are warmer, fish are dormant.
Cooler months bring runs with very active fish.
Striped bass are attracted to Clouser minnows, surf candy, lefty deceiver, flatwing, hollow fly, and crab flies.
---
---
Seasons: June and fall
Main Species: Stripers, schoolies, Shark if you are geared up
Fly Patterns: Clouser minnows, surf candy, lefty deceiver, flatwing, hollow fly, and crab flies.
Nearest Towns: Kennebunkport, Cape Elizabeth, Bath, Damariscotta-Newcastle, Camden, Castine, Stonington-Deer Isle, Bar Harbor, Lubec
---
Kennebec River
---
The Kennebec River is technically more central though most people count it as one of the Western Maine Rivers.
It is Maine's largest rivers and dependable fisheries.
It hails from Moosehead Lake flowing through Augusta, Waterville, Solon, Bingham and draining in the ocean near Popham Beach.
Its dynamics are a tale and the river harbors brook, brown, and rainbow trout, smallmouth bass, striped bass, and landlocked salmon.
The middle section of the river which is the area below Wyman Dam has the best trout fishing offerings than any other part of the Kennebec.
This section is heavily stocked with brookies and brownies in spring.
Fish holdover here and the area is open starting April to October.
The lower section boasts abundant stripers that are best fished in spring, summer, and fall.
This section is open throughout.
You will enjoy using streamers in the middle section when large brownies are holding over.
This section is crowded with rafts and boats when the season is at its peak.
Have a sinking line too. The bug life here is regular and mayflies, caddis, and stoneflies in the nymph and adult stages will do.
Striped bass enjoy ray's flies, Clousers, deceivers, and any baitfish imitation in the lower section.
The Kennebec is very wide and this should be a consideration as you pack your gear.
---
---
Seasons: Spring, summer, fall
Main Species: Brook, brown, and rainbow trout, smallmouth bass, striped bass, and landlocked salmon.
Fly Patterns: Mayflies, caddis, and stoneflies in the nymph and adult stages, ray's flies, Clousers, deceivers, and any baitfish imitation
Nearest Towns: Augusta, Waterville, Bath, Richmond, Madison
Nearest Tackle Shops: Fish River Tackle, Maine Pro-Series, Moores Bait Fish Farm, Sheepscot River Bait, Harvest Time Baits, Phil Harrington Bait, Tightlines Tackle Co
---
Other Prime Fly Fishing Points in Maine
---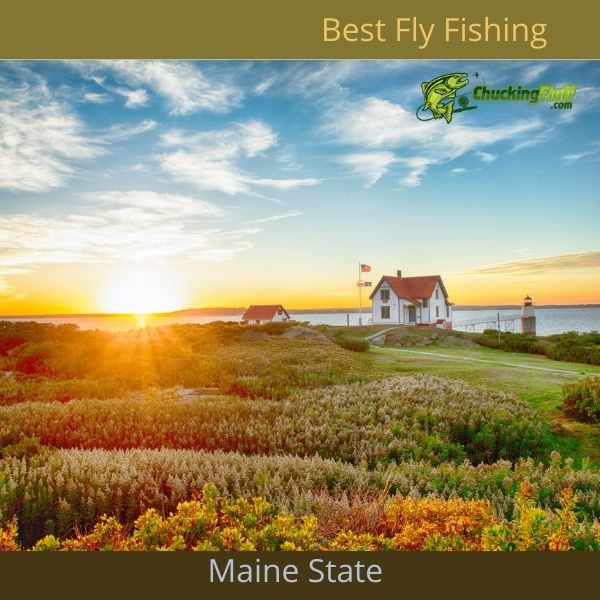 Rapid River near Rangeley town is one of the secret gems in this state.
Though short at 3 miles, it homes plenty of wild brook trout in each mile.
Brookies here are as heavy as 5 pounds and more.
If looking for a remote fishing experience, head here.
Novices will not find it easy in this river though its productive season is from April to September.
Nevinscot River is near Turner town.
It is heavily stocked with brown trout annually.
More species here are smallmouth bass and brook trout.
With some areas having fast-flowing riffles, others are quiet and with shallow spots.
You can opt to wade, fish from the shore or from a boat.
It is an all-year-round fishery though only a catch and release river with a trout daily bag limit of two only.
No live baits are allowed here.
The 350 miles Penobscot River harbors landlocked salmon and one of the major fisheries for this species in Maine and the USA.
There are both shallow and deep sections here.
The same way some stretches are treacherous and need more caution and focus while others are safer to wade in.
Trout here are best fished from April to September. However, if you are looking to catch landlocked salmon, fall and spring are the best times to come here.
Summer months see so many anglers fishing for landlocked salmon.
Roach River is in north-central Maine and hosts wild brookies and plenty of large salmon.
Brook trout are over 10 inches. The Roach is a fly fishing only river hence a catch and release spot as well.
Fishing in the riffles is fun here. Public access is excellent and you can access the river from the logging road which is on the north bank or near the dam.
It is as pleasant as its name. The Pleasant River is in the middle of beautiful scenery and the offerings here beside tranquility, are exciting to any angler.
It is a relatively short stream and is open for fishing from 1st April to 30th November and is strictly a catch and release river.
St. John River is large and has a section in northern Maine and another in Canada.
You can catch landlocked salmon, brookies, and muskies.
Muskies are in plenty here than any other species because of the stocking program.
Fishing regulations on this river from spot to spot. Though musky fishing is best in spring and summer.
However, the water level is a primary determinant. Attractor nymphs, stimulator dries, and large and bright streamers will do.
The Allagash is a member of the Allagash Wilderness Waterways and is a St. John's River's tributary that drains in Canada.
It homes native brookies. The river is productive in spring if targeting trout.
Maine patterns will catch brook trout, grey ghost streamers, stimulator dries, stoneflies, caddis as well won't disappoint.
You can choose to wade or fish from a kayak.
Bordering Canada, St. Croix River is deep and wide and harbors plenty of smallmouth bass.
Summer months are the best times to come here. You can easily fish it from a canoe or bat.
However, the fishing season opens on 1st April to October. A sinking line, a 6 to a 7-weight rod, streamers, poppers, and crayfish should be gear to carry to this place.
Grand Lake Stream empties its waters in the Big Lake and homes brook trout.
Smallmouth bass are more in summer. However, most anglers come here for landlocked salmon which grow into huge sizes.
Fall and spring seasons offer the best here. For warmer months, fishing in the early mornings or late evenings is encouraged.
Some of the flies for success here are stoneflies, caddis, streamers, and pheasant tails.
The state does heavy trout stocking in the Androscoggin River around Bethel and Gilead in spring and fall.
For the best fly fishing experiences, the upper section of the river is the best to comb.
Downstream as the river nears its emptying point, the water is slower and warmer.
It is considered a smallmouth bass fishery when it gets to this section and fishing from canoes is what anglers choose.
Spring and fall fishing for trout is the best.
Wooly buggers, caddis, mayflies, grey ghosts, prince nymphs, rag dollies, and Galloup's peanut envy are the best bets for this river.
The river breakdown of the Magalloway River is excellent offering anglers a wide range of fly fishing opportunities.
Landlocked salmon and brook trout are the main species that anglers target here.
Spring and summer are when the prospects are higher here. However, the lower area which is a tailwater has them throughout the summer.
Winter fishing here is forbidden while some sections are only for catch and release and need barbless hooks.
Egg patterns, caddis, mayflies, blossoms, and drakes will be worth trying here.
The Megunticook River drains in the ocean near Camden and yields huge rainbow trout.
Though you can also hook brookies, largemouth, smallmouth bass, and brownies.
The upper section is slow, shallow, and wide while the lower is small with fast-flowing waters, short riffles, and pocket water.
You can fish the lower section all year while the upper is freezing in winter.
Spring and fall are the peak seasons on the river.
Bass fishing is from a boat or canoe.
Small wild brookies are plenty in the Ducktrap River.
They are between 8 and 10 inches and a 2 to 3-weight fly rod will do well here.
Fishing is best in spring and in late fall. Carry attractor dry flies, small streamers, and nymphs.
---
Tips for Fly Fishing in Maine
---
Fly fishing reports of each area are dynamic.
We advise that you check the latest update of the places that you'd like to fish in to know what fish are doing, what hatches are happening, the water behavior, and general weather conditions.
It is easier to prepare with such relevant information at hand.
Also, just like the fishing reports, regulations differ with areas.
Some go as far as setting different regulations for each section of a river or lake.
Being knowledgeable of all rules and requirements of a spot will put you out of trouble.
Find out the bag limits, open and closing dates, if live baits are applicable, the use of barbless hooks, and other vital aspects.
Maine state rules demand that any one of 16 years and above, whether a resident or non-resident attempting to access the waters in the state MUST have a valid fishing license.
There are licenses for shorter periods if you don't intend to stay long in the state.
---
FAQ's: Questions on Fly Fishing in Maine
---
Q) What is the minimum length limit of trout in Maine?
A) The minimum length limit stated by the wildlife department of Maine is 12 inches.
Q) Is night fishing allowed in this state?
A) As long as the season is open for fishing, you can fish 24 hours unless otherwise stated in the specific waterway regulations.
Q) What is the penalty for fishing without a valid fishing license in Maine?
A) You are to pay a fine of not less than $50 and double the amount of your license fee.
Q) Can you use live bait to fish in Maine?
A) It is illegal to use, take, sell, or possess dead or live bait for fishing inland waters here.
---
Conclusion on the Best Fly Fishing in Maine
---
Hopefully, we have provided resourceful information to lead you to the right path.
If you were asking yourself where to fish in Maine, we have more than enough answers in this article.
Anywhere there is a river draining into a lake, an ocean, or another river, there must be a good place where you can wade, fish from the shore, or fish from a kayak.
Open your eyes or seek the help of a local guide for the best experiences because the fly fishing offerings here are rich.
The angling scene is exciting and diverse with the salmon and steelhead runs to the wild and stocked trout.
Now that you know the best areas to fish, what is left is to grab the right tackle gear and head out.
The former can be daunting if you don't know what to carry.
Check our buyer's guide for the best options that suit your needs and don't bruise your pockets.
We have equipment and gear in all price categories.
Feel free to share with us the waters you have combed, the gear you used, and your overall experience in Maine waterways.
As well, if there are areas we have left out, drop them in the comment section.
We might be more generous to create a part 2 post on the same.