Disclosure:
Just to be open and honest the buttons and links you click on in the website will in most cases take you to another website where you can purchase the products I am reviewing. As an Amazon Associate I earn from qualifying purchases.
February 23, 2023
Where Can you Fly Fish in Yellowstone National Park?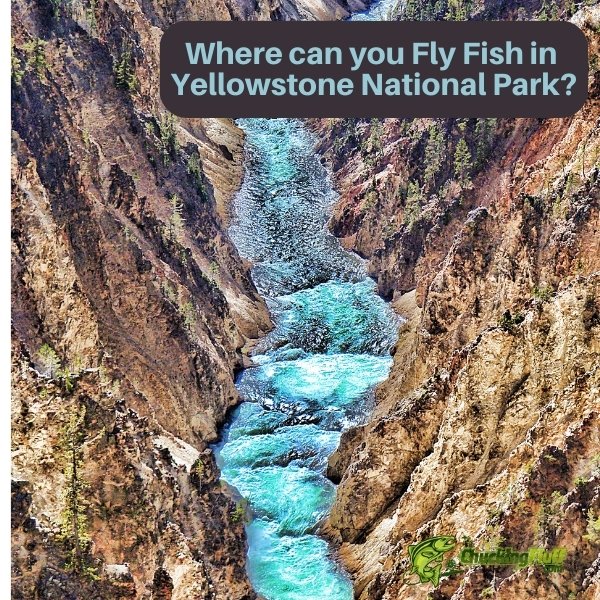 You have probably been scouting online for angling spots, seeking recommendations here and there, watching the Tube to see what's out there, and reading blogs to know where next to go with your combos.
Several options come up, and you are left to decide between enclosed spots and random waters, if you are the hopping type.
So, can you fly fish in Yellowstone National Park?
Of course! In fact, you can do more including scenery viewing and enjoying the solitude that comes with exploring Mother Nature here.
I'll go straight into what you need to know about fishing in Yellowstone National Park, some regulations, permits, and waters to comb.
---
Planning your Angling Trip to Yellowstone National Park
---
There is a set period to fish in the Yellowstone National Park, which commences on the Memorial Day weekend, particularly that Saturday and lasts to the first Sunday in November.
During this season, anglers can cast from dusk to dawn daily, but there might be closed areas because of climatic changes, reduced water levels and fish population.
Closes to the public are temporary, but the locations re-open to anglers when situations get better.
Most fly fishers reveal the best times to cast in the park to be spring and fall.
It doesn't mean that summer has nothing to offer.
We've seen years where August has all waters open for fishing and the yields are spectacular.
If you intend to be here at the onset of the fishing season starting in May, Firehole might be the only waterbody without snow.
Firehole River is a fantastic option for early risers as you wait for mid-June for the Gibbon and Madison to lose snow and add more options to your list.
By July, all rivers are good to go, and you can have plenty to adventure.
---
Fishing Regulations and Restrictions in Yellowstone National Park
---
If fishing from a boat, ensure that the kind you choose is permissible before getting a boat permit which is mandatory.
Some locations allow for shore fishing; hence, the boat isn't necessary when you can cast from the banks.
There are very strict restrictions on the tackle, hook, and lures to carry to YNP.
You are allowed to carry one fly rod only per angler.
Lure choices should be lead-free and artificial.
Besides, they should all be barbless and have only one hook.
Soft-lead weighted, split shots, and weighted jigs are all forbidden in this location.
There are rules and restrictions governing catch-and-release areas, limits, and spots you are forbidden to release species you catch.
Ensure you go through all the rules, regulations, and restrictions of the Yellowstone National Park in general and rivers or lakes you intend to fish.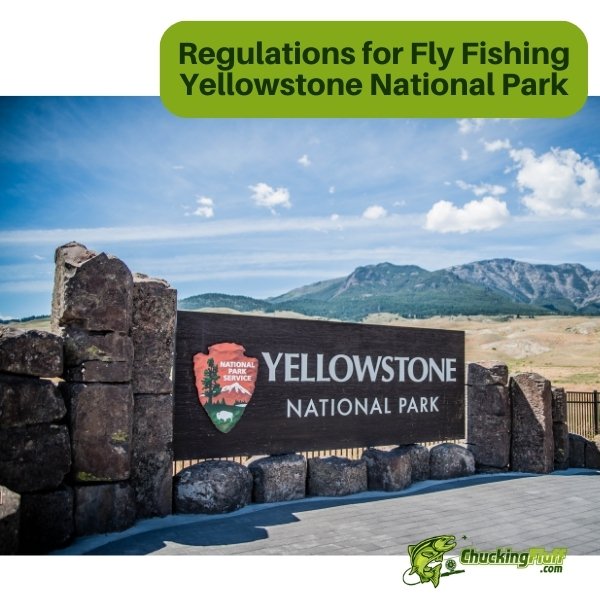 ---
Yellowstone National Park Fishing Permit
---
A fishing permit is MANDATORY if you want to fly fish in Yellowstone National Park as long as you are 16 years or older.
A three-day permit costs $40, $55 for a seven-day permit, and $75 for a season-long permit, which you can buy online through the government's recreation page.
Can you fly fish in Yellowstone National Park with children below this age?
Children of 15 years and below can fly fish with no permit if supervised by an adult with a valid permit, or can get a free permit signed by whoever is responsible for them.
The later allows them to fish without direct supervision.
---
Recommended Fly Fishing Gear for Yellowstone National Park
---
Pro anglers and guides recommend packing a fly rod in the 8-9 feet range and 4-6 weight fly lines.
If casting in the fall, large sized streamers and/or nymphs will be ideal.
Some locations permit wading – you know how well to pack, including chest waders, if adventuring in the mud and deep waters is your thing.
Several hatches occur seasonally in the park during spring, summer, and fall; but the insects vary with the river.
You will spot numerous hatches from mays and stoneflies to midges and caddis.
Terrestrials like hoppers, beetles, and ants are plenty in summer.
July is the peak time for hatches in the Yellowstone National Park.
Here are a few recommended flies to pack or buy when coming here.
Streamers
Wooly buggers of size 8 in black and/or olive
Wet Flies/Nymphs
---
Black zebra midge
Barr's emerger
BH Hare's ear
BH Prince nymph
BH pheasant tail
Rubber leg
Dry Flies
---
Chernobyl ant
Orange stimulator
White Griffith's Gnat
Royal Wulf
Blue wing olive
Elk hair caddis
Adams dry fly
---
Where to Fly Fish in Yellowstone National Park
---
Yellowstone National Park is massive, diverse, and divided into 4 primary sections: Northeast, Northwest, Southeast, and Southwest.
The regions are accessible by loop roads connecting them, and each area has its entrance.
Some gamefish to expect here are brook, brown, and rainbow trout, lake and cutthroat trout, grayling and whitefish.
---
Firehole River
---
Firehole River is the first fly fishing destination in the Yellowstone National Park to be open because of its strategic location southwest of the park.
Snow here is melted as the fishing season opens, and makes a fun place to adventure because its waters come from a small freestone stream and a spring creek.
Geysers emptying into the river warm it up, making the snow to melt faster.
Early spring is the peak for fly fishing in the Firehole River, but early summer offers incredible yields, too.
The scenery is magical and graced with meadows.
Come ready to meet numerous weeds and riffles, with some flowing slowly and others racing.
The Firehole will test your techniques and skills as you hunt for rainbows and brownies.
---
Gibbon River
---
The Gibbon River isn't massive, but has some spots with trophy brown, brook, and rainbow trout.
Anglers catch grayling occasionally.
Some sections of the river run faster since there are tons of pockets in places with rougher waters, making it challenging for the average angler.
Come here if you are equipped with the skills and techniques, as a memorable thrill awaits you.
Check out the river's lower meadows, the upper section, the falls, Elk Park, and Norris Meadows.
---
Lamar River Valley
---
Lamar River Valley is among the areas you can fly fish in the northeast of the Yellowstone National Park.
The river is named from its strategic location sitting in a valley.
It is long with its source in Absaroka Mountains.
The riffles are gentle, and undercut banks and boulders offer great cover for fish.
Yellowstone cutthroat trout are in plenty with massive rainbows and cut-bows in the river's lower reaches.
Terrestrial dry fly fishing yields here in the summer.
---
Yellowstone River
---
The mighty Yellowstone River starts in the park and snakes through the Paradise Valley.
It has two primary tributaries – one from Yount Peak and the other from Thorofare Mountain.
Both meet to create Yellowstone's Thorofare, which empties into the Yellowstone Lake.
The above section is pristine and only accessible with horses, as you'll need to hike 15+ miles.
The area below the lake is awesome to adventure, but some spots are permanently closed.
Fly fish as you head to the confluence of the Gardner and Yellowstone Rivers.
Cast after runoffs from mid-July onwards as you try your luck with stone and salmonflies.
Terrestrial fly fishing is at its peak on the Yellowstone River from July to September.
Hiking further gives you access to gems that experience little to no pressure.
---
Slough Creek
---
Slough Creek is one of the most frequented spots in YNP because of its spectacular scenery, easy access, and the best cutthroat fishing experiences worldwide.
Lower meadows of this creek are the easiest to access because of their proximity to parking areas along the Cooke City Road and the campground.
These waters harbor giant rainbows and cutthroat.
You can access the upper meadows from the trailhead close to the campground.
Brace yourself to hike as these meadows are some minutes from each other.
The first meadow is full with anglers in the peak of summer because it is the closest.
It will take you two hours of trekking to reach the second meadow, which has few to no anglers.
You can agree that this spot isn't for the fainthearted, but whoever said that hard work pays didn't lie.
The best cutthroat angling experience lies here, as these buddies thrive to 18-20+ inches.
Cutthroat here stage tough battles, but will rise to your dry flies with slow motion takes.
Pack grey and green drake mayflies, PMDs, and caddis if fishing in July.
Flying ants, beetles, and hoppers won't disappoint as the days progress.
---
More Fly Fishing Locations in Yellowstone National Park
---
Trout Lake
Pebble Creek
Soda Butte Creek
Gardner River
Solfatara Creek
Nez Perce Creek
Grebe Lake
Grayling Creek
Yellowstone Lake
Snake River
Shoshone Lake
Lewis River
Lewis Lake
Heart Lake
Falls River
DeLacy Creek
Bechler River
---
Watch out for our detailed posts on fly fishing in Wyoming, Montana, and Idaho as it discusses these locations since the park spreads across these states.
---
Last Few Words
---
Can you fly fish in Yellowstone National Park?
You can agree that there are tens of options to adventure with your combos and flies.
Most of the famous trout waters in the world like the Madison, Gallatin, Snake, and Yellowstone Rivers start in the Yellowstone Park.
Stick to the regulation that only allows fly fishers to walk and wade only.
Besides, check rules specific to locations you want to fish to ensure you are within the laws, otherwise, it can be nasty.