Disclosure:
Just to be open and honest the buttons and links you click on in the website will in most cases take you to another website where you can purchase the products I am reviewing. As an Amazon Associate I earn from qualifying purchases.
April 8, 2020
Best Fly Fishing in Utah – The Beehive State
Indeed it is a beehive! Utah homes some of the best angling streams and rivers worldwide. There are a couple of its rivers that top in the list of the most excellent fly fishing streams in North America. To give a sneak peek, River Provo is an all-year-round trout fishery. It hails from Salt Lake City.
Near Park City is Weber River flowing northwards heading to the Ogden metro areas. Here, you can land some good catching of either occasional cutthroat, rainbow trout, or large brown trout. Besides being famous for the big saltwater pool, world-class skiing, and national parks, it has even more to offer to a fisherman.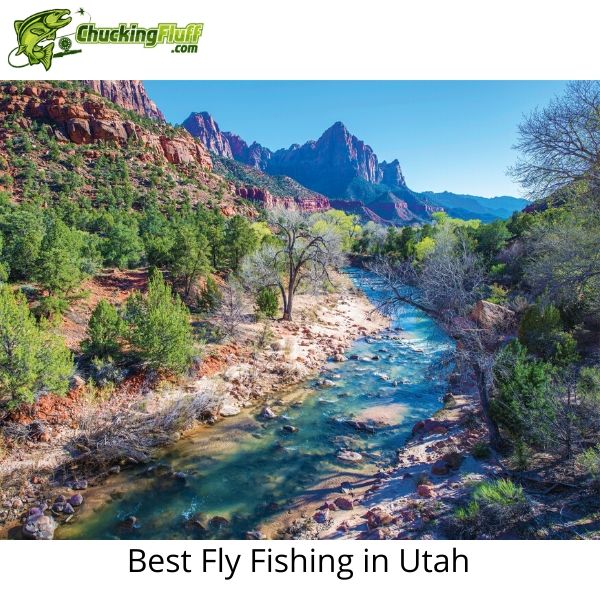 The USA lists this state among the driest in its nation. Well, you won't agree to this unless you've resided here for a while. It baffles many how this state still manages to home some of the best fisheries that the country has. It could be the reason why most people here take more seriousness in fishing than any other water activities.
The alpine lakes, lower-elevation reservoirs, and crystal clear rivers might not be as many as in other states but fishing this beehive isn't just varied but fantastic. Never will a magician give up is secrets.
I doubt if an angler would share his or her favorite fishing hotspots. But do you realize that you can't keep an entire river secret? We decide to drift your imagination to this state and spill our little secrets about some of the target areas to fly fish and be successful in Utah. Maybe you can share a few spots with your favorites.
---
---
Where are the Best Fly Fishing Waters in Utah?
Provo River
Hailing from Salt Lake City, the Provo River is one of the places that you should purpose to visit the next time you are in Utah. The river has three sections: the upper, middle, and lower sections. They are not identical even if having the same waters. Each section is unique and appeals differently to any angler.
Brown trout frequent the middle section and grow to a size of 18 inches and more. The lower section has scenic views and variety with regard to nature. Fish more rainbow and brown trout. Something to note is that access can be difficult. Some areas where you can find access to the sections of these rivers are Canyon Glen Park and Nunns Views Area Parking.
Seasons: Spring, Summer
Main Species: Cutthroat, Rainbow, and Brown Trout
River Sections: Upper, Middle, and Lower
Fly Patterns: Wooly bugger, BWOs, scud, and sowbug nymphs, Parachute Adams, mother shucker, quick sight ant, caddis, elk hair, stimulator, RS2, PMD, Cicada, Henrysville, Green Drake Cripple, Glass bead nymphs, mayflies
Nearest Towns: Lehi, Payson, American Fork, Pleasant Grove, Lindon, Spanish Fork, Springville, Orem
Nearest Tackle Shops: Eddie Robinson's Fly Fishing, Fish Heads Fly Shop, Trout Bum 2 Fly Shop
Guide Services: Simply Fly Fishing Utah, Utah Fly Guides, Drake's Fly Fishing Guide Service
---
---
Weber River
The 125-mile trout blue ribbon strip is a fantastic spot to comb if you around Salt Lake City. Its source is from the beautiful Uinta Mountains. It winds down the mountains through valleys and a few towns. Despite being a big waterway it is quieter and an excellent place for anglers who need it tranquil to pass a day with their combos.
Almost all the areas of the river are full of good size trout that are 16 to 18 inches or thereabout. To find rainbow and cutthroat trout, fish in the mountain areas of the rivers. Brownies, on the other hand, thrive downstream. Wading access is excellent because its depth is reasonable. However, there are a few pools where fish lurk.
Keep off the Weber River in the winter season because the weather conditions here are preparation for disaster for any angler. Summer and spring will be ideal. There are private properties along the river. Ensure to stick to public land only and avoid straying.
Seasons: Spring, Summer
Main Species: Cutthroat, Rainbow, and Brown Trout
Fly Patterns: Hoppers, Prince nymph, Scuds, Ray Charles, Midges(small), Parachute Adams, mother shucker, caddis, elk hair, stimulator, PMD, Cicada, Glass bead nymphs, sowbugs, BWO sprout, mayflies
Nearest Towns: Plain City, Ogden, North Ogden, Marriott-Slaterville, Hooper, Huntsville, Harrisville, Farr West
Nearest Tackle Shops: Anglers Den, Trout Bum 2 Fly Shop, Western Rivers Flyfisher, Fishwest
Guide Service: Park City Anglers, Dream Catchers 
---
---
Fish Lake
Fish Lake is among the largest and deepest lakes in the state offering outstanding fishing opportunities. You won't miss hooking a rainbow trout or yellow perch. If you are on a mission to land huge lake trout, you will be missing a lot if you don't select these waters.
You can choose to wade or fish from the shores as there are many spots for these options. However, the best spots are easy to access via boats. There are supportive and resourceful guides on this lake who can offer help to make your voyage fabulous. Fish Lake is a place that boasts tranquility and if solace while angling is your thing, think here. There are affordable lodges and camping sites closer.
A few pointers for making the best out of your trip to this lake is to have a few streamers and drift them below the water surface. Carry more weighted flies and sinking lines. If you intend to hook monster lake trout, you will find them deeper.
Seasons: Spring, Summer
Main Species: Rainbow, Lake, and Brown Trout, Kokanee Salmon, Tiger Muskie, Splake, Yellow Perch
Fly Patterns: Night Crawlers, Dead Minnow, Sucker Meat
Nearest Towns: Fremont, Loa, Koosharem
Nearest Tackle Shops: Quiet Fly Fisher, Capitol Reef Outfitters
Guide Service: Fremont River Guides
---
---
Green River
Why won't we mention the famous anglers' spot in Utah? Green River starts from Wyoming Mountains and feeds the Colorado River as its biggest tributary. The north sections of this River in Wyoming is worldly known for brow, cutthroat, and rainbow trout.
Angling here is splendid but can be put to a halt in the spring runoff. Ensure to check with local guides here before planning a trip to the Green. The river winds south and into the Flaming Gorge Reservoir. Many residents and visitors say that the area should be a national park and not what the state has it as-a National Recreation Area. Below the dam is where an angler's interest should be though.
The part of the river that flows below the Gorge is the world's famous tailwater fisheries. Cool waters flow here constantly from the dam bringing along clear waters and nutrients for trout living here. If you have fished here, it feels like fishing in one of those sophisticated aquariums.
There are many deep pools fish and the clear waters allow you to visualize how these chaps are cutting the waters. You can catch brown trout that are over 30 inches and rainbow trout as heavy as 10 pounds. The world recognizes this place for the best dry fly fishing opportunities. Make the right timing during the cicada hatches and you won't regret it.
Boat fishing is the most enjoyable and successful means of hooking on a catch. Getting a guide as some river sections are rapid and can get nasty. If you have vat white water experience, you can try going out alone. Otherwise, having a guide will be resourceful. Shore fishing is possible here if boating isn't an option. You will need to hike a little. Summer fishing can be crowded further down the river. So, commencing at the BLM land will be ideal.
Seasons: Spring, Summer, Winter
Main Species: Rainbow, Cut-bow hybrid, and Brown Trout
Fly Patterns: Pheasant tails, Soft Hackles, Gnats, Adams, BWOs, Black or Tan Fat Albert, Dark-colored Chernobyl ants
Nearest Towns: Provo, Springville, Spanish Fork, Payson, Clifton, Grand Junction, Redlands, Price
Nearest Tackle Shops: Green River Fly and Tackle Shop, Western Anglers, Sportsman's Warehouse, Trout Bum 2
Guide Service: Old Moe Guides, Spinner Fall
---
---
Ostler Lake
The Uinta Mountains with peaks up to 12000 feet are scenery to behold. They mightn't be as famous but adventurous will never forget an experience here. Almost all year, the peaks are snowy. When it heats up a little bit, the melting now forms river sources and lakes filled with trout. The lake might look small but what it harbors supersedes your thinking. Brookie, Tiger, and Cutthroat trout. Waters are crystal clear and what your eyes see cruising the shores is marvelous. Tigers here are over 20 inches.
Access to the Lake is the tricky part. It needs a good amount of zeal and dedication to wet your lines in these waters. There are long drives to Christmas Meadows Trailhead at the center of Ashley National Forest. You will have to take on a 6-mile hike to the lake. Most fervent anglers backpack and hike in the night to the fishing hole.
Less than five miles from the beginning of the river, there isn't much difficulty. Steepness commences afterward and even the most experienced guides will need some tact to navigate.
Seasons: Summer, Fall
Main Species: Rainbow, Lake, and Brown Trout, Kokanee Salmon, Tiger Muskie, Splake, Yellow Perch
Fly Patterns: Terrestrials, Parachute Adams, BWOs, Caddis, Low dragonfly, Small white wooly buggers
Nearest Towns: Sandy, Heber City, Salt Lake City, Roy, Dutch John
Nearest Tackle Shops: Fish Tech Outfitters, Anglers Den, Fish Heads Fly Shop, Flaming Gorge Resort
Guide Service: Park City Guides
---
---
Strawberry Reservoir
Strawberry Reservoir boasts still waters and among the prime points to catch trophy trout, cutthroat, rainbow trout, kokanee salmon, and smallmouth bass. Hailing 65 miles from the Salt Lake City, this spectacular point has prolific wild trout as the waters are favorable for spawning and feeding.
Salmon and rainbow are stocked to ensure the fish population is maintained. This translates into awesome experiences for anglers coming here to try their luck. NOTE: the fish limit per day is four. However, practice catch and release more.
Fall or spring are ideal seasons to wet lines in the Strawberry. The water temperatures are cool and fish come to the surface to feed. Your flies might be their favorites. Summer isn't badly off but you can get a guide to help in identifying the cool spots where you can play with your rods.
Seasons: Fall, Spring, and Summer
Main Species: Trophy trout, cutthroat, rainbow trout, kokanee salmon, and smallmouth bass
Fly Patterns: Scuds, Mayflies, Gray and olive, Black, brown, purple, or olive leech, Poppers, Mouse patterns
Nearest Towns: Heber, Wasatch
Nearest Tackle Shops: Fish Heads Fly Shop (Heber City), Four Seasons Fly Fishers, Stonybrook Fly Fishing
---
---
Duchesne River
Snowmelt and runoffs from the Uintas Mountains feed into the Duchesne River. On the river's lower section, rainbow and brown trout naturally reproduce to increase their population and maintain it at high numbers. Wild cutthroat trout thrive in the upper elevations.
There are private properties and other parcels owned by local Indians. The county has however created great access points for fishermen to access the Duchesne waters. NOTE: You are forbidden from parking on the Highway 35 side to find a way into the river. There are public access areas that have been marked for anglers and tourists.
Seasons: July through September
Main Species: Wild Cutthroat, Rainbow, and Brown Trout
Fly Patterns: Terrestrials, Hoppers, Cicadas,
Nearest Towns: Hanna, Randlett, Myton, Tabiona, Duchesne
Nearest Tackle Shops: 4 Seasons Fly Fishers, Basin Sports, Army Navy Outdoor General, Alpine Angling & Roaring Fork Anglers, American Classic Sales
---
---
Ogden River
The upper section of the Ogden is filled with rainbow, cutthroat, and brown trout. What could be a hindrance to fishing here is that plenty of land is privatized. One of the points where you can get access is the Forrest Service Campground. Head down the river for a more eclectic fishing experience. The river's city section is a tailwater fishery. A hotspot in this area is below Pineview Reservoir. In the high elevations, you can hook rainbow, brown trout, carp, smallmouth bass, and Tiger Muskie.
Seasons: Autumn

Main Species: Wild Cutthroat, Rainbow, and Brown Trout, Tailwater 

Fly Patterns: Mealworms, Waxworms.  

Nearest Towns: Weber, Ogden, Marriott- Slaterville, West Haven

Nearest Tackle Shops: Anglers Den, Montgomery Trap & Supply Company
---
---
Other Hotspots to Check Out in Utah
Most of the Beaver River waters are on private land which is limiting. Most of it is owned by BLM. Previously, it would dry in summer and need restocking. Utah DWR gave it more life and turned it into an epic trophy trout stream. You can catch Brown and Beaver trout over 20 inches.
One of the undervalued areas in Utah is the Huntington Creek. Though small, it is a trout stream that any angler touring these sides should check out. You will be surprised at the huge brown trout that thrive here.
Lower Fish Creek, a section of Prince River empties into the Scofield Reservoir near Colton town in central parts of Utah. It is a rarely frequented trout stream.
Lake Powell is another hit. Though populated with boaters, jet skiers, water sportsmen and women, and wakeboarders, fishermen will still have it fun here. All year-round, you can fish striped bass. They rise to the surface in summer and fall. More species here are bluegill, crappie, smallmouth, and largemouth bass.
Uintas backcountry homes the Big Dog Lake. Even in its isolation, the tranquility here allows an angler seeking solace to have the best of it. The arctic grayling love these waters and these chaps give you a challenge getting hold of them.
One of the pre-assured trout fisheries is the Blacksmith Fork River. It homes huge cutthroat and wild brown trout. The size of the stream and depth make it superb for waders. There is great public access to the fishery.
If you are one of those avid anglers who are up for challenges, the Bear River is a great place for thick trout. It homes rainbows, brown, and trophy cutthroat trout in the lower section. Brookies are in the upper end. Dry fly fishing will be productive in the lowers.
Big Cottonwood Canyon Creek has world-known Solitude and Brighton Ski resorts. It has beautiful scenery and waters. You can fish brook and cutthroat trout of about 6 inches to 12 inches. Carry your 3 weight rod for a hook here.
Trophies hail here in the Deer Creek Lake with variety from Colorado River cutthroat, brook, and tiger trout. Nymphs and streamers will not disappoint in these waters. During the hatches and in summers is when you can comfortably use dry flies.
The Lower Barker Reservoir has in history been among the areas to catch huge brook trout in Utah. Weather dynamics, overfishing, and regulation violations made the populations decrease. Use a small float tube to fish potential areas but shore fishing will yield too.
Warm and Stillwater fisheries like the Pineview Reservoir are must-visit spots for perch, crappies, and Tiger Muskie. The tigers are mighty and shore fishing for these buddies might be successful. They are sometimes difficult to hook on a fly rod.
Catfish, walleye, and bass are abundant in the Utah Lake. The USA brags of this lake as one of its best carp fishing points. Try catching these chaps on a rod and share with us your experiences.
Freemont River has large populations of Splake, tiger, rainbow, and wild brown trout. You will be lucky to find other species of fish here coming in from the reservoirs.
Flaming Gorge is Utah's most popular Stillwater fisheries. The cold waters from the Green River bring along rainbow trout, kokanee salmon, smallmouth bass, and Lake Trout. Trout here can go over 30 pounds. The entire fishery is accessible on a boat but shore fishing is possible.
The Strawberry River hosts bear Lake Cutthroat and big brown trout. You will have a whole different experience fishing these waters.

Sevier River's East Fork is the longest river that flows northwards in Utah. Hotspots on this river are the Black Canyon and Kingston Canyon. This fishery homes occasional brookie, rainbows, and brown trout and isn't frequented.
---
Tips for Successful Fly Fishing in Utah
It is crucial to purchase a fishing license as the Utah Department of Natural Resources demands. There are licenses for residents and non-residents. The costs vary with duration. Otherwise fishing without a valid license attracts hefty penalties.
We can't stop insisting that you should check all the relevant fishing regulations of places in Utah that are on your bucket list. For instance, here are the recent of 2019. Be cautious of private property to avoid brushing shoulders with owners and authorities.
Still at the must-consider aspects, always check your locations' fishing reports to be aware of the weather and other events before setting on a trip. You wouldn't want to be a flash flood victim.
If targeting the medium-size streams with trout, having a classic 9ft 5wt will be excellent and yield more than other rods. Small streams will require a 7.5ft 3wt. Streamer throwing in Stillwater will force you to have a 6 weight for yields.
---
FAQ's – Questions about Fly Fishing In Utah
Q) Which is one area with vast opportunities for a fly angler in Utah State?
A) Try the Uintas Mountains as the area homes some of the best lakes, rivers, and streams that you can explore in one visit.
Q) Generally, what are the flies to pack when going to Utah without a specific location in mind?
A) We really wish you'd have a few locations and check with the area regulations. However, leeches, midges, dragons, crowded, caddis, baitfish, attractors, and mayflies are among them. Mix them up for further eclectic experience.
Q) Please hint some of the fish limits in this area.
A) You can fish the entire day, use two fly fishing rods, and have a setline for use. A privilege to youngsters below 12 years is fishing without a license though in the company of an older person with a license.
Q) Where in Utah can you fish the biggest fish?
A) In 2019, Lake Powell was recorded as the lake that harbored the biggest striped bass which was 44.5 inches. The angler was Heather Litke.
Q) Can you use live bait to fish in Utah?
A) Fishing using live bait in Utah is illegal. However, imitations of baitfish will be excellent for lake trout, channel catfish, walleye, bass, and cutthroat.
Q) Can you keep trout in Utah?
A) There are areas that allow like Flaming Gorge. It is important to check your intended area's fishing regulations before deciding to bag a trout.
Q) How much is a fishing license for persons of 13 years?
A) A one-year fishing license is $5.
---
Wrap Up
Utah boasts some of the best fly fishing points in the country and offers vast angling opportunities. Regardless of your expertise level, there is always somewhere in this beehive state that you'll find comfortable. There are so many trout varieties in the cold waters of Utah.
You will be lucky to land other types of fish depending on the season and location you opt to visit. Until now, the Utah Division of Wildlife Resources has named 36 waters as Blue Ribbons in Utah State. Their settings are exquisite and offer fly fishers ample opportunities.
It is very hard to go wrong in this state. Make your timing pretty smart to avoid travel crowds if you are a lover of solace. There are experienced local guides along the rivers and lakes to lend a hand and make your experience even better. Not to forget the vast information on the culture and economics of the region that they can share as you go along.
It will be of great importance to pack rightfully because despite there being bad weather, an angler hardly has this in their vocabulary. There are fly fishing gear, apparel, and equipment that can change things around. Head over to our buyers' guide section and choose the best tackle that you will need for an angling trip to Utah. We have the basics for all anglers within any budget range.
We have leaked some of our secrets on Fly Fishing in Utah. We are a generous bunch and would love to hear from you. Share with us your insights on locations in Utah, the angling experiences you have here and any helpful information in the comment section.