Disclosure:
Just to be open and honest the buttons and links you click on in the website will in most cases take you to another website where you can purchase the products I am reviewing. As an Amazon Associate I earn from qualifying purchases.
June 16, 2020
Best Fly Fishing Places in West Virginia – Mother of States
Take a walk in the angler's paradise of West Virginia and know how it feels to have the first-hand experience with water life.
The lush greenery, fertile lands, beautiful landscapes, and numerous waterways all make it a comfortable place for fishermen to wet their lines and confirm if their flies need some more tying or are perfect for a battle with fish.
The native trout species here is the brook trout. These chaps make anglers flock the streams, rivers, and lakes in the peak seasons.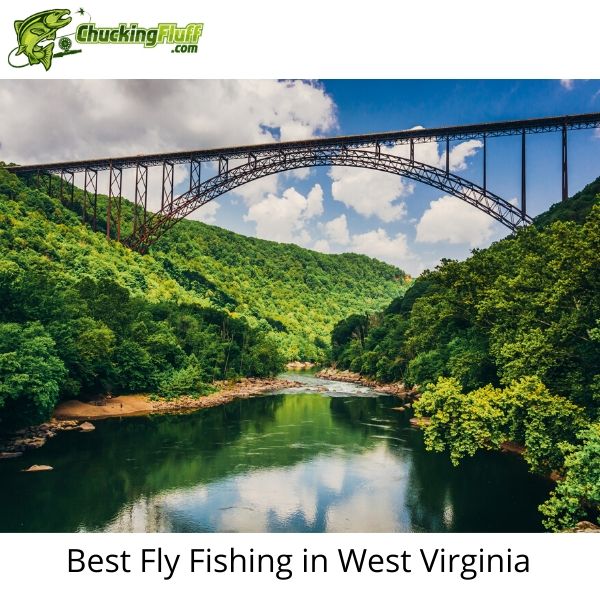 Where are the Best Places to Fly Fish in West Virginia?
The West Virginia Division of Natural Resources has been and is still on a robust stocking project to allow anglers to catch other trout species like the brown, rainbow, and golden rainbow which is a rare species that originates from the Mountain State.
West Virginia has a few sections of waterways that are strictly for catch and release purposes. This appeals to fly rod and recreational anglers as they'd love to return to these places more and more.
Other sections are limited to fly fishermen and women-only while others are general waters. General Waters, in this case, means that fishermen can catch fish throughout the year and make harvests.
Over 210 water bodies have stocking programs throughout the state. Most of them are located in eastern West Virginia in the mountainous area.
The West Virginia Division of Natural Resources has a double duty: it stocks some waters with sizeable trout ready for harvesting.
It supplements natural stock with more fingerlings to boost trout reproduction. As well, it re-introduces trout to the areas that have undergone depletions. Each waterway has its different stocking season.
Ensure to confirm the stocking schedule of the area that you intend to visit before heading there.
We thank the stakeholders of the stocking project for offering lots of fishing opportunities through their endeavors.
Residents should be even more grateful since the distribution around the state ensures that they have closer access to fishing opportunities and mustn't travel far when they don't want to.
The unusual golden trout is a unique species. The discovery of one trout that had golden bands was in the 1950s. It has taken several years since then to have over 500 completely golden trout.
These beauties are still reproducing every year increasing their population.
Golden rainbow trout cruise the waters in West Virginia all-year-round. However, anglers can take advantage of The Goldrush Program every spring.
It is a program encouraging the young generation to fish and celebrate West Virginia's totally golden trout. Certain streams and rivers are stocked with lots of golden rainbow trout in one week during every spring season.
Have time to visit this state and if you catch a tagged trout, you get bragging rights and a T-shirt. See below where you can target next time you are here.
Check out other destination in the USA
---
Elk River West Virginia – Tributary of the Kanawha River
Are you up for a hard bone? Visit the Elk River and test your skills. See if you can beat the challenges the waters and fish here set. The fish are in good sizes and attractive to any angler.
Rainbow and brown trout go past 22 inches. You can hook on an occasional golden trout or native brook trout in this river.
West Virginia Division of Natural Resources and Trout Unlimited have made it its duty to care for this river. If you are a novice, it can be intimidating to throw flies here for the first time. You need not give up if angling interests you.
Pro anglers come here more to sharpen their skills.
There are guides here for hire but you can still be successful without one if you know and understand the basics of fly fishing. Some sections of this waterway are strictly catch and release.
Ensure not to violate any rules and regulations here. Head to the headwaters for large trout and carry a 4 to 6-weight fly rod for the larger trout sections.
Pair it with March Browns and BWOs for more success. Add some Eastern Green Drakes and Little Yellow Stoneflies.
You can access this river from Elk River Railroad Bridge, Whitetaker Falls, and Webster Springs Park.
Seasons: June 16 to March 31. Some sections are closed for a few months to allow bull and cutthroat trout spawning.
Main Species: Occasional golden trout, bull trout, brown trout, bull trout, cutthroat trout
Fly Patterns: BWOs, March Browns, Little Yellowstone Flies, Eastern Green Drakes.
Nearest Towns: Webster Springs, Clay, Elkview, Clendenin, Gassaway, Sutton
Nearest Tackle Shops: Big Musky Outfitters, Inc., Fox Trot Fishing Lake, Jc Sport Sales, Elk River Bait Store
Guide Services:
---
---
North Fork Cherry West Virginia – Tributary of the Gauley River
There is nothing frustrating as a good river without proper access. Forget about your access worries when you think about the North Fork Cherry near Gauley District Ranger Station.
Even with options to hike and fish in the backcountry, the area has plenty of access points. You can park at the nearest parking point and walk less than 40 feet to the waters.
The main species here is stocked trout. You need skilled casts even though the river is easy to access. Do you know why most trout cruise waters that have canopy and tree shades?
The shade allows them to hide and be stress-free. This means that you need to make very accurate casts.
It will be reasonable to carry a 2 to 4-weight fly rod if you are looking to have the best experience here. Dry flies hatch here in plenty and choosing a good one can hook you a 10 to a 12-inch rainbow.
Have some BWOs, March Browns, and Elk Hair Caddis for summer. The river banks are lined with greenery and trees. Be careful as your fly can get tangled up easily. Your roll casts need to be perfect before coming here.
Seasons: Summer
Main Species: Rainbow trout
Fly Patterns: BWOs, March Browns, Elk Hair Caddis
Nearest Towns: Curtin, Coal Siding, Fenwick, Richwood, North Bend
Nearest Tackle Shops: Four Seasons Outfitters
Guide Services:
---
---
Cranberry River West Virginia – Also a Trib of the Gauley River
You should visit the Cranberry River if you are looking for a unique trout fishing experience. Hailing from the furthest southeastern part of Monongahela National Forest, it winds down a terrain that isn't fully accessible by a vehicle.
You need to hike more if you are looking to have time alone away from the crowds. The mountain trout fishing experience here is on another level. You can catch rainbow and brown trout.
This river is full of riffles, pools, and pockets, giving an angler various options to choose from.
Most fishermen and water sportsmen frequent this waterway. The Dogway Fork Section is limited to fly fishermen and women only. It makes the area less populated and when it isn't peak, you can have the waters to yourself in this section.
Yet another place to practice your roll casts before coming to, this place has slightly tight waters.
We recommend a 3to 4-weight fly rod paired with BWOs, March Browns, and terrestrials in early fall and summer. Have Elk Hair Caddis, Ants, Copper Johns, and Pheasant Tails.
Seasons: Spring, summer, fall
Main Species: Brook trout
Fly Patterns: BWOs, March Browns, Elk Hair Caddis, Copper Johns, Ants
Nearest Towns: Nicholas, Webster, Pocahontas
Nearest Tackle Shops: Four Seasons Outfitters
Guide Services:
---
---
Seneca Creek – Northeastern West Virginia
Some years ago, Trout Unlimited listed the Seneca Creek among the Top 100 Trout Streams in the USA. Seneca Creek is in Northeastern West Virginia near the Seneca Rocks. It is 9.5 miles only making it an excellent fly fishing stream.
It drains its waters in the South Branch of River Potomac. Considering being featured among the best trout streams in the continent, it means that it receives huge numbers of anglers each season. As you go further downstream, you will find lightly fished waters.
It is advisable to fish using short casts on these waters. Also, fish heading upstream. It has lots of small stream fish that often get spooked easily. Experts recommend that you cast your flies into the bubbles.
If you are drifting, take your time. Water gets lower here once in a while. Head to the tail end of the pools and start stripping back. Fish like to hide here as they wait for something to feed on.
You can access the waters on the Allegheny Mountains trailhead and US 33 West. On the trailhead off the White Run Road is where parking is available.
Seasons: Spring, summer, fall
Main Species: Brook trout, Rainbow trout
Fly Patterns: Terrestrials, Light Cahill, sulphurs, olives with blue wings, Quill Gordons, Hendrickson
Nearest Towns: Seneca Rocks, Onego, Whitmer
Nearest Tackle Shops: The Gendarme
Guide Services:
---
---
Cheat River's Shavers Fork – Allegheny Mountains West Virginia
Shavers Fork is a lightly fished area and if you are looking to be away from crowds, head here. As you plan to visit the Mountain State, ensure that you sample the waters and see what they harbor. Commence your angling trip at Cheat Bridge.
Proceed downstream to US route 33. The river goes down and is next to the road. So, fish around these points and areas above it. Brown and rainbow trout are stocked here in large numbers.
The forage and insects here are enough to sustain these fish through all their phases of life without depleting. The river has shallow runs, deep pools, and so many rocks. Fall and spring are the best times to fish these waters.
When the summer temperatures shoot and water warms up, the fish hide in the cooler sections making it difficult to catch any. Carry a 4 to a 6-weight fly rod and pair it with BWOs, March Browns, Prince Nymphs, and Pheasant Tails.
Seasons: Spring, fall
Main Species: Brown trout, Rainbow trout
Fly Patterns: BWOs, Pheasant Tails, March Browns, Prince Nymphs
Nearest Towns: Snowshoe, Spruce, Cheat Bridge, Bemis, Bowden, Pleasant Run, Porterwood,
Nearest Tackle Shops: RockyBrook Sinkers, LLC., Mt Top Convenience, Ruby's Bait and Tackle, Middle Mountain Sporting Goods and Mini Mart
Guide Services:
---
Second Creek – Greenbrier River Tributary
West Virginia through its Division of natural resources has a specific section for catch and release fly fishing on the Sound Creek. The creek is in Northeastern West Virginia near the Secondcreek and Ronceverte.
It also has a fly fishing only section making it one of the most perfect spots for anglers. To access this section, go south from Ronceverte using state route 219 to CR 65.
On county road 62, take left to the low water bridge. Begin fishing here. The gravel bottom is tough and you need focus to maintain stability as you fish these waters.
Stocked rainbow and brown trout frequent this creek. They love to feed on mayflies and scuds. So, ensure that you choose imitations of these flies.
You can try your streamers in the areas with slow-moving pools. For the choice of a fly rod, a 4 to 6-weight will not disappoint when here.
Seasons: Spring, fall, winter
Main Species: Stocked Brown trout, Rainbow trout
Fly Patterns: Streamers, Scuds, Mayflies
Nearest Towns: Secondcreek, Ronceverte
Nearest Tackle Shops:
Guide Services:
---
South Branch Potomac River's North Fork
The Potomac isn't your ordinary river. It is home to so many species of fish like channel catfish and smallmouth bass among others. In the North Fork section of the river is where there are trout in abundance.
Brook, brown, rainbow, and golden trout cruise these waters. You can choose to float fish from a drift boat or wade in the waters.
Access all along the river isn't a problem. If you come here with a vehicle, parking space is available throughout. The Seneca Rocks Discovery Centre is an excellent spot to launch your boat. Grant County's Weldon Park also offers the services.
Nymphs and streamers will yield in summer. Trout dislike warm waters. They hide in the deeper pools. Cast with short casts at the front section of the pool. You will land fish of good size in this spot.
If you aren't here for trout or feel like hooking something else, have heavier flies and tippets for smallmouth bass. They are lured by minnow and popper patterns. Carry a 5 to 6-weight fly rod for ore success for both smallmouth bass and trout.
Seasons: Spring, winter, fall
Main Species: Brook trout, Rainbow trout, Golden trout, Brown trout, Channel catfish, Smallmouth bass
Fly Patterns: Terrestrials, Light Cahill, sulphurs, olives with blue wings, Quill Gordons, Hendrickson
Nearest Towns: Seneca Rocks, Petersburg, Cabin
Nearest Tackle Shops: Threeriversguiding, Jay's Bait and Tackle, Stoney Creek Country Store
Guide Services:
---
More Promising Fly Fishing Spots in West Virginia
Check out Pipestem State Park during the season and catch golden rainbows and rainbows in the early seasons. As the season enters its late stages, it is the right time to catch brown and brook trout.
Tygart Lake is one of the places with a mix of beautiful scenery and excellent fly fishing opportunities. It is easy to catch panfish, bass, crappie, and walleye.
You will be more successful if you fish from a boat on this lake. Certain parts of this lake have difficulties hiking. The seasons for bass fishing here are fall, summer, and spring. Spring and fall are the best for walleye.
The 9.3-mile area of the South Branch running parallel with the Smoke Hole Road has great access to this river. It is well-stocked with plenty of sizeable golden, rainbow, brook, and brown trout.
Stay away from the catch and release areas on this river if you'd like to harvest your catch. The catch and release section is a mile from the Pretty Ridge Road. As you fish, the gorgeous Allegheny Mountains keep you company.
Feel free to explore the William River which is a remote backcountry stream hailing from South Pocahontas County and drains in the Gauley River. The wilderness and stunning scenery are worth beholding.
Brown, brook, and rainbow trout guard the waters here. Visit here in the fall to late spring and catch stocked trout. Don't violate any regulations since some areas are strictly catch and release.
Southern West Virginia homes Bluestone River which is one of the country's warm-water fisheries. Rock bass and smallmouth bass are in plenty here. The natural resource Division stocks rainbow trout here in winter.
Fish near Pipestem if you'd like to catch more trout since it is fast-moving and clearer. Floating anglers can fish in the upstream of Bluestone State Park. Be prepared to hike more and carry a 5 to 6 weight rod, large streamers, March Browns, and BWOs.
Relax and fly fish in the Buffalo Fork Lake which is stocked with plenty of trout in the summer. You can fish from the shores or from a boat. Swimmers are forbidden.
If you'd like to fish in the night, feel free here and catch warm-water fish when the season is right. Have a 6-weight rod paired with streamers and large minnows to cast further. Trout here are more than 20 inches.
Cheat River has a section called the Dry Fork that sees heavy brown, brook, and golden trout stocks throughout the year. Stocking is done after two weeks from March to May and once in February.
Some parts of the creek dry up in summer. Bring a small rod, BWOs, March Browns, Wooly buggers, and Pheasant Tails. Ensure your casting and presentation skills are top-notch since line tangle possibilities in the trees and vegetation are very high.
For the purpose of fish conservation and increasing the population, there are strict regulations in the Milligan Creek for fly fishing only and catch and release.
It might be very small but yields more than you can think. Browns and native brook trout are abundant here. The summer season sees this river being stocked with largemouth bass.
Sharpen your casting skills for the small water pockets. Moreover, fish can get spooky. Have a 2 or 3-weight fly rod with a 5x or 6x tippet and tricos, green caddis, BWOs, and March Browns for the best bets.
Thorn Creek has a catch and release only section. You can only fish during the day and shouldn't use any live lures. You are forbidden from using live lures. Keeping trout is a NO and should return them in the water immediately after catching any.
Do you have kids or teens you need to teach fly fishing, West Virginia's Backwater River offers a relatively easy experience for people of this age and novices too.
Upstream of the Backwater Falls has large sections stocked with brook, brown, rainbow, and golden rainbow trout. You can harvest fish here.
Reservoir Tailwater Areas like Stonewall Jackson Lake, Summersville Lake, and Sutton Lake have dams and you can catch brown, brook, rainbow, and golden rainbow trout below them.
It is easier for novice anglers to access big waters in the tailwater areas.
Greenbrier River is uncommon to many residents and non-residents of West Virginia. A section from Cass Scenic Railroad as you follow the rail trail for a few miles is usually stocked with brook, brown, and golden rainbow trout. Accessibility isn't a problem here.
---
Tips for Successful Fly Fishing in West Virginia
Before anything, you need a valid fishing license for anyone of 15 years and above. You also need a trout stamp whether you are a resident or non-resident.
Depending on your fishing needs and times, you can choose to purchase an annual, lifetime or a one-day license.
You will not need a fishing license in West Virginia if you are below 15 years, are totally blind, an active member of the military but on leave, or a resident who is 65 years and above.
Remember to read and remember the fishing regulations of the areas that you intend to explore. This will avoid being in trouble with authorities.
Your West Virginia fly box should have dry flies, nymphs, and streamers. A few are Eastern Green drake, little winter stonefly, blue-wing olive, pheasant tails, hare's ear, and caddis. Have a long leader for streamer fishing when at Shavers Fork.
If you intend to catch local trout, anything around 8.5 feet and 5-weight will do. Pair it with a 5x tippet and 9-foot leader. You can upsize or downsize according to your wishes.
For more success in the cool mountain rivers and streams, you will need to carry good-quality waders to fish from inside the water.
If fishing in slower-moving waters, carry your streamers. For late summer and early fall fishing, terrestrial fly patterns will not disappoint. Just like the march brown and BWO patterns will be effective dry fly options.
Be careful and ensure to sharpen your casting skills when going to areas with overhanging vegetation and canopies surrounding the waterways. Lines get tangled up very easily.
---
FAQ's – Questions on Fly Fishing in West Virginia
Q) What are the fishing limits for West Virginia?
A) Fishing limits will depend on the bag and daily limit of a specific area and the type of fish. You are limited to catching and keeping up to 4 striped bass and 2 Northern Pike. However, the trout creel limit here is 6.
Q) Is a trout stamp inclusive of the fishing license fee?
A) No. Residents must pay a separate trout stamp fee of $10 and non-residents $16. This has to be after paying your fishing license.
Q) How much is an annual fishing license for a resident in West Virginia?
A) A resident annual fishing license costs $19.
Q) Can I still fish even if I don't intend to stay in the state for a week or a month?
A) Yes, you can purchase a one-day fishing license at $3 if you won't be staying long in West Virginia.
Q) Can you fish at night in this state?
A) This will depend on the area regulations. Some areas forbid fishing in the night.
---
Wrap Up to the Best Places to Fly Fish in West Virginia
Hats off to the West Virginia Division of Natural Resources, Trout Unlimited, and other departments working tirelessly to ensure that all anglers coming to sample the waterways in this state have something to hook on.
Releasing over 1.2 million trout in nearly 200 water bodies in the whole state, you can't miss a spot to wet your lines anywhere anytime.
While some water sections pass through private property it is vital to be courteous when allowed to access these areas.
Most areas in West Virginia have strict or closed sections. It is crucial to adhere to all the regulations to avoid being banned from accessing the area.
Some forbid swimmers, others are for fly fishing only, while others only allow catch and release fishing. Even with the need to follow all rules, the satisfaction levels of your subsequent angling trips will not be the same.
Especially if you enjoy solitude and visit the remote and backcountry waters, you will be looking forward to another trip. West Virginia is rewarding.
Now that you have selected the best spots for your next fishing expedition, head over to our buyer's guide section to see the best gear and equipment that you can purchase for your time to be worthy in West Virginia.
We haven't exhausted all the spots. Share with us those you have fished and aren't in the article. Let us know your experiences in this state, what tackle you carried, and the fish you caught. It is never a waste of time in West Virginia!
Check out other destination in the USA