Disclosure:
Just to be open and honest the buttons and links you click on in the website will in most cases take you to another website where you can purchase the products I am reviewing. As an Amazon Associate I earn from qualifying purchases.
July 22, 2022
Best Fly Fishing in Arkansas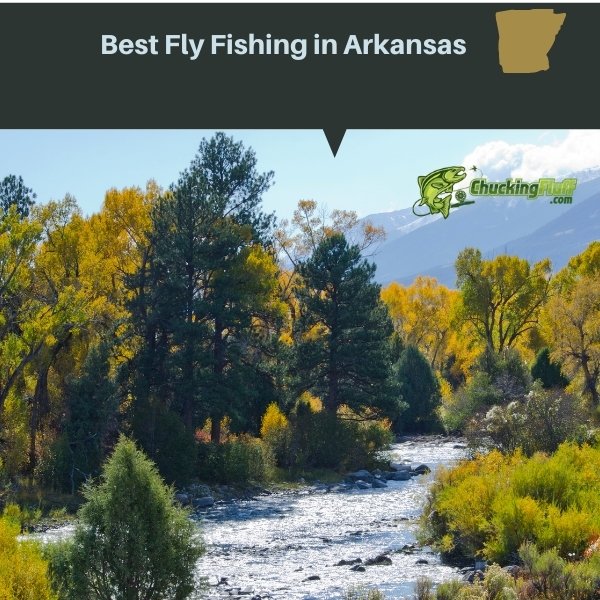 Arkansas anglers are among the luckiest because they have famous fly fishing waters nearer.
For trout fishing all-year-round, the state boasts legends like the Norfork River, Little Red River, Spring River and the White River among others.
The Little Red River is located in Heber Springs which closer to central Arkansas while the rest are in the northern areas.
As late fall approaches and during the winter season, residents of Conway, Hot Springs, Maumelle, and Little Rock have the privilege of wetting their lines in town.
This is because of the stocking program that is run by the Arkansas Game and Fish Commission in the ponds, local creeks, and lakes.
There are two Tailwaters near the Hot Springs from Little Missouri and Ouachita River in west Arkansas.
Trout stocking here is done in the cooler months.
The largest rivers in Arkansas are Tailwaters. In this case, the water from these rivers is well controlled by the dams in the area and the Army Corp of Engineers.
When considering streams, it is vital to understand how the water gets out of the dams to gauge water safety and other fishing conditions.
You can get this information by speaking to specialists at the local tackle and fly shops.
They are always aware of the water happenings on the rivers including the current hatches.
The majority of anglers in Arkansas wade into the rivers via private or public access.
We like to give brief breakdowns of the best fly fishing areas in different states.
However, for more detailed information, you can reach government websites and consult professionals at the nearest local fly shops.
The commonest trout species caught in Arkansas waterways is rainbow trout.
This is because they are heavily and regularly stocked.
The largest and most coveted trout here is the wild brown trout.
Arkansas is a fantastic angling destination that anyone should purpose to visit.
The offerings are numerous and incredible.
From dry fly, nymphing, soft hackle, and streamer fishing, all these techniques and styles are successful.
The crucial thing is having excellent timing of the season and water conditions.
Do you know that before 1995 Arkansas had been nicknamed The Land of Opportunity?
This, however, was changed by the state legislature to The Natural State.
We applaud this move and feel like it befits the state because of the much the land offers to any angler.
Incredible scenery surrounds you as you wet your lines.
The blend between sparkling rivers and streams, plains, valleys, woodlands, and mountains teems with the fauna to make the feeling amazing.
There is no official state fish in Arkansas but this doesn't mean that there is a shortage of water life to go after.
If you aren't here for the prolific and none native rainbow, brook, brown, cutthroat, and lake trout, you can chase smallmouth, striped, spotted, largemouth, white, yellow, and hybrid striped bass.
The cutthroat trout here is an unusual species which are bright orange under the jaw.
An angler never has trouble spending on the best tackle, and neither do they have issues deciding when to go fly fishing.
The major mind battle is on where to start from. Arkansas has a dizzying selection of waterways that dot the state.
Should you go to the far northwest and sample Beaver Lake or head to the eastern border and meet the Mississippi?
The state boasts lakes sitting on over 600,000 acres and about 9700 miles of rivers and streams.
Let us see the best you can try if you are new to the state or are a resident who'd like to join in the rod and reel life.
---
The Little Red River Arkansas
---
Anglers after discovering that they could have the best of their time on the Little Red River, kept it among themselves.
It is smaller compared to the White and Norfork Rivers.
Since it had been kept a secret, the river receives less pressure which is a good thing for anyone who wants to fish more without having to elbow another angler.
The river is also a beauty that will fascinate you even more.
Greers Ferry National Fish Hatchery is below the dam and releases plenty of water with high oxygen and protein levels.
These together with the forage on the river make the trout here grow into healthy sizes and inches.
If you are making plans of visiting the Little Red for a little fun, you need to be aware of the power generation scheme.
The Greers Ferry Dam staff and the Army Corp of Engineers Little Rock data officials will be the right people to call for further advice.
If the generation scheme results in low water, you can carry light and long leaders for use.
You should take advantage of the low waters since they are excellent for wading.
However, for the best prospects, get a Jon or drift boat to anchor above the runs and holes.
---
---
Seasons: Year-round
Main Species: Wild brown trout, stocked cutthroat and rainbow trout with holdovers, wild and stocked brook trout
Fly Patterns: Midges, wooly buggers, San Juan worms, sowbugs, and other sub-surface flies
Nearest Towns: Little Rock, Heber Springs, Tilly, Scotland, Georgetown, Augusta, Pang burn, Searcy
Nearest Tackle Shops: Ozark Angler, Two Rivers Fly Shop, McLellan's Fly Shop, Dally's Ozark Fly Fisher
Wild Water Fly Fishing San Juan Worm, Wet Nymph Fly Fishing Flies Size 14, Qty. 6
CLASSIC LOOK - Our Wild Water Fly Fishing San Juan Worm is made using the proven fly design that catches fish anywhere.
FISH ANYWHERE, YEAR ROUND - These flies can be fished no matter what time of year, in streams, rivers and lakes. They are a great choice for beginners and experts alike!
GOOD VALUE FOR MONEY - This 6 pack is a great value for money. You get 6 classic san juan worms that will catch fish in many situations.
PERFECT SIZE - Size 14 is perfect for trout, panfish or bass. Can be used on both our fly rods and Tenkara rods.
CUSTOMER SERVICE: Wild Water has English speaking, USA customer service and product support. We design our own products. We fly fish with our own products. We are always happy to answer any questions about your order. We can answer any technical questions about your product or fix any issue you may have from our USA headquarters.
---
White River Arkansas
---
Waders frequented the White River years before 2011 because the water situations were favorable.
However, what most fly fishing waders were worried about is that they often could be interrupted when generators had to be kicked in.
This saw an increase in the water levels by over 10 feet in a very short time. At about 2013, the state began regulating the water temperatures and levels.
The regulations have made this river a tailwater that forces an angler to have a boat to fish better.
You can easily hook on a 20 inch wild brown trout.
A friend who frequents this river recommends that you reach Bull Shoals at the White River State Park which has rental boats of about 20 feet.
They are cheaper here than at Gaston and come with free gas for the entire day.
The boats are few and there usually is a rush for them. Make earlier plans by calling them and making payment prior to your visit.
This and many more are secrets to ensure that you have the best out of your time on the White River.
Also, you can dead drift a few streamers that resemble the threadfin shad.
Do this deeper through the runs.
For your combo, have a 12 to 15-feet 4x leader and a good indicator that can gauge the fly depth.
Drift as you head downstream. Ensure that you are drifting the fly through supposed points.
Do this without the boat doing it first through the runs.
You don't need to cast further for distance.
Your handling techniques are the denominators in this case.
If you have a few buddies, you can have two more join in the boat.
As the two of you fish, one should be manning the motor.
You can opt to swing the streamers deep.
The White River needs a heavy Skagit head on a longer two-hand Spey rod.
Slow down the boat drift to achieve the best fly action.
This allows you to work your flies superbly.
There needs to be proper coordination between the guy manning the motor and the one with the rod.
Know that you will only use one line as you fish per drift.
Most anglers come here in early March.
This is before steelhead begin to migrate to Michigan.
At this time the temperatures in Bull Shoals are cooler.
Shad kill are common here from December through April.
They are here to have time in the warmer waters.
They get lost and hit on the turbines that are propelling to generate heat for the Arkansas residents.
Some of them die, others are stunned or crippled.
This makes it easier to catch these chaps.
At the same time, brown trout are done with their spawning phase and are out to look for what to feed on.
Carry a 9 feet 6 weight rod and a weight-forward floating fly line.
Have your deep nymph combo for a fun time downstream.
The White River is the best place to try your big streamers.
These sizes of flies will lure monster trout and for your hook with the big streamers use a size 6/10 which will stop the numerous small size trout from getting caught.
---
---
Seasons: April to June and December to April
Main Species: Catfish, smallmouth bass, bluegill, rainbow, brown, brook, and cutthroat trout
Fly Patterns: Silver shad, white wooly buggers, midge, and other big streamers
Nearest Towns: Monticello, Stuttgart, Pine Bluff, West Helena, Jacksonville, Little Rock, Forest City
Nearest Tackle Shops: Two Rivers Fly Shop, White River Artisans School, Hurst Fishing Service, Gene's Trout Fishing Resort, Natural State Fly Shop, Beaver Dam Store, Mark's Fly Shop/Spring River Flies and Guides,
---
Norfork River Arkansas
---
There are 5 miles below the Norfork Dam that anglers call their trout paradise.
The water temperatures in this section range between 47 and 54 degrees which is the necessary range for trout to thrive.
The bug activity on top of the surface allows for aqua life sustainability which makes it even fun for anglers.
You can fish cutthroat, brook, brown, and rainbow trout here.
As another tailwater, you need to be aware of the power generation program here and how it runs if you intend to wade.
Boating anglers will have a great tie on the high waters running off.
They also get to the furthest corners where the proceeds are better.
Waders can only wade in the three access areas.
Always confirm the water levels and safety before heading here.
---
---
Seasons: Year-round
Main Species: Rainbow, brown, brook, and cutthroat trout
Fly Patterns: Grey or brown scuds, dark midges, light-gray translucent sowbugs, silver and red minnows, crawfish, sculpins
Nearest Towns: Arkansas, Norfork, Calico Rock, Flippin, Mountain Home, Gassville, Cotter, Elizabeth, Midway, Yellville, Lakeview, Timbo, Bull Shoals, Henderson, Clarkridge, Gamaliel, Summit, Oxford, Melbourne, Marshall, Mountain View
Nearest Tackle Shops: Two Rivers Fly Shop, Gene's Trout Fishing Resort, Natural State Fly Shop, Dally's Ozark Fly Fisher, Lucky You Fishing Guide, Hurst Fishing Service, Mc Lellan's Fly Shop, Ozark Angler, 101 Grocery & Bait, Beaver Dam Store, Woodman's Package
---
Beaver Dam Lake Arkansas
---
The Bull Shoals is more famous than the Beaver Dam to anglers here and beyond.
You will be surprised at the trout sizes that these waters hold.
The water levels had been so unpredictable and in 2011, the government began programs that were to stabilize the water temperatures and water to ensure favorable conditions for fish and anglers.
Most importantly, it was for water safety.
The river is heavily stocked with rainbow trout that later grow into huge sizes.
They are abundant too and inexhaustible even if all anglers in Arkansas were to fish the waters throughout.
There are also brown trout that anglers love to attract using streamers.
On the northern side at Dam Sid Park is where you can find access to this great trout fishery.
The watershed has a beautiful bank that has no hindrances to streamer fly fishermen as they swing their streamers through clear runs downstream.
---
---
Seasons: Year-round
Main Species: Stocked rainbow, wild brown trout
Fly Patterns: Sow bugs, scuds, caddisflies, sculpins, mayflies, midge pupa, larvae, and adults, blue-winged olives, mahogany duns, emergers, articulated streamers
Nearest Towns: Rodgers, Beaver, Eureka Springs, Bella Vista, Lowell, War Eagle, Larue, Springdale, Taos
Nearest Tackle Shops: Beaver Dam Store
---
Dry Run Creek Arkansas
---
Most bloggers will never include fishing spots for children.
I find this very sad since a good number of expert anglers began fishing when they were kids, some pre-teens, and others teens.
Come here with these little buddies so that they can enjoy bug catching.
Thanks to the Creek management, the area is designed for kids below 16 years.
However, they must be in the company of an adult.
Also, anglers with mobility impairment but with valid licenses are allowed here.
Accessing the water in the creek isn't difficult considering the ages and health situation of those allowed to fish here.
You are restricted to catch and release fishing and using artificial flies and lures.
---
---
Seasons: open all year-round
Main Species: Rainbow, brown, and cutthroat trout
Fly Patterns: Wooly buggers, egg patterns, worm patterns, scuds, midges, sowbugs
Nearest Towns: Tyler Township, Norfork
Nearest Tackle Shops: Two Rivers Fly Shop,
---
Other Exciting Spots to Fly Fish in Arkansas
---
Spring River in northern Arkansas is a flourishing trout fishery.
It is near the Missouri border.
There are many walk access spots and 10 miles of excellent waters for angling.
Head to the stretch between Dam 3 and Mammoth Spring.
If you'd like to take a break from river fishing, the Ouachita Lake should be your destination.
Arkansas has it in its list of Diamond Lakes in the state.
Besides the eclectic views, the gin-clear waters and plenty of rainbows will fascinate you more.
A promising section is the areas in the dam and the spillway.
Do you love adventuring in deeper waters?
Find time and head to the Greers Ferry Lake whose proximity is closer to the northern parts of Little Rock and Ozark Foothills.
It receives its water from the Little Red River after its completion in 1964.
All the fish you can catch in the Little Red River also lurk in these waters.
It doesn't receive crowds and the 40,000 acres it sits on are more than enough to fish in.
Another lake fishing opportunity is in the Bull Shoals Lake where lunker are in plenty.
Head downstream of the lake for the best prospects.
It is lightly fished and trout here range between 15 and 20 inches.
However, these are some that exceed this range.
More species to go after are walleye, bass, crappie, brown, and rainbow trout.
Not so far from Rodgers is Beaver Lake. It has a 7-mile section of tailwater for trout fishing.
It is stocked by Arkansas Game and Fish and this has since stabilized the water temperatures and levels.
Sadly, the stocking program led to the killing of warm water fish that existed here and trout were introduced.
Smallmouth bass is a good break for trout anglers.
Head to the Crooked Creek for overwhelming opportunities like these. 75 miles of the watershed is on private property and is a catch and release fishery.
March and October are the best months to be here because the temperatures are above 52 degrees.
You can access the creek from Kelly's Slab Access.
Lake Greeson which is below Narrows Dam is easier to wade in and boats numerous public access points.
It is a tailwater of the famous Little Missouri River and is famous among residents.
At Riverside Picnic Area just below the dam is an excellent spot.
Carry a rod of 2 to 4-weight and enjoy dry fly fishing with Elk hair caddis and Adams.
For nymphs, March Browns and pheasant tails will do.
There is a trout stocking program at Remmel, Carpenter, and Blakely which are dams below Ouachita River.
November to April is the best trout fishing season on this river.
It has good access below the Blakely Dam and you can choose to drift from a boat or wade.
Have a 5-foot 5-weight fly rod and you will have a great time in the winter.
Smallmouth bass are also in plenty in summer.
MacArthur Pond on the Little Rock is another fishery stocked with catfish and trout and fishing in the late evenings will be the best decision.
You can try backcasting thanks to the clear shoreline.
The Caddo River is a whole package blending scenic beauty and excellent bass fishing opportunities.
It is on the western side of Hot Springs. It is a pleasant place to carry kids too for fishing and swimming in the gravel bars.
For this place, a 7 or an 8 weight fly rod will do together with red and white poppers with rubber legs.
Bluegill in the Bear Creek Lake will be excellent to chase. You can wade in the shallow water or fish from the 15-mile shoreline.
You can access the lake from the southeastern side of Marianna. Head to the sloped banks where bluegill breed.
Hamilton Lake is closer to Hot Springs and is a fantastic bass fishery.
If you are looking to catch trout here, you might be disappointed.
The area boasts the best striper fishing opportunities in the state. Some anglers choose to take a break from the Blakely Dam trout fishing and explore this area.
You have to carry a heavier rod and a sinking line for bass fishing.
---
Tips for Successful Fly Fishing in Arkansas – The Natural State
---
There are varied waters in Arkansas.
If you can carry several combos, you are luckier. Otherwise, for light packers, a 9 foot 5 weight versatile fly rod will work perfectly.
The fast action is just what you want for your presentations.
Pair this with a 5 or 6X tippet.
In deeper waters that you can't wade in, carry streamers.
Other flies like minnows, sculpins, leech, terrestrials, sowbugs, wooly buggers, scuds, and caddis will do.
Ensure that you check with the nearest fly shops or data systems of the Tailwaters that you intend to visit to confirm the water levels and temperatures.
Your safety is more important.
Besides a trout fishing license, anyone going trout fishing must present a trout permit whether a resident or non-resident.
For the license, anyone of 16 years and above must apply for one.
Anglers above 65 years should buy a lifetime license which is a one-time purchase.
They also need a lifetime trout permit.
Trout fishing in Arkansas is controlled by specific regulations to ensure the preservation of fisheries and allow each angler to have a fair opportunity to explore the state waters.
There are some watersheds with special regulations.
Be keen to confirm this to avoid violating rules and license suspensions.
---
FAQ's – Questions on Fishing in Arkansas
---
Q) What is the daily bag limit for trout in Arkansas?
A) The daily bag limit is only five trout fish. You can bag a maximum of two brownies and two brookies.
Q) Can one use live bait in the specially regulates waters?
A) No. You are forbidden from using live bait in areas with special fishing regulations. Only artificial lures and flies are allowed.
Q) I love scenting my baits. Can I carry them to this state?
A) You can confirm with the nearest fly shops if this is allowed in the fishery that you'd like to explore. However, scented baits are prohibited in all areas with special regulations.
Q) Can I herd the trout here?
A) No. Herding chumming, confusing, shaking up gravel to attract trout, and using corn are forbidden in Arkansas.
Q) Can I use the same rod for trout and bass fishing?
A) If you are using a heavier rod for trout fishing, it will work for bass fishing too. If you are targeting bass in deeper waters, pair the heavier rod with a sinking line.
---
Wrap Up on the Best Fly Fishing in Arkansas
---
Regardless of where you decide to tour in Arkansas, there are high chances that you closer to one of the state's fisheries that will fascinate you and push you to explore more.
The Natural State is indeed full of Mother Nature's offerings and with regards to angling, we have done our best to put up this guide to help you choose the best that you can comb.
There are options for novices, anglers of all skill levels, kids, the impaired, and those secret gems that no one shares with you.
We are generous enough and feel motivated to always help anglers.
As we continue to hold your hand in this reel and rod journey, we advise that you always pack tactfully to avoid blaming the weather and aspects.
If you can avoid this and we can help, the better. Pass by our buyer's guide section and see what we have and what you can select and purchase for a thrilling experience in the state with opportunities.
We have tackle, gear, and apparel in all price categories and regardless of your budget, you must find something here.
Share with us your fly fishing experiences in Arkansas.
We'd like to know if you have visited any of the mentioned spots.
What did you carry?
What did you catch?
How was the overall experience?
Also, let us know of the fishing spots that you have visited or would like to try out and we haven't included in the list.
We also enjoy learning from you!
Last update on 2023-09-28 / Affiliate links / Images from Amazon Product Advertising API
This product presentation was made with AAWP plugin.