Disclosure:
Just to be open and honest the buttons and links you click on in the website will in most cases take you to another website where you can purchase the products I am reviewing. As an Amazon Associate I earn from qualifying purchases.
January 1, 2022
Best Fly Fishing in Vermont – Green Mountain State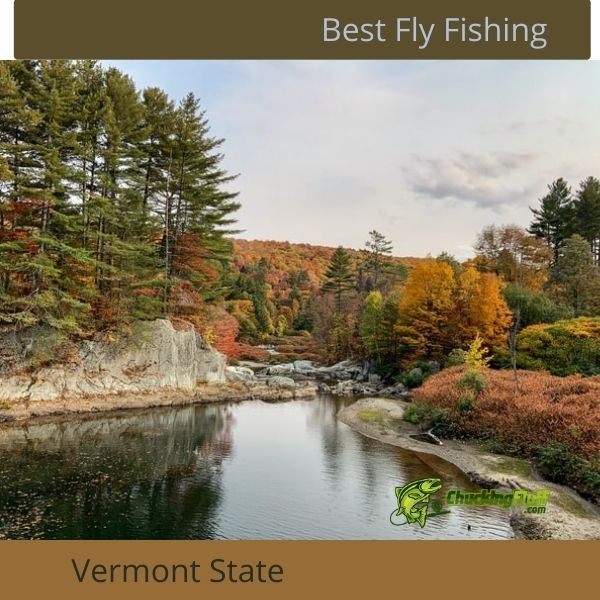 Vermont is among the smallest states in the USA. Sixth smallest in this case with a population of less than a million people.
Judging from the size, it isn't easy to determine if fly fishing is something worth it here.
Small things don't yield small results always.
This is the case of Vermont. For instance, it homes one of the largest freshwater fisheries-Lake Champlain.
The beautiful and most extensive forest-Green Mountain Range is in this small state. Moreover, Vermont is the USA's largest maple syrup producer.
The quaint little towns make the best places for socio-economic interactions so does the rural setting on the other end.
Should we say that the lower population of this state is to the benefit of the angler? Yes.
While anglers enjoy fly fishing with their buddies and meeting new friends in the sport, they don't find crowds on the water attractive and motivating.
Both residents and visitors find fishing in Vermont entertaining compared to other states that already boast larger populations.
The six geographical areas pose as places you can enjoy both sight-seeing and fly fishing as over a thousand waterways snake across this state.
Granite mountains with fast-flowing streams make up the Northeast Highlands.
Lake fishing is a common practice in the Vermont Piedmont which is also known as the Western New England Upland.
The Green Mountains is the heart of Vermont's tourism.
The area boasts plenty of natural resources from granite, slate, talc, and marble.
You can't fish the bevy of rivers in the Vermont Valley in one visit and exhaust the waters.
This valley is home to the Waloomsac and Battenkill rivers.
Champlain Valley hosts Lake Champlain. Taconic Mountains boast beautiful lakes and fast-flowing streams.
Reeling in beauties need you to be in the best spots. So far, you can agree that fly fishing opportunities in Vermont aren't lacking.
We are generous enough to share the best places to fly fish in this state-both popular areas and the secret gems that are lightly fished.
---
White River
---
The 60-mile freestone stretch falls in the list of Vermont's largest rivers. It has so many tributaries from its headwaters to the point it drains.
Wild brown, brook, and rainbow trout cruise this river together with stocked populations of rainbow and brown trout.
You are likely to hook a sizeable salmon as they head to the Connecticut River for spawning.
The offerings here are inexhaustible. What makes it an excellent choice is that it has sections favoring novice anglers and more for amateurs and pro anglers.
So if you are looking to embark on this journey to the expert level, this is where you should spend most of your time.
Like most rivers, this one has three sections. Royalton town is where the first two branches meet.
Brown and rainbow trout are the commonest here. Access to the two branches can be from State Highway 110.
Bethel town is where the third section is and harbors lots of rainbow trout. Access points to this section are on Highway 12A.
There are more access points along State Highway 107 from Stockbridge towards Royalton.
The stretch between these points is the river's deepest and waders will find it tricky here.
Smallmouth bass love to swim to the surface to eat in summer when the water is warm.
There is a fly fishing only section between Linnieville Brook and Cleveland Brook.
You will find it more thrilling to fish here because of the huge population of fish.
For salmon crossing over to Connecticut River and a few living here, a 6 to 8-weight fly rod will do.
If targeting trout and bass a 4 to 5-weight will be okay. Spring is the best time to use your nymphs.
More flies to add to your collection are mayflies, caddis, tricos, BWOs, cahills, sulphur, and Hendrickson.
---
---
---
Mettawee River
---
The Green Mountains are home to River Mettawee which is one of the best trout fisheries in this geographical area.
Vermont hosts only 16 miles of this river while the rest snakes through New York.
A larger part of the stretch flowing in Vermont flows through agricultural land. You will not find plenty of pocket water on this river.
Though riffles are abundant and create pools. Mettawee River has native brooks, wild browns, and rainbow trout.
Residents along the Mettawee River are mostly farmers. This makes accessing it a problem.
However, it isn't a hindrance as you can seek permission from farmers to access the waters.
Exercise courtesy and respect their property as you go about your angling activities.
The upper stream can be accessed via the Lower Hollow Road. There are brides along the state highway 30 that give access to the main river.
Some of the hatches that happen on this river are the caddis, blue-winged olives, tricos, and Isonychia.
It is advisable to know the current hatch and match for replicas to your best.
Have a 3 or 4-weight rod with a light tippet for the ultimate finesse. Watch your shadow and be stealth as you wade in this river.
---
---
---
Battenkill River
---
The Battenkill River is a well-known blue ribbon fishery to both Residents and non-residents as a classic river.
It harbors wild brook and brown trout. It boasts long riffles that create small pools where these chaps hide often taking anglers on a search mission.
Eddies here are in plenty and if wading, take caution because its bottom is soft.
Novices who are kick-starting their journeys will find it very difficult to fish here.
The wild trout here are cunning and it requires utmost perfection and not sloppy presentations to excel on this river.
Private waters are never good news to anglers because of the struggles of accessing the sections for fishing.
That is what happens to a large section of the Battenkill. There are a few public access points. You can fish along the banks or go further to the pools.
The trout frequent calm waters so your chances of landing several in fast-flowing waters are minimal.
Waders hoping to wade in the upper areas of the river should be keen because of the muddy bottoms.
On the lower river, the bottom is rocky and full of gravel. Early May is when the red quill and Hendrickson hatches happen.
Right after the two hatches are March brown, blue-winged olives, and blue quill hatches.
More flies that you can carry are dark midges, black caddis, belly sculpins, and brown sculpins.
A 4 or 5-weight fly rod with very light tippets will do the trick here.
---
---
---
Lamoille River
---
Hailing from Greensboro and flowing 85 miles across Vermont and into Lake Champlain, River Lamoille flaunts brook, brown, and rainbow trout.
You will not miss landlocked salmon if fishing with the right gear for these chaps.
The upper area of the river along Highway 16 is considered a freestone stream and the river begins to widen when it gets below East Hardwick.
There are huge populations of rainbow and brown trout in each mile of the river. Water in the Lamoille warms up in summer so, for successful fishing, cast in its tributaries.
There are large fish in the stretch near Morrisville dam when the waters are cooler.
Landlocked salmon and trout here need a 5 to a 6-weight rod. The season is at its best from mid-May through June. Both nymphs, dry flies, and streamers will yield in this river.
Add pheasant tails, copper johns, prince nymphs, elk hair caddis, parachute Adams, hoppers, zonkers, and wooly buggers to your collection.
---
---
---
Clyde River
---
Do you love tests, experiments, and challenges? If you do, the Clyde River is the best place to be because of its unique fisheries.
Anglers who are improving their skills can practice new styles and techniques on this river as it boasts versatility when it comes to fishing opportunities.
The river's uppers harbor brook and brown trout while the mid-section around East Charlestown has salmon and rainbows cruising the waters.
The third section which is the lower part has plenty of rainbows and salmon. You will enjoy streamer fishing for salmon as they spawn.
Since the number of tackle gear you carry to the Clyde River is a consideration before accessing the waters, you can fish trout on one day and salmon the next day to avoid breaking fishery regulations.
Each dam, pond, and tributary on the Clyde offers different fishing experiences.
The area from Clyde Pond to Lake Memphremagog is excellent for salmon fishing. From Island Ponds heading downstream, lots of browns and brooks guard the section.
Lighter rods will catch more trout in the Clyde while heavier 6 to 8-weight rods will work for salmon.
You have to be smart while choosing your flies. Golden drakes, march browns, little black caddis, Quill Gordons, and Hendricksons are excellent to pair with lighter rods for trout.
For you to catch salmon successfully, flies that imitate the smelt will do.
However, bigger streamers can catch both trout and salmon here.
---
---
---
Otter Creeks
---
Vermont's longest river is the Otter Creek. It is a 112-mile stretch with its source from Green Mountain National Park and feeds Lake Champlain.
This creek is as experimental as the Clyde River. You can fish it in many ways and not feel bored. Neither will you miss a catch.
However, what determines this is the section of the river that you settle on. Brook trout are in plenty in the upper sections of this river.
Otter Creek has so many tributaries that are great for fishing trout.
For instance, you can't miss a bet on the Neshobe, Middlebury, and New Haven Rivers. Your challenges and exploration commence at the river's lower section.
Thanks to its diversity, there are tributaries with warm water and others with cold water. More species that lurk in this creek are carp, pike, and bass.
The warm temperatures in the lower creek make it ideal for all-year-round fishing.
The lower section deserves a 1x tippet while the upper areas a 5x tippet. Pike and trout can be caught on a 6-weight fly rod.
Some of the flies that you shouldn't miss in your boxes are copper Johns, white zonkers, wooly bugger, bead-head prince, foam park hopper for trout.
Bass and pike will be attracted by your white zonkers or muddlers.
---

It is not always about the fishing, natural at its best.
---
---
Other Prime Locations to Fly Fish in Vermont
---
Lake Champlain and its tributaries are excellent spots to try out for fly fishing. It is among the biggest freshwater lakes in the continent.
You can hook pike, bass, salmon, and trout in these waters. There are various modes of fishing on the Champlain.
Fish from the shore, get on a canoe or kayak and advance to the furthest areas, or fish along its banks.
The season peaks in spring and fall. Smallmouth and largemouth bass will be the best bets for warmer summers.
Crawfish and streamers are the best for larger fish. Pair these large flies with a 7 to a 9-weight rod. But, if you are targeting smaller fish, a 3 to 5-weight rod will do.
Waloomsac River will interest you if you are looking to hunt trophy trout.
The state stocks the river with more than 750 fish which are about 14 inches or more.
This is a river for anglers who want to travel less though they have the best fly fishing experience.
You can access the river from North Bennington closer to Henry Bridge. A 5-weight rod will do the task here and pair it with big streamers.
More flies you shouldn't leave behind are zonkers and wooly buggers.
The Black River which is the Connecticut River's tributary is under the Trophy Trout Stocking Project that the state runs.
You can fish along Route 131 which is in Weathersfield for more success.
Another best spot is the stretch from the covered bridge closer to Downers Corners as you head to Howard Hills Road.
A 4 to 5-weight fly rod will be the best for this river.
If you come here in the early season, carry bead-head hare's ears, wooly, buggers, gray ghosts, bead-head stoneflies, elk hair caddis, hoppers, and parachute Adams.
Have 3x tippets for heavier streamers and nymphs and 5x tippets for throwing dry flies.
Waterbury Reservoir is another trout fishery that you should comb.
You can hook smallmouth bass here in July as the trout season winds down.
You need to learn how to do the topwater actions and take advantage of the warm temperatures of the water.
The 60-mile Connecticut River tributary is stocked with salmon and trout by Vermont Fish and Game Department.
White River is lightly fished as most anglers opt for Lake Champlain instead of it. The rapids here and the low angler population guarantee you a catch.
Half Moon Pond State Park has kid-friendly fishing opportunities.
It has two lakes and a pond and you can hook panfish, yellow perch, and bass.
You can head to Lake Bomoseen and Lake Glen which are nearby.
Lake St. Catherine State Park offers great opportunities for boat and shoreline fishing.
Some of the fish species in the lake here are sunfish, pumpkinseed, bluegill, bullhead, crappie, yellow perch, northern pike, smallmouth, and largemouth bass.
You can fish for pike and bass here from May to September while the panfish season peaks in April and May though fishing them is allowed all year round.
The West River is in Jamaica State Park and offers some of the best fishing opportunities for fishermen.
It has some sections with rapid flows while the rest have slow-moving waters. Other areas are shallow while others are deep.
Sunset Lake harbors yellow perch, smallmouth and largemouth bass.
Trout too are often stocked here though their season is best in spring before the water temperatures rise.
Children can fish here but should fish from the floating bridge crossing the pond for easier experiences.
You can launch your boat or fish from the shores of the Gale Meadow Pond for rock bass, bullhead, yellow perch, chain pickerel, and largemouth bass.
The Lower Winooski River has two public access points-at Windermere Way Access Area and Heineberg Bridge Access Area.
Any species you can catch in Lake Champlain is found in this river.
A few are northern pike, brown bullhead, smallmouth and largemouth bass, white perch, and yellow perch.
Colton and Kent Ponds are less than a mile apart and boast a huge population of largemouth bass.
It also has pumpkinseed sunfish, yellow perch, and largemouth bass. Trout can be caught in spring.
Boat fishing or shore fishing is allowed on the Baker Pond that has plenty of pumpkinseed sunfish and largemouth bass in abundance.
The pond is stocked with brookies and these chaps are best caught in spring before the water temperatures increase.
Lowell Lake is easily accessible and offers fishing from a canoe or from the shore.
Motorized boats are forbidden here.
Fish here include pumpkinseed sunfish, yellow perch, bullhead, chain pickerel, and largemouth bass.
Newark Pond has various fishing points and one of them is owned by the Vermont Fish and Wildlife Department.
It is stocked with trout and the best time to chase them is when the waters are cooler as they easily reach the shoreline.
Other species in this pond are yellow perch and smallmouth bass.
The Marshfield Reservoir regulations allow you to launch a boat or fish from the shore.
Spring is also the best time to catch stocked trout here.
However, you can try your luck with smallmouth bass, yellow perch, northern pike, and chain pickerel in other seasons.
Stoughton Pond is used by the US Army Corps of Engineers in the day and offers shoreline fishing opportunities for stocked trout, pumpkinseed sunfish, bullhead, yellow perch, and largemouth bass.
Bullhead Pond is one of the places to visit if you are in Manchester.
You can fish from the shore for stocked brown trout, brown bullhead, yellow perch, and largemouth bass.
Sawdaga Pond has lots of yellow perch, pumpkinseed sunfish, chain pickerel, largemouth bass, and bullhead.
You can launch your boat or fish from the shores.
Echo Lake has excellent fishing opportunities and you can choose between fishing from the shores and launching a boat to catch pumpkinseed sunfish, bullhead, stocked trout, yellow perch, chain pickerel, smallmouth, and largemouth bass.
Lake Carmi State Park hosts Lake Carmi which is Vermont's fourth-largest and harbors warm water species, walleyes, and northern pike.
---
---
Tips for Successful Fly Fishing In Vermont
You need to pack a wide variety of fly options or visit the nearest fly shops to your fishing hole to pick a few.
Ensure that you are aware of all the hatches happening in your fly fishing areas of choice before packing your imitations.
However, mayflies, caddis, egg patterns, large streamers, and Beadhead nymphs will do.
Most of the waterways we have mentioned in this guide are easy to wade.
Remember to pack a pair of high-quality breathable waders, wading boots, and gear for cold water fishing if you aren't planning to launch a boat or fish from a canoe.
From our research, we deduced that Vermont has a wide variety of fish and fly fishing here and if looking to sample the fish species lurking in these waters, you might have to invest more.
For trout only, a 3 to 5-weight fly rod will not fail. Warm water fish and salmon will get hooked properly on a 6 to 9-weight fly rod.
There are some water sections on private land and farmland.
It is courteous to ask for permission in order to access these sections.
More to do while fishing on such sections is not destroying property, and fishing on instructed spots only.
Vermont is generous enough to host a free fishing day. This is usually in mid-June.
So, if you have no license, you can head over to any waterway on this day.
Anyone wishing to access or attempt to fish any Vermont waterways and is 16 years and over must have a valid fishing license.
This applies to both residents and non-residents.
---
FAQ's – Questions on Fly Fishing in Vermont
Q) When does the general bass season in Vermont begin?
A) The general bass season here opens yearly on the second Saturday of June and continues to November 30th.
Q) What is the bag limit for brown trout here?
A) The daily bag limit for brown trout is 6. However, this will depend on the area you choose to fish in as each has its set regulations.
Q) Do senior residents of Vermont need a fishing license to fish in any water body?
A) Senior residents who are 70 years and above don't need to pay for the fishing license. However, they have to renew their permanent licenses annually at no cost online.
Q) What is the penalty for fishing without a valid license in Vermont?
A) You risk a $2000 and a suspension period.
---
Wrap Up
As earlier said, don't judge it by its size. Vermont can pull a surprise on you if you weren't hoping to have the best of your fly fishing moments here.
The small state has plenty of offerings to fly fishermen. While other waterways only harbor trout which thrive to larger sizes and longer inches, some boast diversity in fish species.
You will be proud of the few that are unique in structure and offer different experiences in each section.
Enthusiastic anglers looking to better their skills should target such streams and rivers.
As you plan to head to Vermont and confirm our statements, ensure that what you pack is the right tackle gear for the season.
Identifying the best of the best can be daunting.
We render our help in the buyer's guide section where we have tackle and gear for all anglers depending on their budgets.
Don't be limited if you'd like to have an experience in Vermont.
We are generous just like you are. Share with us the areas you have fished in Vermont, what tackle and gear you used, catches you caught, and your overall experience.
Also, if there are prime areas that you know of here and we haven't mentioned, drop them in the comment section-hearing from you motivates us.