Disclosure:
Just to be open and honest the buttons and links you click on in the website will in most cases take you to another website where you can purchase the products I am reviewing. As an Amazon Associate I earn from qualifying purchases.
March 13, 2023
How Do You Keep Your Feet Warm in Waders?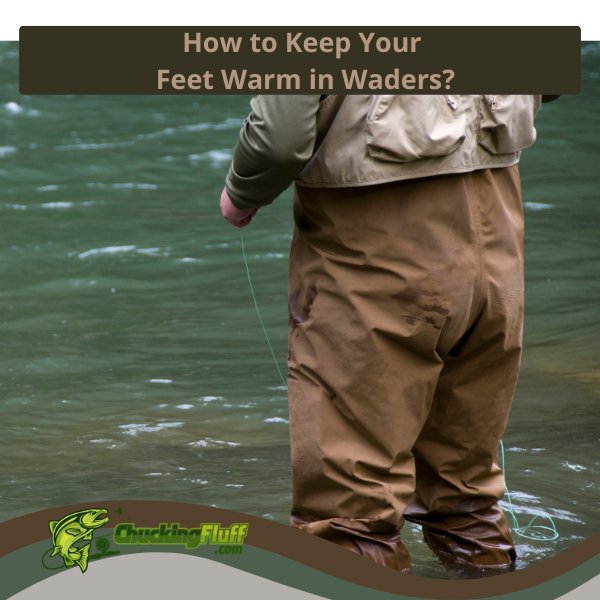 The rewards are the sweetest for anglers who can brave the cold.
Of course, you aren't trying to warm your feet in the summer, we are targeting lower temperatures because you can't step out in a pair of light socks in your boots and expect the giver of heat to bless you that day.
How do you keep your feet warm in waders if you are after hungry fish on empty streams when the mercury stick is in its negatives?
You want to have roomy (not too oversized) wading boots to allow some toe wiggle room – the little space will hold warm air to prevent your toes from freezing.
Additionally, thick socks with more woolen content will save you a great deal – the reason merino sheep survive in the winter with less stress.
There are a couple of ways you can fire up your feet when temperatures drop when you badly need to test your combos.
Some have scientific backing, while others are basic common sense (which most of us still assume) to prevent you from getting trench foot, hypothermia, and frostbite.
---
How To Keep Your Feet Warm in Waders?
---
Feet have a massive impact on the overall body temperature.
Ideally, your feet are suited to help keep stable body temperatures because of their large surface area and special blood vessels, which when opened can pass lots of blood offloading heat faster in the process.
The fact that your feet are the furthest points of your limbs and having no muscles, which produce heat means they tend to cool faster than most body parts.
As an angler fly fishing in the cold, you can agree that there's more you should do to warm your feet in low temperatures.
Here's how you can do it.
---
Wear Woolen Socks
---
The kind of socks you wear when fly fishing in the cold make a massive difference.
Let's leave cotton for now since you'll end up with wet and cold feet – these soak up water faster like a sponge and offer zero warmth in this state.
100% woolen socks are ideal for such days.
Did you know that wool remains the only material that retains warm temperatures even when drenched?
Deer hunters in winter can attest to this.
However, the concern is in their thickness – usually, these need you to go two sizes up your wading boots for them to fit (without comfort and wiggle room), which can be overburdening to walk in.
We recommend getting the socks with a blend of wool and spandex or nylon.
Such blends are thin but keep the feet warm and dry.
Besides, you'll enjoy some circulation in the toes.
Thermal socks are another option that works better than regular socks as they have inbuilt layers for moisture wicking to ensure your skin is dry and warm.
Invest in alpaca or bison down socks if you can spend more.
Manufacturers are now producing heated socks with inbuilt heating pads you can recharge.
These can keep at 90F for 6-11 hours before your next recharge and give your feet a campfire experience.
---
Proper Wading Boot Sizing
---
How do you keep your feet warm in waders when sizing wading boots isn't like regular footwear?
That is challenging for most anglers, especially if buying online.
You want your boots to accommodate neoprene stocking foot waders and an extra layer of socks.
A sporting goods seller once recommended going a size bigger than regular hiking boots – ½ size up will do.
Even with layering, ensure the fit when in your waders and socks isn't too constricting to affect blood flow.
Some wiggle room ensures blood vessels in your feet open to allow the flow of warm blood.
---
Dry Feet Means You Remain Warm
---
Wet feet when in waders is absolute torture.
Ensure your waders aren't extremely low cut since these allow splash ups to get in over the edge.
Get waders with splash-free top edges.
If you have low cut waders and need a quick fix, use a waterproof duct tape to secure it to your body to avoid water entry when splash ups occur.
Get the right spot to fish in to reduce movement as this could lead to sweat around the feet.
Minimizing physical activity ensures your feet are dry.
Some anglers use foot powder for moisture absorption and prevention of athlete's foot.
---
FAQ's on Keeping Your Feet Warm in Waders
---
Q) Do Toe Warmers Work in Waders?
A) Yes. Manufacturers are designing thinner toe warmers cut to fit over your toes in the boots.
These work by squeezing and shaking to activate their warming chemicals before putting over the socks then get into your fishing waders.
Q) Are Bootfoot Waders Warmer Than Stockingfoot Waders?
A) Sure! Bootfoot waders' structure prevent your skin from being in close contact with water keeping more air pockets dry.
Besides keeping you dry, the air pockets warm up, thanks to your body heat and retain that temperature.
---
Why Are My Feet Cold When Wading?
---
You are probably wearing tight wading boots and there is no wiggle room for your toes and the constriction hinders blood flow which is a warming factor in the cold.
Or, you aren't wearing the right insulation – woolen socks or a blend of the material for more heat retention.
Might you be wet from splashes or leakages if you are wearing bootfoot waders?
These tend to leak if hang by their braces, which causes weak seams that could lead to water entry and if your feet are drenched, the inner lining is badly affected from this.
---
Wrap Up
---
It is every angler's wish to rise early and stay on the water until they hook their limit.
Cold weather can be adverse and only the brave and prepared will succeed because the primary challenge is usually beating the cold temperatures.
How do you keep your feet warm in waders regardless?
Getting a good boot size to allow for layering and wiggle room at the same time will save you from the cold.
You can invest in good bootfoot waders as they are known to be the best for feet warmth.
Combine them with woolen socks for more comfort.
Get toe warmers or thermal socks because hypothermia isn't fun.