Disclosure:
Just to be open and honest the buttons and links you click on in the website will in most cases take you to another website where you can purchase the products I am reviewing. As an Amazon Associate I earn from qualifying purchases.
March 29, 2023
How Do You Travel With Wet Waders? Keep your Car Clean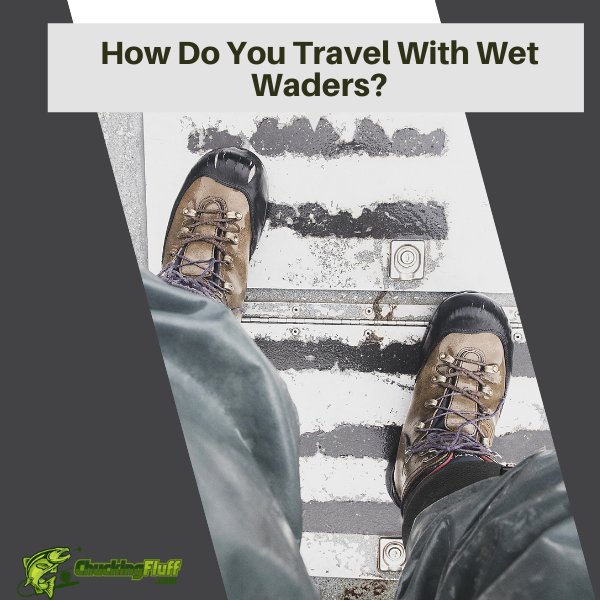 I have been a fluff chucker since I was 10, and I can't count the number of times I've had to return home with wet waders.
Great times combing the Pullen Hole for trout at a young age when walking home in wet waders wasn't a biggie!
But as we grow, the discomfort and unpleasantness are unfathomable.
Sad enough, there isn't much information on how to move with the mess safely.
So, how do you travel with wet waders?
Fly anglers stand in the water to help with fly positioning as they fish downstream.
You will be safer and more comfortable having wet waders in special bags designed with vents on their sides to allow drying and prevention of odor from all the moisture, mud, dirt, and scum.

Or, anglers who aren't traveling long distances dump their wet waders in garbage bags and they are off (we'll know how to go about this shortly).

It is like traveling with wet coats made from delicate material – you want them to arrive in good condition.
---
How Do You Travel With Wet Waders?
---
Aren't waders fun to be in when all dry and comfy?
You get the same feeling when wading and standing in deep waters without risking hypothermia, frostbite and other cold-related illness.
But the issue arises when you need to pack up and return home or to your next location.
Waders get wet and very muddy – local anglers are unbothered about the mud, as they can toss the mess in their car trunks.
What about the nomad angler who landed in Florida and will be using rentals and cabs (most owners worldwide are cautious about screening their cars upon return)?
Let's see how to create a win-win situation for yourself and others whose resources you'll use.
---
Traveling With Wet Waders in a Plane or Car Rental
---
Traveling with wet waders in a car rental or flight can be worrisome if you are unaware of what to do.
We recommend lightly washing your waders downstream to remove mud and other loose dirt.
You are better off dealing with wetness only than water and mud on the go.
Sporting and angling gear manufacturers design special wader bags meant to store wet or dry waders.
BASSDASH Fishing Hunting Wader Bag Vented Mesh Shoe Boot Bag
Transport bag with carry handles for waders and boots; Will comfortably take chest or thigh waders in even the largest sizes, such as a chest wader in a size 13
A great and compact way to carry your waders or boots whilst protecting your other kit or car boot from any mud or water
When the waders or boots are inside, the draw-cord can be pulled to close the opening of the bag fully
Breathable mesh panels on each side allow air to circulate reducing moisture build up inside the bag (mainly when in warm conditions i.e in the back of a car after a fishing session)
It's worth noting if your waders (any make of wader) or boots are wet it's advisable to dry them when they return home and not to keep wet waders folded up in a bag for long periods of time
These come with vents along their sides to allow for slow drying without retaining the bad odor common in stuffed wet gear.
Wader bags are designed from quick-drying material, which is best for the traveling angler.
You can stick in your cleaned but wet boots too.
The bags are affordable and available in different colors and styles.
---
Traveling With Wet Waders on Foot
---
Hello hikers and backpackers?
You are in either of the above categories because you enjoy some leg work, or pleasing your eyes with Mother Nature's offerings as you traverse your locations.
But, how do you travel with wet waders when on foot?
Bring several garbage bags if you are this kind.
Clean your waders to remove visible loose dirt and roll without creasing them up like plastic bags swallowed by a bull.
Put them in one garbage bag separately from your wading boots and hold them in the hand while you walk home.
Some rolling duffel bags have drop-bottom sections for waders.
However, you need to get those with waterproof interiors to prevent wetting other gear.
You want to go basic on this when trekking because there are hungry morons on these streets waiting to pounce on anything expensive-looking.
---
Traveling With Wet Waders in Your Vehicle
---
If you frequent fishing spots with ramps or parking grounds, you'll notice more trucks, double cabins, four-wheel vehicles, and a few two-wheels.
The size of your car influences the size of its trunk.
A bigger vehicle means a bigger trunk.
Anglers like me who sometimes drive to nearby spots dump our wet waders in the trunk.
But wait, you want to be careful about this!
Don't just dump and go.
It is advisable to line the trunk with a waterproof mat and ensure there are no jacks, spanners, and sharp tools that can potentially puncture your gear.
You can lay your waders on the mat clean and wet, or with mud to get things right when you arrive.
Anglers who travel in groups can mark their waders and lay one on top of the other full or rolled, depending on the space.
Remove them one by one upon arrival to prevent zippers and hardware from being puncture hazards.
Wide bins and containers can be used for the same purpose.
Roll up wet waders and place them in the bin leaving it open to allow for drying in case it slips your mind and remains there for days.
---
FAQs on Travelling With Wet Waders
---
I know there's much you've learned above, but you'll benefit from this section to ensure proper storage of wet waders.
Q) Should I Let Wet Waders Dry Slightly if Travelling by Air?
A) It would be best to dry wet waders before boarding your flight, but if you can't, allow them to drip slightly to drain excess water as a drenched wader will push limits of weight restrictions, especially, if you already have heavy luggage.
---
Q) How Long Can Wet Waders Remain in a Wader Bag?
A) Wet waders will be safe in a wader bag for four to five days without potential harm if you rolled them without mud.
Rolling waders prevents creases and excess pressure applied on seams and the material that can lead to wader leakage.
Remove them from the bag immediately after you arrive at your final destination for washing, drying, any repairs, and proper storage.
---
Q) Can Transporting My Wet Waders Wrongly Affect My Warranty?
A) Wrongly storing your waders when traveling might void your warranty.
You want to avoid leaving them in direct sunlight or rolled up when wet in a bin in the trunk or rolling duffel bag for weeks.
Most warranties don't cater to intentional and accidental damage.
---
Wrap Up
---
By now the answers to 'how do you travel with wet waders' are clear to anglers looking for help on this.
It isn't a complicated affair since you have the option of investing in a functional wader bag, rolling duffel bag, or wide bins and containers.
These should work well for all traveling anglers, and if you are very tight on the buck, pick a garbage bag if you'll be hiking or backpacking.
Last update on 2023-06-03 / Affiliate links / Images from Amazon Product Advertising API
This product was presentation was made with AAWP plugin.