Disclosure:
Just to be open and honest the buttons and links you click on in the website will in most cases take you to another website where you can purchase the products I am reviewing. As an Amazon Associate I earn from qualifying purchases.
February 10, 2021
Simms Freestone Zip Stockingfoot Waders Review
Legends in the fly fishing industry are making anglers' lives easier and fun. Outdoor activities are more interesting to engage in if you are donned in the right gear.
The same you wouldn't step out in summer all wrapped up in fur or heavy woolen attire is the same way you can't fly fish in a vest only when it is winter.
Simms works extremely hard to handcraft superb gear to suit all seasons and for those bloody cold days, the Simms Freestone Z Stockingfoot Waders work excellently to protect you from the adverse effects of the weather.
You can fish more and go farther as long as your outerwear is proper and functional. The more the industry advances, the more Simms embraces new technologies to design top-notch waders.
Montana is a haven of fly fishing and this is where the Freestone Z waders were tested for performance and durability.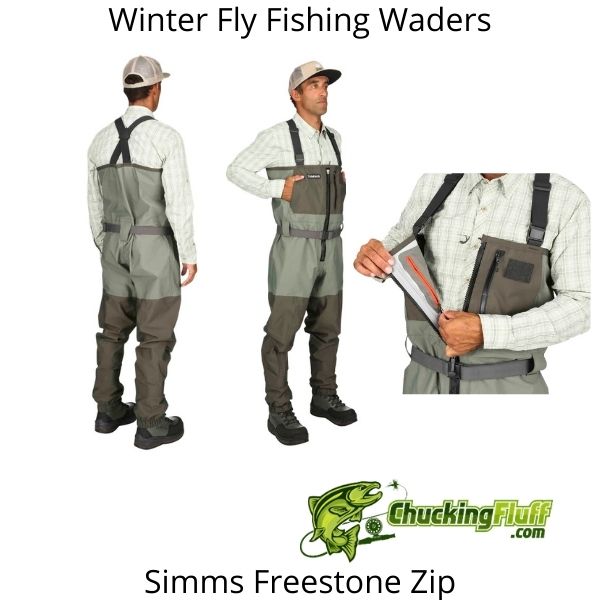 Check Zip Freestone Web Availability
Fly fishermen and women who are more active in winter have proven to see the world quite differently.
Any other person loathing the cold would coil up in a couch and wrap themselves in several throws until the season ends. A winter angler on the other hand wishes that the days and nights would be longer.
This is because of the confidence boosted by correct winter fly fishing clothing. Protection and comfort come before fun.
Designed by anglers for fellow anglers,
The company sought to make it even better by designing a premium product with a tough four-layer fabric construction for anglers spending longer on the water.
The compassion for fellow anglers has seen the waders receive lots of praises from the excellent fit, wide range of sizes to the angler-friendly features and durability aspects.
If you have a big appetite for good winter hatches and monster trout, the waders offer utmost warmth and dryness especially to anglers who spend longer standing in water.
How well the features are interconnected is what excites us. As outerwear for extreme weather, the new technologies used in manufacture have proven functional.
The rugged design is catchy and aspects like breathability and waterproofness are among its wins. Most people assume that waders with more layers accumulate perspirations and condensation hence making you wet faster. This isn't the case with the Freestone Z.
There are some valuable lessons that you learn over time as you use waders. In the winter months, some anglers love trotting. It could be in the upper sections of the Wye Valley for grayling or in several chalk streams and southern rivers for roach.
You must have discovered that one of the most perfect ways of presenting your baits is by wading out and allowing that chap to travel down the stream freely without any hindrance that comes with sharp angles as you fish by the banks.
In the cold winters, 4mm neoprene booties will keep you warm. If you will be standing often with minimal movements, you will not experience the downside of neoprene. Walking great distances in these booties makes your feet sweat and together with overheating, condensation occurs.
Customer Programs,
Company authenticity is becoming a big concern among anglers. Simms is among the reputable fly fishing companies in the world. It stays true to its mission of customer satisfaction.
Besides seeing this in quality production, there is more that it does to the customer as after-sale service. This is evident in the warranty program.
In case your Freestone Z waders leak within the first two months (60) days after purchase, you can return it.
Simms will replace it and issue the same size and model. For leaks after this period but within the first year of ownership, the repairs will be free of charge.
For waders with problems after the first year, the evaluation, repairs, re-testing, and shipping will cost $60. This is a very fair deal considering the overall cost of the waders.
Key Features of the Freestone Zip Stockingfoot Waders by Simms
Fabric Technology
The shell fabric is made from pure nylon so is its backer knit. The technology that makes the wader complete is the Toray QuadraLam that is made for waterproofness and breathability.
It is also tear-resistant and can handles the brambles and bushes pretty well. Its feet are built from high-grade neoprene.
The fabric technology comprises four layers which are common for waders in this price range. As long as you stay away from thorns, there is nothing to worry about.
Pockets
Simms designs the Freestone Z wader with a left chest pocket accessed using a zipper. It is spacious enough to accommodate several fly boxes and other bits here and there.
In case you will be out fishing in a storm, secure your phone and keys in a good Aquapac for safety. Water could seep through your zipper as it is water-resistant and not waterproof.
The handwarmer pockets are lined with micro-fleece to toast your icy fingers when your hands aren't engaged.
As long as you aren't wading so deep to get water inside the pocket, they will remain perfect. Other personals can be stashed in the inner security pocket.
Zippers
The frontal zipper is a TIZIP for easier wade removal and wearing. It is of decent quality and easier to operate than what you get on some waders.
Its plastic profiles are abrasion-resistant and the type of zipper increases its seal strength when pressure rises or you apply tension. Other pocket zippers are also of good quality.
Straps
Its straps are easily adjustable and those on the front unclip. You can pull these waders up and down to get your right height.
You can also release the clips to convert these waders into waist-high level with the help of the wading belt. This comes in handy when the temperatures begin to rise.
Wading Belt
The waders come with a simple good-quality nylon belt with elasticity. It measures 1.5 inches and passes through the three inbuilt belt loops to give a snug fit in the waist area.
Stockingfeet
Its stockingfeet are anatomically engineered and have antimicrobial properties for proper foot health.
There are inbuilt sizeable gravel guards and a gathered hem with elasticity to hold the waders down pretty well.
When the frontal clip detaches, the stretchy hem will keep the guards in the right place to prevent the entry of grit that could puncture the waders.
Size
Freestone Z waders are available in small, medium, medium king, large, large king, extra-large, and double extra-large.
The cut of each wader is perfect and will fit pretty well if you choose the correct size.
We love that they are very comfortable and won't flap about so much as you walk. As it should be, there is enough room around the girth area.
This allows for proper layering in winter. Also, if you decide to go some pounds higher after grazing upon pies and more during the festivities, it will still fit.
The measurements of the inner leg feel right. As you get the right fit of the uppers and lowers, ensure that the stockingfeet also fit well and are comfortable.
Remember Simms replaces booties on the Gore-Tex waders but not the Toray QuadraLam ones.
Pros – The Good about the Simms Zip Freestone
Good quality waders at a great price point
Meant for mobility and comfort
Highly waterproof
Excellent breathability
Great temperature regulation with the TIZIP zipper
Well-made neoprene booties
Good storage system
Customer warranty program
Cons – The Concerns though not Deal-breakers
Pockets could have been made roomier
Customer Thoughts on the Simms Freestone Z Stockingfeet Waders
These waders are excellent and hold up to these adverse weather elements pretty well. Breathability is amazing and the roominess for layering underneath doesn't make it feel too tight. They keep you dry and warm for a long time.
Its relief zipper is such a great addition. Operation is quite easy and makes old guys wear and remove the waders without a problem.
Fly fishers who wear stockingfeet towards the smaller side will need to stuff their boots with baggage. And holding up to wicked terrains can be hectic. If there could be customizable options for such guys, it would be a great saver.
The center leg seam construction is so superb for comfort and durability. Since the legs are high wear and tear areas, the design makes them serve their purpose and last you longer.
Despite being a four-layered fabric wader, it is lightweight and packs down pretty well. If you are a backpacking angler, you will love it for days when you are out on the water.
FAQ's – Questions about the Freestone Z Stockingfoot Waders
Q) Are there any other color options for these waders?
A) Unfortunately, these waders are only available in dark gunmetal only.
Q) How well are the seams done?
A) Seams on the freestone waders are fully taped to seal out all weather elements. This leaves you dry and warm longer. Simms advises that you avoid putting your waders in a dryer as this could damage the tape.
Q) Does this come with an option of short, regular, and long inseams?
A) The freestone Z is only available with regular inseams.
Q) What is the measurement for size medium and me extra-large?
A) Medium size freestone Z is 9 to 11 while the extra-large is 12 to 13.
Q) Are the four layers in the lowers only or the uppers?
A) Unlike other waders that have three layers in the uppers and four in the lowers, this one has four in both the uppers and lowers.
Q) Some booties grow mold and mildew after some time. Does this happen to these?
A) Simms designs the booties on the Freestone Z from neoprene and gives an anti-microbial finish to prevent this from occurring.
Q) How does one remove stains on these waders?
A) You can use any stain remover as long as it doesn't contain bleach.
Wrap up on the Simms Freestone Zip Chest Waders
The Freestone product line from Simms is among the lowly-priced as compared to others. The Simms Freestone Z Stockingfoot Waders are a standard design with premium features.
However, you need to separately buy your wading boots to complete the outfit. With the right choice of boots, you can wade in and out of waist-deep areas in confidence. The waders allow you to have greater access to various fishing areas.
It goes for less but has more to offer. These waders even beat some high-end options from rivals. They are of very good quality and with proper maintenance, they will last you more seasons than you expect.
There have been no reports of wader leaks or condensation when you layer heavily under them. These waders keep you dry and their breathability is admirable.
Freestone Z waders are lightweight, airy, and very pliable.
These will be comfortable to wear all day.
The booties support your ankles and feet properly.
Nothing is more annoying than getting completely soaked as you walk through the thick undergrowth because of punctured waders.
We love the Toray technology that makes the fabric construction tear-resistant. Just ensure to stay far from thorns and be keen on grit, sand, and other particles that can damage your waders.
On winter days when it pours heavily, obviously, the breathable waders offer maximum protection. They keep the waders dry in the storms and don't weigh you down or make you feel uncomfortable.
From the angler reviews, you can agree that it is a good product to invest in. Wading in waist-high waters doesn't have to be dreadful anymore as you can now spend longer periods in the wader.
We have no reasons to believe that Simms will make it any different at all in the future. If there might be an upgrade of the Simms Freestone Z Stockingfoot Waders, it had better not affect its comfort and protection aspects.