Disclosure:
Just to be open and honest the buttons and links you click on in the website will in most cases take you to another website where you can purchase the products I am reviewing. As an Amazon Associate I earn from qualifying purchases.
February 18, 2023
Can I Take a Fishing Rod as Hand Luggage? Rules to Fly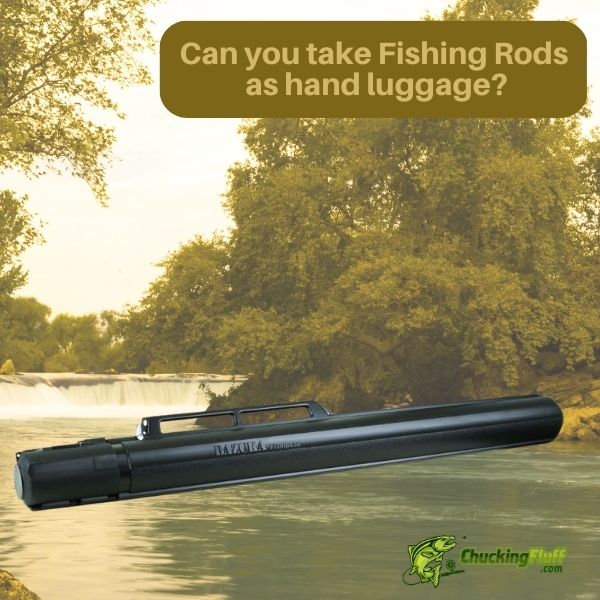 You might be planning a trip outside your usual residence, and wondering whether you can take a fishing rod as hand luggage.
Worry not, since this article covers fishing rod and tackle transportation as hand luggage, and the correct method of carrying your rod without risking damage, or breaking any rules.
Fishing rod and selected equipment are checked in as special baggage at a cost in most airlines.
Still, some allow you to carry special baggage free if your package is within the airline's free baggage category under checked baggage.
Checked luggage in airports and airstrips have restrictions, and we'll learn the right carriage for fishing rods.
Keep reading to know if you can carry your fishing rod as checked baggage, or if you need to have it in the cabin, or as bulky baggage.
---
Can you Take a Fishing Rod as Hand Luggage?
---
Yes, and no, depending on the airline you are using.
Some airlines allow you to check in with your fishing rod as special baggage, and some charges apply.
The same goes for some angling tackle and equipment.
A few airlines allow you to bring this for free if your rod and tackle are within their free baggage allowance under checked baggage.
You might not be allowed to carry a fishing rod in your hand luggage, but keep specific tackle in hand luggage; however, certain situations apply.
In most scenarios, transporting your fishing rod in checked baggage is highly preferred.
---
Why Shouldn't You Carry a Fishing Rod in Hand Luggage?
---
Some reasons prevent or restrict the carriage of fishing rods in hand luggage.
Still, most fishing rods exceed the required and permitted dimensions that can go in hand luggage.
Besides, they fall in the category of dangerous objects under most airlines' guidelines at security checks.
Security checks staff might consider fishing rods as dangerous or items that can be used as weapons, regardless of the length, or whether it is a baitcasting, fly fishing, or telescopic rod.
The reel and line fall in this category too, and Dortmund Airport in Germany was among the first to ban fishing tackle in hand luggage.
Sometime back, an angler was denied boarding with his reel, and this didn't sit well with him, forcing the nasty 'F' word on the security guy's wife, who wasn't even involved in this.
Guess what?
300 Euros gone like that as a fine!
Is this something you'd like? Especially in this despairing economy?
We've seen a pre-spooled reel being a bad idea to have in your hand luggage, but an empty one without the line might stand a chance and survive security checks.
But to be cock-sure, it is recommended to have the empty reel in checked luggage.
Baits only without their hooks can go in your hand luggage too because they don't fall under dangerous goods.
Never carry lures, manslaughters, scissors, and knives in hand luggage as they might be sieved by security check staff.
These are considered very dangerous and prohibited in all hand luggage.
While these are precautionary measures to have in mind while packing for a fishing trip if traveling via air, some airports have more lenient guidelines.
For instance, some allow scissors and knives of blade lengths below 6cm only in hand luggage.
Ensure to check the websites of the airlines you will use to be on the safer side because ignorance and assumptions can be costly.
---
The Best Way to Travel with a Fishing Rod via Air
---
The general rule of thumb is that all fishing rods and tackle must be checked in as special or sports baggage.
The dilemma remains how best to pack your fishing rod and tackle to ensure you are within the rules when traveling via air.
Here are some methods that anglers prefer:
---
High-temperature tubes
Cut-to-size drain tubes of pipes
Telescopic tubes
PVC fishing rod tubes
Skiing gear
---
High-temperature Tubes
You might have seen them being advertised as HT pipes.
These are ready-made and bought in tackle or sports stores, but you can tinker it yourself.
It is a straightforward process and you will only need a HT tube the size of your fishing rod, 2, 22/13 insulation tubes, sealing caps, and 2 HT sleeves.
Cut-to-size Drain Tubes or Pipes
Some anglers use conventional drainage pipes to transport their rods.
Usually, you'll have to cut these pipes to the right length to create a rod pipe.
Rudimentary handicraft experience and some skills are necessary to mount the drain pipe well, cushioning the ends.
Skiing Gear
You might be very adventurous and decide to go skiing and fishing, depending on the destination you choose.
But if you are out to cast only, special sports luggage can come in handy when traveling via air.
Skiing luggage carries snowboarding and ski equipment; however, it boasts a lot of space to accommodate fishing rods and other equipment like fly boxes, reels, bait, spools, and lines.
PVC Tubes
Transporting your rods in PVC tubes is among the cost-saving methods, as these are available online and offline for cheap.
These tubes are robust and will protect your rods better, but these can't hold any other accessories.
Some anglers consider it as space wastage.
Telescopic Tubes
Some fly gear manufacturers produce telescopic rod tubes built exactly right for the job of protecting your flr rods while traveling.
Flambeau Outdoors does 2, large and small that can carry several rods at a time.
---
Lixada Fishing Rod Case, Portable Folding Fishing Rod Case Fishing Pole Reel Storage Bag Fishing Gears Organizer 100cm/130cm/150cm
SPACIOUS CAPACITY: This fishing bag includes 2 main compartment, exterior pockets and 1 mesh pocket, offers large capacity for your fishing tackle and keep it neat and organized.
EASY ACCESS & ORGANIZATION: 2 spacious main compartment with wide opening and dual zippers for easy access to your essential fishing gear, such as fishing rod, fishing reel, line, tackle box, etc.
ADDITIONAL STORAGE: Front zipper pocket for additional storage for your fishing tackles like lures, tackle, bait and more. Breathable mesh pocket to hold your fishing gloves.
DURABLE: Made of high quality 420D oxford cloth, tear-resistant and water repellent, very durable.
PORTABLE: With carrying handle and adjustable shoulder strap, convenient to carry. It is also foldable to be stored in your backpack and ready to go, great fishing luggage for any angler.
---
The Cost of Transporting Fishing Rods via Air
---
How much you'll pay to transport your fishing rod and tackle depends on your destination, the size and weight of the rod and gear, and the kind of fishing items you are carrying.
Some airlines categorize sports baggage depending on sizes.
The sizing ranges from small to medium and large.
The airline then charges a flat rate for each sizing category.
Others have defined maximum weights and will bill you depending on the weight of your gear.
Some flight companies define the exact items that you can stow in sports luggage and a specific number.
If you stow other unlisted fishing tackle in the baggage, extra charges might apply.
Sports baggage almost have the same regulations as hand and checked baggage, but each airline has its own rules.
Here are some popular airlines and their rules regarding transporting fishing rods and tackle.
British Airways hasn't listed fishing rods and accessories openly as possible sporting gear in its lists.
Hence, contacting the airline, through its communication avenues will be ideal to know how to pack, where to place your fishing rod and tackle, and how much it might cost.
Swiss charges 70 Euros to transport a fishing rod and tackle within Switzerland, 80 Euros for European flights, 150 and 200 Euros for short and medium intercontinental flights (respectively), and 250 Euros for long intercontinental flights.
Ryanair clearly states on its FAQ page that big sporting equipment, such as fishing rods and gold clubs aren't suitable for transportation by them, as it makes short airport stops.
But, it still can do it if you book online and add such specialty sporting gear beyond personal baggage allowance; however, the maximum is 20kgs.
Since such a booking with a fly rod falls in this category, via their site, you will pay 35 Euros for each route.
A subsequent online of airport booking attracts 40 Euros per route.
Lufthansa lists fishing rods and tackle under standard sports baggage.
Domestic routes in Germany will cost you 70 Euros, while routes in Europe are 80 Euros.
Routes to/from Japan cost 100 Euros for each rod, and long international routes are 250 Euros.
The airline charges 200 Euros for medium international routes and 100 Euros to Central Asia, North Africa, and states in the Eastern Mediterranean Coast.
NOTE: Fishing gear at Lufthansa should only comprise a rod (2-piece max), 1 box/bag, 1 bait box/fishing jacket/bread bag.
EasyJet allows you to add sporting gear to regular baggage at a fee, but it doesn't list fishing rods and tackle in its list.
The rules further state that unlisted sporting gear MUST be stated and booked via their customer service team.
---
Wrap Up
---
Here's the secret: Buy your fishing rods when you land at your destination.
I know that you love your fishing rods and that they are massive investments to you, especially if you buy high-end models, or some were passed down to you.
You can agree that the cost of transporting a fishing rod isn't cheap, and if you are taking a longer route, the worse it gets on your pocket.
Thus, it is sensible to buy another fishing rod when you land or ask the locals for tackle stores and tackle renters near your angling spot.
It will be useless to pay heavily for low-cost rod transportation.
Asking around for sellers and renters exposes you to more information from the locals.
They can share with you the current hatches and which flies work best for the time, low-pressure locations with intense fun, species to expect, the right tackle to pack and so much more you can learn about angling their and the people's culture.
Share with us in the comments your experiences flying with fishing rods and tackle.
Last update on 2023-09-28 / Affiliate links / Images from Amazon Product Advertising API
This product presentation was made with AAWP plugin.