Disclosure:
Just to be open and honest the buttons and links you click on in the website will in most cases take you to another website where you can purchase the products I am reviewing. As an Amazon Associate I earn from qualifying purchases.
January 12, 2019
Orvis Helios 2 Series Fly Fishing Rod Review – Awards Winner
The initial launch of the Helios Series rods in 2010 had a good reception by being lightweight and high performing. The new 2.0 version has scaled even higher and further forward in every aspect. Since its creation, Orvis has been manufacturing high-quality fly fishing gear and equipment to the benefit of anglers. Fly fishers of all levels find something unique in this brand. The company tops the list of renowned and reputable manufacturers in its industry.
Deeper into the Orvis Helios 2 Series Fly Fishing Rod, it is featherlight. Its strength is said by Orvis to be 20% stronger than any other rods they ever manufactured. You might think that it is too good to be true but the rod transfers energy from an angler's brain straight to the fly. The precision casting is one of the unique features of this rod that you will love. What makes it distinct in performance, quality, and aesthetics is the hand by handcrafting process.
It features a new taper design from Orvis and the energy transfer takes a smooth curve resulting in incomparable accuracy, great lifting power, excellent tracking at the same time ensuring tippet protection against breakage. The tip is integrated with the company's proprietary material which adds strength. The rod's dampening has had great improvement while the swing weight has gone down by 20% compared to the initial Helios Series. Don't be in doubt about how well it can change your fishing sessions. This fly rod has scooped many awards since 2012 and is still is.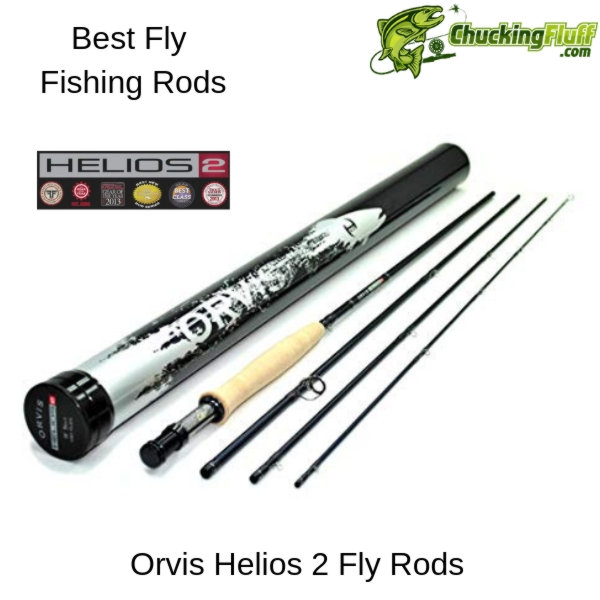 [button link="https://amzn.to/2r2Cvd9″ type="big" color="green"] Helios 2 Amazon Reviews and Price[/button]

---
Main Features of the Helios 2 Series Fly Rod
Being among the best of the best, it has well-crafted features that make casting amazing and you can use it for short and long casts and it does exceptionally well. The design is indestructible and flashy when it comes to ability and style. Travel down to read more.
Rod Specifications – The rod is available in different lengths and rod weight. Lengths available are 4wt, 5wt measuring 8ft 6in and 6wt, 7wt, 8wt, 9wt, 10wt, and 11wt measuring 9ft. weights range from 4 to 11. This specific review is for the 9ft 5wt rod which weighs 2.5 oz.
Rod Action – Every angler has their unique requirements that is why Orvis designed this rod to have a mid to fast flex tip action. You can often change and learn new techniques or maintain whichever you like. This customization makes this rod the perfect option for a serious angler whose priority is quality and performance.
Material – The blank is made using the thermoplastic resin scrim technology for increased durability, strength and lightweight. It is finished with a UV inhibiting paint coating which prolongs its life and gives it a good look for many years. The coating in midnight blue with dark gray accents is to the angler's advantage because it isn't too bright on the river.
Guides – Stripping guides on the Orvis Helios 2 Series Fly Fishing Rod are made of strong titanium with Nanolite ceramic inserts that feed the fly line into smaller snake guides. These guides are fully functional and accepted by the industry. Guide wraps are dark gray and are a good compliment to the UV coating.  Recoil Snake guides are crush proof and depict a higher class giving a modern appearance. Being crush proof adds to the functionality and durability of the fly rod.
Sections – The 9ft 5wt fly rod comes as a four piece rod. It disintegrates easily to allow for easy storage in the rod tube. Portability and transportation are easy and protection is guaranteed especially if you are traveling long hours to your fishing spot.
Handle – Orvis designed the Helios 2 freshwater rod with reversed half wells grip and super grade cork which comfortably snugs into your hands regardless of the size.
Reel Seat – Quite unique. This reel seat is made using the REC California buckeye burl. The up-locking compartment slot is elegant and tells how Orvis puts into consideration good craftsmanship. Helios 2 is available in freshwater and saltwater options. The saltwater option has the reel seats made of REC woven graphite and components with black nickel skeleton to make it rust and corrosion resistant in the saltwater environs. Orvis allows for personalization of the reel seat by hand scribing up to 22 characters for quick identification in case of misplacement.
Rod Tube – The black and silver carbon rod tube is stylish and durable. This rod tube looks like an upgrade of the Orvis trout rod tube.
Warranty – Orvis issues a 25-year warranty to the original owner. In case of breakages within 25 years, the manufacturer will fix your Helios 2 fly rod. If the situation is unable to be fixed, Orvis replaces the rod. Whether the rod becomes non-functional due to wear and tear, mistreatment and or misuse and accidental breakage, as long as the warranty period hasn't elapsed, it will be replaced.
General Purpose – Helios 2 Series fly rod comes in two categories. The freshwater fly rods that are limited to this environs and the saltwater fly rods which are designed for saline regions but once in a while can be used in freshwater without having any negative impact.
---
Consumer Thoughts on the Helios 2 Series Rod
This rod Is lighter in the hand and the balance is perfect with the 20% reduced swing weight. Helios 2 is ten times better than the Helios fly rod.
The material used to make the tip is high-grade and makes it stronger without adding any weight to the rod. Breakages are unheard of.
There have been no instances of the fly rod wobbling or vibrating at the end of the cast. This makes the rod's power and accuracy levels higher compared to other rods.
Aesthetics are well put in place. Everything from construction to the finish strikes the eye. Looks good when hanging on the wall and someone who hasn't angled before will say it is too good to be used for fishing.
Durability is guaranteed with the ESP technology that makes the carbon fibers stronger making the Orvis Helios 2 Series Fly Fishing Rod last longer even in the harshest encounters.
Hand scribing is a good idea by Orvis even if it delays the delivery date. Your rod never gets lost when fishing in a group since your identification tag is easily visible.
The rod handles larger fish well during fall and winter and you can use small flies and can cast with utmost accuracy in trout feeding lanes.
Versatility is a good aspect. The fact that the Helios 2 exists in freshwater and saltwater option makes it great for selection. The wide ranges in length and rod weight allow an angler choose what is comfortable for them.
Making longer casts is almost effortless and the rod dramatically helps in reducing the number of false casts.
Its cork grip is extra fancy and with alignment dots on the rod, putting it together manually is easier and takes the shortest time.
The rod allows for almost everything from nymphing to throwing dry flies and chucking streamers. Its feel and touch is impressive and gets the job done well.
---
Pros

– Things we like about the Helios 2 Series Fly Rod
4 piece rod for easy storage and transportation
Featherlight
I-beam backbone
Available in salt and freshwater options
Stronger than its predecessor Helios
Handmade in the USA
Laser point precision
Great accuracy
Low swing weight
Durable construction with ESP technology
Reduced dampening
Excellent finish
High-grade reel seat and handle
Mid to fast flex
Good tippet protection
Fights fish well
Cons

– Things that are not so cool!
Line weight options are limited and don't work well with heavier catches.
Some anglers will find it pricey
---
---
FAQ's – Questions about the Helios 2 Series Fly Fishing Rod
Q) Is the Helios 2 fly rod similar to the Helios? I can't spot any difference in the product information
A) The two are different. Helios 2 was launched after Helios and is an upgrade of the same in terms of strength and weight. Helios 2 IS 20% lighter and stronger than Helios.
Q) What is the tip strength of this rod?
A) The EPS technology increases tip strength by 100% and when you perform a breakage test, it passes highly. Thanks to the beefing up of a few inches of the blank.
Q) Of the two options of the Helios 2 fly Fishing rods available, which one is versatile in terms of conditions for use?
A) The saltwater rod will fit in the versatile aspect since it is usable in both fresh and saltwater environs while maintaining durability. The inserts and other nickel skeletons allow it work in corrosive areas without damage.
Q) Does the finish on the blank mate it cost this high? I don't find its use.
A) While you might not find it important, it really is. The finish prevents excess brightness on the river that might scare the fish. Not sure if it adds much to the price.
Q) How many types of the guide does this upgrade have?
A) The Orvis Helios 2 Series Fly Fishing Rod has two types of guides-the stripping guides and snake guides. Each is made in their unique way and serves its own purpose.
Q) Does the rod come with a rod case?
A) This one comes with a rod tube only for rod storage.
Q) Can I use the rod for nymphing?
A) Quite a good and recommended rod for nymphing. You can also use streamers and small flies with it.
Q) Does the Helios 2 have a butt for fighting fish?
A) The upper line weight ranges have a strong fighting butt section.
---
Final Verdict
Orvis Helios took away most avid anglers. Still, a good number are trying the Helios 2 Series rods. Someone would ask why the change yet the former looks like a game changer. Helios 2 is an upgrade of the Helios in every aspect. Talk of strength, performance, durability, ability, and aesthetics, it is worth every trial. The fly rod id the pivot of fly fishing and for you to land a catch, your reaction needs to be quick and efficient. With a mid to fast flex, an angler can keep changing techniques at will and is a great option for both amateurs and intermediate anglers who are in pursuit of putting an edge on their skills.
Its featherlight nature will leave you breathless. It is a good alternative to most fly rods. The tapers have been greatly improved, reinforced and refined to ensure maximum tension. The rigidity of the rod adds to its durability, flexibility and accuracy levels. It also improves the lifting power and tracking. Tip rattling is low. The unparalleled accuracy levels ensure effortless casting and your focus is directed on hitting the target. You can cast while moving and at high speeds. This feature amazes many anglers and hence the laser precision name. The unique materials and technology used in crafting focuses on quality and effortless fly fishing experiences.
Feel a rod and know its worth. You can pre-order this outstanding fly rod and have it delivered before you nest fishing session. This is a good way to ensure you don't miss out on the exact one that you need. Circumstances may find you needing this rod as a matter of urgency but it becomes unavailable despite all efforts. There are great alternatives that match the Orvis Helios 2 Series Fly Fishing Rod in performance, quality and durability and are within the same price range. Choose from the G Loomis IMX-PRO FW Fly Rod, Sage Bolt Series Fly Fishing Rod, Hardy Zephrus FWS Fly Rod, Hardy Fly Fishing Demon Single Hand Fly Rod, Scott Radian R905/4 Fly Rod, and the G Loomis NRX Trout Fly Fishing Rods.
[button link="https://amzn.to/2r2Cvd9″ type="big" color="green"] Helios 2 Amazon Reviews and Price[/button]
[button link="https://chuckingfluff.com/best-fly-fishing-rods-comparison-and-beginners-guide/" type="big"] Check our Rod List Here[/button]