Disclosure:
Just to be open and honest the buttons and links you click on in the website will in most cases take you to another website where you can purchase the products I am reviewing. As an Amazon Associate I earn from qualifying purchases.
May 22, 2019
Cortland Trout Boss HTx Fly Line Review – Distance is easy!
Cortland has invested in a professional team of engineers and staff who are well knowledgeable about fly fishing gears and products.
It is the reason why all their products are top-notch and long-lasting.
When it comes to the list of the top manufacturers of fly fishing products and gear worldwide, Cortland features among the crème de la crème.
I bet you now understand the reason why its products are high on demand. They are the BEST!
The company has been in business for a long time now and their prowess is manifested in the variety of reels, rods, fly fishing combo kits and fly lines among them the Cortland Trout Boss Fly Line.
Excellence can be seen in its design. The complexity of its new tapper and the thinner core add to its floating properties.
Durability is a guarantee when you purchase this fly line. This is fostered by the self-cleaning mechanism of the line.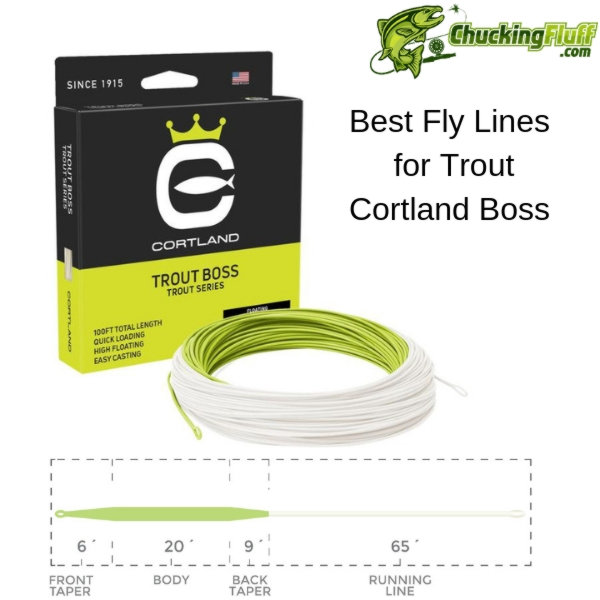 Check Amazon Boss Availability

Main Features of the Boss Trout Fly Line
• Profile
100 feet makes it longer than the standard length of fly lines. The front belly is designed to be long and you hold more line in air translating to very long casts.
• Welded Loops
The HTx Trout fly line has two neatly folded and durable welded loops. One at the front and the other at the back of the line.
Welded loops allow for easy leader attachment. Energy transfer from the line to the leader is very efficient and this creates good turnovers.
• Value for Money High-End Product
As a high-end fly line, it is worth the money. You actually get quality for every dime spent on it.
Its mending action is excellent even in complex currents. Many weight-forward floating fly line lack this feature but a big thumbs up to Cortland Trout Boss.
• Special Technologies
HTx technology is used in designing this line and is a surface treatment with heat which makes the line more durable and offers maximum protection.
The same technology gives the line a self-cleaning ability by repelling any dirt, scum, sand and particles in water that will interfere with floatation.
Friction in contact parts is greatly reduced by this technology and makes the line cast exceptionally long distances.
Dyna-Tip technology adds to the floatation abilities of the fly line while lowering density.
The technology allows an angler to detect strikes by acting as an indicator.
Cast a second and a third time without scaring the fish because this technology reduces surface disturbance.
• Advanced Line
Experts and those with more experience in fly fishing can handle this fly line easily.
They are more familiar with dealing with complex tapers and can manage the line in whichever condition, unlike beginners.
• Line Specifications
The line has a total length of 100 feet and the head measurement is 35 feet. The middle section measures 20 feet and the running line has a length of 65 feet.
Dimensions of the Boss Fly Line
| | |
| --- | --- |
| Line Aspect | Result |
| Total Length | 100 ft |
| Head Length | 35 ft |
| Belly Length | 20 ft |
| Running Line Length | 65 ft |
| Taper Profile | Quick Loading |
| Loops | Both Ends  |
| Sizes Available | WF3-8 |
---
Customer Thoughts on the Boss Fly Line
-Cortland Trout Boss Fly Line cast well for distance and the extra 10 feet on the total length of the fly line was a bonus.
-When used with longer rods, the fly line gives the best casts because of its extra-long head.
-The loading action is consistent and smooth and gives delicate and very accurate presentations if all your casting basics are intact and if the flies and streamers are bulky, the long-range mending action is possible with very little effort.
-Well-folded welded loops on both sides are just what was needed to make leader attachment such an easy thing and the turnovers were so smooth. They remain intact even with continuous use.
-The line has very low memory and is durable. On no occasion has it had coil memory and needed to be stretched in order to cast well. It is an excellent performer.
-The trout Boss fly line floats very well and is very slick through the guides. Definitely, the best fast-action fly line in the market that an expert can get.
-Its ability to repel every substance like oil, mud, sand and other particles is a plus because it makes the line remain clean and reduces every chance of the tip sinking in water. Saves you cleaning time as well.
---
Pros

– Things we liked about the Boss
Excellent floating line
Low jacket memory
Heat dissipation abilities
Durable welded loops
Reduced friction in contact parts
Creates very long casts
Easily mending action
Thinner core
Complex taper
Self-cleaning abilities
Cons

– Things not so good
The complexity of the taper limits it to use by an expert or those with experience in fly fishing
---
FAQ's – Questions about the Cortland Trout Boss Fly Line
Q) What temperatures are ideal for use with this fly line?
A) Warm temperatures that are recommended should range between 50 and 70 degrees Fahrenheit and cold temperatures between 30 and 50 degrees Fahrenheit
Q) How fast is the rigging?
A) The rigging is reasonably fast, very easy and reliable.
Q) Is the line of a standard length like 90 feet?
A) No, this one is slightly longer and is 100 feet.
Q) What is the total head length and the sections of it?
A) Total dimensions of the head is 62 feet. 7 feet on the front taper, the belly is 30 feet and the rear taper is 25 feet.
Q) Does the tip float or sink?
A) The tip has the Dynatip inclusive at 18 inches which is a very low-density material making it float as it should.
Q) Are welded loops on both ends?
A) Yes. There are welded loops at the front and back of the line.
Q) What casting suits this line?
A) The line is suitable for false casting especially a long line for distance.
Q) Does the line get softer and clingy on hot days and harder during the cold days?
A) No, Cortland has discovered a good way to prevent the lines from getting softer in summer and harder in winter
Q) Can I use this fly line with a shorter rod?
A) You can but the casts will not be as great. Use longer rods instead because of the line's extra-long head.
Q) How can you define it in terms of general maintenance? Does it need any special care?
A) Superb. It saves you a lot of cleaning time due to its ability to repel all substances in water. It remains clean most of the time but you can give it a quick rinse once in a while.
---
---
Final Verdict on the Cortland Boss HTx Trout Fly Line
Rounding up, everything about this fly line from Cortland is amazing. In fact, you will love its ability to make very long casts with ease.
Thanks to the front belly length which is more and allows you to hold more of the line in the air. If you enjoy dry fly fishing, there is every reason to get your hands on this fly line.
Various special technologies used during engineering this line make it a good floating line and there are no chances that the tip will begin to sink altering the purpose of the line.
Every angler speaks of Cortland are on the lookout for every product by this company to try it and rate its performance.
This one is the bomb because the rate at which it is purchased is very high making it miss on the shelves or on your online stores.
Worry not because there are alternative lines in the price range of the Cortland Trout Boss Fly Line that you can choose from if you can't wait for your seller to restock.
Airflo Fly Line Super-Dri River & Stream, Scientific Anglers Mastery MPX Taper Floating Weight Forward Fly Fishing Line, and Rio Avid Trout Fishing Line.
Their performance is undoubtedly the same as that of the Trout Boss fly line. Knowing that this fly line is a low-maintenance line due to its self-cleaning mechanism is to your advantage.
It saves you on time you could have used while cleaning. This feature is among those you will love especially on the days you return very exhausted from a good fly fishing session.
Check Amazon Boss Availability