Disclosure:
Just to be open and honest the buttons and links you click on in the website will in most cases take you to another website where you can purchase the products I am reviewing. As an Amazon Associate I earn from qualifying purchases.
May 26, 2020
Best Fly Lines for Euro-Nymphing – Getting Down to the Action
A fly line is just a fly line, right? One fly line can do equally well in any situation. Probably, this is what a rookie might think when they hear about fly lines for European Nymphing in 2021.
Fly fishing lines for Euro-nymphing haven't changed so much. Their simplicity is commendable, and there can't be such a bunch to alter. You must have come across fly lines with 'nymph' in the product name.
Brands like Scientific Anglers, Rio, Cortland, Orvis, and AirfloUSA have impeccable offerings.
Anglers and guides have different tastes and preferences. Some prefer braided core nymphing lines over mono core lines. The primary aspect is manageability in cold weather and cold water.
Scrutiny on anglers' conversations got us to deduce something that we'd like you to share your thoughts also. A good number of anglers are purchasing two fly lines for Euro-nymphing.
They have another spool to carry a dry fly fishing line apart from the main spool with a Euro-nymphing fly line.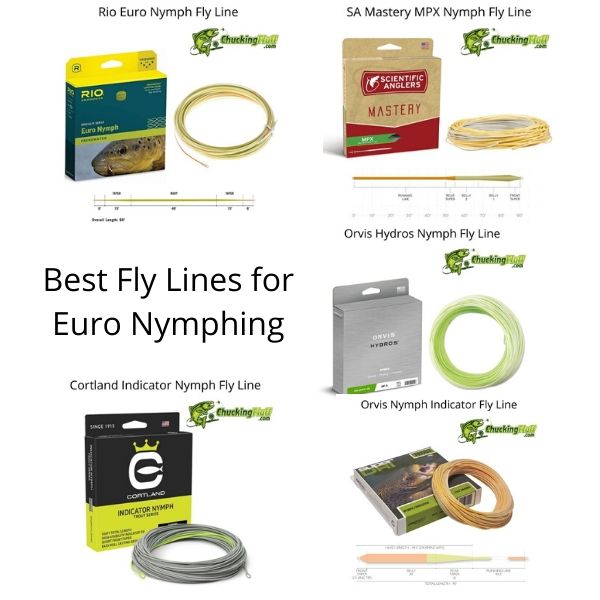 Why would anglers do this? Most like to change fishing techniques depending on the situation of the water. Changing spools and techniques isn't wrong because the majority of fly rods for Euro-nymphing are awesome dry fly rods as well.
Things to consider on the Best Fly Line for Euro Nymphing
Where does the difference lie?

In any technique of fly fishing, a fly line is a vital component. However, the aspect of using multiple fly lines in Euro-nymphing is different. In Euro-nymphing, the functionality of the setup is dependent on the length of the leader.
Longer leaders will counter a lot of drag while you drift. There is an additional mass in fly lines with standard tapers. This will create so many issues as you try to make excellent drifts.
Problems in most fly lines for nymphing make most anglers choose to fish with a monofilament rig without a fly line.
So, are there versatile Euro-nymphing Fly Lines?
If fly lines often cause problems, why are manufacturers producing specialty fly lines for Euro-nymphing? It sounds odd asking this question. Euro-nymphing specific fly lines exist to allow you to be legal and valid in Euro-nymphing competitions.
You also have to adhere to the fly-only regulated water bodies.
Complying with rules is mandatory if you'd like to ace these competitions. What makes it even interesting is that specialty fly lines for Euro-nymphing are light yet thin.
Euro-nymphing fly lines aren't meant to load the fly rod. Neither do they help with casting. If you have enough understanding and use the right techniques, you can cast and fish them farther.
These specialty lines are very thin and have less weight. They don't experience all the challenges of a typical floating fly line for contact or high-stick nymphing techniques. They don't sag off your rod tip.
Some anglers will choose braided core lines because of the higher sensitivity levels. Braided core lines come with less coil memory compared to the mono core lines.
Is there much to expect from a specialty fly line for Euro-nymphing?
Well, we'd say yes. These specifically-designed fly lines have differentiating aspects from the traditional fly fishing lines. We will give a brief explanation of these considerations.
However, these aren't constant across all brands. There will be a few differences between these brands.
Before Purchasing a Euro-nymphing Line
Knot Connections and Loops
Some fly lines have a braided or welded loop attachment. An angler can easily add a looped leader to the line. But some cons exist if you entirely want to fish a Euro-nymphing rig.
Experts recommend cutting off the loops and opting to use a needle nail knot or a plain nail knot.
Others use superglue splice on a braided core fly line or blood knots on mono core lines. The fly fishing line will be in constant motions through the rod guides. Fewer knots will be better to prevent any hindrances.
There will be less hanging if your line has fewer knots. Hence, you will lose fewer fish and have smoother casts.
Most of the time, anglers want to enjoy more versatility in their system. You have to leave your fly fishing line loop or choose to include a mono loop at the farthest end of the short butt section.
Anglers who'd like to quickly change to a dry fly leader can do it without altering rods, reels, and spools.
Weight and Diameter
A thinner and lighter fly line will behave better as a perfect extension of the leader. Traditional weight forward fly lines have thicker diameters. This makes the Euro-nymphing specific fly lines heavier.
Try fishing with a 20ft leader and a traditional line in areas of about 10 to 20 feet which is a common distance. The fly line will pull the nymphs closer to you giving an unnatural drift.
For Euro-nymphing fly lines, a thinner and lighter construction is the most efficient. A fly fisher can fish very light flies very far away.
That is why when you frequent most competitions, you will see most anglers who fish 3 to 4 weight Euro rods and lines matching diameters of between 0 and 2-weight traditional lines.
Any type of material will influence the weight of a fly fishing line. Some manufacturers use a monofilament core to replace the braided core. The two materials are very common. Mono cores need different knots for leader attachments if you don't want to use the loop section.
Tapers
Euro-nymphing fly lines are different from one brand to the other. Some have leveled lines without any taper while others have a gradual yet double taper which is very thin.
Anglers can have more than one fly line from a single line. You can flip your double tapered fly line to have two separate lines if one side is wearing out.
True level lines allow for the angler to continuously cut the wearing sections until they can use the line again. In areas like tuck casts, the level tapers will be needful because as you make casts, you are required to control the angle of the fly as it enters into the water.
A few fly lines with slight double tapers that will aid in dry fly presentations are the Rio Euro-nymph line and the Orvis Tactical nymphing line.
Visibility
Some anglers crown seeing the fly line as very important during Euro-nymphing. Most of us grew up fishing with visible fly lines. So, interfering with line visibility will affect tracking and make you feel handicapped.
Some choose to adjust to this and keep an eye on the inbuilt colors in the taper or watch their sighters. The newest advancement is the Hi-Vis butt sections which are still functioning well.
Handling or Coiling
The mono shouldn't coil as you chuck the line off the reel. The entire line should be well stretched as you start your fly fishing session. Some fly lines come with more memory than others. Often, the stiff line will coil but not all the time.
Stiffness
Line stiffness will relate to the casting performance. Stiff but section materials make casting a thinner line feel like casting a fly line. It becomes very tricky to make the extra-limp lines cast and perform equally considering the same diameters.
The 'What If'
Sometimes, the thought of getting a new fly line for Euro-nymphing isn't appealing. The main reason is usually with budgeting and your current financial situation. We understand this.
There are a few techniques that you can work around to give you a Euro-nymphing experience as you save for the right fly line.
First, you can build a longer leader. You can add a few feet of Maxima of various weights and add your basic sighter and tippet. Doing this should keep the line in the reel. You will be modifying a mono rig using a traditional line hidden in the fly reel.
Others choose to use very short leaders to ensure that their fly lines are about one foot out of the rod. It is less effective but pro anglers can agree that it can work when fishing fast waters or when in close range.
It remains to be a deviation of traditional high-stick nymphing and will not offer as much versatility are true Euro-nymphing.
Companies like Scientific Anglers and Rio are now manufacturing extensions for Euro-nymphing fly fishing lines. These will be the bomb once the majority of the anglers know how they work.
For instance, Rio has the Euro Nymph Shorty which is a 29 feet extension. You can use it as a loop to loop connection to your traditional fly line.
Scientific Anglers has a Euro Nymph Kit which has a rigging foam, a leader, and a 20 feet Euro-nymphing line tip.
Such accessories and kits are superb to allow an angler to easily switch techniques between Euro-nymphing and traditional casting.
Below are a few of the best specially designed fly lines for the Euro-nymphing technique.
But hey want to become a better Fly Angler then check out our recommended online course.
---
AirfloUSA Super-DRI Nymph/Indicator
New technologies are what AirfloUSA uses in this fly line to ensure effectiveness and longevity. Flexi Loop ensures that the line's core is well incorporated with the company's patented process to result in an effortless weld with bullet-proof capabilities.
Micro loops fuse into the main fly line to ensure a smooth transition to the leader. It also protects the fly line from capillarity and its effects.
The manufacturer builds the fly line from a material that is 100% PVC-free. The coating on the material is stronger and resists DEET. It can withstand the effects of UV rays longer than its competitors.
Ridge Tech technology reduces the surface area of the line as it passes through the guides. There is less friction which is what we are looking to achieve.
Power Core makes the fly line extremely supple and gives higher performances despite the conditions you are fishing in. AirfloUSA records a stretch of 6%. This will boost the hook set, sensitivity, and casting control.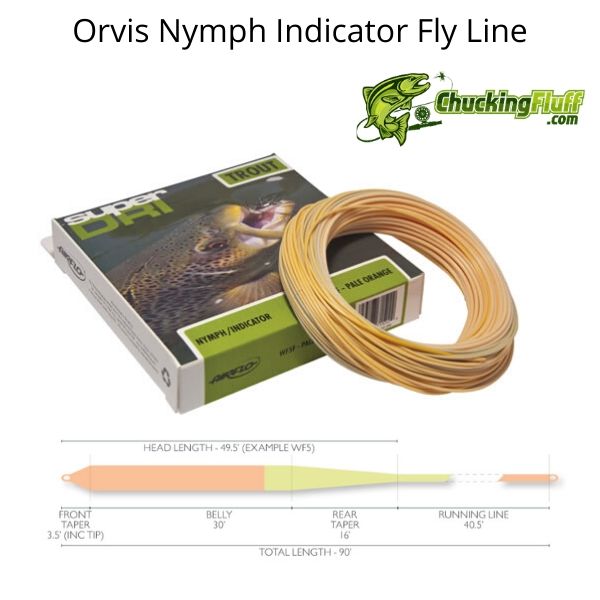 Super Dri is the officially patented polymer by AirfloUSA and its primary function is dirt, scum, and water repulsion. With the help of advancements in Nanomaterial technologies, the line has high floating capabilities and allows for farther casting.
Ultra Supple greatly improves the line's performance. The technology uses a low modules coating for suppleness in cold conditions. This allows for sharper loops and very minimal memory.
The fly line is available in a weight forward profile and is 90 feet. The head measures 49.5 feet with a tip of 0.5. The front taper is 3 feet, belly is 30 feet, rear taper 16 feet, and the running line measures 40.5 feet.
The head weight differs across all the line weights. You can buy a WF4F, WF5F, WF6F, WF7F, or a WF8F line.
The line's tip is thick and the front taper short yet aggressive. Working on long leaders and making heavy presentations becomes a breeze. The belly length is similar across all line weights for longer drifts and casts.
Longer tapers also allow for longer casts to reach the target. It is important for line control and mending and improves the quality of your drift.
This is a very versatile fly line that you can use for several fishing styles. Besides Euro-nymphing, the fly line is excellent for throwing big dry flies and fishing streamers.
Check Airflo Web Review
Check Airflo Amazon Availability
---
RIO FIPS Euro-Nymph
The legendary Orvis welcomed the RIO as a household name in the fly fishing manufacturing industry. Its fly lines are commendable and recommended by expert anglers. The company manufactures this specialty line with extreme slickness technology.
Steve Parrot is behind this brilliant idea and design. In mind, he had the needs of enthusiastic nymphers who'd like to try all European nymphing styles and remain legal in competitions.
Some of its unique features are a supple core for increased sensitivity and excellent hook sets, low stretch, and thin diameter.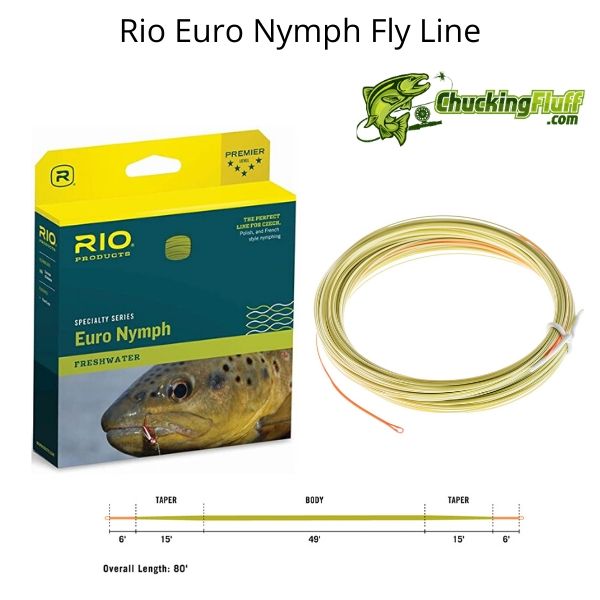 The tip area is very visible to help in detecting the most subtle strikes. You can use this line for Spanish, French, Polish, and Czech Euro-nymphing styles.
The chemical composition in the slick technology gives an ultra-slick Euro-nymphing fly line. Another upside is its ability to greatly repel dirt.
The current line is an upgraded version of the previous model. It passes all the testing criteria for acquiring legality in contests. Rio has the line with unique marks on the fly line.
These lines have been assessed and certified by FIPS Mouche to save anglers' time during checks in competitions.
The overall length of the fly line is 80 feet. This is a considerable length and will do just fine. The two tapers-one on each end, each measures 15' with a loop section of 6'. This line has a body of 49'. FIPS Euro-nymph lines are available from size 2 to 5.
Rio designs this fly line to have a front and back welded loop. The loops are extremely bulletproof. A front loop is for quick rigging to the leader while the back loop is for quick rigging to the backing.
Check Rio FIPS Amazon Availability
Check Rio FIPS Web Availability
---
Orvis Hydros Nymph Line
Orvis was among the first companies to produce specialty lines for Euro-nymphing. The company turned back on the idea because of what was a drop in the sales of that line.
This was because of the very few numbers of nymphers at that time. The company was unaware that the technique would be popular years later.
The core of the Orvis Hydros is braided multifilament. Such lines are known for being resistant to cold and maintaining their stretch regardless of the temperatures.
The Hydros line of products is incredible and comprises of spools, reels, rods, and lines, among other products. Orvis designs this fly line to work effectively with heavier nymphing rigs.
You will love the immense power in the head section. This allows for proper turning over multiple fly rigs.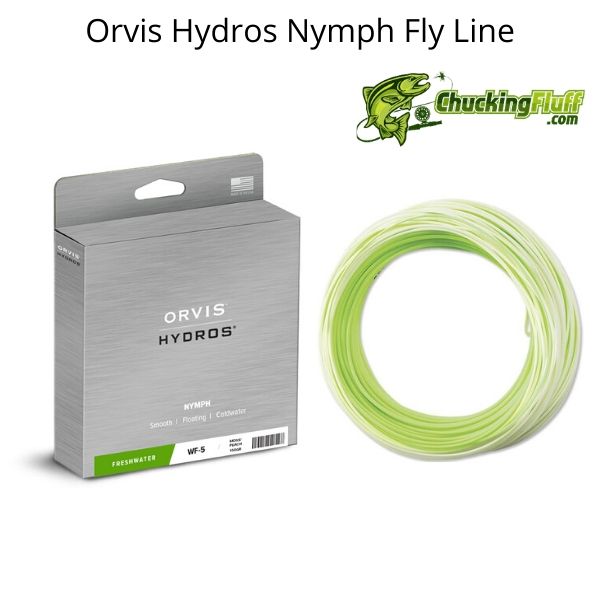 You need to have a nymphing line with the best management abilities in the water. The long belly allows for this ass you use your skills to ensure that you get a successful drift.
Orvis coats this line with its AST patented dry slick technology. It gives a smooth coating for maximum slickness and line protection.
The line comes with dual loops-one on each end. All loops are welded to allow for easier and faster rigging to the leader and backing. When fishing with buddies or in a contest, you can easily lose your line.
The manufacturer makes it easier for you to get it by having an Orvis Line ID. This ensures quick identification as each ID is unique.
For line specifications, the line measures 90 feet and is available in 5wt, 6wt, 7wt, and 8wt. The front taper is 0.5' and the first front taper is 3' for all the line sizes.
The second front taper is 5'. Belly measurements differ from one line size to the other. The shortest is 26.5' and the length keeps increasing by 0.5' as you increase the line weights.
The rear taper for the 5wt is 28.5' and increases by 0.5' with an increase inline size. The total head length is 63', 64', 65', and 66' respectively.
Check Hydros Web Availability
Check Hydros Amazon Availability
---
Scientific Anglers Mastery MPX
Anglers love to sample new products and review them. This helps the manufacturer know the critical areas that need attention. Most brands use critics and improve a previous product model by releasing product upgrades.
This is what Scientific Anglers prioritizes when it comes to customer feedback and satisfaction.
The manufacturer uses its Advanced Shooting Technology (AST) for casting for distance. The technology offers line slickness to repel dirt, scum, oil, algae, and any drag particles.
This increases floatability and keeps your line clean. Line identification by SA allows you to spot your line from far. Welded loops are for easier turnovers and excellent fly line transitions.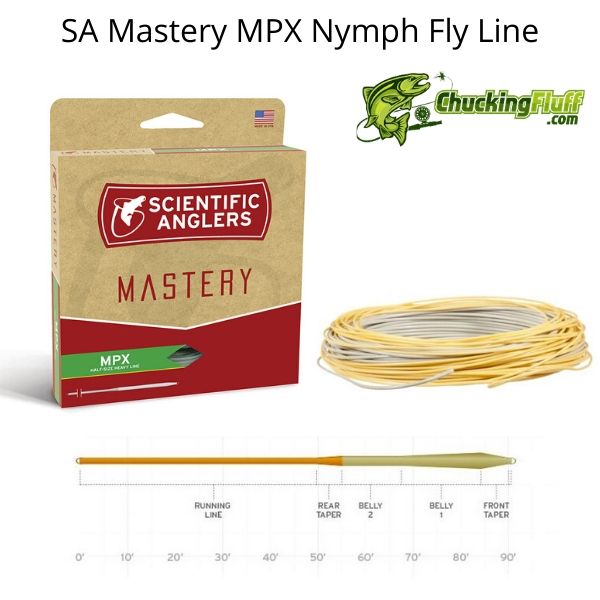 If you have been fishing for long and love to try different products, you will agree that the Scientific Anglers GPX taper was the talk of the town for a long time. It was popular for its excellent performance in small dry flies and huge streamers.
What came as an improvement was the launching of the MPX taper that is half size heavier than its predecessor for rod loading and turning over large flies.
SA redesigns it to have more weight in the front of its head. There might be a major difference in the construction of this line when you compare it to the GPX but the former puts a punch to the later in terms of benefits.
The presentation of the MPX is one of its kind. There is more power just like in the GPX but the MPX line comes with more finesse to it.
For some reason, Scientific Anglers besides dedicating this line to Euro-nymphers, made it versatile and an all-round choice. The line works well with dries, streamers, nymphs, and poppers.
Fly fishers looking to achieve optimum presentation should acquire these fly lines. The manufacturer incorporates the ST+ Slickness additive in the line to increase line protection, enhance slickness, and add to longevity.
You can use the fly line in moderate to cold climates because of its ability to retains its stretch and ensure you can cast farther.
The fly line measures 90 feet and is available from 3 weight to 9 weight. Each line has its head length and grain weight.
---
Cortland Line Indicator Nymph
When it comes to the history of fishing line design and manufacture, Cortland Line has a rich history. The company dates back in the 1930s and has been in business to date. It initially has fly lines in three levels.
The 333, 444, and Precision. The 333 and 444 are the commonest and most popular. This doesn't mean that the Precision isn't commendable. In fact, it boasts some of the best innovations and coatings.
Cortland Line categorizes its fly lines into freshwater and saltwater fly lines. Under each category are sub-divisions to allow you to identify your line during product selection. The Cortland Line indicator nymph falls under the trout series lines.
Anglers passionate about Euro-nymphing styles will agree that fishing multiple fly nymph rigs is fun. It comes with its set of advantages especially when are hooking a fish. A few challenges here and there make it even more interesting.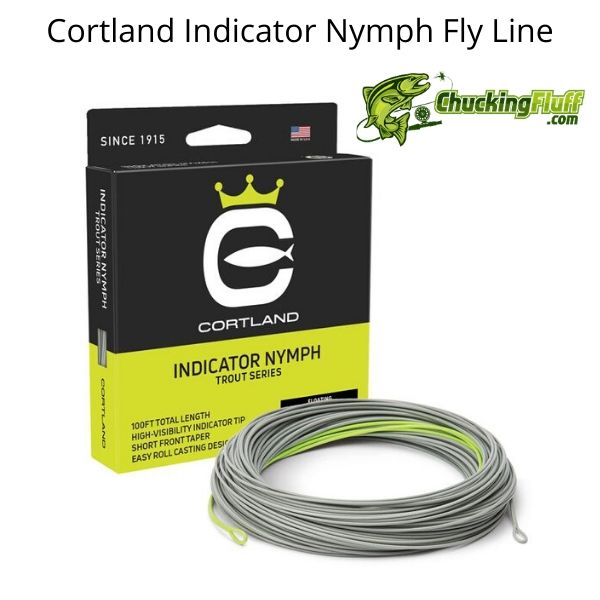 This new precision line allows for excellent casting of multifly indicator rigs. We attribute this to the shorter front taper and the robust head. The energy transfer is splendid and gives positive turnovers.
The construction of the line is top-notch. It comes with a Dyna Tip that is oversize and extremely visible because of the two feet that are chartreuse. You can't compare its visibility to the traditional orange tips.
As you high stick or Euro-nymph, the chartreuse Dyna-Tip acts as an indicator. The other parts of this line are grey.
You might be wondering why this line is a freshwater line. It is a trout line and besides, you can fish other species like salmon, steelhead, and grayling. The line is a floating type with a weight forward taper. Its core is braided nylon multifilament.
The fly line measures 100 feet and is the longest Euro-nymphing line in our review. Sizes available are 4wt, 5wt, 6wt, 7wt, and 8wt.
The grain weights, however, differ from one line size to the other. The front taper is 8 feet, 36 feet for the body, 12 feet for the back taper, and 44 feet running line as the taper profile.
Check Cortland Web Availability
---
Verdict on the Best Fly line for Euro-Nymphing
Anglers who have been in the game can agree that technology and innovations are taking over the manufacturing sector. We can see this in the new fly lines for Euro-nymphing.
Brands are beginning to embrace change and with this, improving their production to stay top of the game. Recently, brands are launching Euro-nymphing lines that are versatile. They can suit all Euro-nymphing styles that are increasingly gaining popularity.
These lines are legal in all the Euro-nymphing contests and other short-line styles of nymphing. Some lines are available in single sizes while others have a wide range to choose from.
If you already own a Euro-nymphing fly rod, you can experiment with various fly lines.
You will appreciate a true Euro-nymphing performance if you go further thin and light with your fly line. Overall, a special Euro-nymphing fly line will not do much as a traditional fly line would.
The line is like an extension of the leader. For fly fishers who don't want to pack two rods and want to try hybrid techniques, you will find it more appealing to experiment with the leader and fly line combos until you can identify a set up that is very effective.
You should also consider the casting range of the waters you are in before making a solid decision.
There is so much information on Euro-nymphing up on the blog. You can check other sites too. This technique is among the most preferred by guides and pro anglers.
The fulfillment of trying a unique fishing style and the fact that it is the most popular in contests is amazing.
We'd like you to give it a shot and let us know if it is something you'll stick to. Share with us your experiences and challenges Euro-fishing with various fly lines.
"Check out some of our other Buying Guides"