Disclosure:
Just to be open and honest the buttons and links you click on in the website will in most cases take you to another website where you can purchase the products I am reviewing. As an Amazon Associate I earn from qualifying purchases.
March 3, 2021
Cortland Indicator Nymph Fly Line Review – See the Take
Cortland's dedication to providing anglers of all stripes with the best performing gear and equipment is on another level.
The company has some of the best fly lines and the Cortland Indicator Nymph Fly Line for trout is one of the bomb products currently available.
If you are a discerning fisherman, the company is a premium choice.
Coldwater trout, apart from bass and steelhead are fascinating to play with when the season sets in you can land more fish when you have the right gear for the right species.
With the nymphing competition rules, an angler understands the need to stay within the requirements to ensure that they can focus on the prize.
What is the Cortland Indicator Nymph like?
The line ensures that you can properly cast your indicator rigs. It beat most of the nymphing lines when it comes to distance, hooking a fish, and managing the line when on water.
The brand has another nymphing line that is 75 feet. This one is 100 feet and assurance of casting farther than the other lines in its category.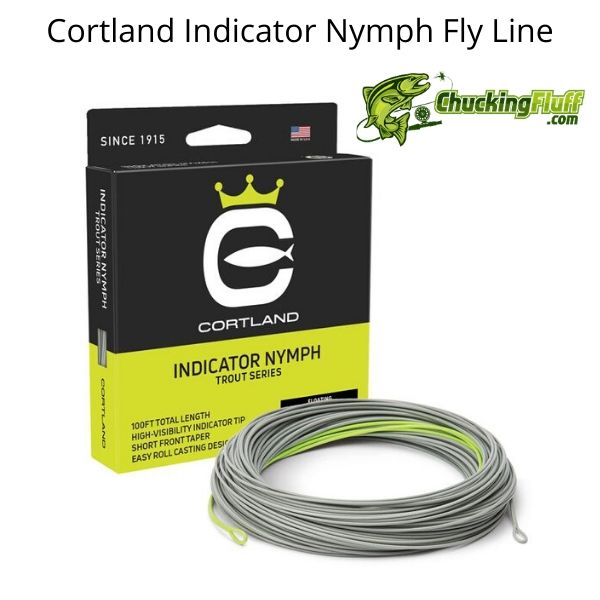 Another aspect that makes us recommend it to any angler who is looking to try nymphing is its versatility.
The fly line allows for use with any Euro-nymphing or tight-line techniques. The line's construction is a bonus to its high performance.
If you are a rookie, you probably will get attracted to fishing dry flies because of their simplicity. As the fly floats on water, the excitement is real.
You will quickly know what to do. However, as you continue to stay on the water, you will discover other anglers using different techniques.
Nymphing is an untapped potential point that newbies are yet to discover. You will begin to catch more fish nymphing than dry or streamer fishing.
To Get or Not to Get?
You should get it if you are looking to be a serious nympher or perhaps take part in one of those trout-catching contests that need no split shots.
For the amount that it goes for, this fly line is a winner in all aspects. Buying it means getting more. The weight-forward floating line comes in a stealthy gray color with a Hi-Vis construction.
The tips are chartreuse for easier visibility. Some of the technologies that Cortland uses in this line make it very sensitive and fine for presenting heavier flies.
Upon unpacking it, you will discover that it is different from the majority of the Euro-nymphing lines. It is thin, quite supple, and smooth.
The feel is softer and it flows through the guides as perfectly as a monofilament fly line would. You cast small heavy nymphs using any rod but the right Euro-nymphing rod will be perfect.
Something from 9.5 feet to 11 feet will do. This line is excellent for such kinds of rods because of its lightweight nature and inability to overload on your cast.
The diameter of the Cortland Line Indicator Nymph is smaller and floating features of a kind.
The two keep the fly line away from water to give you a perfect drift in whichever current speed. If the line touches water, it remains afloat and ensures easier mends.
Fishing this Indicator Nymph on a Euro-nymphing setup on waters like the Great Lakes is a deadly trout and steelhead combo.
Most of the fly rods for nymphing Euro styles are about 5 weight and below. This line can fish perfectly on heavy rods.
Most people don't know that this line is usable for nymphing, streamer fishing using streamers of all sizes to cash weary salmon and steelhead.
It is possible to make precise streamer strips and presentations. The lightweight and small diameter give the line more stealth as you present your flies than a traditional floating line would.
Check Cortland Nymph Web Availability
"Check out some of our other Buying Guides"
Key Features of the Cortland Indicator Nymph
Technologies:
The Dyna-Tip technology is Cortland's patented style that makes the line tip have a lower density that leads to a higher leader and tip floatation.
At the same time, it improves line management. The tip helps with stealthy presentations and if your main bag is the distance, this technology together with the line's length is a pass.
Material:
The Company uses a braided nylon multifilament core that is super supple. Cortland also coats it with advanced plastics and follows with active lubricants.
This construction aims at cool water environments. Those who have fished this line can agree that it has very little memory especially if consistently fishing with it. It gives a great balance between shootability and suppleness.
Even after the cruelest abuse, there are no instances of cracking. We, however, recommend that you show it some TLC to ensure that it journeys with you in most if not, all of your Euro-nymphing escapades.
Line Specifications:
Overall, the line measures 100 feet. Line sizes are available from 4 weight to 8 weight to allow anglers to select a line weight that matches their rod and reel combo. The grain weights increase with an increase in the line size.
Color:
Gray and chartreuse are the colors that the manufacturer uses. Chartreuse is in the tip sections to ensure higher visibility in bad weather and from a distance. Also, it helps in detecting strikes and guiding you if you on what to do.
Application:
The line makes an angler have an easy time when casting multiple fly indicator rigs. More so, it does well when roll casting.
The manufacturer advises that you fish it in freshwater only to maintain the quality and performance of the fly line.
Exposing it to saltwater damages the coating that affects the suppleness of the core and can lead to friction as the line passes through the rod guides.
It is the real deal for salmon, steelhead, grayling, and trout.
Taper:
The taper profile is unique to ensure that it serves you as you try any Euro-nymphing technique. The front taper is 8 feet while the body measures 36 feet.
The back taper is 12 feet and the running line 44 feet.
Loops:
Cortland designs this Cortland Line Indicator Nymph to have two welded and bulletproof loops. There is one on each end of the fly line.
The loops are for faster rigging to the leader and backing.
Pros – The Good about the Cortland Line Indicator Nymphing Line
Casts well for distance
Two welded loops for easier rigging
Available in a variety of line weights
Suitable for the roll casting design
Freshwater weight-forward floating line
Braided multifilament core
Perfect for cold environments
Highly visible indicator tip
Cons – The Concerns though not Deal-breakers
A user states in their review of a faulty front welded loop. We think that this might have been a problem straight from the company with that specific line as the rest of the reviews don't fault the loops.
Customer Thoughts on the Cortland Indicator Nymph
The line's technologies give the fly line-owner an easy time to manage these gear. It doesn't require so much cleaning as it repels dirt and its hydrophobic nature helps to keep it dry when you need it to be water-free.
We love the multiple slickening products that Cortland incorporates in this line. The body is free from friction as the line passes through the guides. Casting becomes much easier than you expect.
The braided multifilament core isn't something to ignore. It offers extreme durability and incomparable crack resistance. This is one of the most durable fly lines that guides will recommend to their students.
The line's versatility is one of its kind. I thought that since it is under the trout section of the company, it is restricted to this species only. It is worth adding to your nymphing arsenal as an all-round freshwater line.
Not all nymphing lines will do the roll casting techniques very well. This one is one of those lines that you will love for this technique.
FAQ's – Questions about the Cortland Indicator Nymph Line
Q) What could be the grain weight of the Cortland Line 4 weight and 5 weight Indicator Nymph?
A) The 4 weight line has a grain weight of 120 while the 5 weight has a grain weight of 140.
Q) Are all the tips Hi-Vis?
A) No. Cortland uses the Dyna Tip technology on the front loop only and designs it in a chartreuse color.
Q) Can this line be used in high-stick fishing?
A) Yes, the line has a two feet highly visible tip that is a perfect indicator for high-stick fishing. You can easily see it compared to the orange color of traditional lines especially in low light situations.
Q) About how heavy is this line?
A) We can't give the exact line weight. However, the package when assembled is about 0.35lbs.
Q) What is the head length of the fly line? Does the head length change across the line weights?
A) The Cortland Line Indicator Nymph has a head length of 57 feet. The head length is the same for all the line weights.
Wrap Up on the Cortland Nymph Indicator Fly line
Nowadays, most fly sellers are experiencing more sales for sub-surface flies than they did with dry flies when the Euro-nymphing technique wasn't prevalent.
Also, it is because most of the trout feed right below the water surface, and trout anglers find consistency nymphing than streamer or dry fly fishing.
For the days when your targets aren't cooperating with beautiful floating flies, Euro-nymphing is a great alternative.
There has been a recent boom in the Euro-style and most manufacturers like Cortland are looking to manufacture high-quality and performing fly lines to complete the rod and reel setups for this situation.
These are some of the reasons why Cortland has the Indicator Nymph for tight-line and high-stick fishing.
Overall, we find the Cortland line's performance very top-notch. It has enough belly to roll casting and mending capabilities.
The short taper is excellent for turning over multiple fly rigs and you will not need indicator rigs for use with this line.
You will love how its profile is complete. This, together with the weight distribution allow the line to deliver your nymph flies to targets at a farther distance when you need to.
Many anglers will confirm that they catch more fish with Euro-specific lines like this one than they would with traditional fly lines.
You will feel more confident fishing this fly line because of the build and length. The line is supple and smooth.
Some lines are dull with very lightly textured finishes and this makes the line's visibility a problem.
We advise that you take advantage of the stealth qualities of the Indicator nymph for rainbows and brownies.
Check Cortland Nymph Web Availability
"Check out some of our other Buying Guides"