Disclosure:
Just to be open and honest the buttons and links you click on in the website will in most cases take you to another website where you can purchase the products I am reviewing. As an Amazon Associate I earn from qualifying purchases.
March 11, 2023
Fly Fishing Illinois Where are the Best Places?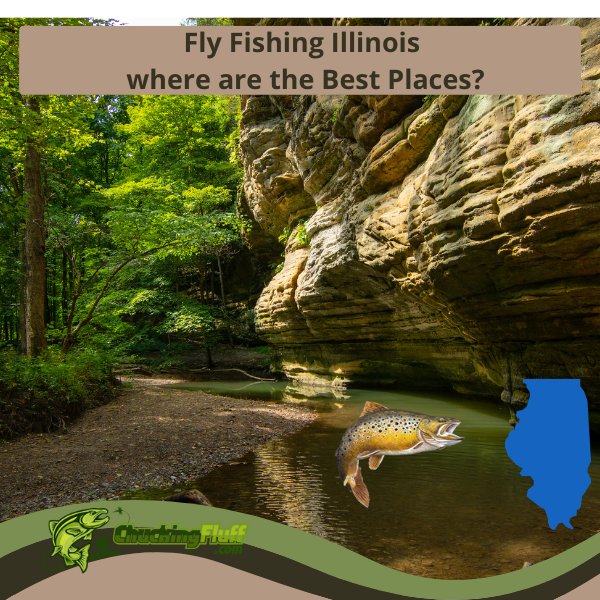 Many know it as Illinois but anglers have always called it the Great Lakes Region.
Not because the name appeals to them.
The area indeed has numerous lakes which makes it one of the best fly fishing destinations for traveling anglers.
Your level of skill doesn't matter. You definitely will find a favorable spot that will help you perfect your skills and learn new ones too.
It is a getaway location for many and the number of fishermen and women that it attracts is large.
Since most anglers indulge in recreation, you might be interested in watching or taking part in the many fly fishing tournaments that are held in this state.
In the Midwest, it is among the havens that fervent anglers go to.
We attribute this to the endless efforts of the Illinois Fishery Management which has put up plenty of breeding reservoirs for more recreational fishing.
The number of natural lakes is breathtaking and the trout, largemouth bass, and catfish fishing opportunities are immense.
Waters here harbor a wide variety of aqua life which any adventurous angler will be pleased to chase.
Areas like Chicago and Lincoln are frequented by rod and reel lovers.
If you haven't been to Chicago, it is vital to know that fly fishing is a challenge because of the winds-a fun challenge.
Many call it the Windy City and its proximity to Michigan Lake and its tributaries makes it an angler's one-stop point.
The opportunities in this lake and its feeders include chase for brown trout, Coho, and steelhead.
Several marinas, harbors, and piers have bank fishing points for yellow perch, sunfish, and smallmouth bass.
The state's department of natural resources usually holds 500 clinics or thereabout annually giving anglers a chance to chase stocked sunfish and channel catfish.
Some of the famous parks where the clinics are held are Douglas, Columbus, Marquette, Gompers, and many more.
Illinois Department of Natural Resources issues basic fishing guidelines.
If you find it pleasurable to visit the state for fun on the waters, enquire about extra clinics and volunteer instructors if you are one.
The state has some waterways with sections that are strictly for catch and release fishing.
This policy majorly applies in the sheds with stocked trout in Will, DuPage, Cook, Lake, and more.
The legendary Kankakee River is near Wilmington and anglers will agree that the northern pike and smallmouth bass fishing here are on different levels.
More species that a fly angler is likely to hook here are muskies, carp, bluegill, and largemouth bass.
Your target species will highly determine the kind of fly fishing tackle to pack.
The size of the watershed will also influence your rod lengths and weights.
If you are after stocked sunfish or trout in smaller rivers and streams, pack a lighter 5 to 6 weight 7-foot rod. Lovers of muskies and steelhead on larger waters will go up in the rod size.
Big and leaping fish need a heavier and longer fly rod with enough backbone.
Don't miss insect patterns for sunfish, crayfish and baitfish patterns for smallmouth bass.
Freshwater drum fishermen need more goby and crayfish patterns, insect patterns for carp, and 7 inch long giant streamers for muskies.
For the best prospects in fly fishing, an enthusiastic angler will stay away from the urban opportunities and head into the wilderness.
The northern region has the Fox Chain of Lakes with excellent facilities to enhance sport fishing.
You can fish on-shore or from a canoe.
The region boasts variety as anglers can choose to chase bullhead, carp, yellow bass, white bass, northern pike, muskies, or channel catfish.
Most facilities run during summer even though the fishing opportunities are all-year-round.
Summer is when fish are overly active and the waters are at the right temperatures.
For winter fly fishing call before traveling to confirm that the conditions are favorable and safe.
Any angler with intentions to visit Illinois should be aware of the seasonal issues like open facilities, weather conditions, stocking programs, and others that are relevant to the sport.
It is interesting to know that all the state records for tiger, brook, rainbow, and brown trout were fished out of Lake Michigan.
The department of natural resources runs a trout stocking program in over 40 area lakes and community parks.
Here are a few of them that you can always visit with a trout combo to see the sizes and lengths you can land:
---
Devil's Kitchen Lake
Sam Dale Trout Pond
Beall Woods Lake
Willow Lake
Jones Park Lake
Jones Lake Trout Pond
Randolph County State Fish and Wildlife Area Lake
Derby Lake
Fairgrounds Pond
Boston Pond
Highland Old City Lake
Feme Clyffe State Park
Mount Vernon Game Farm Pond
Patriot's Park Lake
Clear Lake
Mineral Springs Park Lagoon
Forest Park Lagoon
Washington Park Pond
IDOT Lake
Beaver Dam Lake
Rock Springs Pond
Horton Lake
Villa Grove West Lake
Manners Park Pond
Gridley Lake
Siloam Springs State Park
Lake Strini
Centennial Park Pond
Busse Woods North Lake
Citizen's Lake
Prospect Park Lake
Pine Creek
Spring Grove Hatchery Pond
Horsetail Lake
Belleau Lake
Green Lake
Wolf Lake
Axehead Lake
Hennepin Canal Parkway
---
Fox Chain of Lakes
---
The Fox Chain of Lakes is 50 miles northwestern of Chicago off the Illinois Route 173. Its neighboring cities are McHenry, Fox Lake, and Antioch.
They are pretty different from the other popular watersheds in Illinois.
Their difference comes about in their formation which was through glacier action.
The chain of lakes consists of 9 primary lakes linked by channels.
The lakes are managed by the Illinois DNR and Fox Waterway Agency and are navigable waterways.
Channel Lake sits on 348.5 acres, Lake Catherine on 149.5 acres, Bluff Lake 92.4 acres, Lake Marie 585.0 acres, Grass Lake 1451.4 acres, Nippersink Lake on 2376.8 acres, Petite Lake on 234.5 acres, and Pistakee Lake sits on 1715.7 acres.
You can have a boat to float either of the lakes from the free boat ramps that are state-owned and available at the state park.
These are in high demand and you can be unlucky if you arrive here late.
There are private launches at a small fee as an alternative. Concessions and other facilities that make fly fishing fun are also available at the park.
Since 1954, the Division of Fisheries of Illinois has been monitoring the lakes through fish surveys.
Annually, the chain of lakes is stocked with over 243,000 walleye fingerlings, 3000 muskies, 2000000 walleye fry, and 34,000 largemouth bass fingerlings.
The other species like northern pike are maintained through natural reproduction.
The largest largemouth bass caught in the chain of lakes in 2019 fishing tournaments were between 6.76lbs. and 5.86lbs while the bag weights ranged from 344.43lbs to 250.00lbs.
Of all the 76 fishing tournaments held on theses lakes in 2019 the total number of fish caught were as follows: largemouth bass 3403, muskellunge 20, smallmouth bass 30, and walleye 291.
Species that you can hook in the Fox Chain of Lakes are bluegill, channel catfish, crappie, flathead catfish, largemouth bass, muskellunge, smallmouth bass, northern pike, and walleye.
---
Seasons: All-year-round
Main Species: Bluegill, channel catfish, crappie, flathead catfish, largemouth bass, muskellunge, smallmouth bass, northern pike, and walleye.
Fly Patterns: Clouser deep minnows, deceivers, meat whistle, deer hair bass bugs, peck's popper, Tequeely, soft shell crayfish, Dahlberg Diver Frogs, poppers, large streamers, caddis, mayflies, insects, terrestrials, dragonflies, panfish wiggler, James wood bucktail, brim killer, wooly bugger, mop dragon, green-eyed damsel nymphs, soft hackles
Nearest Towns: Rockford, Milwaukee, Chicago, Fox Lake Hills, Fox Lake, Antioch, Lake Villa, Pistakee Highlands, Spring Grove, Volo, Johnsburg, Ingleside, McHenry
Nearest Tackle Shops: Chain O Lakes Sports, West Marine, Triangle Sports and Marine, Inc., Yellow Bird Products Co, Edge Fishing Products, Musky Tales, Ben Watts Marina, Inc.
---
Kankakee River
---
The Kankakee River originates from an area closer to South Bend Indiana to where the confluence with River Des Plaines near Channahon.
Through Illinois, it flows for 59 miles.
It has three dams and 12 bigger tributary streams.
The upper Kankakee has a very low gradient and flows through Momence wetlands which is a popular flood plain forest with enviable wildlife.
As you head downstream of this river, there is an increase in gradient as the river continues to flow over cobble and bedrock through Kankakee River State Park and flows past Wilmington then joins Des Plains and forms Illinois River.
There are various ways to test the river.
You can choose to wade, fish from a Jon boat or canoe, or fish from the shore.
If you choose to wade, you need to be cautious of the deep water holes and the sharp drop-offs.
Most sections of the Kankakee River have clear waters and are shallow with pools of sand, gravel riffles, and swampy marsh along the river's upper section.
The larger pools are created by the dams at Kankakee, Wilmington, Momence, and the Dresden Lock & Dam on Illinois River's headwaters.
The larger towns along Kankakee River have excellent access and numerous boat ramps. You can find them at Aroma Park, Momence, Wilmington, and Kankakee. 11 miles of good access to the river is in Kankakee River State Park.
It is one of the best smallmouth bass fisheries in Illinois and has its prime spots at Kankakee River State Park and Momence which very the fall catch rates are very high.
The department of natural resources stocks over 90,000 fingerlings of walleye annually and spring sees more walleye fishing activities here.
Channel cats are in plenty in the river and can be fished on every mile of the river but their hotspots are in the Momence and Kankakee River State Park riffles.
These chaps thrive to over 35 inches. For the last few years, anglers are hunting more rock bass.
They are in abundance near State Line, Custer Park, and Rt.17. you can also fish a large number of them in the tributary streams like Fork Creeks, and Rock with the majority between 5 and 9 inches. The river's upper section is full of northern pike.
They love to hide in the marshy vegetation and can grow up to 50 inches.
Early spring and the fall are the best seasons for smallmouth bass fishing and fishermen often target them using crayfish, frogs, worms, minnows.
Largemouth bass will crowd in the backwaters of Des Plaines Conservation Region along this river.
Ebb areas created by tributaries and behind islands are spots for northern pike.
They love quieter waters. Two tournaments were held on this river in 2019 and catch records are as follows: walleye 8, smallmouth bass 12, largemouth bass 40, crappie 8, common carp 13, and channel catfish 14.
The largest largemouth bass that was caught during the two competitions weighed between 4.50lbs and 2.31lbs while bag weights for the same period and tournaments were 51.13lbs and 30.13lbs.
---
---
Seasons: All-year-round
Main Species: Bluegill, channel catfish, largemouth bass, northern pike, rock bass, smallmouth bass, walleye
Fly Patterns: Clouser deep minnows, deceivers, meat whistle, deer hair bass bugs, peck's popper, Tequeely, soft shell crayfish, Dahlberg Diver Frogs, poppers, large streamers, caddis, mayflies, insects, terrestrials, dragonflies, panfish wiggler, James wood bucktail, brim killer, wooly bugger, mop dragon, green-eyed damsel nymphs, soft hackles
Nearest Towns: Aroma Park, Bonfield, Bourbonnais, Bradley, Buckingham, Cabery, Manteno, Momence, Union Hill, Kankakee,
Nearest Tackle Shops: Angelo's Outdoor Sports Center, Elliott's bait and tackle, Bordertown Guns & Sport Shop, DICK'S Sporting Goods, Fishing Connection, Corley's Bait Shop, Bsn Sports, DuPage Fly Fishing Co., Anglers Outlet, Bass Pro Shops
---
Des Plaines River and its Tributaries
---
Chicago region has the Des Plaines as its longest river.
It flows 133 miles southwards and 105 miles within Illinois.
The rest are in southern Wisconsin.
It creates a confluence with the Kankakee River in the southwest of Joliet and forms River Illinois which is a popular tributary of River Mississippi.
The Des Plaines River's widest part is 180 feet wide while the narrower stretches are about 30 feet wide and on average, the river has a width of between 40 feet and 100 feet.
The river's depth isn't constant throughout but on average, it is 3 feet deep when all factors remain constant.
It is easy to fish it from the shore or float it on a kayak or canoe. Some anglers prefer to wade in the shallower areas.
The bottom is full of silt and rock and waders should be alert throughout.
About forty years ago, the Des Plaines River was a degraded stream and was about to dry up.
Currently, it is a favorite urban fishery for many anglers.
A larger part of the watershed is surrounded by forest preserves and it is among the rivers with plenty of access points.
Northern pike are plenty in the area with low gradient upstream of Riverside and these buddies grow to more than 30 inches.
Larger largemouth bass are common as you head downstream around the area near Isle La Cache and Lemont Road where anglers catch them ranging from 12 to 20 inches.
Rock bass fishing hotspots on the river are at Lemont Road, Riverside, and Old Dam number 2 with fish ranging between 6 and 9 inches.
Throughout the river, channel catfish are 16 to 26 inches and the best places to catch them in this length category and large numbers are Lemont Road and Riverside.
The lower section of the river is full of smallmouth bass and Lemont Road, Isle La Cache, and the Division Street Locations.
Walleye are only common at Riverside. IDNR has a sauger stocking program on this river that sees it receive over 20,000 sauger fish annually.
Thirty-four tournaments were held on the river in 2019 with the total catches being as follows: smallmouth bass 74, largemouth bass 1196, common carp 133, and bowfin 4.
The heaviest largemouth bass caught during all the tournaments ranged from 4.31lbs to 3.84lbs.
The bag weights for largemouth bass during the tournaments in the same year ranged between 180.81lbs and 93.91lbs.
---
Seasons: All-year-round
Main Species: Bluegill, channel catfish, largemouth bass, northern pike, rock bass, smallmouth bass, walleye, crappie, carp, sauger
Fly Patterns: Clouser deep minnows, deceivers, meat whistle, deer hair bass bugs, peck's popper, Tequeely, soft shell crayfish, Dahlberg Diver Frogs, poppers, large streamers, caddis, mayflies, insects, terrestrials, dragonflies, panfish wiggler, James wood bucktail, brim killer, wooly bugger, mop dragon, green-eyed damsel nymphs, soft hackles
Nearest Towns: Schiller Park, Park Ridge, Bensenville, Franklin Park, Wood Dale, Elk Grove Village, Mount Prospect, Harwood Heights, Niles, Melrose Park, River Grove, Itasca, Morton Grove, Stone Park, Golf, Addison,
Nearest Tackle Shops: Country Corner, DuPage Fly Fishing Co., Buzz's Baits, Advantage Bait Company,
---
More Prime Fly Fishing Spots in Illinois
---
DuPage River is a tributary of the Des Plaines River and runs 28 miles in the state.
It has excellent public access and opportunities to catch northern pike, walleye, smallmouth bass, largemouth bass, and crappie.
For healthy smallmouth bass in plenty, head to the Naperville are. Waders can try the Knoch Knolls Nature Centre.
Visit Lake of the Woods in Mahomet and comb the preserve area sitting on 900 acres.
Rainbow trout, largemouth bass, bluegill, carp, crappie, and channel catfish dominate the Siloam Springs State Park Lake in McKee Township.
It is a sparkling lake with a wooded terrain.
The gorgeous northwest Illinois is home to the Apple River Canyon State Park that is eclectic and covers about 2000 acres.
It is a clean river with clear waters. It has stocked trout and in spring sees anglers chasing crappie, sunfish, smallmouth bass, and carp.
Lake Springfield is a beautiful place for a fly fishing getaway. You can rent a boat and explore the deeper parts of the lake for catfish, bluegill, and largemouth bass.
Fishing options in the south are great at Devil's Kitchen Lake on 810 acres.
It is a tranquil location where anglers go to catch yellow perch, rainbow trout, and largemouth bass in the reservoir.
Heading a few miles eastwards from the Devil's Kitchen Lake is the Lake of Egypt which is a privately-owned reservoir though has private access for fishing crappie, largemouth bass, and bluegill.
Rend Lake is an option for anglers looking to catch carp, channel, flathead, or blue catfish, bluegill, crappie, and largemouth bass.
The lake has a depth of 10 to 35 feet depending on the location.
Crab Orchard Lake is a manmade reservoir that was put up to control flooding and enhance recreation.
It is large and sits on 7000 acres.
It has its fishing regulations that anglers should adhere to while fishing bluegill, crappie, channel catfish, white, and largemouth bass.
The Heidecke Lake used to be a cooling section for Collins Station Power Plant which quit running about a decade ago.
It is a special fishery with its rules. Its structure stands out from all the lakes in the state as it has a perched section.
Depths here also vary and we recommend using a fish finder to find schools of fish.
If you are looking for a variety of fish species in one location head here for bullhead, pumpkinseed, bluegill, crappie, channel catfish, hybrid striped bass, muskellunge, walleye, yellow bass, largemouth, smallmouth, and striped bass.
Lake Michigan is a favorite among many residents and non-resident anglers as it is favorable for anglers of all skill levels.
It is one of the lakes in the state with the highest number of fish species. A few that you can hook here are salmon, bass, crappie, whitefish, smelt, brown trout, lake trout, walleye, northern pike, steelhead, and muskies.
Jumbo fish reside in the Mississippi River that snakes through various states in the USA including Illinois.
Anglers can try their luck with perch, northern pike, catfish, walleye, crappie, bluegill, sauger, smallmouth, and largemouth bass.
Other top fly fishing watersheds in Illinois that you can choose to visit are Little Grassy Lake, Lake Shelbyville, Clinton Lake, Pierce Lake, and Vermilion River.
Wabash, Spoon, Sangamon, Rock, La Moine, Kishwaukee, Kaskaskia, Iroquois, Illinois, Fox, Embarras, and Cache Rivers and over 250 lakes and reservoirs.
---
Tips for Successful Fly Fishing in Illinois
---
Trout stocked in more than 50 water bodies in the state require an angler to purchase an inland trout stamp before accessing any trout waters.
You have a chance to fish 80000 rainbows that IDNR stocks in these waterways in spring and fall.
To catch sunfish species in Illinois, head to watersheds with little dissolved oxygen and warmer temperatures.
Carry small dry flies and poppers to fish them when you spot surface activity.
Anglers targeting smallmouth bass should reach for areas with current and very little aquatic vegetation and slit.
A trick to fun fly fishing in Illinois is to have in mind that in any waters that a fisherman can fish normally, it is possible to fly fish.
Just know the fish species in the area, the hatches happening, and pair that with the relevant fly and combo.
Trout stocking is done majorly in spring so come here very early before supplies begin to get depleted in June or thereabout.
However, for an angler who is here on a long vacation of months, April through November has the best prospects in different water bodies across the state.
It will depend on what you are targeting and on which month as some species are overly active and shallow on some months and dull in the other months.
The Fox, Kankakee, and other rivers can be pretty tricky to fish in. Have all the basics and vitals that an angler needs to have.
Some river bottoms have razor-sharp rocks, others are slippery with moss and algae, and others have the sudden drop-offs.
If you have problems focusing, you might be in trouble.
Trout anglers are advised to have rods of 4 to 5 weight, 9 feet leaders with 5 or 6x tippets.
Bass fishermen need rods of between 6 and 8 weight.
Your choice of fly will be a major consideration.
But most anglers pack minnows, poppers, wooly buggers, and bushy streamers.
---
FAQ's – Questions for Fly Fishing in Illinois
---
Q) At what age must one be to acquire a fishing license in this state?
A) Any resident or non-resident wishing to access the Illinois state waters for fishing must be of 16 years and above.
Q) Should I register my canoe before fishing in Illinois?
A) Watercraft that are non-motorized, paddle boats, canoes, kayaks, and sailboards below 22 feet as of length don't require registration or title in the state.
Q) Do I need a water usage stamp to use a non-powered watercraft in the state?
A) No, you don't need the stamp.
Q) Is it possible to use goldfish as fishing baits in Illinois?
A) Yes, it is allowed by the IDNR.
---
Conclusion on best fly fishing destinations in Illinois
---
It will surprise you that this state has the most lakes in the USA.
Doesn't this already tell that fly fishing isn't a joke? It does.
You are yet to add to this the number of streams, rivers, and ponds that are all rich in a wide variety of fish species, aqua life, and forage.
Public access to most of the watersheds doesn't seem to be a problem as some have as many as 20 points to access one river.
The popular rivers are crowded at the hotspots during the peak fishing seasons.
However, there are miles with healthy populations of fish that anglers hardly go to.
These stretches are the gems that you should go after.
There are lightly fished waters but the trout homes are mostly exploited because naturally, these guys are pretty fun to play with.
We hope that the IDNR will look into expanding the trout hatcheries and stocking more trout into newly identified potential trout waters.
Maybe this can see the trout fishing tournaments increase on rivers and lakes and beat those of the largemouth bass.
While we pray and hope that this happens, we recommend visiting this state because of the diversity of water bodies.
Ensure that you are carefully packing your tackle and gear to avoid spending more on hiring gear or making new purchases which could be costly near the water bodies.
Check our buyer's guide and see what entices you and will be effective for Illinois waters.
We hope to hear from you soon. Share with us the rivers, ponds, and lakes that you have fished in Illinois.
What tackle and gear did you pack?
Were they effective?
Which flies have the most success?
What tips and secrets can you give?
We'd like to know how your overall experience was.