Disclosure:
Just to be open and honest the buttons and links you click on in the website will in most cases take you to another website where you can purchase the products I am reviewing. As an Amazon Associate I earn from qualifying purchases.
February 26, 2020
Best Fly Fishing in Montana – Big Sky Country
What's on your angler's bucket list this year? Maybe you should visit the clear, cold trout waters of Montana and see if it'd give a returning experience. You can decide to adventure on the Flathead Lake or get lost in the Paradise valley among other prized spots for fly fishers in Montana.
The balance between the serenity and offerings of Mother Nature makes The Big Sky State a suitable place for fishermen to wet their lines.
There is an incredible diversity of wild trout waters from spring creeks and lakes to fishing streams and rivers. Locations here coincide with almost all angling interests and expertise levels.
Within a short ride, you encounter a vast variety of water bodies and so many miles of blue-ribbon streams and rivers. You can spread your wings to any spot and not miss something to hook on. Access laws in the state favor the angler.
We have put together a handful of places in no particular order of importance. These are fishing points to have in your lifetime to-visit list. If you feel like you have more locations that we haven't highlighted and feel like they deserve a mention, share them with us in the comment section.
Let us also know which areas you have fished and what your experience was like.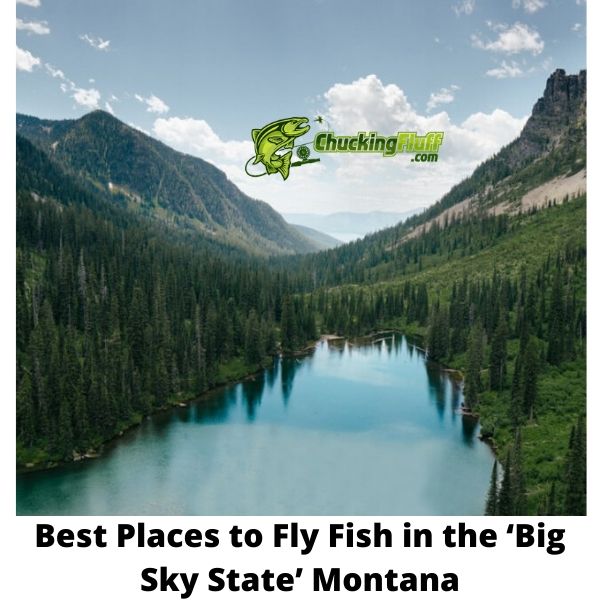 Fly Fishing in 'The Big Sky Country' Montana
---
---
Best Fly Fishing in Montana
Hebgen Lake
Hebgen is one of Montana's dependable trout fisheries. In the summer and winter, you will spot huge numbers of large brown and rainbow trout in these waters because of the conducive habitat and excellent forage.
They make trips to and from the Madison River to spawn. Once they reach Hebgen Lake, they give serious anglers greater chances on calm days to sight fish cruising. Their primary food are tricos and mayflies. Access to where the fish are is via a float tube or a boat.
We can't name them all but there are very many spots where you can launch your tube on this lake. However, highway 287 runs along the lake on the northern side, making it easy to gain access. Additionally, several other roads provide access to the south side of the lake, where numerous campgrounds are also found.
There isn't a very good shoreline for waders and those who choose to walk on while fishing. Fervent anglers can remain on the Grayling or Madison arms of the Hebgen. The lake sometimes experiences heavy boat traffic so note this as you select your spots.
Season: Winter and Summer
Main Species: Rainbow and Brown trout
Fly Pattern: Mid emergers, callibaetis, duns, spinners, and tricos.
Nearest Towns: Hebgen Lake Estates
Nearest Tackle Shop: River Edge, The Tackle Shop
Must Carry Gear: Leaders-these chaps get spooky.
---
---
Missouri River
Missouri is where most of the trout streams in Montana drain into. Lewis and Clark were among the first people to explore this river and boasts so much in history. The explorers were in search of a water route that leads to the pacific. Despite not being successful, their major discovery was Montana's best trout stream.
Anglers frequent this place since it homes some of the largest brown and rainbow trout. If you are a dry fly expert, this is a point to sight fish. As part of the fourth longest river system in the world as it joins the Mississippi the Missouri was a building block for the wild west with fur trading steam boats and cargo moving up and down the river.
It was home to many indigenous people and saw many wars as the middle Americas were forged out. Now the Missouri host some of the best trout fishing in the North Americas.
Missouri's formation is at the Three Forks where Gallatin, Madison, and Jefferson rivers meet. Missouri has great fly fishing spots. However, a hot spot we can recommend is the Holter Campground. It is below the dam and has a boat ramp where you can launch your boat. You can also enjoy night mousing for trout here.
Season: June to August, however, fish rise here daily.
Main Species: Rainbow and Brown trout
Fly Pattern: Beetles, hoppers, terrestrials, Parachute Adams, Pheasant tail nymph with beaded head, pale morning dun
Nearest Towns: St. Charles, Arrow Rock, Hermann, New Haven, Roche Port, Kimmswick, Ste. Genevieve, Cape Girardeau
Nearest Tackle Shop: The Trout Shop, CrossCurrents Fly Shop, Headhunters Fly Shop,
---
---
Yellowstone River
Yellowstone is among Missouri's primary tributaries. It also falls under the USA's best trout streams. It hails from the Yellowstone National Park and flows north out of the Wyoming state into Montana. It is one of the world's best ribbon blue fisheries.
There is so much to brag about it since it is one of the longest free-flowing rivers in the United States. You can do more dry fly fishing here.
Commencing from the Yellowstone National Park passing through the Paradise Valley and heading further, access is superb. The river is extremely large and float fishing will be an ideal mode. You can try your chances in wading and walking since the currents are fair.
From Livingstone heading downwards, trout numbers begin to decrease. Sticking next to Gardner will see you landing the popular Yellowstone cutthroat trout. As you enter Paradise, rainbow trout become common.
Season: Fall, Summer, June, and July
Main Species: Rainbow, Brown, and Yellowstone Cutthroat trout
Fly Pattern: Streamers, Hopper limitations, and golden stonefly nymphs.
Nearest Towns: Cooke City, East Yellowstone, Big Sky, Gardiner, Bozeman, West Yellowstone, Jackson Hole
Nearest Tackle Shop: Park's Fly Shop, Sweetwater Fly Shop, and Anderson's Yellowstone Angler.
---
---
Madison River
Right at the convergence of the Gibbon and Firehole rivers in Yellowstone National Park is where the Madison River begins. It is a 183-mile riffle. Its uppers can be confused for a humongous spring creek. The river enters Montana and feeds the Hebgen Lake.
There is a tailwater below the Hebgen and though short, it is an excellent fishing point. Quake Lake is also great to hook on a few buddies.
The primary access is the $3 Bridge for waders and is always crowded because of the mountain whitefish, brown, and rainbow trout spend the most time here. The summer attracts mayfly spinners and evening caddis.
From the bridge downstream, the river is easily accessible and float anglers will be successful here. The lower section begins from the Lake Ennis down through the Beartrap Canyon. Access in the lowers is tricky though if lucky, the fishing experience here with larger trout and crawfish.
Season: Mid-June to July and fall though it can be fished throughout.
Main Species: Rainbow and Brown trout, mountain whitefish, crawfish
Fly Pattern: Midges, BWOs, terrestrials, Yellow sallies, PMDs, Caddisflies, Salmonflies
Sections: Madison in Yellowstone Park, the park's boundary to Lake Quake, Upper, and Lower Madison.
Nearest Towns: Three Forks, Ennis, Bozeman
Nearest Tackle Shop: Madison River Fishing Company, The Tackle Shop – Outfitter and Fly Shop, The River's Edge Fly Shop, Trout Stalkers – Outfitter and Fly Shop
---
Yellowstone National Park
It is only a section of this National Park in Montana. This small part can engage an angler in a lifetime without adventuring other places. Despite the striking geothermal features and beautiful wildlife, there are lots of fly fishing opportunities here.
You can hook mountain whitefish, grayling, cutthroat, lake, brown, brook, and rainbow trout. You can sometimes visit the Madison River and fish the fall run.
Late summer is when the lake trout head up the park. As the fall peaks, so does the run. One of the best times is from mid to late in October when the weather is completely off. You should be fully armed with winter gear.
The northeastern part of the park is a great deal. Get into the Lamar valley from Cooke City and fish the Lamar waters, Slough or Soda Butte Creek. You will land lots of Yellowstone cutthroat trout if you present you dry flies well. Have a feel of terrestrial fishing when the summer peaks and ends.
Season: Late summer to fall, October
Main Species: Rainbow, Cutthroat, Lake, Brook and Brown trout, mountain whitefish, graylings,
Fly Pattern: Streamers, large nymphs, baitfish imitations, caddis, mayflies, stoneflies, Baetis
Nearest Towns: Jackson Hole, East Yellowstone, Island Park, Coke City, Gardiner
Nearest Tackle Shop: Fishing Bridge – General Store, Madison River Outfitters, Arrick's Fly Shop, Big Sky Anglers
---
---
Gallatin River
Gallatin River has its headwaters in Yellowstone Park and is an excellent trout river to fish. As you head further downstream, that is where the best fishing experience is. This section is the anglers' favorite. NOTE: Float fishing is forbidden in most parts of this river.
Waders will have incomparable moments here. You can float fish below the river's junction with Gallatin's East Fork. The only limitation is access to the waters. So, float fishing is the only option in the lower section.
https://www.outsidebozeman.com/activities/fishing/fly/gallatin-river
https://www.montanaangler.com/montana-fly-fishing-rivers/gallatin-river-fishing-guides
This river has a high gradient and flows pretty fast as it hails from the mountainous parts of the Yellowstone. It is a cold water river and the peak season is from July to September with brown and rainbow trout as the main species.
Large mountain whitefish love this area too. The Gallatin is a great dry fly river and spruce moth patterns and standard attractors will be effective here.
Season: July to September
Main Species: Rainbow and Brown trout, mountain whitefish
Fly Pattern: Nymphs, spruce moth, standard attractors
Nearest Towns: Three Forks, Big Sky, Belgrade, Bozeman
Nearest Tackle Shop: Fins & Feathers of Bozeman, The River's Edge Fly Shop, Montana Angler
---
---
Ruby River
Unlike most blue ribbon rivers with three sections, this one has two. The upper hails from the Natural Forest lands and is a hot spot for small to medium size cutthroat and rainbow trout. You can occasionally catch grayling too.
After the forest, access is limited because of private properties. Montana laws only allow you to access waters that are below the given high watermark. Remaining in the stream and not accessing corporate property will save you lots of trouble.
Below the Ruby Reservoir holds a brown trout fishery that is worth exploring. There are no crowds here and the fish are a little cooperative. If you are looking for a hopper fishing chance, Ruby's lowers is it.
Summer through fall is when brownies battle the hoppers. Stay away from the upper banks since they are very bushy and navigation is almost impossible.
Season: Summer through fall
Main Species: Rainbow, Cutthroat, and Brown trout, graylings
Fly Pattern: Hoppers, tricos, wooly buggers, minnows
Sections: Upper and Lower Ruby
Nearest Towns: Alder, Nevada, Virginia
Nearest Tackle Shop: Four Rivers Fishing Company
---
---
Flathead River-South Fork
If you are looking for solitude, tranquility, and great moments with your fly fishing combos, the South Fork should be your choice. It is located in the lower 48 and right into the wilderness. The South Fork of this river hails flows through Bob Marshall Wilderness 1.5 million acres of designated wild country the largest in the lower 48 states, here expect to find traces of wolves, bears and moose.
The only way to access the stream is by walking and backpackers often come here for lone times. Should you decide on coming here, arm yourself with a bear spray because not even a riffle can scare the grizzly bears away.
Cutthroat trout are in abundance here and love dry flies as their lives depend on them. So, know what to pack in your fly box. You can easily catch bull trout here and Montana legalizes it in this location.
You can't harvest them. Simply catch and release according to Montana's regulations. If targeting bull trout, they love big streamers.
Season: August to October
Main Species: Bull and Cutthroat trout
Fly Pattern: Big streamers, standard attractors, and other dry flies
Nearest Tackle Shop: BigFork Anglers
---
---
Bitterroot River
Bitterroot boasts some of the best spring fly fishing experiences in the state. The Skwala stonefly frequents these waters and is from size 8 to 12. They spawn in late March to early April. During this time, the large trout are readying themselves to feast on the hatches, being ready will reward you with plenty of action.
If you've never had the best experience, try it here after the winter and have fun presenting flies to eager trout. If planning to wade early-season wear thermal leggings as the water can get very cold.
Season: Spring through fall
Main Species: Trout
Fly Pattern: caddis, mayfly, stonefly
Nearest Towns: Hamilton, Missoula, Stevensville
Nearest Tackle Shop: Grizzly Hackle Fly Shop, The Missoulian Angler Fly Shop, Whacking Fatties, Kingfisher Fly Shop
---
---
Other Hotspots that you can Adventure
Rock Creek is a wader's choice. It is sizeable and has plenty of access and you should expect more rainbow and cutthroat here because salmon fly, yellow sallies, caddis, and stoneflies love to hatch here.
Jumbo brown trout will never fail in the Beverhead waters. Most anglers fish in its uppers and there are rules on float fishing. You can carry your light tippets and nymphs to hit a few in this river. Streamers might be a gamble.
Spring Creeks of Paradise Valley is a private spot and toward the higher end price-wise. Pale morning duns and other mayflies hatch here in abundance luring fish to the water surface. Large brown and rainbow trout are the chaps here though landing them can be tricky. Carry your fine tippets, long leaders and light rods to this creeks.
Anglers will appreciate the shallow waters of the Ennis Lake. In calm weather, drifting a boat with tricos or callibaetis will see you hooking trout. Guides advise fly fishing this lake during morning hours.
The Clark Fork River was on its way to total destruction as a result of mining waste runoffs. There have been ongoing Superfund cleanup programs to rescue this gem. The upper section harbors brown trout and access can be a problem. As you near Missoula, this is the best place to fish.
People hardly come to Glacier National Park to fish but once here you can exploit the many rivers and streams. You can land native cutthroat which is what is mostly fished. Bull trout too are in plenty.
Jefferson River is an option for tranquil spots if you are hoping to fish far from crowds. It is hardly fished and needs patience because of the low population of fish. You can streamer fish in its upper section for brown trout.
For native grayling lovers, the Big Hole River is where to fish. You can also land brook, brown, rainbow, and cutthroat trout. Some sections have excellent access while others are perfect for floatation. You will never go wrong with dry fly patterns on these waters.
Dedicate your time to fishing in the Bighorn River and you will never regret it. It homes huge brown and rainbow trout and in large numbers too. Carry your standard tailwater patterns and make a trip out of the Bighorn.
Cliff and Wade Lakes are closer to the Madison River and harbor huge trout and weigh up to 30 pounds. Most anglers do subsurface fishing but sight fishing for cruising trout is also possible. You can use a sinking line with crawfish or leech patterns if you want to fish where the large trout are. Hire a canoe or float tube for more success.
---
Tips for Fly Fishing in the Big Sky Country
Ensure to carry various sets of tippets and leaders. If you are set to dry fly fish, carry a good number of long leaders for fishing on several rivers and lakes. They should be about 12 to 15ft 5X tippet size. Once in a while, you can choose a heavier one depending on your choice of fly and the season.
Some spots in the wilderness are graced with grizzly bears. It will be rather cautious of you to carry effective bear spray than ruin what was to be a fantastic experience in one of Montana's wildernesses.
Stock your fly boxes with many flies that match a variety of hatches. Morning duns will work well in most streams and rivers, caddis, stoneflies, Salmonflies, and yellow sallies will do excellently on many streams and rivers. Lake fishing will need a bunch of tricos, leeches, crawfish, and callibaetis.
In soft winds on rivers like Gallatin, having a longer rod of about 10 feet and 3 or 4 weight will be ideal to reach potential spots. This also applies to areas like Rock Creek.
Sinking lines are good options for fishing in lakes with deeper waters. 4 weights will be superb for catching gulpers. These chaps can be spooky and lighter presentations and landings will yield. In spring creeks, use the same paired with a 3 or 4 weight fly rod when winds are soft. These lines will favor anglers looking to throw streamers to catch larger trout. However, having this line on a seven weight rod is among the surest things to do.
Generally, if you are a light packer, arm yourself with a 9ft 5wt fast action rod and a weight-forward floating line. The combo favors most applications. However, if you'd wish to add something to cut through the winds on such days or hit big waters, tag along a 6wt.
---
FAQ's – Questions about Fly Fishing in Montana
Q) Do you need a fly fishing license to fish in Montana waters?
A) Yes. You require a valid fishing license that you purchase at $15. Other accompanying licenses are $10 conservation license, and a $2 aquatic invasive species permit for residents. You should have the right duration license to avoid trouble with legislators.
Q) Can you carry home fish you catch in Yellowstone?
A) If fishing in the lake, you are advised to catch and release as a rule of thumb for native fish. You can carry any non-native fish that you land.
Q) Generally when is the fly fishing season in this state?
A) Usually, the season runs from early March to early November. These are the peak months, however, the state experiences anglers coming in throughout the year.
Q) Is it possible to night fish in Montana?
A) Most anglers fish for bass in the night here. However, if you have a special spot that has recommendations for great night-time experiences with other species, you can try it out.
Q) Where can one fish salmon in this state?
A) Lakes like Ashley, Seeley, Noxon, McDonald, Koocanusa, Helena, Holter, Hauser, Georgetown, Fresno, and Fort Peck have salmon in good numbers.
Q) Which fish species is native to Montana?
A) Montana's native cutthroat is the water treasure that makes this state special to anglers.
Q) What is the penalty for fishing without a license in Montana?
A) The penalty of such a violation is a fine not less than 50 dollars or over $1000, imprisonment in the county's detention center not more than 6 months or both.
Q) Do children need licenses to fish in this state?
A) Non-resident children below 11 years do not need the license. However, they should be alongside an adult with a valid fishing license and all relevant permits.
---
Conclusion on the Best Fly Fishing in Montana
The United States is full of places you can fly fish but putting a list of must-visit spots can be a problem because of the zeal and anxiety to try new places. We want to try them all but we can't in one season.
Montana is among the best states for this. It boasts a unique combo of amazing vistas, abundant fish, diversity of waters, and excellent infrastructure to support the sporting industry with the best guides, equipment, and community.
There are incredible fly fishing experiences from plenty trout in the state's west to prairies in the eastern side.
We have put down a good number of places where you should purpose to visit when next you land here. It is vital to check current fishing reports for the points you'd wish to visit to be at par with weather conditions, any noticeable, and pack rightfully.
Also, read through the area's regulations to avoid finding yourself on the wrong when you could avoid it. We have an entire section of best buyer's guides on our site where you can sample, select, and purchase the best matching gear, apparel, and equipment you'll require for a successful trip to Montana.
There is at least something for every angler since the products range from budget-friendly to high-end options. So, some coat cutting should be done without fail.
Plan a trip to this state and have a Montana Moment that you can share, educate, and inspire others to try their combos in the Blue Sky Country like we'd like you to do in the comment section.