Disclosure:
Just to be open and honest the buttons and links you click on in the website will in most cases take you to another website where you can purchase the products I am reviewing. As an Amazon Associate I earn from qualifying purchases.
November 10, 2022
Where are the Best Fly Fishing Areas in Alabama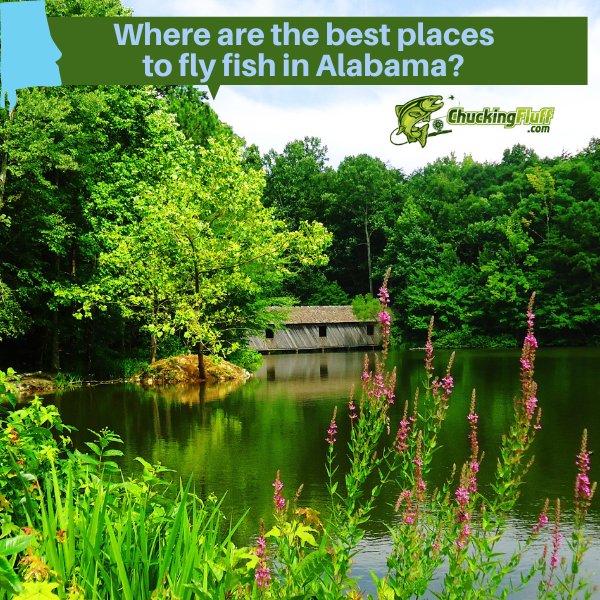 Alabama is mostly associated with spin fishing.
This however doesn't rule out the existence of fly fishing opportunities in this state.
It has several spots for the best fly fishing experiences.
Fly fishermen come here for bass, trout, redfish, stripers, and more species for recreation.
The sport is gaining popularity so fast and within no time, it might take over spin fishing.
The heart of Dixie mightn't have water conditions suitable for the reproduction and growth of trout all year round but surprisingly, trout fishing happens here.
Visit this a unique state without any large naturally formed lake.
It, however, doesn't limit its offerings as there are numerous waterways formed by damming.
Others are manmade but still give the best of fish.
You must have heard of the legendary Chattahoochee, Alabama, and Tennessee.
They are among the state's 77000 miles of streams and rivers.
We can say that Alabama is a gem as over 38% of the North American fish are natives of this state.
Anciently, Alabama fly fishers spent time in the local ponds making casts with tiny floating bugs under willow limbs that were overhanging to catch bluegill and bream-a variety of sunfish.
Sometimes they caught largemouth bass which is the official state fish.
Currently, most of the state-owned hydroelectric reservoirs and lakes across Alabama offer numerous species for the fly angler.
The black bass is becoming a favorite for anglers coming to the state.
The state homes two subspecies of spotted bass.
One type of northern subspecies lives across the state while the other inhabits the upper Mobile Basin.
Spotted bass in Alabama is a battler game fish that loves the larger reservoirs, streams, and rivers.
Smallmouth bass in this state is native to the waterways in the Tennessee River Basin in the state's northern area.
One of the prime smallmouth bass fisheries is Lauderdale County's, Wheeler Dam.
There have been fish reeled out of these waters that have broken world records.
More streams in the state allow for fishing from a boat or wading and anglers will enjoy every bit.
Shoal bass and redeye bass are also native to Alabama though they are rare species.
Shoal bass is only found in the Chattahoochee River but the redeye is popular in the streams that are above the fall line.
You will catch both species in the long and free-flowing sections.
Trout fishing is not so limited.
The southeastern waters which are favorable for trout are in the Appalachian Mountains.
The water flowing below Lewis Smith Dam on the Black Warrior River's Sipsey Fork retains its colder temperatures throughout the year.
If you are a trout angler, you know that such conditions are the best for trout to thrive.
The state has made efforts to stock trout here annually.
The stocking program is ongoing in the Madison County State Public Lake during the winter season.
Georgia neighbors Alabama and their stocking program on the Little River has seen anglers in Alabama benefit.
Fishermen and women are loving the striped bass here.
Although it is a saltwater fish, it spawns in the freshwater regions.
The state has stocked many stripers in freshwater bodies and looks like they are adapting well.
Previously before damming most of the state rivers, the stripers came into the state waters in spring to spawn.
However, the current spawning runs are limited.
The stocked stripers here thrive to over 45 pounds and love to feed on baitfish.
You should pack heavier fly fishing tackle suitable for saltwater fishing in order to catch these buddies.
Besides chasing game fish, most of the fly anglers will not hesitate to go after rough fish which are commonly known as nongame fish.
Some of the nongame species are bowfin, gar, and carp.
These fellows will often devour flies making pursuing them a fun sport.
Saltwater fishing is a segment of fly fishing that is rapidly growing in Alabama because most of the excellent game fish that live in the ocean are at anglers' disposal.
Anglers can enjoy pursuing sea trout, sailfish, redfish, tarpon, and many more.
You will spot most of the saltwater anglers in the state fishing in the shallow inshore areas.
This is where most fish come to feed and others live.
The inshore opportunities are wide at the Alabama Coast starting from Mobile all the way to Perdido Bay.
Did you know that the deepwater game also love flies and will readily take any?
Some that you can go after are Dorado dolphinfish and billfish.
For the two, ensure that your flies imitate baitfish, squid, crabs, and shrimps.
See the spots that we have compiled below.
---
Sipsey Fork
---
The Sipsey Fork hails from the Smith Lake dam in the area near Jasper.
It is Alabama's only public trout water and has flies that are similar to the Elk.
From Huntsville, it is a longer drive but reachable.
There is so much information about the Sipsey Fork and the Lewis Smith Dam and how they become trout fisheries.
The dam was put up in 1961 as a generation point for the Alabama Power Company.
While the administration of the power plant benefited from the waterways, they thought it would be a brilliant idea to have the chilly waters home aqua life.
They made the first attempt to stock rainbows in the lake but this blatantly failed.
Somewhere in 1974, they stocked the tailrace which is currently called the Sipsey Fork.
A few other departments have joined in preserving the fishery.
Currently, the Dale Hollow National Fish Hatchery, the U.S Fish and Wildlife Service, and Alabama Power are working closely to stock over 35000 rainbows annually.
Their efforts yielded as anglers began frequenting the waterway but the primary problem was access to the fishery.
The trails leading to the fork were muddy and difficult to use.
Many anglers got discouraged because of this.
It took over a decade to address the issue of poor accessibility.
In 2010, there was the installation of staircases and walkways leading to the tailrace.
They went a step further to create handicap access for persons with disabilities.
This solved the issue of access making the spot gain popularity very fast.
The tailrace has healthy populations of fish that thrive to over 18 inches and as heavy as two pounds.
For you to be successful on this Fork, you have to fish in the areas with pools, eddies, and slack water.
These are the areas with cooler waters and where trout love to hide in groups.
The setting and landscape here are similar to a small river or a basic creek and because of the power generation activities on the watershed, water levels easily rise to higher levels in a short time.
Ensure that you are aware of this and know how to maintain safety when on the fork.
---
---
Season: Year-round
Type of Water: Tailwaters
Main Species: Rainbow trout
Fly Pattern: Ants, beetles, crickets, grasshoppers, mayflies, caddis, midges
Nearest Town: Crane Hill, Bremen, Dodge City, Jasper, Curry, Double Springs, Houston, Arley, Addison
Nearest Tackle Shop: Riverside Fly Shop
---
Joe Wheeler State Park
---
The resort is on the banks of Lake Wheeler and occupies about 2550 acres.
If you'd like to enjoy bank fishing, head to the Wheeler Laker.
There are more opportunities for anglers who would like to boat fish and pier fish.
You can bring your craft or rent one at the park.
The state park is in northern Alabama and is closer to Athens.
Anglers looking to chase and catch giant fish will have a great time here.
It is common to catch a flathead and a blue catfish that is more than 100 pounds on this lake.
Bass fishing is also popular in this watershed.
You should purpose to come here when there is so much water that flows through a dam that was put up to dam Tennessee River and form the Wheeler Lake.
If you are looking for catfish, troll with a shad or a skipjack herring.
When under the dam, you can catch skipjacks to use as bait.
Head to the deepwater overhangs and spend time fishing there because they are home to the giant catfish.
The regulations at this lake encourage anglers to catch and release the enormous fish.
---
---
Season: Summer, fall, winter
Main Species: Catfish, sauger, hybrid striped bass, white bass, redear sunfish, bluegill, white crappie, black crappie, blue catfish, channel catfish, smallmouth bass, largemouth bass
Fly Pattern: Mayflies, stoneflies, caddis, wooly buggers
Nearest Town: Athens, Decatur, Rogersville,
Nearest Tackle Shop: Lake Shore Tackle Co.
---
Mobile – The Tensaw Delta
---
You need to plan enough time to tour the Mobile Delta which is a beautiful jungle graced with numerous rivers, tributaries, and streams.
They intertwine to create stunning islands that are home to wildlife like bears, alligators, bobcats, venomous snakes, and bull sharks.
Often, when there are heavy downpours in the spring season, the Delta experiences serious flooding that covers the land up to 10 feet.
Looks like the flooding comes with blessings for anglers here as the season commences earlier unlike other fishing areas in Alabama.
You will enjoy bream fishing here. Bluegill and large shellcrackers are in plenty in the Delta. To catch the shellcrackers, carry lighter tackle and nightcrawler baits.
Bluegills will always feed on your crickets and red worms.
Head to the weedy covers to get shellcrackers as they like to hide there and cleaner bans for the bluegill.
The bluegill spawning beds smell like a ripe watermelon.
So, if you perceive something similar, know that it is time to throw your lures.
---
---
Season: Year-round
Main Species: Speckled trout, flounder, redfish, bluegill, crappie, shellcrackers,
Fly Pattern: Grasshoppers, ants, terrestrials, crickets, red worms, nightcrawlers, dragonflies, shrimp, plastic grubs, Crankbaits,
Nearest Town: Spanish Fort, Mobile, Saraland
Nearest Tackle Shop: Bass Pro Shops, Southern Bama Bait & Tackle, Academy Sports + Outdoors, McCoy Outdoor Company, Shirley's Bait & Tackle, Quints Sporting Goods, Tackle This Shoot That, West Marine, Field & Stream,
---
Aldridge Creek
---
The Aldridge Creek begins at Jones Farm and heads to the Tennessee River.
As you head farther south, the creek grows bigger and bigger.
There is an access point at along Aldridge Creek Greenway that you can use to get to the watershed.
You can catch a fish here on almost every cast. Most anglers recommend using a bluegill popper.
There are bass of varied sizes in the semi-deep sections throughout the creek.
This is about one and a half feet deep.
Target the drainage pipes dumping stormwater into this creek.
The area below such pipes is reasonably deep and holds lots of fish in decent sizes.
Be patient as there is plenty of good fish along the banks of the creek.
These bass face upstream and sight fishing in these sections is fun.
The creek will be a disappointment for anglers targeting big game fish.
You will catch the stupid bluegill which is always willing to feed even when not hungry and your pulse will race when you spot a 5-pound bass in water that is only one foot deep.
---
---
Season: Year-round
Main Species: Largemouth bass, sauger, smallmouth bass, catfish, bluegill
Fly Pattern: Hipps HellCraw, Plan B, poppers, leeches, hoppers, wobblers, crayfish, shad, flashabous,
Nearest Town: Huntsville, Scottsboro
Nearest Tackle Shop: Orvis, Leaf in Creek, Buster's Bait & Tackle, DICK'S Sporting Goods, Academy Sports + Outdoors, Cabela's, Scottsboro Tackle Company, Waterfront Bay Grocery & Tackle, Lake Shore Tackle Co.
---
Elk River
---
Below the Tim's Ford Dam on the Elk River is a hotspot that anglers should try.
The water from the lake comes from the bottom areas of the dam and is very cold to support the growth of trout downstream.
Tennessee Wildlife Resource Agency keeps stocking the river severally each year.
It is strictly a put and take watershed. Most of the trout here grow to about 8 and 10 inches.
The stocked fish since they are introduced into these waters, they always love to eat.
You can find holdover fish which grow to over 5 pounds.
However, they are rare.
If you were to hook a good fish on this river, it probably would be of 15 inches and it will bend your 4-weight quite more.
As the state is common for its warm water fishing, you will need different tactics to fish the Elk just like you would in the Sipsey Fork.
In the Elk, you will let the current work more for you.
You can try your luck with San Juan and midges upstream and aim at 45 degrees then allow the fly to drift down.
You must have strike indicators or bobbers to notify you if a fish has eaten your fly.
If you don't want to fish at the Tim's Ford Dam, head to the Farris Creek Bridge.
Ensure that you aren't fishing when the TVA is generating power since the turbines flush a lot of water at high pressure making it difficult to fish the river and more treacherous.
---
---
Season: Year-round
Main Species: Trout, sunfish, crappie, bluegill, bass, catfish
Fly Pattern: Midges, San Juan, leeches, worms, baitfish, sedges, eastern green drake, stoneflies, sulphur, caddis, march brown, blue wing olive
Nearest Town: Athens, Bremen, Huntsville, Oxford, Guntersville,
Nearest Tackle Shop: Elk River Lures, Riverside Fly Shop, Orvis, Tackle Box, Buster's Bait & Tackle, Guntersville Tackle & Outdoor
---
More Prime Fly Fishing Spots in Alabama
---
The Alabama Gulf Coast has some of the best saltwater fly fishing opportunities for redfish, cruising drum, Spanish mackerel, hardtail jack, whiting, ladyfish, and bluefish.
Aim for these in the early mornings.
Great fish are in the areas connecting the Gulf.
An example is Perdido Pass.
Carry baitfish patterns, a sinking line and be watchful of the activities happening on the water surface for more success.
Visit the Wilson Lake on the Tennessee River if you are looking for bass in an area with less pressure.
It is near Florence. Smallmouth are in plenty here and you will need a slow sinking line.
You can land a few stripers and smallies also.
Come here in late spring after the smallmouth bass spawn.
The Mud Creek and McClendon Creek meet at a confluence that forms the Tallapoosa River which flows 265 miles and feeds the Coosa.
It has plenty of warm water fishing opportunities for the redeye bass.
You can launch a boat at the Horseshoe Bend Military Park and paddle to Jaybird Creek Landing as you have fun.
The longest free-flowing watershed in Alabama is the Cahaba River which snakes 194 miles with plenty of panfish and bass.
It is split into two sections by the fall line. Its upper portion has clearer waters though very rocky.
Its lowers are muddier with sandy bottoms affecting the clarity of the water.
It is a package of beauty with the landscaping and Cahaba lilies.
Another longer river is the Coosa that hails from Georgia and flows 255 miles through Alabama and feeds the Alabama River.

It is famous for largemouth, striper, and crappie fishing. The river has 6 impoundments that create lakes like Jordan and Weiss among others.
These lakes boast the best fishing opportunities for spotted bass fishing.
The northwestern area of Alabama is home to the Little River Canyon Preserve for Wildlife.
Inside the preserve is the Little River Management Area that gives access to the Little River that has opportunities for crappie, catfish, bass, and bluegill.
Near Guntersville town is where you find the Guntersville Lake which sits on 69100 acres.
Its water level is stable and the greenery here allows for the growth of bass ranging between four and six pounds.
More species that you can catch here are sunfish, catfish, and some trout species.
February to April is the best time to target trophy bass.
Travel to Escambia County Lake which locals refer to as the Leon Brooks Hines Lake.
It is on 184 acres and among the twenty three public fishing lakes under the management of the Alabama state.
You can catch huge largemouth bass weighing over 14 pounds. Others that you can catch are bluegill and redear sunfish.
May to August is the best time to fish because of the spawning season of the bream.
Target their beds at three to five feet deep.
You can fish from the bank or choose to boat fish which yields more.
Lake Eufaula is on Chattahoochee River and is home to black crappie, channel catfish, flathead catfish, white catfish, and blue catfish.
You will also enjoy bass fishing here and is what attracts anglers to this spot. They weigh more than 40 pounds.
Try fishing in the 43000 acre Pickwick Lake that is in the Shoals.
It is popular for its small and largemouth fishing opportunities and in the southeastern USA, it falls among the top 20 bass lakes.
It also harbors giant flatheads, striped bass, white crappie, and black crappie.
If you are planning to visit southeastern Alabama, check out the Wedowee Lake which holds a wide variety of bass fish species.
Others that you can go after are flathead, crappie, and channel catfish.
---
Tips for Successful Fly Fishing in Alabama
---
Be careful of the reservoirs and lakes that have energy generation plants.
The turbines tend to release water at high pressure making the water levels rise highly within a very short time.
This hinders fishing and can be treacherous to anyone near.
Ensure to check the power generation schedules to ensure that you aren't inconvenienced and at risk.
Pack normal fishing gear and accessories.
The temperatures in most parts of the state are however high and you must consider this as you pack your apparel.
They should be breathable.
In the southern region, the bug life is unspeakable and with plenty of critters that can be uncomfortable and a nuisance.
Ensure that you purchase an effective bug spray or repellent for this reason.
Match the hatches to entice the rainbows if you are here for trout.
Pack more midges, caddis, and mayflies.
Have more streamers, poppers, and nymphs.
For the rod, a 4 to a 5 weight with a 9 to 12-foot leader will do.
Tippets should be 6x. Wooly buggers, San Juan, bluegill poppers, and worms will work for bass almost anywhere in Alabama.
For the small waterways, have a 4-weight and a 7.5 feet leader because there are a few game size fish.
---
FAQ's – Questions on Fishing in Alabama
---
Q) What age must someone be to acquire a fishing license in Alabama?
A) Whether a resident or non-resident, as long as you are 16 years and above, and need to fish in the state waters, you must have a valid license.
Q) What is the cost of a fishing license for the disabled?
A) In this state, it goes for $3 only.
Q) What about that for the military veterans?
A) Military veterans purchase fishing licenses for $3.10.
Q) Can I keep the trout I catch in Alabama?
A) Yes. As long as the fish are 15 to 22 inches only. The maximum bag limit is 6 fish. It is possible to bag only one oversized trout in a day this is inclusive of the 6 fish limit.
Q) How many fishing rods can I use when here?
A) For trout, only one rod is recommended however, you are allowed a maximum of three rods. Ensure that you don't breach the special regulations of some lakes as they limit to only one fly rod.
---
Conclusion
---
According to the recent records, there are slightly over 500,000 anglers in this state but fly anglers are 1/10 of this population.
Despite their numbers being low, we can witness growth compared to what it was like five years ago.
We attribute the growth to fly anglers diversifying and fishing other species like catfish and bass apart from the trout in Sipsey.
Remember that Alabama is the second state in the USA when it comes to listings of the states with the highest numbers of native fish.
There is a bright future for fly anglers in this state.
Why don't you be among the few that manage to fish in the waters of such a privileged state?
It can be fun and of course, can own bragging rights.
What will make you more successful is packing the right tackle gear and apparel for your expedition.
There is a plethora of this equipment and the problem might be in deciding which one to have.
Check our buyer's guide for help and purchase without affecting your budget as you will have more to spend at the fishing spots.
Have you fished in Alabama waters? How can you rate the offerings here? We'd like to hear from you.