We all have our own idea what flies we think should be good to fish for wild brown trout but just because we think it doesn't mean they will work. Here we will discuss some of the best flies for brown trout and ones you would be wise to carry with you on your next fishing adventure.
I have short listed seven flies that according to Pat O'Reilly in his book "Matching the Hatch" are called his magnificent seven. These flies when carried will give you an option for most every situation you will come across when fishing for wild brown trout.  Although we are talking about seven patterns in total we will need several sizes of some patterns to really cover all situations.
Darting and Stonefly Nymphs
Nymphs of pond and lake olives are agile darting creatures and can be found in any depth of water close to the surface, in the middle and at the bottom.  To represent these creatures the gold ribbed hares ear has become the anglers favourite.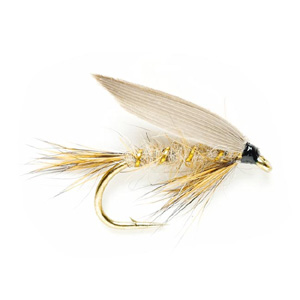 The tying pattern is not really that important but more the movement and size of the fly. When trying to get the pattern down deep a lead bodied fly has been developed as well as the gold head both of which are very successful. Letting the fly sink to the bottom then a quick lift of the rod to induce life into the fly will usually bring a take from a cruising trout. Sizes 14 and 16 work well with these.

Dark Duns and Spinners
Many of the upwinged insects on rivers and stillwaters have a drab olive body as duns and brown as spinners.  A fly pattern that was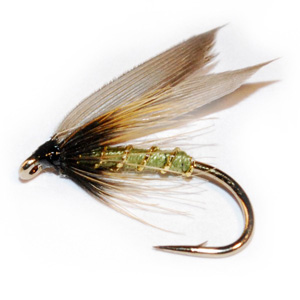 developed in 1854 by cannon Greenwell and James Wright on the Tweed has become the basic pattern for fishing olives during the season.
The Greenwells's glory as it was named originally tied a s a wet fly has now many variations but the dry pattern with starling upwings is probably the best allrounder in sizes 12 and 16.
Light Duns and Spinners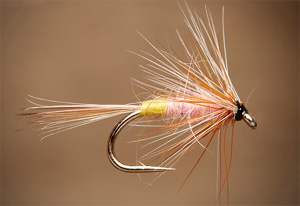 A majority of upwinged flies have a pale wing and a fly pattern that was developed in 1900 the Tups Indispensable is a good representation of any light winged flies that may be hatching and a good alternative to the Greenwell's Glory. Keep in sizes 14 and 16 with you.

Sedges and Alders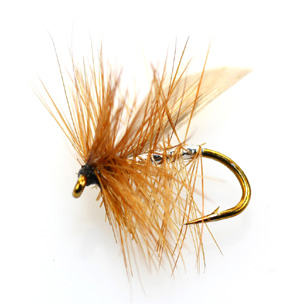 During the summer and autumn months sedges become very active in the evenings. These hatches are anything from a few millimeters to about 30mm and come in many colours. The most common size is usually around 10mm and a pattern to imitate these hatches and is a good compromise is the silver sedge. This fly pattern has stood the test of time and is particularly good for trout in rivers and streams. I keep sizes 12 and 16 with me for this one.

Damsel Nymphs and Fry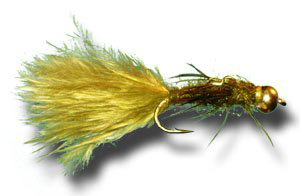 [easyazon_link identifier="B00KD8N948″ locale="US" tag="chuckingflu0b-20″]Damsel nymphs[/easyazon_link] are a staple diet of trout who sit in wait along the shore for hatching nymphs to feast upon in many stillwaters. Many river anglers overlook this pattern when fishing and will usually fish with dry flies or other similar lures. However a damsel nymph can be very productive and should be carried. A great asset to any fly box is the damsel nymph in sizes 10 and 12 which not only cover trout eating damsels but backs up for trout cruising after fry also.

Beetles, Midges, Gnats and Black Flies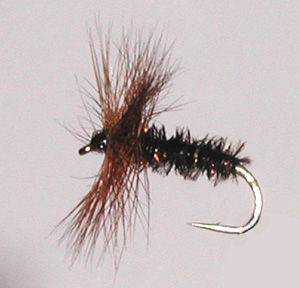 Throughout the season there are many tiny black and dark insects from beetles to spiders and flies that get blow into the water from over hanging bushes and trees. So it is essential that you carry something small and dark to offer trout feeding off such insects.
The Welsh name for a small beetle is Coch-y-bonddu and it is this pattern developed for this situation we will use here. Basically it represents the tiny beetle and will come in handy and can be fished wet or dry in sizes 14 and 16.

Buzzer Pupae
A staple diet for trout on most stillwaters are chironomids and these insects are most desired by trout during the pupae stage when trying to escape the water to hatch into midges. It is at these times when a hatch is on that trout will favor the pupae over most every other insect in the water leaving many anglers frustrated if they are not carrying these buzzer patterns.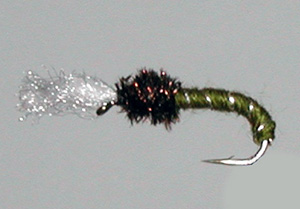 A simple suspender buzzer olive in colour would be a good one in sizes 14 and 16 to complete our list.
Well there you have it a selection of seven patterns that any self respecting wild brown trout angler should carry in his fly box. They have pulled me out on many days when the fishing wasn't going to plan and I hope they can be successful for you too.
I would be interested to hear what patterns you would think are essential to carry in your box as each location and water type will have its desired flies, but if in doubt try one of these. Also check out my post on matching the hatch techniques for more information.