Disclosure:
Just to be open and honest the buttons and links you click on in the website will in most cases take you to another website where you can purchase the products I am reviewing. As an Amazon Associate I earn from qualifying purchases.
January 16, 2017
Garmin Striker 4 Fish Finder Great Value For Your Money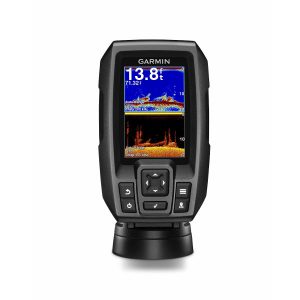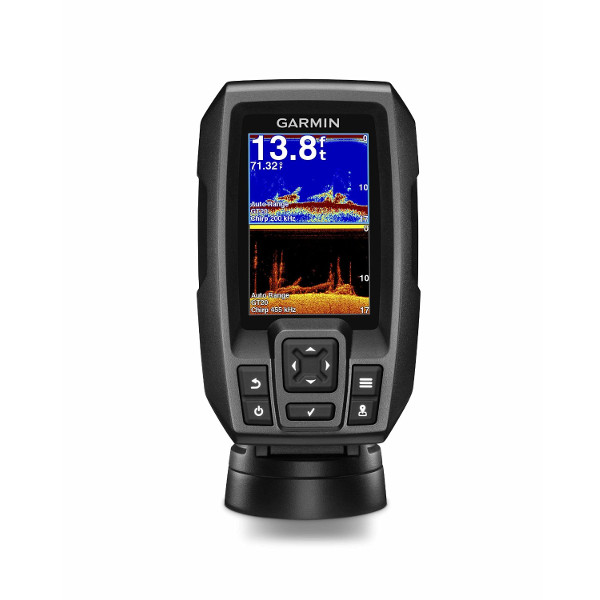 ---
CHIRP Sonar and CHIRP DownVu combined power.
---
Rugged Build
Water resistant up to 1m
Sturdy mount
---
Great value for money
thousands of units sold worldwide
---
Just check the reviews for clients feedback
we recommed
Garmin Striker 4 Fish Finder: Great Value For Your Money
The Garmin Striker 4 is a feature-rich fish finder for its price. Here is a no hassle, easy fish finder which is easy on the pocket. This fish finder is for those who want all the basic features with no frills. It offers the essential utilities with an option to upgrade certain features.

Its versatility makes it a good option for people who go for a variety of fishing activities. It is an entry-level device. If you are new and unable to zero in on one device, you might want to consider Garmin Striker 4.
Features
Accurate and clear imaging with CHIRP technology
The Garmin Striker 4 combines the power of CHIRP Sonar and CHIRP DownVu in its transducers
To get sharp images of deeper water, CHIRP transducers send multiple signals at multiple frequencies. Low-frequency signals provide deeper images with less clarity. High-frequency signal provides crisp images but in shallow depths. When the device receives the signals back, it collates the results.  This gives it a broader range of data and hence, more accurate visuals.
With Garmin Striker 4 you can see individual locations of the fish in sharp detail
The range of the transducer is 1,600 feet below water, and to 750 feet in salt water. Any obstacles within this distance can clearly be seen on the device with near photographic clarity
Keep track of movements
The Garmin Striker 4 is designed to work in high-speed conditions
A-Scope technology provides live imaging of the movements of fish targets
You can track fish targets even when your speed is high with Ultrascroll and auto gain technology, which avoids noise in the scans and helps to find more targets
Light, compact and easy to follow
At a weight of just 8 ounces, the device is easy to carry around. It has a 3.5" screen with split-screen zooming. The controls, located next to the 480-pixel x 320-pixel screen, are easy to learn
The clean images provided by the transducer are well rendered on the screen.  The color display can be viewed even under bright light
Split-screen viewing enables viewing of images from multiple scans. These images can be zoomed to see the terrain and fish arches in detail
A rugged build
The fish finder is solidly built, and it is also IPX7 waterproof.  This gives it a resistance up to a depth of one meter. Splashes of water should not be a matter of concern at all
The tilt mounts for the device are very stable. Be it storm or rainy weather, the device can withstand all
Be always on your way with high-sensitivity GPS
The Garmin Striker 4 is equipped with GPS. Apart from providing great navigation, it also lets you save locations and points where fish are found. Important points like docks and ramps can also be saved
Once saved, these locations can be used as waypoints. Waypoints offer map-like features. This includes estimated time of arrival and indication of the distance to target
The high-sensitivity GPS also lets you track your speed. This is particularly useful when you want to regulate your trolling speed for different fish
Create and share routes with the Garmin Striker 4 
You can create your routes with this fish finder; a trail that you particularly liked or found worthwhile can be relieved exactly.
The device also lets you share your routes. You can get and give recommendations for these routes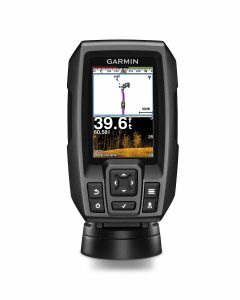 Pros
If you are stationary fishing, then you are better off with a flasher. The Garmin Striker 4 combines fish finder and flasher. This is a great boon when ice jiggling or while fishing in shallow and muddy situations. So don't fret when you change your fishing spots. The device has you covered in a variety of situations

Users with advanced needs can customize the product. Garmin offers superior quality CHIRP transducers. These show images from greater depths

The offered upgrades currently are GT23-TM and GT22-TM models.

Garmin Striker 4 Installation is as simple as it gets

Thanks to its compact build, the device is easy to mount

The swivel/tilt mount that comes along with the product can be fixed easily on even small boats. Even beginners would find it easy to install this

The cable for the transducer is of ample length. It can be easily connected to the device
Cons
The low cost and size of the device have come after the exclusion of some features: 
There is no mapping. Users create their waypoints and navigate around them
Latitude and longitude information is also not available
Its compact size means that the screen is small. Some users might find it difficult to make sense of all the information from the small screen
The transducer that comes with the device can scan only to a depth of 750'
Users with advanced needs could go for customizations or costlier devices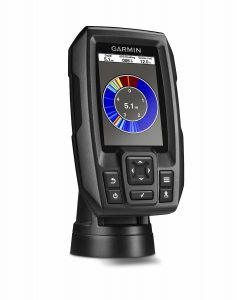 ---
CHIRP Sonar and CHIRP DownVu combined power
Water resistant up to 1m
Garmin Striker 4 DV you can see individual locations of the fish in sharp detail
---
Designed to work in high-speed conditions
Equipped with GPS
You can create your routes with this fish finder
---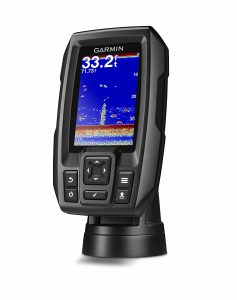 Summary
Reviews about performance

As per reviews on Amazon, the device is very reliable, especially the accuracy of the transducer and GPS. Users have also been particularly taken with the ease of installation of the device. Particularly, owners of small boats.

The lack of a Micro SD Card is a complaint raised by many. A lack of details in the manuals for the device has also been a concern for some users.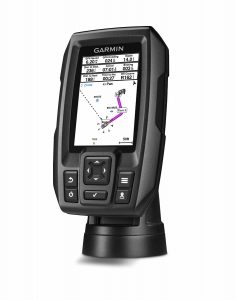 Final Verdict
There are not many fish finders in the segment which offer the same features as the Garmin Striker 4. The quality of the GPS is top notch. Garmin's CHIRP technology offers quality images.

Portability is a major plus for this device, and the Garmin Striker 4 comes with a kit that can carry the charger, battery, and the transducer cables. This makes it suitable for very small boats like kayaks or canoes.