Disclosure:
Just to be open and honest the buttons and links you click on in the website will in most cases take you to another website where you can purchase the products I am reviewing. As an Amazon Associate I earn from qualifying purchases.
February 26, 2021
Best Fly Fishing Kayaks – Stealth Angling
Among all the methods of fishing, fly fishing has been rated as one of the most exhilarating.
Despite it allowing you to step outdoors and enjoy the tranquility of the water and other offerings of Mother Nature, it gives a sense of fulfillment to an angler whose sanity depends on the sport.
How you fly fish will determine your yields.
Fishing from a kayak is highly recommended by top fly fishing guides as it gives the fly fisher greater access to areas and pockets that are unreachable when fly casting from the banks.
Assessing paddling sports, kayaks are rapidly growing, and fly anglers are a bigger contribution to this growth.
After considering the pros of fly fishing from a kayak, you will agree that adding a good one to your collection will up your water game.
Also, if you can spend a few hours paddling even if you don't land a fish, the enjoyment will be enough.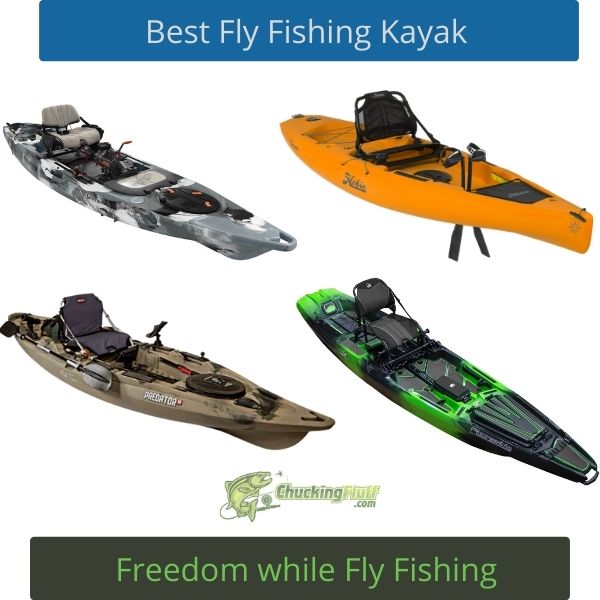 The primary problem comes about when an angler needs to choose the best fly fishing kayaks for their excursions.
Just as selecting the best fly fishing combos from the plethora available in the market can be daunting, so is the task to choose your kayak.
Kayaks allow you to access a larger territory and heightens your rates of success. You will have more access to more fish that are wandering beyond the range of your cast.
You are also likely to discover new hotspots and destinations that are yet to be spotted by other fishermen/women.
The History of Kayak Fly Fishing
While the first instance of fishing with an artificial fly was recorded as the 2nd century was wrapping up and credits given to the Roman Claudius Aelianus, kayaking dates back to 4000 years ago.
The practice was initially established in the Arctic areas. Anglers used traditional kayaks to fish on the rivers, inland lakes, and coastal waters.
European settlers adopted the ship's design and constructed kayaks made from fabric. Kayaks were made in this manner until the 1950s.
This is when anglers individually started testing fiberglass on kayaks to gauge durability and functionality, the first kayak made from plastic was made in 1984.
Ancient kayaks were made from animal skin that had been stretched over wooden frames. Modern kayaking began in the California shores amongst silent angling groups.
Tim Nemier, one of the anglers, used to craft his kayaks using fiberglass where he lived in Malibu. He created scupper kayaks that resemble the current fishing kayaks.
At that time, the scupper kayaks were the solution to the sit-in kayaks that behaved tipsily and were common among ocean kayakers.
His kayakers went for about $150 and he often sold them from the shores of the Pacific Coast Highway.
Neimer made it his sole business that later grew into a reputable firm called the Ocean Kayaks. He shifted from using fiberglass to highly available plastic.
"Check out some of our other Buying Guides"
Materials Used to Make Modern Kayaks
Depending on the manufacturer's target audience, the material they choose to design the kayak will influence the resultant price of the product.
Ancient kayaks were made from animal skin and wood and survived the test of time even if they aren't as highly effective as modern designs.
Below are what manufacturers are currently using in their crafting workshops:
Glass/composite
Wood
Polyethylene powder
ABS
Poly-based fabric
NOTE: Each material has its advantages and disadvantages. The pros and cons will determine the efficiency of your kayak. The material also affects the functioning and handling of the kayak.
---
10 Key Advantages of Fishing from a Kayak
Sometimes, you will get stuck on the banks and might not have planned to go bankrupt after paying for a powerboat.
A good fishing kayak will come in handy for such times. Anglers have been fishing from crafts for years now.
Listening to fly fishers conversing made us discover that the majority are trading their canoes, skiffs, and boats for more efficient and modern kayaks.
If purchasing a kayak is on your bucket list for this season, here are some advantages of fishing from kayaks that will aid you in making the right purchase decision.
---
Great Affordability and Low Maintenance Costs
When buying a kayak, the initial purchase is low. Any angler setting themselves up for a kayak will spend between $450 and $2000 for an excellent one.
There are more advanced kayaks with gadgets, trolling motors, and electronics that surpass the $3200 price point.
They still get the job done but they cost more because of their sophistication. Most fly fishers will however be content with a basic setup.
Kayaks are fully human-powered and this makes the paddler the engine. Apart from treating yourself to a hearty breakfast and packing a power-filled lunch, you don't have to spend on fuel to run the vessel.
It is possible to launch your kayaks almost anywhere without needing a boat ramp. This means you can forget about ramp fees.
Powered boats need to be insured while this is not needed for a kayak. You will have to register your boats and pay a fee. Save yourself such expenses by thinking about a good kayak.
You know how much your mechanic bills you when something on your jeep goes wrong and you can't mend it by yourself. This is the same case for a boat.
However, with kayaks, they aren't built with technical rotating parts or motors. Most fly fishers will escape the repair costs by mending damages by themselves.
---
Greater Access to Fishable Areas
Launching a kayak is possible in almost all water bodies. The size doesn't matter neither do you need a dock or boat launch.
You could be driving and spot an area with potential water life and pondered how your boat will get into the water.
If you had a kayak, it would have been easier to comb the area for dinner or the next day's lunch.
A kayak cart will open up more possibilities and you can haul it into areas far away from your truck.
---
Fish with Stealth
Forget the noisy motored boats. Kayaks are the masters of silence and the only sound will be that of your paddle in the water.
When you stop paddling everything goes ssssssshhhhhh! It is easy to sneak on spookier fish.
---
Tighter Spaces and Shallow Waters? Fish them!
Never underestimate the ability of kayaks. They glide through tighter spaces effortlessly.
We know that flats boats and poling skiffs can work on shallow waters but you need a lot more effort than you would when using a kayak.
Also, when paddling your kayak and the urge to wade is too much, get into the puddles.
Kayaks have slimmer profiles and allow you to maneuver the tiniest water routes. This can further open up fly fishing opportunities boats wouldn't.
Being closer to the water on a kayak allows you to duck under canopies and overhanging trees. Use a kayak to explore and find secret spots.
---
Excellent Fishing Positions and Casting Angles
Being lower to water levels has its advantages when fly fishing structures.
On kayaks, fishermen/women can skip their lures underneath the overhanging foliage and under the docks where most fish hide.
These are casting styles that are difficult and almost impossible when fly fishing from a boat.
Kayaks' maneuvering abilities allow anglers to be in better positions for most demanding fishing situations they find themselves in.
It is possible to slide near the banks and cast along them keeping the lures in strike zones longer than you would when you are throwing your casts perpendicularly from the boat to the bank.
---
Customization Galore
Any angler who owns a kayak will agree that this equipment is highly versatile. You can customize them to suit your requirements.
Numerous accessories can convert your kayak from a basic-looking one to a sophisticated command center.
Most fly fishing kayaks have been built with relevant aspects for the fly angler but almost every component can be improved to suit your style.
RAILBLAZA and YakGear have various kayak accessories that can completely outfit your kayak.
Regardless of whether you are fishing for snook in the salt flats or bass in the fresher areas, some features can improve your kayaking experience.
---
Comfort is Everything
Some anglers are prone to getting fatigued after long hours of fishing while standing in the boats or on the banks.
You will appreciate the comfort that comes with relaxing and seating while fishing from a kayak.
Most kayaks come with adjustable seats for all-day comfort. After catching your day's limit, you can sit, relax, and feed your eyes with the beauty of the surroundings.
---
Convenience
You can easily transport kayaks by tying them to the vehicle's carrier or put them in the car trunk depending on the design.
Manufacturers are giving anglers an easier time by designing more advanced and highly efficient inflatable and foldable kayaks.
The two are gaining popularity among anglers as you can carry them in a bag and move with them to any location by any transport means.
---
Environmental Conservation
A reasonable fly fisher will love their environment more than their sport. Kayaks are eco-friendly as they use no fuel and don't have motors.
Being fully human-powered means that they can't leave any negative impacts on the surrounding they are used in.
Being self-powered makes the angler reach specific speeds that aid in protecting our shorelines, foliage, and water surrounding.
---
Overall Health Improvement
Kayak fishing is an excellent recreation activity packed with numerous health benefits. Fly fishing from a kayak improves your aerobic fitness, boosts your strength, and betters your flexibility.
Other benefits include lower blood pressure, burnt calories, mental alertness, and psychological fitness.
Does a Fly Fishing Kayak Differ from a Regular Kayak?
The fly fishing technique needs an angler to cast their fly in shallow waters most of the time. However, the technique still does well in deeper waters.
However, it is most often done on the water surface. Anglers are required to perform certain maneuvering skills for shooting and baitcasting in distance.
Upon catching a fish on your fly, you still have to perform unique maneuvers to reel it in and pull it out of the water.
Kayaks are obvious preferences for most anglers. However, some crucial aspects you will need in a good fly fishing boat are the ability to cross narrower passageways, greater stability, and stealth.
Most boats need motor engines to cruise making the stealth and silence aspect useless. Boats become less considered for fly fishing.
Fly fishing needs you to maintain the fish's position on the surface or slightly below the surface. Sounds of motors from regular boats will definitely spook fish and drive them away.
When going on solo trips, fly fishing kayaks are the best for high stability, subtleness, and to be unnoticed by fish. The primary aspect that differentiates fly fishing kayaks from regular kayaks is the needs.
Fly fishing kayaks need to be stable and an angler can negotiate on width, size, and other aspects. Regular kayaks are built with better acceleration and speed. However, you need to keep balancing them often.
Fly fishing kayaks on the other hand could come with extra features like rod holders, more storage space, and other additions.
Is Kayak Fly Fishing Dangerous?
Kayak fly fishing is very thrilling but in some instances, it can be dangerous. Creatures surrounding you can pose more danger.
Brackish or saltwater areas could have sharks in them that cruise unnoticeably. Never get curious and go visiting up close.
Sharks bump kayaks to find out if it could be a possible meal or another animal. Rarely do they bite your kayak.
If yours is made from plastic, the big guy will swim away after realizing that plastic isn't delicious.
To stay safe in the event of shark attacks, ALWAYS keep your legs and arms in the kayak. Never leave any caught fish on stringers that are attached to the kayak.
---
Stingrays are also common in salty areas and are prevalent in summer. Most anglers get hit when getting in or out of the kayak.
Before jumping in your kayak, have good-quality wading boots that have ray guards. Always shuffle your feet frequently to scare the rays.
---
Snakes in the salts and freshwaters will vary in aggressiveness and temper. Breeding seasons are the most dangerous times to be around these guys.
Snakes are territorial in early summer and spring. They tend to posture and protect themselves. When kayaking, watch out for overhanging trees that extend lower to the water.
---
Beavers inhabit a few freshwater areas. Despite being very cuddly and cute, they can get aggressive in their territories.
They commonly warn kayakers with tail slaps and can circle you when you ignore the warning. Get out of the area to calm them.
---
Alligators with babies are the most sensitive. Vacate the zone if you hear hisses or low rumbles. These water animals charge to protect young ones or their areas. Never agitate or tease alligators.
Don't worry about falling off a kayak as you paddle. These pieces of equipment have been designed to curve upwards with a reasonable height to protect you. Ensure that you have a life jacket or a good personal floatation device.
Other risks of kayak fly fishing are the submerged debris, undertows, and currents.
Kayak Accessories you need when Fly Fishing
On a day out fly fishing from a kayak, things will run smoothly if you have the right accessories. These are available for the angler's safety, convenience, and safety.
Hundreds of gear exist but we bring you the critical ones for productivity. These kayak accessories are functional for almost every kayak.
---
Rod Holders
Most fly fishing kayaks come with high-quality rod holders. It will be necessary to test some to identify the best one for your combos.
Move the holders to different sections on the kayak to fish spots that will work for you. Examples of companies that manufacture versatile rod holders are Ram Mounts Rods and Accessory Holders and Scotty Rod Holders.
Rod holders allow the angler to operate hands-free when docking, beaching, trolling, paddling, or launching. These accessories should be quick and easy to install. You might need a kayak deck hardware kit for a sturdy installation.
---
Personal Floatation Device (PFD)
Finding a personal floatation device or a life jacket that properly fits and is very comfortable will be a clear path towards safety. Wearing it can save a life.
Ensure that it performs well both when seated or standing in the kayak to allow you to be comfortable if you will be spending long hours on the water.
Selecting one that works in place of a fishing vest will come in handy when storing essential tools and accessories that should be easily accessible.
---
An Anchor
A good anchor will have various uses when fly fishing from a kayak. It will keep you within a specific spot when combing an area using a fly rod.
It keeps you targeted at points with fish and won't drift away making you lose a cast that looked promising.
One anchor works well but when you suspect a windy afternoon or adrift, pack two anchors to counter instances of rotation.
The anchors should be properly designed, fold to fit in compact storage, and possibly have their separate bag for space management and convenience.
Anchors should be made from durable material like forged steel for durability and to prevent breakage or bending that could occur if the anchor gets snagged.
Most anglers are considering anchors with universal designs that they can use with paddleboards and canoes.
---
Paddle and Paddle Leash
There are endless options of paddles and their leashes in the current market. An angler needs to know the widths, arm spans, and heights of their boats.
Select a paddle of the correct length that suits you. This will help you to get the best out of every stroke.
A shorter or extremely longer paddle than necessary will make paddling hectic. You will spend more energy than you would have to get the casts in.
A paddle leash allows you to connect your paddle to your kayak all the time. It is a nasty feeling to get stranded off-shore or up the creeks without any paddle.
---
Survival Throw Bags and Ropes
Throw ropes are basic lifelines to other fly kayakers in trouble. They take up less space but must be stored in closer reach like in the cockpit area.
You can use it as a functional tow rope when your fellow angling kayaker is drained.
The length should be generous and anything from 50 feet will be just fine. Pack it properly to prevent tangling when you throw it.
It should be packed from the bottom to the top and watched closely to avoid coiling or creating snags when you throw it.
---
Tackle Crate
You need to have all your fly fishing gear properly organized in the kayak. This makes it easy to access each of them.
Place your crate behind your seat and have everything well arranged in it. Its position will prevent it from sliding anyhow in the deck of the kayak.
---
Floating Stringer
Floating stringers will be visible when ties to the kayak. Stringers help the angler to locate fish in case the unexpected happens.
---
Fishing Pliers
Have fishing-specific pliers to control the number of equipment you pack. The pliers will be necessary for improving efficiency as you switch out lures and tackle.
---
Drift Chute
Sometimes, slowing the drift and enjoying more time patrolling flats and pitching at docks is fulfilling.
Some days have high winds and a drift chute will come in handy when controlling such elements.
---
Flag and 360 Degrees Visibility Light
You will be surprised that some fly fishing days are more yielding before sunrise and after sunset.
Any angler fly fishing from a kayak should take all the precautionary measures to make themselves visible throughout to avoid bumping into others on the water.
A flag made from Hi-Vis material will be advantageous because of better light reflection.
---
Fish Finder
Fly fishing in deeper waters might require you to have extra equipment to help locate fish. You will have stepped up your game if you invested in the best portable fish finder.
Built with sonar graphics, you can locate fish in higher resolution detail. Most of them are built uniquely and are castable designs.
Fishfinders are portable and their power allows for mapping any water you are fishing in and the user can transfer the data to their PC to create excellent 3D models of areas they have fished.
Any that goes past 250 feet deep will mark waypoints for later referencing so that you can return to more yielding spots for trophies.
---
Padded Kayak Seats
Sore backs are common among kayakers and others that fish from the boat. The convenience and comfort of fishing while seated are relieving.
We wouldn't want you to aggravate any health issues. You only need to install the seats at the various connection points.
Most fly fishing kayaks come with two connection points. If you buy a seat with four connection points, you will have to purchase extra installation parts.
---
Kayak Stabilizer Systems and Outriggers
It is easier to fly cast when standing in the kayak. However, for you to be steady, confident, and focused, your kayak should be stable.
You can choose to purchase a very stable one but if you doubt the stability of your kayak, investing in outriggers will be better.
They will come in handy when the winds and waves are stronger.
---
Cooler
A fervent angler should invest in a cooler that properly fits inside their kayak. Those with sit-on designs should select the collapsible coolers that can excellently fit in dry storage or go behind the seat.
Some brands of coolers you can purchase are Yeti Hopper and Jackson Kayak Orion Coolers.
---
Landing Nets
First, ensure you select landing nets made from fish-friendly materials. A good one is a micro-mesh that is a knotless material, lightweight, durable, and big enough.
They should have comfortable grips that you can handle even with wet hands or fly fishing with gloves on.
We haven't exhausted the list of kayaking accessories for fly fishers but have briefly described the critical ones.
Others that can be needed are waterproof dry bags, waterproof pouches, rescue squeeze knives, tote trolleys, fish grips, and fish measuring devices among others.
Parts of A Fly Fishing Kayak
The parts discussed below are to give you an idea of what a basic fly fishing kayak consists of.
However, it is crucial to remember that the fly fishing kayak you buy may differ in features as manufacturers are now sophisticating this equipment and upgrading them to suit the needs of anglers.
Bow: This is the farthest front end of a kayak that is opposite its stern area.
Cockpit: The cockpit is the large open area where the kayaker or the paddler seats
Deck: This is basically the top area of a kayak.
For the traditional fly fishing sit-in kayaks, this will be the area that covers the kayaker's legs and the section of the kayak that is exactly behind the kayaker that is exposed to the open.
For sit-on kayaks, this will be the whole flat area that is on top of the kayak and that includes the kayaker's seat.
Hatch: The hatch is the compartments that are below the deck of the kayak where you can store your fly fishing tackle.
Most hatches are waterproof and have bands of elastic covering them for security.
Hull: This is the main body or the bottom of the kayak that sits in the water.
Most modern fly fishing kayaks have been built with displacement-style hulls with keels assuming the V shape.
Some have planning hulls that have flat bottoms and steeper sides.
Such hulls get in the way of the kayak's speed but make it gain more maneuverability.
Keel: The keel is the middle section of the hull which takes a V form and runs underneath that kayak's length.
The kayak will displace more water if the keel is deeper.
Stern: This is the backside of the kayak that is opposite the boat's bow area.
Grab-Handle or Toggle: The grab handle is the handle with a rope attachment to the kayak's bow and stern areas.
It is built to make launching, carrying, transporting, and towing your fly fishing kayak very easy.
---
Other advanced parts sometimes on fly fishing kayaks
Bulkhead: An inner wall that is watertight and will divide the internal parts of the kayak into sections.
They are used to make watertight tackle storage hatches and improve buoyancy with air pockets to boost the stability of the kayak.
Cockpit Coaming: This is a rim made from rubber or plastic and is attached to the cockpit's edges.
Drain Plug: A tiny hole that you can open to drain water out of the kayak.
Foot Pegs: These are fixed into the kayak's sides to allow the angler to rest his/her feet on for comfort when riding the kayak.
Knee Pads: Also added into the kayak for knee and leg comfort.
Rocker: It is shaped like a banana and is the curvature of the hull. The steeper it is the more the maneuverability of the kayak.
Rudder: This is located in the rear of a kayak and is a fin for control to aid in maneuverability and steering of the boat.
Skeg: It is a fin positioned in the keel area to help track if the kayak is moving straight. Most designs are retractable.
Spray Skirt: This is a flexible plastic, rubber, or stretchy material that goes over the kayaker's laps when seated in the cockpit. It is attached to the cockpit's rim and will keep water away from your kayak when in high waves.
Factors To Consider When Selecting A Fly Fishing Kayak
Before buying a fly fishing kayak, you need to know that there is no universal type that will be ideal for everyone.
Any angler looking for their first kayak for fly fishing should first identify the areas they want to comb and how they plan to do it.
Knowing all your needs will make window shopping easier, for instance;
Will you be fishing small water bodies or would you like to have a larger fishing territory?
Will the locations have freshwater or saltwater?
Do you hope to use it strictly for angling or alternate between recreation and relaxation?
Answers to such questions will be leading you closer to your ideal kayak. If you are near a fly fishing store that stocks kayaks, we advise doing a demo before investing your money.
---
Location
There are different types of kayaks and they perform differently in each situation. Some are specifically built to drift in waves, others in calm waters, and others in tight spots.
It will be ideal to get the right kayak for the conditions you intend to fish in. Know your fishing areas. They could be bass ponds, trout streams, salt flats, or tidal estuaries.
Know whether you will be paddling for a long time before you reach your desired location or you will be throwing your flies once your kayak hits the water.
Speed and tracking will be crucial aspects if you will need to be paddling longer.
Saltwater fly fishers will be required to launch their kayaks from the beach and a SOT with larger scuppers and more straps will be ideal.
---
Stability
Apart from stealth, you need more stability when fly fishing from a kayak. The type of maneuvers you will perform when casting and reeling in a fish will be different from any other fishing technique.
A stable kayak can withstand sudden movements without flipping over. The initial stability of a kayak will determine the ease of getting in and out of it but this might not be a primary concern to anglers.
Secondary stability will determine the ease in which your kayak handles paddling, fishing, and all the other movements.
Kayaks with flat hulls are excellent for rookie anglers as they boast more initial stability. For secondary stability, rounded hulls are the best and will be excellent for fly fishing.
However, it will be perfect if you chose the pontoon hull. It is a blend of the rounded and flat hull for incomparable stability but has minimal acceleration and speed hence being perfect for fly angling.
Choosing a kayak with a rudder and a skeg will improve the stability of your kayak. They will prevent waves and winds from displacing you and causing an imbalance. Kayaks with either of the two are costly than those without.
---
The Type of Kayak
It is vital to take into account the model or type of fly fishing kayaks available. The seating area is one of the essential parts as you can fly fish when standing or sitting.
Sit-in kayaks are more performance-oriented. You will be seated inside and can make fly fishing comfortable.
They don't offer as much freedom of movement as possible for a fly angler. Short guys can find it functional though.
Sit on top kayaks are superb at offering optimum height and more freedom to cast. However, this design doesn't protect the angler from water sprinkles.
Getting wet is part of the norms of fly fishing from these types of kayaks. You will not love them in low temperatures if you aren't properly clothed to combat the cold.
Float tubes are ideal for anglers with minimal storage space. They easily blow up when you need them and will be ideal for fly fishing in the warmer seasons.
If you want to fish on smaller lakes and rivers where fish are spookier, they are perfect. The problem is the slight difficulty when casting as you will be closer to water. Blow-up kayaks are almost similar to float tubes.
Pontoons offer greater stability and you could use trolling motors on them. Most anglers have them as backup plans as they are difficult to paddle.
---
Lower Gunnels
You can reach an area with more biting fish and the winds decide to forcefully chase you away. Kayaks with lower gunnels the surface area that the winds can catch.
---
The Seat
How high should a kayak seat be? It should be of a good height to allow you to cast when seated. It however shouldn't get in the way of stability.
Select a kayak with adjustable seats. You should be able to adjust the height of the seat when you start casting.
---
Size
Acceleration will need a longer kayak. Their speed is better and they cover distances faster. However, you don't need these aspects in a fly fishing kayak.
A shorter kayak will move easily to your convenience if looking to fly fish in areas with hard water. A narrower kayak won't offer as much stability as you need.
It will also tone on resistance but offer more speed. A wider kayak remains the only option for increased stability. Make it short or medium length.
---
The Material of Construction
Forget about carbon like you would forget about cotton when fly fishing in winter. A fiberglass Kayak will offer more longevity and durability.
They might be costlier than other fly fishing materials but cheaper than carbon kayaks. Carbon kayaks are common among professional and competitive kayakers.
For an entry-level purchase, kayaks will never disappoint. However, cheaply made ones wear out faster when in contact with saltwater or UV rays. To improve the longevity of plastic kayaks, coating them with anti-UV polish will do.
---
Inflatable or Foldable Kayaks?
Strive to get a kayak with a hard shell. This means that inflatable kayaks won't be an option to settle for.
Unless you are purchasing it for a child or emergency fly fishing, it won't be necessary for stability and performance. Foldable kayaks come in handy if you have a very compact space.
These designs greatly preserve space and still boast the pros of hard-shell kayaks. If you are a fervent angler and need a reliable investment, a fully-fledged kayak will be perfect.
---
Weight Support and Storage
It will be useless to have your lunch, beer, gear, equipment, and other fly fishing essentials and lack somewhere to store them.
Storage becomes another crucial aspect to consider when selecting a fly fishing kayak. Some fly fishing kayaks come with integrated fish trackers, fish finders, GPS, and other kayak accessories.
However, if you select a small-sized kayak, the deck might be full. A spacious deck allows you to fly fish better. A crowded deck will obstruct movement and vision.
Have a reasonable storage addition like a tackle crate and put it at the back of the paddler's seat. Integrate your rod holder into the kayak's cockpit. It should be far from your seat but in a reasonably accessible area.
---
Deck Design
Flat decks give the anglers more space to cast and move around. Free yourself and the deck area from clutter. You will greatly reduce the chances of tripping over or snagging.
If your kayak is designed for fly fishing while casting, it should come with a good traction pad. An angler can confidently walk in the space even when wet.
Sit on top designs have more deck space as they have no cockpit hence plenty of movement and storage space.
---
Comfort
If you aren't a patient chap, then fly fishing isn't the place for you. For you to maintain high patience levels, you need to be very comfortable.
Support from a good backrest is ideal. A SOT kayak has back support. Some kayaks come with more support additions too.
You can sit longer than you thought you could without compromising your health.
You must have seen kayaks with the classic manual-like paddles. Some have foot paddles for steering and acceleration.
When fly fishing, you don't need speed so you can reap more benefits from the foot paddles. They help to work out your feet too.
---
Taste and Preference
Everything drips down to an angler's skills, taste, and preference. We recommend that you opt for the recreational kayaks if looking for one for fly fishing.
However, it is possible to strike a perfect impact. The color will fall here too but opting for natural colors and have visibility aspects like HI-VIS flags and a light source if you will be fly fishing at night or in foul weather.
---
Maneuverability
While it falls in the comfort aspect, the paddling aspect will affect the maneuverability of your kayak. Fly fishing requires a lot of hand and leg movements.
Pedaling your kayak rather than paddling will be better to keep your hands free from other duties and focus on casting and reeling in. paddling a fly fishing kayak takes up more time and energy and isn't convenient for such a sport.
---
Price
How expensive a fly fishing kayak is doesn't dictate its quality and efficiency. There are so many fly fishing kayaks that are cheap.
You just need to identify your needs and match them with the right kayak.
"Check out some of our other Buying Guides"
Perception Pescador Pro 12 Kayak
Any angler looking for a kayak for recreational and professional fishing should consider the Perception Pescador Pro 12 Kayak.
You will love how well the seats have been fitted for comfort and back support. The maximum weight it can carry is 375 pounds.
The rear is open and you can stash it in your tackle. If you are a heavy packer and the back doesn't seem enough, there is more space in the front compartment.
Overall, the kayak weighs 64 pounds and portability is guaranteed. You can drag it via the skid plate or the four inbuilt molded handles from the sides, rear, or front.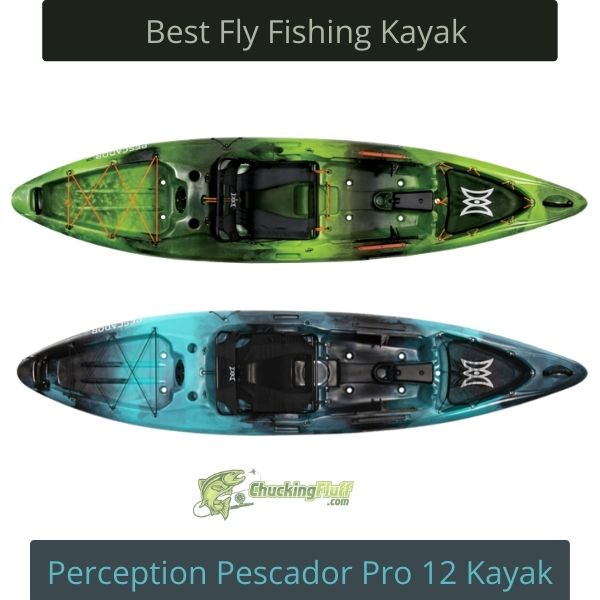 Fly fishing guides and professional anglers attest that the kayak can work well on ponds lakes, streams, rivers, and the coat when the water is calm. Don't carry it to the ocean to surf.
The manufacturer integrates three rod holders. It can accommodate one adult when seated, unlike the TK219 BKC that can take three persons.
With a V-shaped hull, it allows for simpler tracking, and controlling it as you move is easier.
Perception Pescador Pro 12 Kayak comes with gear hacks for an angler to add necessary accessories such as fish finders and paddle holders.
Foot braces are easily adjustable to any angler's size. This kayak is slightly heavier than most recreational kayaks but you will love the build quality.
It is made from high-grade polyethylene for stability and durability. Being a single-piece construction, the brand is among the leading plastic kayak manufacturers.
You will notice different thicknesses in every part of the kayak. This isn't crappy as it gives the boat the strength it requires to perform its functions.
Since it has been crafted from plastic, it won't accommodate as much weight. It is sizeable to give the angler an easy time maneuvering it.
The kayak floats on about 4-5'' of water when the winds push it and attempt to interfere with its buoyancy.
Check Preception Amazon Availability
Hobie Mirage Compass Kayak
Hobie announced the launch of a new kayak in summer and in August the same year, anglers started purchasing it to see what the hype was all about.
Let's say it was worth it! This boat has been designed for every angler as it is a 12' waterline with a 34'' beam and a weight of 68 pounds.
The dimensions make the kayak perfect for most lifestyles and waterways. For the much that it goes for, it fits the budget of most fly fishers.
In this new equipment, the manufacturer blended different designs from some of its popular kayaks. The pointed bow is very aggressive and cuts through the waves.
It comes an inch wider than its sister the Outback Kayak and maneuverability is incomparable.
The stern has been built to be wide like the Pro Angler and for greater stability when fishing, it has a pontoon hull.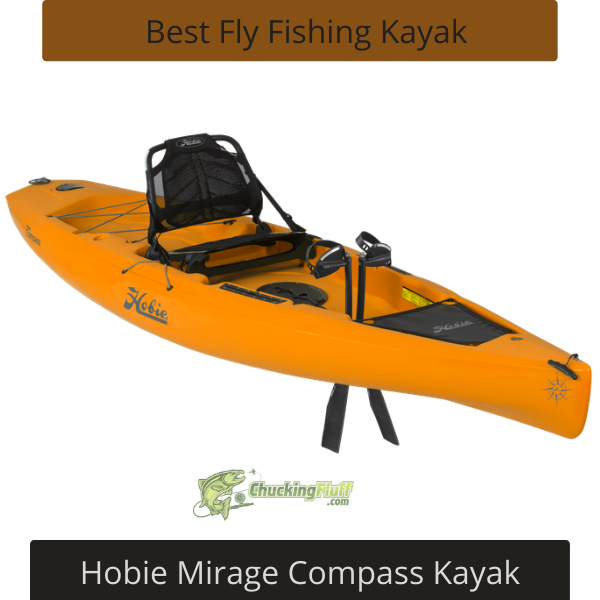 You will marvel at its speed when you do a demo. Pedaling is fun and for the anglers who've used it before, it doesn't cause feet fatigue.
Whether you will be seated or standing, casting isn't going to be a problem. Hobie simplifies the version of its Vantage CT seats and builds that on the Compass.
It maintains the comfortable mesh fabric but has lesser adjustment points. You can remove the seat from your kayak to create a comfy beach chair just like you could in the Vantage CT.
The bow hatch has been replaced with a mesh cover and a gear well for more convenience to the standing anglers. They can easily access their gear from their position.
Hobie maintains the large center hatch in its deck area but with a caddy for storing dry gear. There are two rod holders molded in at the back of the seat.
You can spot the rudder below the kayak's stern. This is similar to what is on the Pro Anger Kayak. Fly lines won't tangle on it. It comes with the glide drive and with no reverse gear.
Check Hobie Web Availability
Old Town Predator 13 Kayak
Even rookies want that professional fly fishing experience when using their kayaks. The Old Town Predator 13 Kayak helps you to achieve just that.
But overall, this might not be ideal for all novices because of the weight when packed with gear. The kayak is a convenient way for single anglers to make their way through rivers, lakes, and ponds.
If you are looking for a kayak that can stand the test of times in harsh weather, this one will solve all your problems.
Most anglers are moved by the many options that allow for kayak customization. You will love the six mounting plates that can be removed if need be.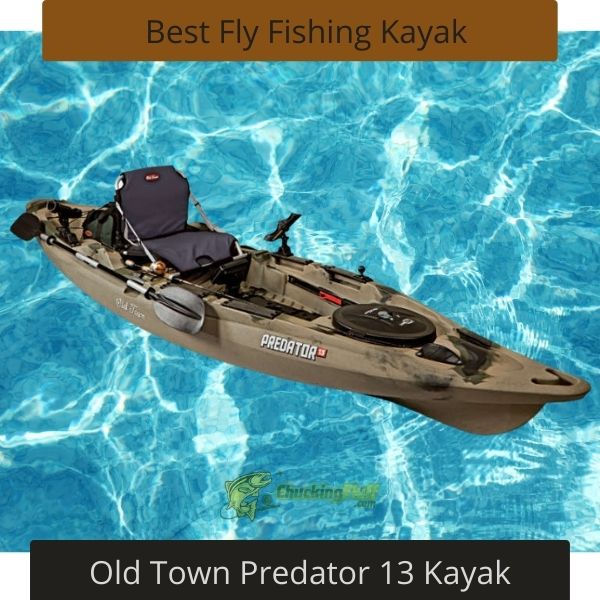 Having the mounts counters the need for drilling into your kayak. You can customize your boat minus any damage. You can add rod holders, fish finders, and other accessories and customize the kayak to your preference.
Paddle holders have been mounted to the sides as a way of storing your paddles when your hands are engaged with casting and reeling in fish. This prevents your paddles from damage or getting lost when on your trips.
They also keep them out of the way while you cast. The manufacturer strives to keep you afloat by adding the hummingbird-compatible scupper for proper water drainage.
Its drain plug is threaded for durability and function. If you would like to take a break from using the scuppers, there is a transducer hole as another option.
The tank well boasts a larger capacity to take up all your tackle from coolers and tackle boxes to your batteries for trolling motors. Your gear remains dry and safe when stored here.
Casting while standing won't make the kayak topple over thanks to the Scotty stand-ready bar. There is plenty of inbuilt storage at the front hatch that closes with only a click to seal the storage.
Vibe Sea Ghost 130 Kayak
The award-winning Vibe Sea Ghost 130 Kayak was the top choice of the Kayak Angler's Choice Awards of 2017. The winning reputation has been built from the incredible amenities at a very affordable price.
Its hull has been assessed, tried, and tested to be true to function. Vibe worked round the clock to upgrade the center console of the 2019 model.
Its new design comes with a good lure magnet and two waterproof stowage pods in the hatch. Other accessories include two gear tracks that load from the top, bungee straps to secure your tools, a cup holder.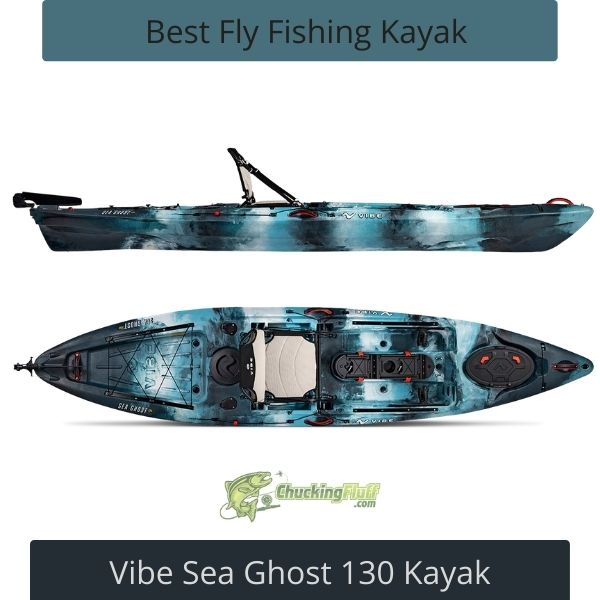 The console will pop up after unclipping to expose extra storage underneath.
Anglers who own this kayak say that they store snacks, gloves, sunscreen, camera sticks, and bug spray in the underneath compartment to clear the deck and prevent any view obstructions or counter chances of line tangling on tackle and essentials. Others store ice in the storage underneath.
Leaving the console aside,
There are four gear tracks that load from the top
Rear tackle storage with a bungee tie-down
Paddle keeps built on both sides
Two tray holders for your tackle
A pre-drilled hole to pass your fish finder cables through
A waterproof deck and bow hatch
Two rod holders of a flush-mount design
You can agree that it will be breezy to add your fish finder. The hull has a transducer port to cover the transducer and protect it from any hazards.
It measures 13 feet, 33 inches on the beam, and weighs 75 pounds. The three specifications allow the kayak to take you to any waters of your choice and fish from either a seating or standing position with ease.
The rudder system can be self-installed to allow for precision turning to this kayak whose tracking is excellent. It is built with the Vibe Hero kayak seat for comfort and breathability. You can set it at any of the height settings.
The kayak boasts greater secondary stability and makes the angler confident to stand while fishing regardless of their body type.
You can adjust the seatback using the two straps. To assemble or disassemble it, the hook-in bungee system works well.
Check Vibe Amazon Availability
Feelfree Lure 13.5 Kayak
Feelfree Lure 13.5 Kayak has been made from high-quality polyethylene for strength and durability.
It has been reported to be very rigid though it sometimes gets deformed when you run head-on into the large waves.
It measures 13.5 feet with a 36'' beam. The kayak weighs 95 pounds and is available in seven colors.
Large storage capacities are among the first concerns of kayak anglers. The primary stowage is the oval compartment in the bow.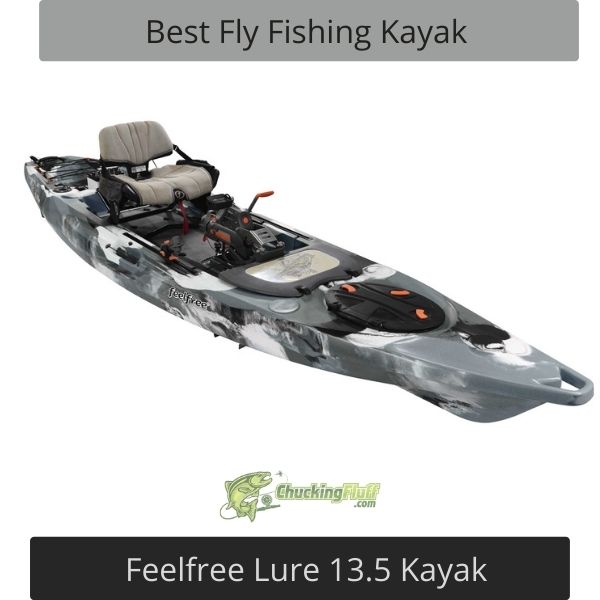 Besides this, there is a covered console with insulation in the front area of the kayak's cockpit. This one holds your bait and cold drinks.
You can store your day's catch in this compartment. There are a transducer port and recess to allow the user to equip their boat with a GPS fish finder.
There isn't any need to drill through your hull. The two flush mount rod holders are at the back of the cockpit.
It comes with accessory rails on both sides of the seat and a larger cargo deck in the rear of your kayak. Bungee cords are for securing your tackle.
The kayak's seat has some pockets for smaller items. The cockpit is roomy for freedom of movement and has foot braces you can customize to your needs.
Built with the gravity seat, they are easily adjustable to be lowered or raised at the angler's convenience. An integrated standing pad is for feet comfort when standing to cast.
The kayak is large yet well-conceived as it can handle slightly choppy water and won't topple over. The standing strap aids you take any position when fly casting.
It comes with a keel and can be used with a rudder to track the kayak. Some anglers aren't content with its speed but for general fishing, it still does well.
Because of its weight, transporting it can pose a challenge but thanks to the wheel, the task can be a little bearable.
Wilderness Systems A.T.A.K. Kayak
Bass anglers will have something to go home with. The Wilderness Systems A.T.A.K. Kayak can go shallower and is perfect for distance.
The Advanced Tactical Angling Kayak can take the most brutal conditions and is perfect for fishing while standing.
Its stability allows the user to walk in it as they cast in any direction. You will love the form traction pads that help to keep your feet comfortable.
Wilderness Systems lowers the deck and angles it for stealth fighting and paddle will be breezy. It features a smarter stability hull that resembles a catamaran built with a center keel.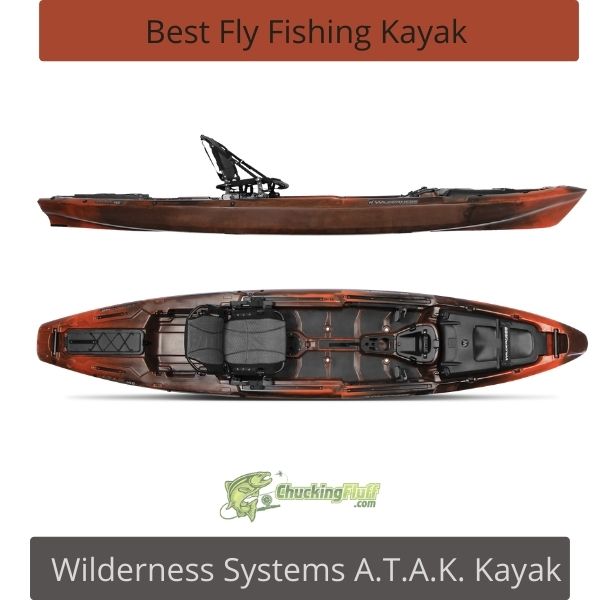 The kayak will absorb most waves and react to any edging inputs. The ATAK remains on the course thanks to the keel that tracks true and straight.
Anglers are speaking praises about the AirPro Max kayak seat. It can slide back and forth to aid in balancing your kayak.
The seat has been webbed and can be heightened for more elevation. Lowering it gives it a low profile look for paddling.
Anglers can switch positions with ease and completely disassemble it to allow you to cast while standing at the center of the kayak.
The hatch takes a rectangular form to offer greater accessibility to the hull areas so that you can store your fly fishing tackle.
Its cargo area is huge and comes covered in the bow to hold your rain gear, more layers, lunch, and a first aid box.
Even with all these, there is still more space to spare. Wilderness System equips the kayak with a FlexPod OS utility pod that you can attach and dis-attach at your convenience. This helps to install your fish finder.
Utility trays are among essential accessories for a fly fishing kayak for storing your tools and go-for lures. Kayak specifications are 14.1-foot length, 34'' beam width, 86lbs weight, 15.5'' deck height, and 550 lbs maximum capacity.
https://youtu.be/K_bm0EaXOgk
Check Wilderness Amazon Availability
Bonafide Kayaks SS127 Kayak
Bonafide when designing this and other kayaks focused on fishability which the company terms as the blend between stability and performance.
The Bonafide Kayaks SS127 Kayak takes a high-seat design but it is almost undetectable because of the extreme stability.
Designed for fishing, the kayak measures 12.7 feet lengthwise and 33.75'' in width. The deck height is 15.5'' and raises the kayaker above the seating position of many kayaks.
It weighs 94lbs and the SS on the product name refers to Sit-Stand. It offers as much comfort either standing or seating as you fish.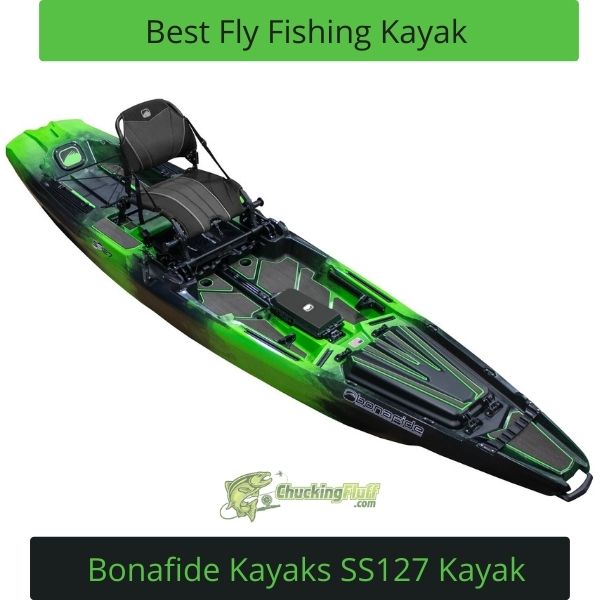 Its overall carrying capacity is about 475lbs and for anglers who pack reasonably even on longer trips to the wilderness, it serves the purpose.
Bonafide builds it with its Hybrid Catamaran hull model whose main aim is greater stability without compromising speed and agility on the water.
Anglers who own it say that the kayak protects them from toppling even if the kayak is narrow and long.
One feature being raved about is the HiRise seat that is high-seated without getting in the way of stability.
Foot platforms have been properly reinforced to offer optimum comfort and more grip for anglers who love to be in the kayaks without fishing shoes or boots. There are more pads on the backside for when pivoting to look at the rear.
Bonafide positions the DryPod at the center with a transducer that goes through the kayak's hull scupper. Anglers can easily install their GPS fish finders without having to drill in the boat.
The handle comes oversize and is situated at the bow with another retractable design in the stern area.
Loading and unloading your kayak will be easy. Store your rods in the boss strap management system for safety and quicker access. The straps can also be used as paddle pockets.
Store your tackle in the large and spacious bow hatch. This protects your gear while transporting to the water and back. The hatch is opened from the back or front side.
Check Bonafide Web Availability
Jackson Adventures Mayfly Kayak
Jackson Adventures didn't come to play when they released the Mayfly kayak. Fly fishers have tested this water machine and ranked it among the best for their needs.
The Jackson Adventures Mayfly Kayak can handle waters with submerged vegetation flooded with bass and pickerel.
If you are looking for a kayak that you can paddle in search of almost anything that feeds on flies, this is it.
The ease of paddling will surprise you as it doesn't leave you fatigued even with the exercise. You use minimal effort to start it and maintain its speed.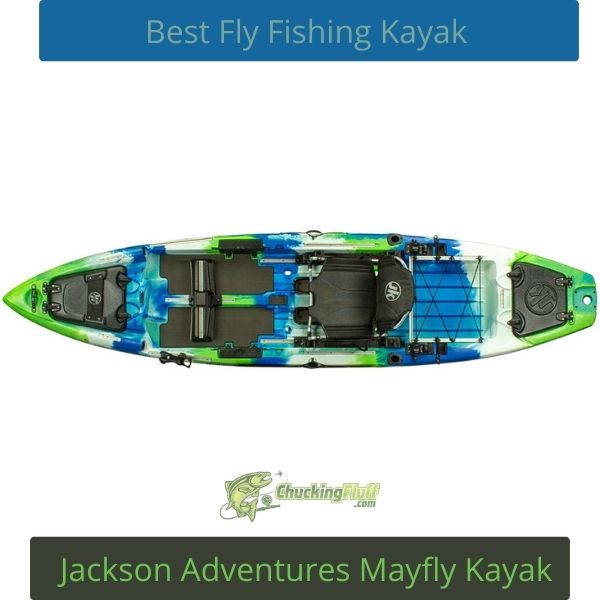 It might not be the fastest fly fishing boat but truly not the slowest as well. If you have pals with the JK Kilroy on the same spot, the kayak can keep up with the former's speed without using much energy.
Its hull has been built with a very slight keel to keep your kayak true and straight.
Some anglers have noticed veering to the starboard or port after two or three kayak lengths but this gave them ample time to make excellent presentations before correcting the kayak.
You will love how stable the kayak is and an angler can turn around in it. It measures about 35'' wide and offers enough space to stand and focus on the fly.
Sometimes, the water on the river will warm up. You can use your cooler as an effective standing platform. The Orion cooler will be in the stern that allows for storage of other fly fishing tackle.
The manufacturer describes it as free from snags and angler-friendly. It lives up to the description thanks to the open cockpit and the uniquely-designed foot brace.
Gunnels come with flip-down fly boxes that can properly hold your foam patches. Another line management feature is the special foot block and we think Jackson thought out of the box to create such an angler-friendly kayak.
Check Jackson Web Availability
Wrapping up Best Kayaks for Fly Fishing
Kayak fly fishing is picking up pretty fast because of the intense fun of casting from a boat and the ease of covering more water than you would when fishing from the banks or the shores.
It has been almost half a century since modern kayaks were developed and anglers started experimenting with them.
Currently, they are loved for their stealth, mobility, easier storage, and affordability as compared to most types of water vessels.
If you are a rookie figuring your way out, we advise that you start slowly the same you would when learning any other skill.
Don't purchase all gear at once if your pocket isn't ready-a good fly combo is a good way to start. After choosing the right kayak, a clear deck will be more needed.
Protrusions might lead to your fly lines being caught. Always have a place to safely store your gear. A waterproof section would be ideal as Mother Nature is unpredictable.
Understand how to use anchor systems to prevent your kayak from getting blown by the winds. Even on a kayak, your line shooting techniques and skills should be at their best.
It takes time and practice to master fly fishing from a kayak-there is no need to rush!
FAQ's Questions about Kayaks for Fly Fishing
Can you fly fish out of a kayak?
You can fly fish from just about anywhere there is water and a target fish. Kayaks allow access to water that is hard to get to wading or on a larger boat. It takes a bit of practice to be able to control the kayak and cast efficiently when so close to the water but it is worth it.
Which fishing kayak is the most stable?
The wider the kayak is the better stability is the thinner the faster it will move. All the ones in our list are designed for stability over speed.
What kayak is better for fishing sit in or sit on?
Sit on top are better for fishing because they are stable, great for gear storage, easy to hop on or off, virtually unsinkable.
What is the best length for a fishing kayak?
The shorter the better for maneuverability, the longer (over 10ft) the better for speed. So if you need to row a fair distance to the feeding fish then the longer one would be better. If you are just grabbing a quick hour fishing then the shorter one will aid in covering the river bankside quickly.