Disclosure:
Just to be open and honest the buttons and links you click on in the website will in most cases take you to another website where you can purchase the products I am reviewing. As an Amazon Associate I earn from qualifying purchases.
December 20, 2016
Best Portable Fish Finders – Find Fish Fast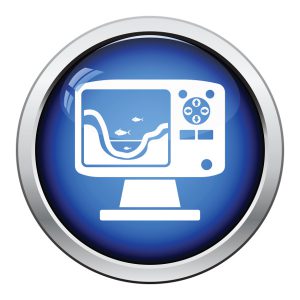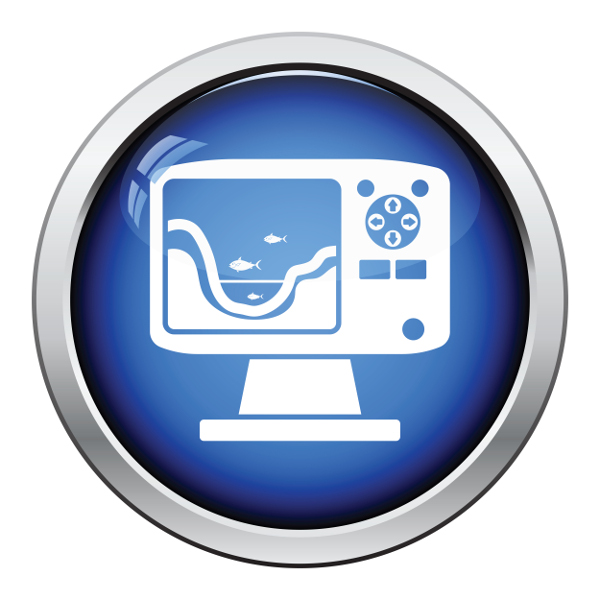 Why get a portable fish finder?
The Best Portable Fish Finder makes fishing, whether done as a sport or commercially, be a worthwhile and interesting undertaking.
Anyone charting the water of a lake or any large water body without a fish finder is like a blind person without their walking aide. This simply means your fishing exercise is based on luck and you hope to find fish in the direction you choose to go. This can lead to boredom, little or no results at all and eventual waste of time and resources.
While you go out to fish, you should be able to trace your way back to the shoreline or the dock from where you started. It is easy to get lost in the vastness of a lake or sea. Fishfinder equipped with GPS technology can help you retrace your steps or in case of emergency and you need to be rescued then you can send out coordinates to indicate your geographical position.
Not only used for finding fish but a way back home.
This can help search and rescue teams to find you with ease. A portable fish finder is not only for the sake of having an interesting and successful fishing experience but can also be your lifeline if things go wrong with the engine or a storm hits.
If you venture into uncharted water bodies, you will be able to make your own maps if the fish finder is GPS enabled. This is important so that you can always go back to a fish hot spot you have visited before. Who knows, you may discover great fishing spots that haven't been discovered by other fishermen.
It is important to understand that a fish finder equipped with a GPS is more expensive than an ordinary one. Purchasing one that has GPS is a worthy investment and certainly, every person that launches out into a large water body should have a fish finder.
"Check out some of our other Buying Guides"
What makes the best portable fish finder?
Buying the best portable fish finder can be challenging more so for first-time buyers. Confusion reigns where there is just too much jargon for you to handle and you know nothing about each of those terms you hear, transducer, sonar, cone angles and beams.
All you have as an naive angler full of enthusiasm and a few bucks. Before you think of buying a cheap fish finder since it is a bargain, read these few guidelines and you may want to reconsider going cheap for the quality.
Power Wattage
Mucky waters laden with silt require a powerful fishfinder with at least 1000 watts. Power on fish finders is expressed as watts (w) root mean squared (RMS). Your wattage determines how promptly your fish finder can display readings.
Fishfinder utilizes communication signals known as pings'. These pings, or sonar waves, are sent to the seabed and the interpretation of what is beneath your boat is what you get on your fishfinder. The transducer sends sonar waves to the fishfinder.
The depth of the information being interpreted by your visual display unit is contingent to the wattage of the fishfinder. Good amount of wattage makes the sonar waves to beam very fast and the reading on the fish finder is detailed and clearer.
The opposite is true for low wattage. Shallow water depth like an inland lake is visible with low power of about 200 watts. Anglers venturing in deep-sea fishing, salty water or deep lakes need more wattage so it's important to consider this when choosing.
Frequency
The fish finder receives and interprets frequencies it receives from a sonar transducer. These frequencies can be single, dual, multiple or broadband CHIRP system. The capability of every kind of transducer is in direct relationship to the cone angle.
Higher frequencies will result into detailed and fine resolution with little pictorial noise. The general rule therefore is that for shallow waters go for higher frequencies such as 400kHz and for deep waters use lower frequencies of about 50kHz.
Broadband CHIRP (Compressed High Intensity Radar Pulse) system is the latest technology used on fish finders. Broadband gadget sends and receives sonar waves in a vertical linear motion. These broadband waves are frequency moderated making them transmit over a very long duration and places as high as 50 times more energy into the waterbed as compared to conventional fishfinder transducers.
An example of broadband CHIRP frequency range transmission is 40kHz – 75kHz. The CHIRP technology employs a series of digital configurations and signal processing to exhibit very high-resolution images and detect with razor-sharp precision.
These transducers work best at the least depth of 10,000 feet and some have the capability of receiving dual, independent transducer operations at the same time. You can customize your broadband CHIRP device to transmit low and high frequencies simultaneously. This twin approach of using dual contrasting frequencies enables fishermen to locate fish without alarming them.
Transducer
Depending on your reason for indulging in fishing and the size of the boat one has, it is necessary you acquire an advanced transducer as you advance. A transducer is the chief unit that sends and receives signals.
The signals sent into the water bounce of objects and are received again by the transducer. This signal is relayed to the portable fish finder and re-converted into visible graphic reflection of what is underneath and around the boat.
There are two major types of transducers that are common, the side scan and the down scan. There is also a third type of transducer that combines these two capabilities.
Down scan gives greater visual details e.g it can single out a fish in a pool of many other items on the water bed. The down scan is highly focused on the target. Down scan also give very accurate readings at a range of forty feet deep or more.
Problem is that since the down scan is focusing downwards; happenings around the boat on the side cannot be captured. In shallow waters, the down scan causes reflection and creates a blur of the images being transmitted to the fish finder.
By re-calibrating, the sonar waves, a down scan can still give impressive images.
Side-scan has the ability to cover large geographical spheres in a single sweep allowing it to cover to the maximum of 100 feet. While that far information may luck clarity, at 75 feet and slightly more there is great detail to the information gathered.
Side imaging has less noise thus reducing the chances of spooking the target (fish). Down scan sends a shock-wave in the deep of the waters in a vertical motion, this weakens the return signal bouncing back to the sonar and is easily felt by the inhabitants in the vast waters.
One disadvantage of a side scan is that if you get to water bodies where the depth stretches way far beyond 100 feet, then this kind of scan becomes the least effective.
You do not have to worry whether to choose between a down scan or side-scan sonar. Present technology combines these two scan types into one powerful tool that is available from the different manufacturers of recreational fishing sonars.
Transcom mount transducer or trolling motor transducer will suffice if it used for casual fishing. Transcom mount transducer is a perfect fit for most boats.
Inland fish finding has improved over the years, with high-frequency down scan transducers that look down, to the side or those that can aim over 360 degrees. Inland anglers have an ever-increasing collection of choices in frequencies, beam widths, even the underwater direction you can look.
Fishermen who search for fish in shallow waters don't need the ability to see down to 4,000 feet. Alternatively, they can reap benefits by looking out to the sides and devices with multi-beam sonars have been developed for that reason.
Some of the key players in marine equipment manufacturing include Garmin and Lowrance.
Lower frequency sonars are usually known to radiate longer waves but fewer waves (in quantity) per second. Normally, lower frequency sonars also do display fewer element (larger fish) while transferring further dynamism and penetrate further to much deeper depths.
A single sound wave at 100 kHz is to some extent longer than two feet. So what can 100 kHz sound wave actually do? Interestingly, it can rigorously detect fish if their air bladders are large and are longer than an inch.
A lower frequency generally will not be responsible for as clear of a picture, but it will function efficiently in the depths of the seas.
On the other hand, higher frequency sonars are known to have much shorter wavelengths and much more wave sequences per second. This means that you can be able to visualize more details such as smaller fish, but have only a shallow to medium depth aptitude.
A single sound wave at 200 kHz is slightly longer than ¼ feet. So a 200 kHz sound wave will be competent enough to discover fish as which is as short as a quarter of an inch. A typical 200 kHz transducer has a range of only about 600 feet.
High frequency in this case, is an advantage because it provides a crisp, clear picture of the bottom with the trade-off of a lesser depth range. For best resolution, it is sensible to select 800 kHz or 455 kHz transducers.
In general, Dual frequency transducers use a comparable component to send and receive pulses of more than one frequency. Quadra beam, or else known as dual-beam transducers use numerous elements, which are sometimes pointed to different directions.
Lower frequencies typically use broader beams, which can be useful in helping you discover hefty bits and pieces, such as structures where fish keep cover. High frequencies on the other hand will let you narrow in on the fish right underneath your boat or vessel.
Plastic thru-hull coverings or housing should not be used on a boat that is made of wood. This is for the exact reason that, wood inflates as it absorbs water. This is not good because it may crack the housing.
Bronze thru-hull housings on the other hand should not be used in aluminum boats. The interaction in the middle of the aluminum and the bronze, particularly in the existence of salty water will eat away the aluminum hull and also eat on the bronze housing.
Resolution of the Visual Display Unit
The resolution of your screen determines the clarity with which you view the activities beneath your boat. Low screen resolution is bound to give you fuzzy images thus information is not as accurate as one being viewed on a high-resolution screen.
Another crucial aspect that is additional to the resolution is the size of the screen. A large screen with high resolution can enable you to display diverse information using a split-screen yet have a detailed view of the information with clarity and precision.
All this comes at an extra cost. In as much as there are black and white visual display units, it is advisable you don't use them. Colored screens give better pictorial details as compared to their black and white counterparts. Moreover, colored screens are functionally outstanding both in a poorly lit and brightly lit environments.
Cone Angle
A cone is placed directly underneath the bottom of the boat and its placement mimics an ice cream cone that is positioned upside down. Cone angle determines how wide a beam is sent from beneath the boat into the water.
A wider cone angle means a larger area is covered. When a sonar wave is sent out from the transducer, it takes the very shape of the wave originator; a cone shape. As the wave travels deeper into the water, the cone also keeps getting wider.
A standard transducer has one beam and is usually between 16 and 20 degrees although they start from 9 degrees. Transducers can have side beam, dual beam or triple beam, every time a sonar wave is sent out it originates from one central point.
Having more than one beam facilitates coverage of a larger underwater area. Transducers that combine downward scan with the side scan is superior to the individual beam working separately. A combined approach gives better results.
Pricing
I had to put pricing as the final item on this least because however much you might crave to have the best fish finder for your marine expeditions, ultimately it is the amount of money that you have will determine which device you can pay for.
Portable fish finders are least expensive as compared to fixed ones, about four times cheaper than fixed finders. And within the portable ones, those that employ the use of advanced technology are less expensive than their earlier versions.

Portable fish finders don't require a tedious process of permanently installing a structure on the boat. Whether you choose to use your transducer on the shores of the lake or mount it on a boat, this is a multi- purpose device.
The time taken to mount or remove from a water vessel is relatively short. The movement caused by rough waters or fast traveling speed of a boat can easily distort accurate readings of a portable fish finder. Mounting the portable fish finder makes it susceptible to instability especially while traveling beyond trolling speed.
Review of portable fish finders available in the market
(i) Garmin 010-01550-00 Striker 4 with built-in GPS Fish Finder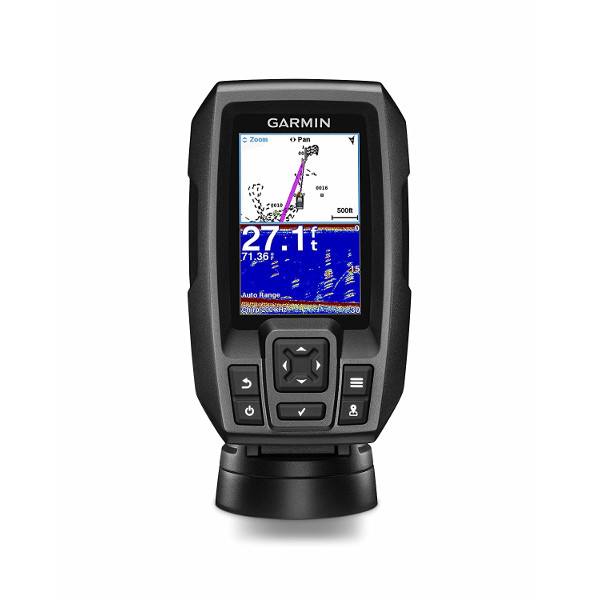 The Striker 4 Fish Finder is a great tool for all kinds of anglers, good for experienced and inexperienced fishermen using a small boat. Installation instructions are easy to follow making it hustle free installing this fish finder.
The high- sensitivity in-built GPS enables users to refer to the waypoint map which makes navigating to locations an easy task. Fitted with a Garmin CHIRP transducer that offers sonar wave range of 77kHz to 200kHz, this fish find is projects a detailed fish structure as opposed to its traditional counterpart.
Its visual display unit is impressive and gives clear, picture like images even on a bright sunny day; on the flip side though this display unit is rather small for presenting both the sonar and the GPS data. It is highly conservative on the use of power with minimal battery drain.
On a larger boat this fish finder cannot sustain accurate readings on faster to medium speeds.
(ii) Lowrance 000-12635-001 Hook-3x Sonar, W/83/200 XDCR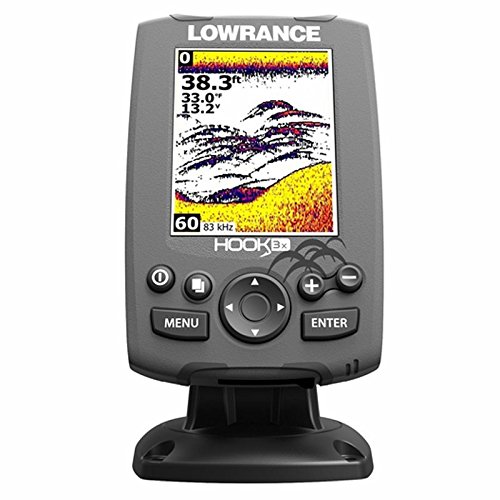 Like the Garmin Striker 4, Hook 3X is slow on battery consumption. Although a number of users appear not to like it while moving at fast speeds or fishing on deep waters, those who follow User Guide instructions to the latter got the best out of it.
The broadband technology on this device is great at providing the user with accurate information whether its depth, fish target or temperature of the water. This is a fairly good fish finder although for about 20% more you can have the Striker 4 which is much superior. Check out the Lowrance webpage for detailed info and specs.
(iii) Garmin Striker 5DV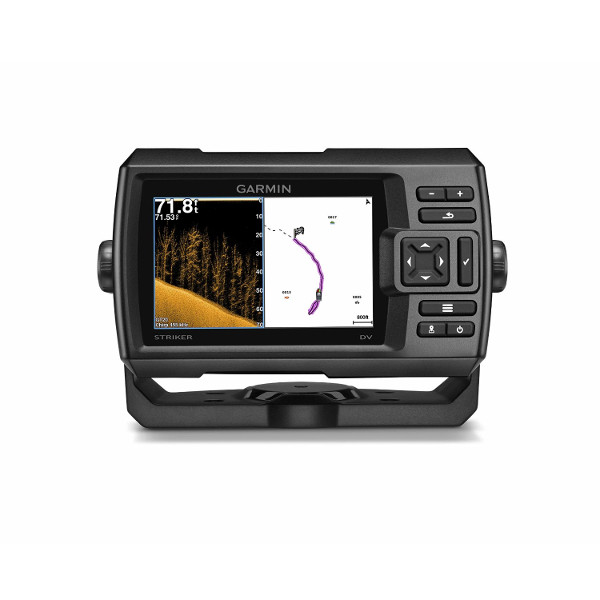 Striker 5DV has a bigger screen making it great in terms of the display it gives to the user. Visual ability of the user is not hampered by bright sunny conditions and it is even better with cloudy, dark weather.
However, it doesn't have an instruction manual and most people have to figure out their way on how to install and use this fish finder. Probably find something online that gives them hints on how it is installed.
The in-built high sensitivity GPS functions well but it doesn't come with charts and maps so you may have to buy/ transfer waypoints from other GPS device. The GPS makes you aware of how fast you are trolling so you can mark fish hot spots and come back later to the same spot.
This fish finder is waterproof and maintains its functionality despite a bad rainy weather coming against it or harsh marine environment.
(iv) Deeper Smart Sonar PRO+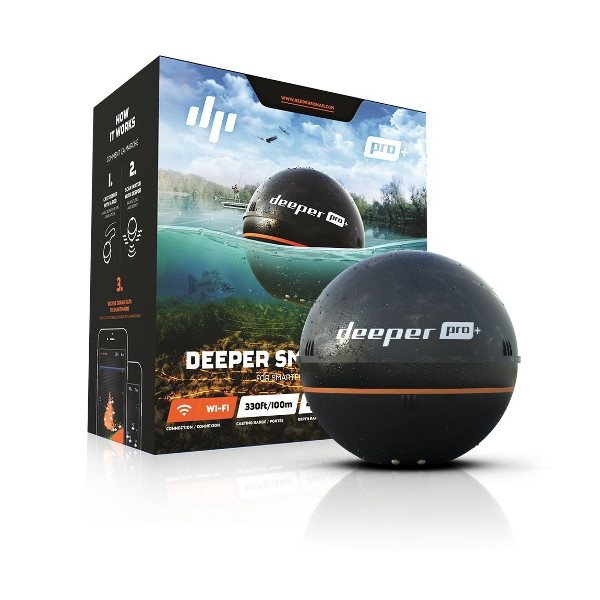 A new comer on the market the deeper pro plus is wireless and castable, it is a great tool to have out on the water. Attach it to the boat for a normal fish finder experience or cast it with a spinning rod and map out the bottom of a lake or water way.
You can store way points for later with the bathymetric mapping and mark all the features where fish will be laying. Install the app on your smart phone or tablet and you have the information at your fingertips you can also download maps beforehand to be used out on the water.
This sonar gives the everyday angler the features of a much more expensive on board rig at a much reduced price.
(v) Hummingbird 409620-1 HELIX 5 DI Fish Finder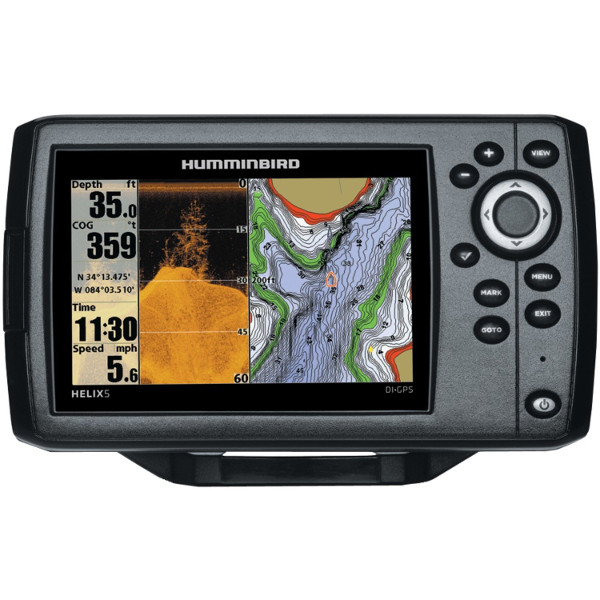 Helix 5 DI draws its strength from the down imaging feature it has, combining it with a great GPS this fish finder is better than its predecessors like Hummingbird 570 DI. You have to explore further to see how these features come to life.
Sonar settings can make all the difference between a good and a bad experience with this portable fish finder. In temperatures as hot as the desert or as low as the North pole, this Hummingbird Helix 5 DI series can stand any weather you subject it to. And if it comes without an instruction manual, you will have to go online to find one. Check out the Hummingbird Website for more specifications.
(vi) Garmin Striker 7SV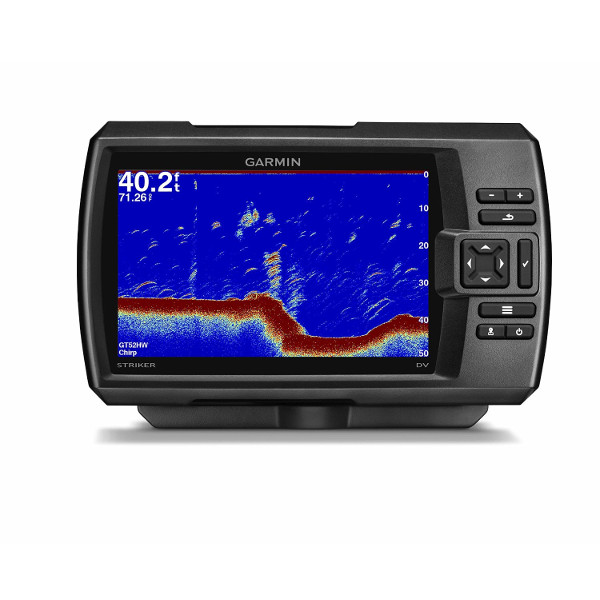 This fish finder provides amazing down imaging and side imaging pictures. It does not have a mapping process and this makes it suitable for a casual or sporting fisherman who traverses on coastal and fresh waters.
The display screen is big and gives satisfactory visual to the user. For the price of $500, this is a good fish finder for people who periodically go fishing for recreational purpose.
(vii) Hummingbird 409610-1 Helix 5 Fish Finder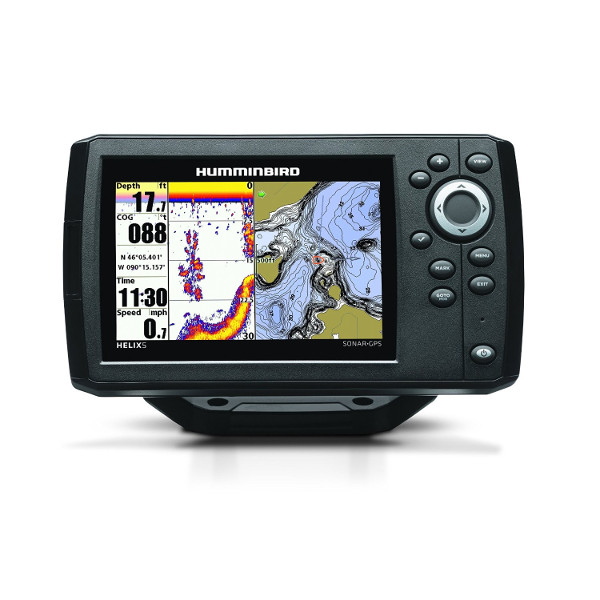 The installation instructions on this Helix series fish finder come on a CD drive which is a great disadvantage to the user. One must either carry a laptop to the waters or have it printed for the simple reason that you have to refer to the user guide as you install it.
The 160 pages of instructions are not easy to comprehend if you are a beginner. It comes with a transducer mount that doesn't flip up when you hit the waters hard. There are no charts and you have to acquire them at an additional cost.
Its GPS is inaccurate and has a huge deviation margin from actual reading. The screen tends to malfunction repeatedly and the power button cannot boot the system. One has to unplug the unit and plug it in again for the screen to unlock.
Helix 5 doesn't have a good side imaging. Even though this system is easy to install, it appears to be half baked is not ideal for the average user. Check out Humminbird Website for more specifications.
(viii) Garmin Echo 301DV Worldwide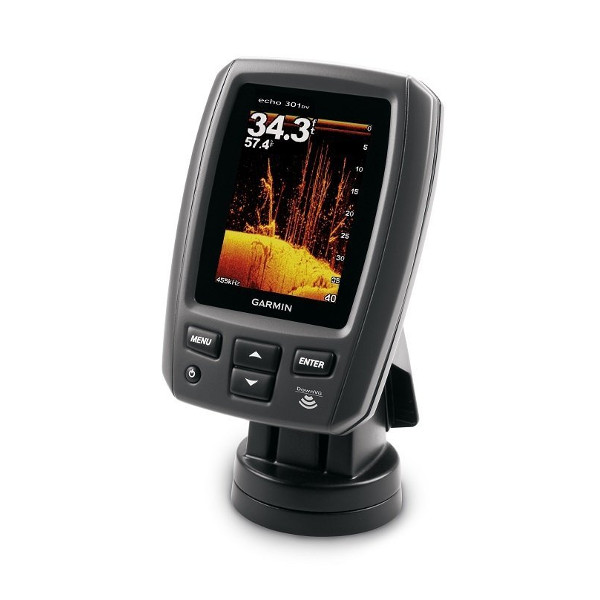 Read full review here

Its display screen resolution of 240 × 320 (QVGA) creates crystal clear color images that define the entire world beneath your water vessel with near photographic structure details. This fish finder comes with a quick release tilt mount with transom and low profile trolling motor transducer mount to ensure installation is fast.
The sonar can give you powerful scan of up to a maximum depth of 1,750 feet. Most users prefer it for its picture quality and details.
(ix) Hummingbird 409820-1 Helix 7 Fish Finder Sonar GPS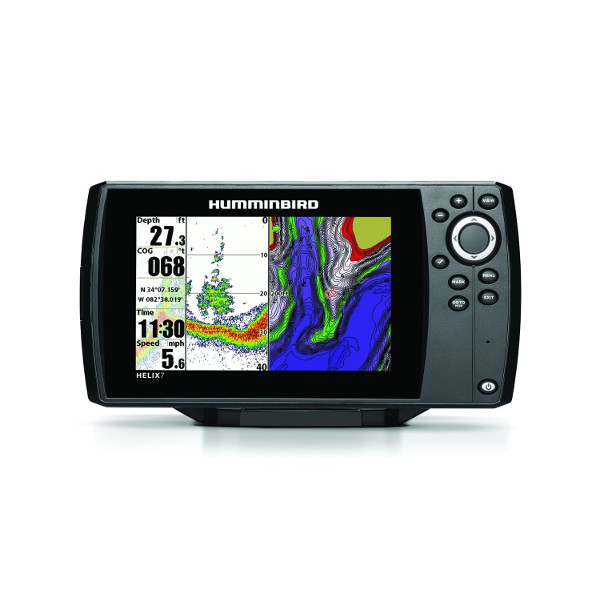 Helix 7 is the mother of them all when it comes to marine technological advancement. The 7 inch glass bounded screen display projects crystal clear images using the 16: 9 widescreen aspect ratio at 480 × 800 pixel resolution.
The GPS can handle up to 2500 way points or 45 routes and through its Micro SD card slot the fish finder can effectively support Auto Chart and Auto Chart Pro, Navionics and Lake Master. This device does not come with a transducer.
Helix 7 face no widespread criticisms save for the transducer plug mount that loosens up in rough waters. Check out the Hummingbird Website for more specifications.
(x) Lowrance 000-11448-001 Elite-3X Fishfinder with 83/200 Transducer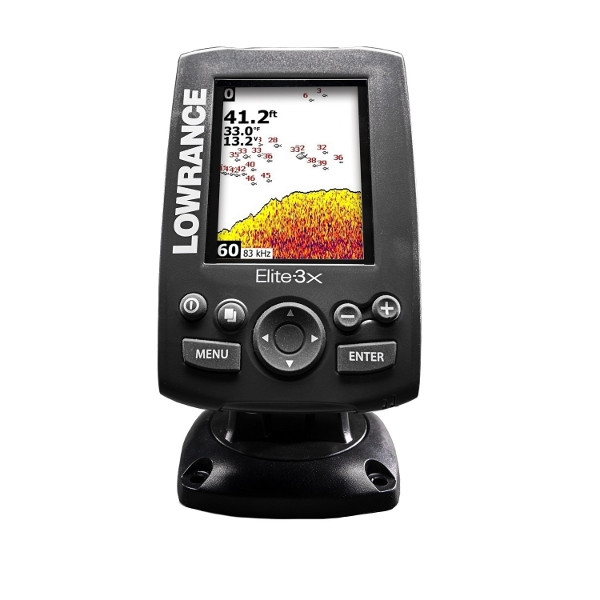 The LED back lit color display offers wide viewing angles and has a screen resolution of 320 × 240. The standard packaging comes with a dual frequency transducer with a frequency range of 83 kHz – 200 kHz and provides up to 60 degrees sonar coverage.
This fish finder is ideal for lure- tracking and target separation. It also works well with drop- shooting method. Its broadband frequencies identify structure detail, fish target, contours among others. The transducer location can lead to poor signal if it is wrongly angled or placed too close to the motor.
Addition, this transducer functions at optimum in fresh water, dirty water disrupts flow and it is full of air bubbles. You should have used other types of fish finders to understand the mechanics of Elite 3X. Check out Lowrance website for more specifications. 
"Check out some of our other Buying Guides"
The best portable fish finder is…
I must categorically state that there is no one size that fits all. Varying interests, needs and circumstances play a role in deciding the kind of portable fish finder one will go for. We have earlier addressed what to look at whenever you go fishing for a fish finder.
Some find it impractical to religiously follow the advice I have put forth when buying this important marine equipment. I believe we have a reason to justify our own decisions and choices, and I am likewise hard pressed to make a choice from this pool of exceptional fish finders.
Garmin 010-01550-00 Striker 4 carries the day.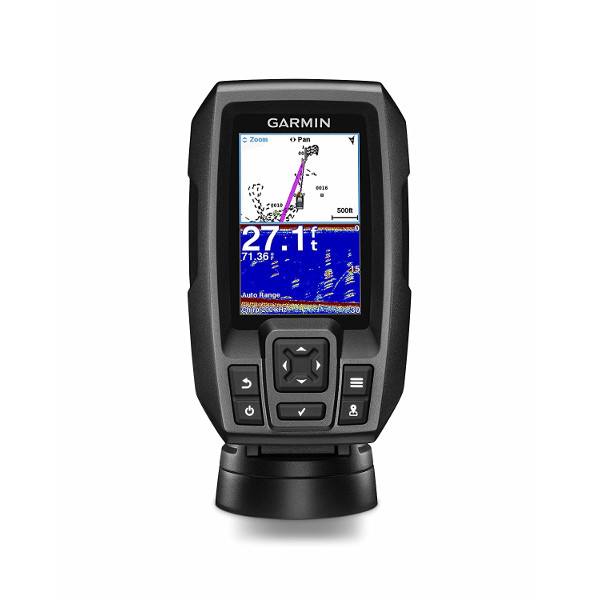 This device has the perfect balance of all the aspects we have to consider while buying a fish finder. I also considered this as the best fish finder in the market looking from the perspective of an individual who is new in the fishing industry to one that is seasoned.
Garmin Striker 4 establishes a perfect balance of experience and an enthusiastic exploration spirit of an amateur of a casual or sporting fisherman. In addition, this device is has enjoyed good market review from users and that is also a good indication of a great product.
Let us take a look at some of these features that make it stand out from the rest of the crowd.
Power wattage: The power outage for Striker 4 is 200 W (RMS). This amount of wattage is sufficient for freshwater fishing or shallow saltwater fishing exercise. The scanned images are relayed fast to the fish finder.
The images are crisp clear. Recreational fishermen don't venture on the deep seas and so there is no need for a higher power wattage since the depths of field they need to see is comparatively shallow.
Frequency: Garmin Striker 4 sends out frequency range of 50 kHz to 200 kHz. This frequency range is effective for the sonar in shallow waters to detect a fish with definite accuracy. Although at 400 kHz it is a better frequency range for shallow water, still 200 kHz is good enough.
Transducer: Its sonar has a CHIRP and is capable of supporting a dual beam in the ranges of 77 kHz to 200 kHz. This means it sends out low and high frequencies to create a wide range of information.
This enables creation of fish arches with a higher ability to separate the target. For better and higher performance you can purchase a GT8 or GT15 transducer. Under the circumstances this may not be necessary as recreational fishing may not require such a high performance equipment.
The transducer can give real time display of a fish passing through sonar beam even when the boat is moving at higher speeds. In- built GPS can help one create waypoint map used for viewing, marking and navigating the water.
Resolution of the display screen: The screen is 3.5 inches wide, colored, screen resolution of 480×320 and displays near photographic images. This optical resolution of the display screen will images that are clear enough to the eye.
Even though the size of the screen is small, there are other Garmin fish finder series that have wider and better display screen.
Cone angle and beam: The beam is able to send sonar waves up to a maximum depth of 1600 feet in freshwater and 750 feet in saltwater. Signal noise can be suppressed at greater depths so as to get an accurate and timely analysis of information.
Pricing: Striker 4 retails at the lower end of the market and with the in-built GPS plus sonar CHIRP this is certainly a bargain. Compared to its counterpart Garmin Striker 7SV which retails at almost five times the price, the latter comes with advancement and sophistication but the former guarantees you all the basic functions of a fish finder that you will need while on a fishing trip.
Visit Garmin, Lowrance and Hummingbird company websites to discover the wide range of marine devices and accessories available in the market today. Consider getting a fish finder to make your fishing trip be an experience. The satisfaction and value that you derive from owning a fish finder and other maritime devices is certainly priceless. Folks it is time to go out; get your fishing gear and have fun fishing.