Disclosure:
Just to be open and honest the buttons and links you click on in the website will in most cases take you to another website where you can purchase the products I am reviewing. As an Amazon Associate I earn from qualifying purchases.
January 10, 2020
Hardy Ultralite MTX-S Fly Reel Review – New Alloy Blend
The award-winning Hardy Ultralite MTX-S Fly Reel boasts an inimitable design which greatly reduces weight. It avowals impeccable frame strength like its sister the MTX. As of recent, Hardy's light has been shinning brighter.
Being a benchmark in the fly fishing reel designs, the brand took the Best Fly Reel category in the 2017 EFFTEX awards with the Hardy Ultralite MTX Fly Reel carrying the season. Yet again, in the 2019 EFFTEX awards, the MTX-S took the crown in the same category.
The construction is top-notch. The fly reel's body features a beautiful blend of carbon fiber materials and aluminum alloy. What results is a lightweight fly reel that has proven excellent and suitable for dealing with small bonefish and sea-run cutthroat.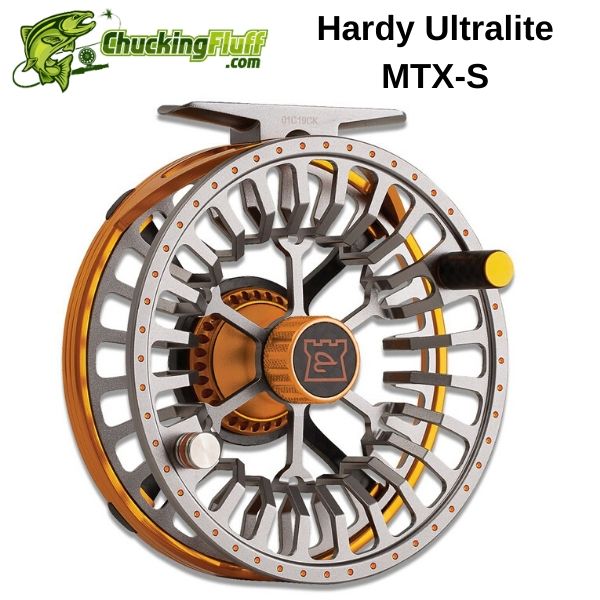 ---
---
Anglers are already matching the reel with moderate action rods and aiming at large and strong fish like salmon and permits. However, the reel manifests its low sides since it is very light to excellently balance stout fly rods and doesn't have the line-capacity and size to efficiently battle stronger fish.
The MTX-S's design incorporates carbon fiber elements and aluminum alloys. The two are responsible for great weight reduction and structural strength. As an auxiliary in weight trimming, the manufacturer maintains a modest arbor size which ensures proper functionality.
In this case, the MTX-S reels live up to their name ULTRALITE. However, in saltwater angling, lesser weight isn't always the best. The reel makes most fly rods with higher actions feel slightly off balance and tip heavy since such types of fly rods are meant for heavier and stouter fly reels attached to the butt.
The concessions that aid meet the light weight doesn't have as many shortcomings as other fly reels in its category. The reel can carry 115 yards for the largest size 7/8/9 at 20lbs backing. This is lesser than the usual 200+ yards on the Orvis and Sage fly reels.
This doesn't come as a disadvantage especially if you intend to fish the right sizes. Despite the drastic reduction in weight, the MTX-S is one tough tiny reel. The blend of metal alloys and carbon composites offer superb structural strength so cracking and breaking isn't a major concern.
While others in its category face rugged use in very harsh situations like frequent immersions in the murky cold and Puget Sound saline water, drops onto the sandy beaches, and the tumbles on brutal volcanic shores, there are often high chances of scratches and serious nicks but this reel is super. In this case, durability aspects of the MTX-S aren't questionable.
The highlight of this fly reel is the carbon fiber disc drag system which is sealed. It allows for minute adjustments. The good news is that the system will stay in its place-just where you have set it. After hard use, there are no critics on drag drifting from user reviews and reports from testers.
This system will dial in the precise tension you desire and remain at the same point through every use and abuse. The color-coded drag regulator is fully functional. How does the color-corded 340 degrees regulator work? You will fully set the drag to your angling requirements by the use of the drag knob.
The regulator has coloured dots that show the settings between the red coloured dots which is the heavy drag or the green coloured dots representing heavy drag and allows you to see the drag's position without hindering fishing.
---
Main Features of the Hardy Ultralite MTX-S Fly Reel​

Environmental tolerance – The Ultralite MTX-S fly reel is a good saltwater and freshwater reel. Its construction and choice of material ensure that the reel performs at its best in high abuse environments. The corrosion-resistant material gives it a bonus towards durability.
Drag System – Hardy makes these reels with a carbon fiber disc drag which can stop your catch from taking a run and getting your fly line off the reel. By this, its strength is on point. The disc shape offers greater resistance as you tackle angry fish. Unlike Rulon drag systems, carbon drag systems are maintenance-free. This one being sealed makes it even easier since the seal bars sand, grit, oil, scam, and any inhibitors from entering the inner parts. The drag has very little startup energy creating extreme smoothness.
Color-corded regulator – The color corded regulator goes to 340 degrees and allows for easy and quick precision settings. Recognition doesn't take longer like in other types of reels without this feature. You can adjust the strength of the drag basing on the color and your fly fishing situations. It takes a few clicks to adjust the drag and determine if it is tight or getting loose. Once set, the drag remains in the same position despite frequent use and abuse.
Weight – Ultralite it is. The name of the reel precisely describes the MTX-S. There are three models of this fly reel. Size 3/4/5 weighs 4.30, size 5/6/7 weighs 5.00, and size 7/8/9 weighs 5.90.
Material and design – Hybrid carbon fiber and aluminum alloy are the main materials on the fame of this fly reel giving it a striking industrial design. The materials are strong and withstand harsh elements of the salt flats and ocean. There are no chance or corrosion or rust. The body has seals to prevent saltwater from getting into the working parts of the fly reel rendering it very virtually indestructible.
Frame Strength – Metal alloys and hybrid carbon are essential for greater frame strength. Unlike others that are anodized, this one isn't. However, the frame is durable, decorative, and rust-resistant. The material combination makes the frame stronger to ensure that the reel doesn't warp or bend as you battle fish.
Capacity – The capacities vary with the model. Size 3/4/5 reels have fly line capacities of WF4F+45 yards, size 5/6/7 has it as WF6F+80 yards, and size 7/8/9 has a capacity of WF8F+11 yards.
Sound – Certainly, it is among the favourites for its sound. It has a good incoming click. The outgoing is louder and quite satisfying. Once you catch a good bonefish, it is easy to know before you bring the chap out of the water.
Handle and drag knob – The two look quite modern and if you aren't a traditionalist, you will love it. It has a high-quality feel to the finish. The handle is sizeable and the knob too. Knobs have grippy surfaces making them easy to hold onto.
Warranty – Hardy offers a lifetime warranty to the first buyer or original owner of this fly reel. In case of any defects in craftsmanship and material, the service team will do the necessary repairs or replacements.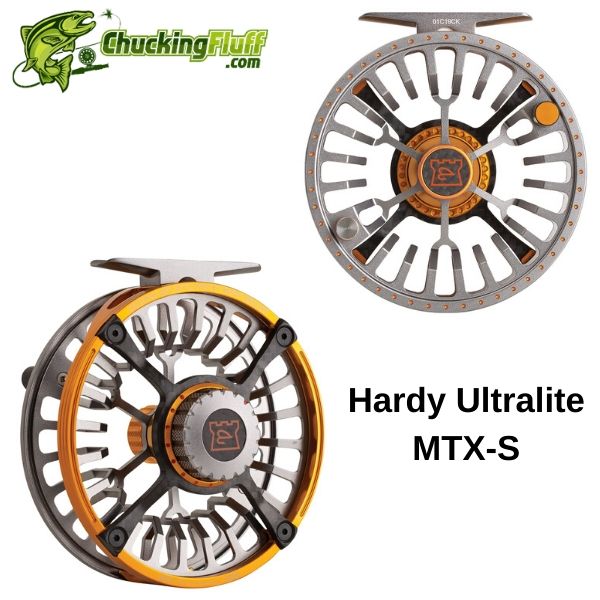 ---
Customer Thoughts on the Hardy Ultralite MTX-S Fly Reel​

About 4-6 ounces for the MTX-S fly reel, they prove to be extremely lightweight to handle salmon and bonefish pretty well. In fact, it is a good choice for youngster anglers since they won't tire so fast.
The usable drag you achieve after turning the Ultralite MTX-S Fly Reel is reasonable. You don't have to crank it down so much because the drag knob isn't too small.
It is easy to know once you catch a fish because the incoming click sound is bearable and the outgoing slightly louder.
Just like sealed carbon disc drag systems are the most prevalent, you can agree that maintenance will never be a problem. However, you can give fresh water rinses for longevity.
The material combination of this fly reel is superb. As it strikes a good balance between weight and strength. It could be the reason why it is able to withstand a lot of abuse without warping or breaking.
Until now there have been no complaints of drag drifting or shifting. Adjustments are easy to make and once you set it to your preference, it remains at the same point.
It matches well with medium-fast action rods since they get a good balance and aren't tip heavy. Accompanying the reels with fast action will be a great gamble.
Designing it with its size of arbor results in slow fly line retrieval unlike it would have been speedier in a large arbor reel. The backing drops as well to only 115 yards at 20lbs contrary to other models like Redington and Orvis which have backing at over 200+.
---
Pros

– Things that shine on the Ultralite MTX-S Fly Reel​
Very lightweight
Affordable
Color cording regulator for precision
Sealed drag system
Low maintenance fly reel
Durable construction
Lifetime warranty
Saltwater friendly
Captive spool release
Industrial design
Cons

– Things that are not so cool!
The size of arbor results in slightly slower fly line retrieval and might not be your thing if you need faster line retrieval.
Very lightweight to balance on certain fly rods with fast or ultra-fast actions.
---
FAQ's – Questions about the Ultralite MTX-S Fly Reel
Q) Can one purchase the spool separately?
A) Not sure about this since Hardy hasn't confirmed it sells spools for this fly reel individually. Contact their customer service for clarification on this.
Q) Which rod will go well with this fly reel?
A) Many anglers are pairing it with the Hardy's Zephrus Ultralite fly fishing rod. Maybe some rods in the same category as this one will do just fine.
Q) How do you release the spool?
A) Hardy recommends that you unscrew then pop your spool off. The good news is that the reel doesn't have any loose parts that you risk losing.
Q) Are there anti-reverse features on these fly reels?
A) No. Hardy doesn't include anti-reverse features on the MT-S and MTX fly reels.
Q) Can you go freshwater fishing with this fly reel?
A) You can, as long as you pair it with the right fly rod and fly line, the material construction allows for this.
Q) Does it come with a reel case?
A) No, you might have to make a separate purchase for this if you don't have one already.
---
Final Verdict on the Ultralite MTX-S Fly Reel
Do you remember when the first-ever hybrid cars landed in the scene? They changed the game and had an excellent reception. They were and are still lovable. It is the same scenario with the new first hybrid fly reels by Hardy that see a blend in aluminum alloy material and carbon fiber.
Combining the two in the mainframe design was a tactful move since manufacturers are now moving from the traditional reel construction to modernization. Hardy did it just fine and to think that perfect is an understatement, you need not say more. As the material choice gears towards drastic reduction in weight, it boosts the overall strength of the fly reel allow it not shun abuse and misuse.
As a great revolutionary fly reel, it features one of the smoothest drag systems that delivers great braking power. As the drag comes already fully sealed, there is no doubt that the angler will experience zero hindrance from external inhibitors during angling.
This is a good thing to include since it renders the whole thing low maintenance saving your energy, time, and finances. Color cording in reels isn't a common thing by many manufacturers. Hardy takes on this technology to ensure precision when setting your drag to your desired position.
What will marvel you is that once you set it, it remains intact until your next adjustment. In this case, chances of drag drifting have been fully countered. Hardy is generous enough to back this fly reel with a lifetime warranty to cover any defects in workmanship and material.
For now, that have been no critics on craftsmanship and quality of the Hardy Ultralite MT-S Fly Reel. Other repairs will be handled at a low fee. Until there comes new and powerful advancements in reel manufacturing, hybrid is the new future of reeling!
Still not convinced check out our full list of fly reels on the site.
---
---