Disclosure:
Just to be open and honest the buttons and links you click on in the website will in most cases take you to another website where you can purchase the products I am reviewing. As an Amazon Associate I earn from qualifying purchases.
April 6, 2019
Ross Animas Fly Reel Full Review – New and Improved
Since its establishment in 1973, Ross Reels has been a top producer of high-quality reels.
Decades down the line, it is still a household name.
Even though the company has seen changes in its management, the production process has greatly improved with the advancement in technology.
The company has stuck to its values, among them, customer satisfaction.
This is evident in the Ross Animas Fly Reel. Standing by the tag, ''Made on Water'', the company's dedication to innovation and quality is something every user of their product will attest to.
Before the Ross Reels are released for sale, they undergo rigorous tests to ensure performance and durability are long-lasting.
Designed and made in the US, the Animas Series is set as an all-round fly reel that you can move with to anywhere. This is with regards to the environment.
Ross Reels had a saltwater, freshwater and warm water setting in mind during its workmanship.
How do you find this? Economical in all ways, right? While you could have three separate fly reels for every environment, you can have a three in one.
Its excellence is undoubtable. It has all the capabilities of providing high versatility and high speed. Leave for the solid aluminum frame, its anodized finish is everything you need to take your hat off. You might wait for it to be ineffective for ages with no success.
The finish protects the fly reel against the agents of rust and corrosion. No worries when fishing in some of the brackish fishing environs.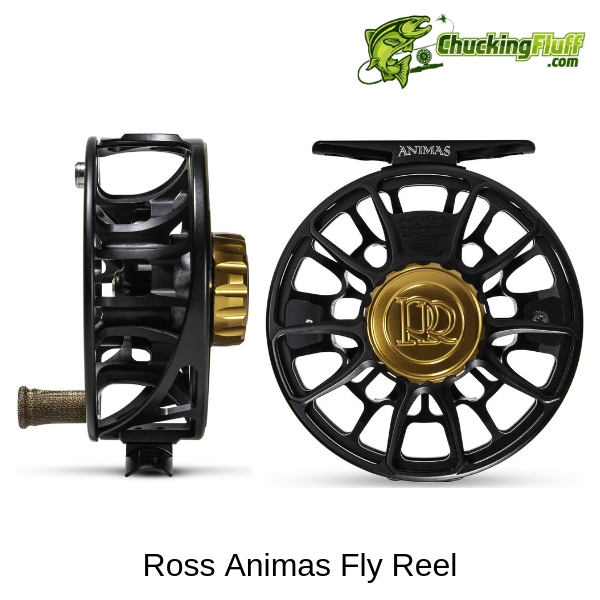 ---
---
Listed as a large arbor sized reel, the aluminum greatly reduces its overall weight without countering the durability of your fly reel.
The arbor creates enough room to increase the line length and is very durable for the increased fly line weight.
Say nothing about the smooth and very powerful fly reel.
Just like you'd love a powerful engine on your four-wheel drive, so is it for the reel. In fact, the drag is maintenance-free.
The Ross Reel Animas Series is the best fly reel in the market today for its excellence.
Ergonomics are top-notch with the canvas phenolic handle that is soft to the touch and comfortable to hold for long hours.
Whether with gloves on or not, there are no complaints of any user experiencing blisters on their hands.
All this goodness makes it a piece for grabs. Ross took on redesigning the frame of the fly reel and the spool too making it stronger and slightly reduced its weight to make it absolutely.
Enjoy the two-tone accents of the fly reel. Very few manufacturers allow for this.
Ross takes quality as a tradition and the Animas will never disappoint.
Good for trout, those pairing it with Spey rods too have a lot to talk about it.
The inner side of the spool has machined holes and a few dimples.
A drag that has very low startup inertia will often surprise you if you have the right skills.
This Ross Animas Fly Reel is just that master that never fails to blow your head with new experiences. Read more below on its features.
---
Animas Series Fly Reel Key Features
---
Frame – The Animas has a frame and spool that is made of 6061-T6 proprietary aluminum alloy. There is so much you'd benefit from this sturdy metal.
First, it is stronger and unbreakable unless you are on a mission to have it down, then it isn't easy. It has excellent cold formability and is corrosion-resistant.
Exposure to agents of rust doesn't bother it at all.
---
Drag – Delrin 500AF with impregnated Teflon is the drag material used in the Animas fly reel.
The material is very durable and can stand the test of time.
More features are heat resistance capabilities to allow for effective fishing when playing large fish for a long time.
The material has a self-lubricating mechanism that allows it to beat friction and makes it maintenance free saves your time and money here.
Won't you love it for this?
---
Conversion – Making conversions is easy with a quick-release locking spool.
Depending on the side you want to reel in, it is convenient by all means.
You can change the sides from the right hand to the left and vice versa.
---
Finish – This one is not your usual anodization process.
The Animas Series fly reel from Ross Reels has a custom two-tone type II finish to give it the most hardness it needs to survive all the abuse it is exposed to.
Anodizing it makes it corrosion resistant giving you a wider selection of fishing environments.
Even without rinsing it after use in freshwater, it remains effective for a long time.
---
Application – In a bid to save the buyer on the cost of purchasing more reels for different environments, Ross Reels ensures it has plenty of Animas in the market.
This is a 3 in 1 reel. It is usable in saltwater, freshwater, and warm water.
---
---
Other Aspects of the Animas Series Fly Reels
---
Main Material – The spool and frame of the Animas are made of 6061-T proprietary aluminum alloy which adds to the strength of the reel and the corrosion-resistant capabilities.
The drag is made of Delrin 500AF and Teflon for heat-resistant properties and self-lubricating abilities.
Specification – Animas reels are available in granite and stealth black colors. Both have bronze hardware.
Each color has its size categories that you can choose from as per your intentions of use. Sizes range from 4/5 to 7/8.
Drag System – The Delrin disc drag system is self-lubricating and is maintenance-free. Its durability is guaranteed.
The powerful drag system reinforces the perception put by Ross Reels into creating the Amazing Animas Series fly reels. It has low start-up inertia and great stopping power.
Handle – If you are a first-timer, you might have to dig the handle. It is oversized to ensure you get a good grip when retrieving line whether or not you have gloves.
The knob is made from fully machined anodized aluminum equipped with a reversed taper to increase control
Weight – Different models and sizes of the Ross Animas Fly Reel have different weights.
4 /5 weighs 4.1 oz.,
5 /6 weighs 4.43 oz.,
7/8 weighs 4.74 oz.
Capacity – Capacities differ with size.
4 /5 has a capacity of WF4+ 100
5 /6 has a capacity of WF5+150,
7/8 has a capacity of WF8+200
Warranty – Ross Reels issues a limited lifetime warranty to the original owner of the fly reel. This is to cater for any defects in workmanship or materials and any repairs indicated in the warranty. Check more on this on the Ross Reels website.
---
Customer Thoughts on the Animas Series Fly Reel
---
A quick glance at the Animas shows how stylish it is. The color change on its drag knob and the handle. If you haven't used it before, it will excite you.
The drag strength is on point and the engineers did a good job even with the change of things. It has a very hard stop in the drag.
On the plus side, the drag has very minimal start-up inertia.
While it might not have a sealed drag, the anodization process protects its inner components from damage.
The self-lubricating system reduces friction when the drag gets exposed to sand or grit. This doesn't damage performance.
Animas reels are among the leaders when it comes to sound. Just like more reels in the family, the Animas S series is excellent.
Testing the reel, it has a quick retrieve rate and holds reasonable amounts of backing.
The handle can be rated as a second class since it isn't thin like those on other fly reels. It has the right length and is comfortable to hold. The huge drag knob allows for easy grip.
This reel has dropped severally but it is hard to notice any scratching and divots.
The color also hides any blemishes. In terms of breakage, so far, this one is a Goliath.
---
---
Pros

– Things that shine on the Animas Series Fly Reel
Available in different models and sizes

Low startup inertia

Durable construction

Powerful and self-lubricating reel

Excellent anodized finish

Fully machined reel

Has a wide environmental application

Quick release spool

Conversions to either left or right side
Cons

– Things that are not so cool!
Could have been made lighter for use all day

---
---
FAQ's – Questions about the Animas Series Fly Reel
---
Q)  Who Owns Ross Reels?
A)  Colorado's Mayfly Outdoors is the current owner of Ross Reels as of 2021.
Q) Are Ross Reels good?
A) Being designed and built in the USA you can reply on the quality of Ross Reels. Coming with a limited lifetime guarantee to the original owner you know these reels are good.
Q) Where are Ross Reels made?
A) Ross Reels are made at their factory in Montrose Colorado USA and this has been their base for the 30+ years.
Q) How much does Ross Reels charge for the warranty?
A) That was about $30. If they haven't reduced or increased it, it should be about that much.
Q) How is the spool change?
A) This one features a quick release spool by one button press.
Q) Is the drag knob easily used when fishing?
A) Yes, Ross Reels had this one right. The huge drag knob seems strange but gives the best grip.
Q) Is the handle on the Ross Animas Fly Reel skinnier like that on the Lamson Litespeed fly reel?
A) No, this one is thick but is comfortable and comes in the right length.
Q) I do both fly fishing and spey fishing. Can this reel work for both?
A) No doubt. From Ross Reel's description, you can pair this reel with your spey rod and it works well.
Q) Is the composite drag system sealed or capped?
A) The drag system is not sealed but if cleaned in fresh water after use and serviced every season it should provide years of fun.
Q) How much does the 7/8 weight reel weigh?
A) This size weighs 4.74 oz. which is well within range for this size.
---
Our Wrap up on the Ross Animas Fly Reel
---
The Ross Animas Fly Fishing Reel is very innovative and feature-rich. In fact, one of the best fly reels that have been sampled for 2021.
You will love its design. Especially the large arbor ported frame which features one of the smoothest drag systems in the fly fishing industry.
The fact that it can be converted to the left or right without using any tools makes it great.
While its design, aesthetic and features are sophisticated, the performance and functionality are the simplest.
The new Animas highlights the redesigned spool and frame.
You can boldly see the cutting-edge manufacturing technologies used by Ross Reels to deliver crafting that is visually stunning and very strong.
Did I mention the two-tone type II anodization finish? Oh boy! This thing is the real deal for the money.
---
Animas joins in the family by having some of the best ergonomics you can want in a fly reel.
The canvas phenolic handle is thick though ultra-light and gets tackier when exposed to water.
Enjoy the trouble-free spool release that needs zero maintenance.
This allows the reel to be spot on for use in either fresh or saltwater.
The ported design of the frame and its structural profile are eye-catching.
What do you think about putting it to test?
You can pre-order and have the reel delivered in time for your next excursion.
With the state-of-the-art features, it might be difficult to come across it in the shops or online feel free to select from the options on our website that fall within the price range of the Ross Animas Fly Reel.
---
Check Web Animas Price
---