Disclosure:
Just to be open and honest the buttons and links you click on in the website will in most cases take you to another website where you can purchase the products I am reviewing. As an Amazon Associate I earn from qualifying purchases.
April 9, 2021
Orvis Mirage LT Fly Reel Review – Light but Tough
As anglers who love to experiment with new products, we anticipate new releases.
Especially if it is from a big fish like Orvis, there is usually more hype to see if they maintained their standards, surpassed customer expectations, or hit a miss.
Just after the launch of the well-received Mirage Series reels for saltwater came the Orvis Mirage LT Fly Reel built for lighter fly lines. It took the company over a year to produce and test the first batch.
We can agree that Orvis outdid itself with this one. Before its release, the speculations were too much.
Some thought that the LT was to replace the standard Mirage reel. It did not because the original Mirage reel exists.
The LT is just a lighter version, a well-built, streamlined choice that shares some of the features with its predecessor but available at a lower cost.
30% narrower and 30% lighter than the Mirage, this reel becomes the perfect match for light rods and applications.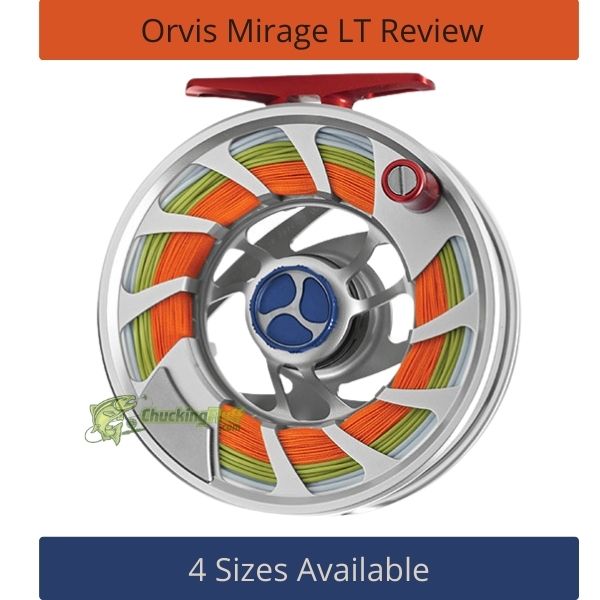 What was in the delivery?
A first glance at it shows that the LT has a few cosmetic changes-something we expected. What struck us first is the thinner and sleek frame.
Other subtle differences are a well-ported reel foot rounded at the base to allow the angler to safely wrap their leaders around it, lesser counterweight, a remodeled drag knob and center cap, a narrower backing channel, and the frame spoke design.
While the standard Mirage reels undergo the Type III anodization, the Mirage LT is finished with the Type II.
For this one, we can confirm that the Mirage appears an overachiever since most reels use the Type II anodization.
Some of the benefits of the process are a sturdier and more durable reel available in various colors.
Some of the features that cut across the two reels are full machining from 6061 T6 aluminum.
Sealed carbon to stainless drag systems, titanium shafts, and they are USA-made products.
When you unbox this friend, the tolerances inside out, the fit and finish will be at 9.5/10.
---
The tests
Performance comes before aesthetics at ChuckingFluff. Testing the carbon to stainless drag system, it was smooth and will ramp up minus any hesitation.
When you compare the power in the LT's drag system, it is lesser than that in the standard Mirage reel. Being low doesn't make it substandard for its application. The brake force is enough.
The rear drag knob on the Orvis Mirage LT Fly Reel is tall with a pretty aggressive surface to allow the clumsiest and slimmest fingers to grab.
We love that as you turn it, it is modestly firm and gives mild clicks through the turns. To take it from zero to the maximum drag, you will not need to complete a full turn.
The drag knob will instantly stop on either the maximum or zero ends and will not need wrenching down to release the remaining drag pressure.
Even at the minimum drag, it had good tension to counter any nasty backlash if accidentally you quickly try to take off the line when the knob isn't set right.
It is dang lightweight yet feels very solid as you reel. We love how the mildly contoured drag handle is. The smoothness is on another level and doesn't have any play.
Also, the spool-to-frame connection is perfectly tight. What some sensitive anglers can find off is the incoming and outgoing sound from the clicks that can be irritating and make some anglers drift their focus.
Spool removal was initially a task on its own in the older models. You need to unscrew the center cap on this one to remove the spool.
We know that most of you are used to the push-button removal style and this one isn't the simplest and most user-friendly style but still works just fine.
The center cap remains connected to the spool and won't drop and get lost. Mount it back onto the reel frame when you want to fish.
Orvis did excellently in designing a fly reel for lighter applications.
Check Orvis Mirage LT Web Availability
---
"Check out some of our other Buying Guides"
---
Key Features of the Mirage LT Fly Fishing Reel
Material and Construction – Orvis builds the Mirage LT fly reel from high-grade 6061 T6 aluminum. The reel becomes abrasion and rust-resistant.
Dropping or dinging it doesn't have to worry. To finish it for more strength and function, the reel undergoes Type II anodization to make it scratch-resistant and extremely durable without affecting its weight.
Drag System – This one uses the carbon to stainless steel disc drag system. What is on the Mirage LT fly reel is a smaller design of what you find in the standard Mirage Fly Reel.
It is fully sealed to make it ideal for most freshwater species. This also makes it low maintenance and will not need a thorough cleaning after every use.
An angler gets to enjoy a reel with zero startup inertia as there is no entrance of materials that can cause hindrance in the drag operation.
Arbor Design – A large arbor is what you spot on the LT fly reel. It increases fly line pickup and a fly fisher can fight larger freshwater fish without a problem.
The approximate diameter of its spool is about 2.1 inches which is perfect for trout fishing.
Reel Foot – The reel foot is ported and maintains the rounded shape at the base. This is for the safe wrapping of your leaders around it. It also prevents line damage.
Drag Knob – Its rear drag knob is tall and with a comfortable surface to hold onto without risking blisters or arm fatigue.
It turns pretty well and gives click sounds both with the outgoing and incoming directions.
To get from the minimum to maximum setting, you need less than a complete turn which is effortless and the knob instantly stops and won't need wrenching to release excess pressure.
Handle – The handle is mildly-contoured and very smooth to touch. Most anglers say that it has zero play which is pleasant to fish with.
Spool – Orvis describes it as a quick-release spool. To remove it, you need to unscrew the center cap which remains connected to the spool to prevent dropping.
Since it is small hardware once it drops, finding it might be luck. You will need to mount it back onto the reel frame to continue fishing.
Application – The disc drag system on the Orvis Mirage LT Fly Reel allows it to be used in freshwater environs without any problem.
The reel is lightweight hence its correspondence to lighter fly fishing applications. It has proven to be effective for carp, pike, bass, musky, and trout fishing.
Sizes and Other Specifications – We love that Orvis decided to have this reel in four different sizes to suit the different needs of different anglers.
LT Mirage I weighs 4.1OZ with a diameter of 3.1'' and is for line weights 1 to 3.
Mirage LT II weighs 4.3OZ, has a diameter of 3.4'', and is ideal for lines between 3 and 5 weight.
The Mirage LT III reel has a diameter of 3.7'', weighs 4.5OZ, and will match line weights 5 to 7.
Mirage LT IV is the biggest and weighs 5OZ. its diameter is 4'' and works well with line 7 to 9 weight.
Warranty – Orvis issues a lifetime warranty to the original owner of this fly reel. It is to cater to any issues with the artistry and material.
Unfortunately, it won't cover damage from abuse, accidental breakage and dents, and excess wear due to prolonged use.
There is a $30 processing charge on this reel when you sent it for repair or warranty application.
---
Pros – The Good about the Orvis Mirage LT Fly Fishing Reel
Lifetime warranty and repairs at a low cost
Works well for lighter rods and in freshwater environments
Fully-sealed low-maintenance carbon to stainless steel disc drag system
No startup inertia
Drag adjustments take a shorter time
Well-crafted drag knob and reel handle
Conversions from right to left with ease
Strong and durable construction from anodized aircraft-grade aluminum
Lighter and narrower by 30%
Available in various sizes
Cons – The Concerns though not Deal-breakers
The drag system is a smaller version and might not be very powerful like what is in the original Mirage fly reel. However, the brake force it releases is just enough for its light applications.
Unlike new models with push-button release spools, this one needs unscrewing which might not be the most user-friendly to all anglers.
---
Customer Thoughts on the Mirage LT Fly Reel

Despite the diameter being ideal for trout fishing, the light-duty application might make you think that it can't win with monster trout. Don't underestimate it as it dealt with the Montana beasts pretty well and still lives strong.
For an outlasting setup, you can pair this fly reel with an Orvis fly rod, line, and backing as it is smoother and well designed.
The reel gives exceptional balance to your outfit if you pair it rightfully. It will be a true joy to try and kill the engineering drag standpoint in a small stream trout rod.
Its quality is good if not great than most of those we have in the current market. The cosmetics are pretty fine and though featuring the old unscrewing spool, it isn't an issue since it hits a home run and is worth every dime.
Ergonomics in the handle and drag knob have been perfectly made to the very finest specifications and tolerance.
---
FAQ's – Questions about the Orvis Mirage LT Fly Reel
​Q) Orvis says that it is a freshwater reel. Can you gamble with it in the salt flats?
A) You can with the larger sizes but only if fishing smaller saltwater species. If you would like to try tarpon and other big fish, opt to get the Orvis Mirage Fly Reel fine-tuned for big game in the saltwater areas.
Q) Does this come with an extra spool?
A) No, if you'd want to stock on more spools, you can make separate purchases.
Q) What are the number of drag surfaces and that of drag seals on the Mirage LT?
A) This one 8 for the surfaces which are lesser than 14 on the original Mirage reel. The drag seals are 6 unlike the 12 in the Mirage.
Q) Which style of drag adjustment system is on this reel?
A) We can call it the ball and ramp style which is a patent by Orvis.
Q) Does one experience kinked leaders when fishing with this fly reel?
A) No. The fully radiused and rounded reel foot is in place to counter this.
---
Wrap up on our review of the Orvis Mirage Lt Fly Fishing Reel
Though a stouter sibling to the original Mirage fly reel, it does its designated light-duty jobs pretty well.
What gave it more points is the drag adjustment from zero to maximum that doesn't need a complete turn.
Most anglers who had non-technical minds were crippled by the launch of this freshwater fly reel that needs pairing with lighter fly rods.
From top to bottom, the machinery is worth envying and the Orvis team at the Vermont workshop nailed it.
The Orvis Mirage LT Fly Reel has earned high praise from most users, guides, and reviewers, and for any angler who is looking for a lighter option for carp, pike, bass, musky, and trout can spend on this one. The engineering is top-notch and so is performance and durability.
A combination of the smaller drag system, re-engineered knob, and cap, spoke design, and less counterweight makes this reel a gem.
We have other fly fishing products from Orvis up on the site with their mini and detailed reviews.
Get to see what we and other customers think about these products. It might be a good point to start shopping for your net outing.